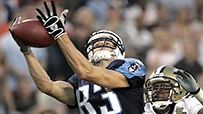 In 2004, Bennett had 1,247 receiving yards and 11 TDs.
Welcome to SportsNation! On Monday, First Take NFL analyst Drew Bennett will stop by to chat about this past weekend's games.
Bennett, who went undrafted in 2001, played eight seasons in the NFL before having his career cut short by injuries. He spent the first six years of his career with the Tennessee Titans and played the last two with the St. Louis Rams. He had signed on with the Baltimore Ravens in July 2009, however a knee injury caused him to retire shortly after signing his contract. For his career, he caught 307 passes for 4,412 yards and 28 TDs.
Bennett appear every Monday on ESPN2's First Take from 10 a.m. to noon ET.
Send your questions now and join Bennett Monday at noon ET!
More Special Guests: Previous chats | SportsNation
Drew Bennett
(12:00 PM)
Welcome back. Let's go.
andre (Anderson,In)
Can the colts get a little respect,they just made the patriots look like fools.espn never talks about the colts,when there the best team in the league.dont hate congradulate!!!!
Drew Bennett
(12:02 PM)
I think the Colts are getting a lot of respect. Peyton Manning is definitely the front runner for the MVP and a lot of people that I've seen have them going to the Super Bowl representing the AFC. Five come from behind wins in the fourth quarter have been talked about all day.
Pete (CA)
Why did you play WR? Your initials are DB. You shoulda played defense.
Drew Bennett
(12:02 PM)
Very good question. Maybe it's because I'm a 6-5 white guy.
Steve (CA)
Who was one guy you played against that you really didn't like?
Drew Bennett
(12:04 PM)
There are plenty of people that I played against that were dirty, but only a few that I didn't like. You seem to grow a distaste for certain guys in your division because you see them so often. We had a lot of good battles with the Colts defensive backs because they were always the top team in our division.
Ray A. (San Francisco, CA)
Can the 49ers make the playoffs with Alex Smith at the helm?
Drew Bennett
(12:05 PM)
Not this year. But with the development of Smith and Crabtree, I think they have a chance in the coming years. If they can bring some bigger defensive tackles in to protect Patrick Willis on that side of the ball, they should be better in the years to come.
JEFF (BELLPORT, LONG ISLAND NY)
DO YOU THINK NEXT YEAR MICHAEL VICK WOULD BE ON A TEAM THAT WILL ACTUALL GIVE HIM PLAYING TIME MAYBE EVEN A STARTING ROLL.
Drew Bennett
(12:06 PM)
I don't think Michael Vick has shown anything this year that would have a team wanting him to be their starting QB next year. I know he hasn't had a lot of chances, but with those chances, he really hasn't proven anything. And there is a lot of baggage that comes with him.
Kevin G. (Baltimore, MD)
Do You Think Tennessee Can Beat The Colts This Weekend To Inch Closer To A Wild Card Spot?
Drew Bennett
(12:07 PM)
I would not bet money against the Titans right now. The Colts have scrounged together 5 fourth quarter victories, but I don't think they've faced a defense that's playing as well as Tennessee right now. Vince Young is on fire running that offense.
Katelyn (Syracuse, NY)
Watching Tim Tebow's final bow in The Swamp reassured me that an NFL team would be crazy not to give him a chance to play QB. The kid will work his butt off, provide leadership, and positively impact his team before even taking a snap. Yes, he'll need to be molded, but I don't doubt he'd eventually be successful. I would love for my team (Buffalo) to take him. Where do you think he goes in the draft?
Drew Bennett
(12:09 PM)
Tebow is definitely a special player. But I don't think he's a good enough passer to be successful as a starter. Look at a guy like Vince Young, who's a running QB. He's successful, but that's only because he's been able to pass the ball lately. Maybe he ends up as an H-back or a Dallas Clark type player.
J.B. (Dunmore, PA)
Drew: Peyton has done a nice job thus far but haven't some of his mistakes put him in position where he's had to lead come backs? I think right now Favre is your MVP with Peyton and Brees close behind.
Drew Bennett
(12:10 PM)
I think it all depends on how the season plays out. If you have an undefeated team with a QB like Brees or Peyton, they have to get the MVP. What happens if Tennessee runs the table and Chris Johnson breaks the rushing record? How can he not get the MVP? I do think if there are no undefeated teams and Tennessee does make the playoffs that Favre becomes the No. 1 guy.
Jason (montville )
Hey drew, i have a question, the afc wild card seems pretty intense. can a team like the tians or jaguars make it over the defending champs steelers. what is your prediction.
Drew Bennett
(12:12 PM)
The Steelers do have a weak schedule coming up. They play the Raiders, Cleveland and Miami. However, they have lost three in a row, including a bad loss to Kansas City. Denver looks like they're back on track and now Baltimore has a lead in the division by one game over the Steelers. I think the Steelers slip through the cracks this year.
George (Binghamton)
Do you think it was the right decision for the Jets to start the season with Sanchez under center?
Drew Bennett
(12:13 PM)
I do. Sanchez has obviously had a rough go the last 7-8 weeks, but the learning curve is huge. This is experience that you can't get, especially for a guy that only played one season in college. He's got a good running game, so it's not like he's back there just getting killed.
Joe (Bronx, NY)
Vince Young lives!! What do you think accounts for his (and the Titan's) turnaround?
Drew Bennett
(12:14 PM)
This is a different player than the Vince Young we saw two years ago. He's got control of this offense and he understands what the defense is doing, rather than just dropping back and trying to read and react. I think sitting out a year and watching Kerry Collins really helped him focus and mature. It doesn't hurt that he has Chris Johnson in the backfield.
Mark (KC)
As a former WR , do you see Miles Austin with staying power? He seems to have the speed and moves to have a nice long career.
Drew Bennett
(12:15 PM)
I think Miles Austin is a complete receiver. I don't think he's the fastest or tallest guy, but I've seen him make big plays on short passes. He's got very consistent hands and he seems to be a good character guy. I think he has a bright future.
Tyler (Tennessee)
Do you think Atlanta will make the playoffs this year?
Drew Bennett
(12:16 PM)
No. Too many struggles at QB, especially now with the injury to Matt Ryan. Turner is hurt again and I think that Green Bay and Philly are playing better football right now than Atlanta.
Noah (Kalamazoo, MI)
Do the Broncos make the playoffs?
Drew Bennett
(12:16 PM)
Yes. They're leading the wild card and I saw the defense that got them to 6-0 again last week against the Giants. Orton is healthy again and can game manage them into the playoffs.
Hayden (Logan, Utah)
do the niners make the playoffs? Im thinking they will
Drew Bennett
(12:18 PM)
Not a chance. Alex Smith is a year away from being the QB they need to make it to the playoffs. Develop Crabtree a little bit and write in next year.
Hayden (Logan, Utah)
who has been your favorite player to watch this year? Im sayin Favre
Drew Bennett
(12:19 PM)
I do have to say that Favre has changed me into a fan of his again. I was anti-Favre during all of the retirement stuff. Chris Johnson has been exciting to watch as well.
Andrew (Boston)
Drew- Do you see another Cowboy collapse coming in December or do you think the Cowboys keep playing well your thoughts ??
Drew Bennett
(12:20 PM)
I don't buy Romo in December until he proves me wrong. They have a very tough schedule coming up with a lot of NFC East rivals and I think history will repeat itself. Yeah, they've won two in a row, but it was the Raiders and the Redskins.
Phil (Chicago)
Do you see Charlie Weis popping up in the NFL as an offensive coordinator next year? If so, what teams might have interest in him?
Drew Bennett
(12:21 PM)
I don't think as many people that Charlie Weis has claimed are really calling him. I think that's more of a pitch to the athletic director at Notre Dame that people like him and want him. He's trying to save his job.
MATT LIENART (AZ)
DANG IT VY AGAIN GZZZZ
Drew Bennett
(12:21 PM)
Nice.
Tyler (Tennessee)
Besides the colts and saints who is the next best team?
Drew Bennett
(12:22 PM)
No question. The Vikings. They're one bad tripping call from being undefeated as well. They've definitely had the most dominating wins.
Hawaii Joe (Maui)
Drew - You have seen many rookie receivers in your time with the league...what is your take on Percy Harvin's future (short and long-term)?
Drew Bennett
(12:23 PM)
I love this guy. I think he could be rookie of the year, but more importantly, he could be one of the best slot guys and return guys in the NFL for years to come. He's definitely more physical than I gave him credit for coming out of college.
Kurt (Philly)
I know a knee injury basically ended your career and I was sorry to see that at the time. Considering they are supposedly much more careful these days with injuries, why in the WORLD did the Falcons bring back Turner so quickly?
Drew Bennett
(12:24 PM)
Every time someone gets re-injured, it's always a question if they were rushed back too soon. But it's usually the players who convince the training staff and coaches that they're OK. Maybe they should have just given him a lighter workload during he game. I hated standing on the sidelines with something that kind of hurt.
Katelyn (Syracuse, NY)
T.O. has come alive with Ryan Fitzpatrick throwing the ball and has surprisingly not been a locker room problem. Think Buffalo has a chance at resigning him next year?
Drew Bennett
(12:25 PM)
Yeah, if he continues to play the way he has the last two games, he's definitely a guy you still want on your roster. We'll see what happens in the next five non-playoff stretch games.
Drew Bennett
(12:25 PM)
Sorry, I got to go early. You can catch me on ESPNews. Thanks for the questions.