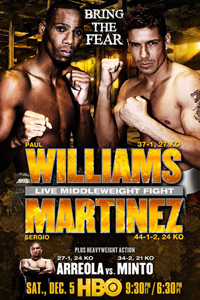 Welcome to SportsNation! On Wednesday, we'll go inside the boxing ring when middleweight Paul Williams stops by to chat about his upcoming fight.
Williams (37-1, 27 KOs) squares off with Sergio Martinez (44-1-2, 24 KOs) in a middleweight bout Saturday live from Atlantic City's Boardwalk Hall on HBO at 9:30 p.m. ET/6:30 p.m. PT.
An Augusta, Ga. native, Williams is making just his second 2009 fight as a middleweight. He has scored wins in three separate classes, including two stints as welterweight champion. His last fight came in April, when he earned a unanimous 12-round decision over Winky Wright.
Send your questions now and join Williams Wednesday at 3 p.m. ET!
More Special Guests: Previous chats | SportsNation
Buzzmaster
(3:04 PM)
Paul Williams will be here shortly!
Buzzmaster
(3:09 PM)
We've got Paul!
Tim (Pittsburgh,PA)
Paul, what weight do you feel most comfortable fighting at now?
Paul Williams
(3:10 PM)
147, I feel comfortable at that weight. Right now, any weight, I'm comfortable at any weight. I just want to fight.
Alex (Louisville)
Hey Paul, I think you already won the toughest fight just getting somebody to get in the ring with you! How frustrating is it being that good but unable to get the opponents you want? Thanks and good luck.
Paul Williams
(3:11 PM)
It's a little frustrating. A lot of people can't see the talent that you have. The best guys that they say are out there, they don't want to fight you so you can't show what you've got. But eventually it will all come to light.
Tyrone (The U)
You look like a good athlete what other sports interest you?
Paul Williams
(3:12 PM)
Other sports are basketball, football. I used to play basketball, not in school, but street basketball. But since I started boxing, I haven't played.
Andres (Ventura, Ca)
Who do you think will win the Floyd Mayweather - Manny Pacquiao fight? And you honestly think either of them would want to fight you?
Paul Williams
(3:12 PM)
I say Pacquiao, if he fights Mayweather. I got Mayweather if he tries to box him.
Doc (New Bedford, Massachusetts)
December 5th's my birthday P, what's good with shoutin out Happy Birthday Doc after you get that KO that I know is coming?
Paul Williams
(3:13 PM)
You're definitely going to have a good birthday present. I'm going to give you a good birthday showing. I'm going to put on some good fireworks. Good birthday gift for you.
Tim (Pittsburgh,PA)
Paul, do you see this Martinez fight as a very dangerous fight for you?
Paul Williams
(3:14 PM)
I look at all my fights as dangerous. Only one punch can turn the night around. Some guys think you need to beat these guys because you're better to them, but it only takes one punch. So, I take every opponent as a dangerous one.
Tom E (Jersey City, NJ)
Have you watched tapes of Martinez? What impresses you?
Paul Williams
(3:15 PM)
I haven't watched tape on him. My manager watched the tape and gives me the gameplan. But what I've heard and have seen of him, he has speed and likes to fight his fight. But he's going to have to fight my fight Saturday night.
Brian (Austin, Texas)
Are you gonna try to make a statement by pressing for the KO against Martinez?
Paul Williams
(3:15 PM)
I'm not going to push for a KO, I'm just going to push for the beat down that I'm going to give him. I'm going to be relaxed and do my thing.
Ike (New O)
Who is your favorite old school fighter, or fighters, of all-time?
Paul Williams
(3:16 PM)
My favorite fighter of all time, and it's not me being arrogant or cocky, is myself.
Jimmy (Arlington, VA)
Would you ever consider moving up to fight Chad Dawson at Light Heaavy or even at a catch weight fight?
Paul Williams
(3:16 PM)
If my manager and Al and Dan feels like I should go up and all is right, of course, then I'm game. I would fight anybody.
Gary Burton (Beaverton, OR)
P. Will, is there any truth to the rumor that you're going to change your nickname from "The Punisher" to "Sgt. Slaughter" because of all the military outfits you like to wear?
Paul Williams
(3:17 PM)
No. I'm going to stick with the Punisher. It's easier, because I get to punish the guys in the ring.
Andres (Ventura, Ca)
Do you think you will eventually fight at Light Heavyweight?
Paul Williams
(3:17 PM)
No, I don't think I go up to light heavyweight.
BMike (S.W.Asia)
Who has been the Coolest Celebrity that has come up to you and said 'Man, i'm a big fan of you'?
Paul Williams
(3:18 PM)
There are a lot of celebrities that come up and are fans of my work. Ochocinco Twitters me. There are others. I admire them. I look up to those guys. A couple of rappers too. One of the rappers on D-Block. I saw them at a party one night. They said, yo, I'm a big fan. I respect those guys.
PeteNice (Philly)
Paul, are they any places that you are looking to fight at in the future?
Paul Williams
(3:19 PM)
Atlantic City, this is my first time fighting out here. I would like to do a lot more on the East Coast. I've done a lot on the West Coast. This is a couple of hours from where we live at. We have to build up our East Coast. I'm going to have to go light up that boardwalk in Atlantic City.
Aaron (MI)
Are you suprised that Pavlik is fighting just two weeks after canceling his fight with you because of health reasons? Do you think Kelly Pavlik is avoiding you?? Will it ever happen?
Paul Williams
(3:20 PM)
Everybody knows he was avoiding me. Two weeks later? Come on. You can't close your hands for me, but two weeks later you can for someone else? Come on.
James (Athens, GA)
Would you ever want to fight in Atlanta? You would be a huge draw down here.
Paul Williams
(3:21 PM)
Of course! I would definitley like to go to Atlanta and Augusta. That's like my stomping ground. Right now we're in the East Coast. Eventually we'll get there.
Big A (WI)
Paul, you vs Tommy Hearns in his peak. Do you think you win and why?
Paul Williams
(3:22 PM)
Yes, because my style and Tommy Hearns style. It would be a big test, because he has that big right hand. I think I would get him in the long run. That's no disrespect to Tommy Hearns.
Paul Williams
(3:22 PM)
To my fans out there, come Saturday night, if you're on Atlantic City or watching on TV, you're going to get a good show. I'm going to get mine in. You'll definitely have a good show.