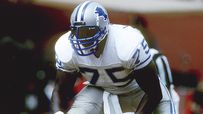 Brown spent 18 years in the NFL.
Welcome to SportsNation! On Thursday, ESPN2 "First Take" NFL analyst Lomas Brown stops by to chat about the NFL season.
Brown spent 18 years in the NFL, playing for the Detroit Lions, Arizona Cardinals, Cleveland Browns, New York Giants and Tampa Bay Buccanneers, with whom he won a Super Bowl championship following the 2002 season. He played collegiately for Florida.
Send your questions now and join Brown Thursday at 2 p.m. ET!
More Special Guests: Previous chats | SportsNation
Buzzmaster
(1:57 PM)
Lomas will be here in a few minutes to take your questions!
Buzzmaster
(2:03 PM)
Lomas is here!
Lomas Brown
(2:05 PM)
Happy to be back from my Thanksgiving. I had a very good Thanksgiving and I'm still a little stuffed, in case we have any big eaters out there.
Dan (Hartford)
Lomas, What's the best game on the schedule this weekend?
Lomas Brown
(2:07 PM)
My best game is the Titans-Colts. Titans are very very hot right now, playing phenomenal ball. Of course you have the undefeated Colts and Peyton Manning. This should be a great matchup. I am interested in seeing how Indy will stop Chris Johnson. I don't know how they will do that.
Dave (Denver)
Lomas, how difficult was it to watch your Lions on Thanksgiving?
Lomas Brown
(2:08 PM)
Surprisingly, they played better than I thought they would, considering the last 3-4 Thanksgiving Day games weren't very good. But it's always hard to watch them lose those games. I was happy at least it was a competitive game this year. They haven't been competitive the last 3-4 years.
Brett (Florida)
How nervous are you for the SEC title game? What's your prediction?
Lomas Brown
(2:10 PM)
Extremely, extremely nervous. I know that Alabama is going to have some revenge on their mind, after we beat them last year. My hope is that everybody can stay healthy and the Gators come out on top. I am so nervous because Alabama looks better than they did last year. Go Gators!
milton (illinois)
Lomas...if warner doesn't play do the cards have any chance sunday?
Lomas Brown
(2:11 PM)
I just don't think so. Matt Leinart, I'm disappointed at how slow his development has been. Even when he gets his chances, it doesn't seem like he steps up and takes it. I think it's imperative to keep Warner healthy if they want to make a run like last year.
Mike S (CT)
Lomas, what are your thoughts on the progress being made in one of your old cities, Detroit? The Lions at least look competitive most of the time this season.
Lomas Brown
(2:12 PM)
They do. I give coach Schwartz a lot of credit, because you're right, they're starting to finish games in the last year or so. Before, they wouldn't even finish a game. He has definitely come in and changed the mindset of the players and organization. They just need to fill some of the holes they need to fill.
ryan (San Diego)
Good Afternoon, concussions are getting alot of attention and more prominent. How do you feel about the NFL's new policy on the matter? Thanks for you time:)
Lomas Brown
(2:14 PM)
I think it's long overdue. Guys are getting so much bigger and stronger and the hits are so violent, they need to take every procaution they can to protect these players. I'm glad to see that they put the rules in place that if you suffer from a concussion, you can't play the next game. Back when I played, if you had a concussion, if they put up three fingers and you guessed three fingers, you were back in the game.
Blake (Abilene, TX)
Lomas, Is the NFL a little to orthodox in evaluating players. Might all the "experts" be wrong on Vince Young?
Lomas Brown
(2:15 PM)
I just think in the NFL, they get caught up too much in the a) numbers games, b) QB's throwing motion, c) if he's a QB that can stand and throw in the pocket. They have to look at what the player has accomplished. All Vince Young did in college is win games. All he did his rookie year is win games and the rookie of the year.
PAT (Cleveland)
Hey Lomas, What do you think of the TO-Revis matchup tongiht?
Lomas Brown
(2:17 PM)
That should be a great matchup. You have a great young CB in Darelle Revis and a crafty old veteran that's done it all in TO. But I fully expect Revis to have a pretty good game against TO.
Sam (NE)
Lomas, where can I get Suits that look like yours?
Lomas Brown
(2:18 PM)
Well, Sam, you have to start off being a 52 extra long. If you are, my tailer would love to come out and see you. Because if you are a 52 extra long, you know already that us big fellas can't just buy off the rack.
J.B. (Dunmore, PA)
Mr. B.: Which of the following is the best shape to get things turned around - Oakland, Detroit, Tampa Bay or Cleveland?
Lomas Brown
(2:19 PM)
I'm going to go with Detroit. Not because I'm from there, but you can just see the improvements in the team. I think they probably have more weapons. They have Stafford, Calvin Johnson, Brandon Pettigrew. They have a young nucleus of players.
BJ (Monroe)
Do you think the NFL should play games in Toronto?
Lomas Brown
(2:20 PM)
I don't really like that idea, BJ. I think the games should be played in the United States. I don't think any team should have to travel out of the country to play regular season games. I could see preseason games, but I'm not a big advocate of playing out of the country.
Aaron (CR)
Biggest suprise team so far in the NFL?? i think the saints or denver
Lomas Brown
(2:22 PM)
I have to go with the Saints. I never would have thought, especially on the defensive side of the ball that those guys could turn things around and play at the level they are playing at. They're causing turnovers and scoring on defense. They're giving Drew Brees and that offense plenty of chances to be on the field.
Tank (Astoria)
Lomas- Any interest in Notre Dame?
Lomas Brown
(2:23 PM)
That seat is even too hot for me to sit in. That's a hot seat, holding down that Notre Dame head coaching job. You have to be a special person to take that job. That's not for me. I like watching Notre Dame on TV on Saturday.
David (ATL)
Bigger loss: Turner or Ryan and will the Falcons ever win in consecutive seasons?
Lomas Brown
(2:24 PM)
Not with those two guys hurt. I think because it's been shown that if you can run the ball, you can win. Turner is the biggest blow to the Falcons, but none of that matters if they don't start playing better on defense. They're ranked near the bottom in nearly every category on defense. Regardless of Michael and Matt, if they don't get better, they won't be playing in the postseason.
Tyler Mills (NC)
Me and my friends Phillip and Marcus have benn arguing all season on who would you rather have on your team. I said Reggie Wayne, Philip sayed Carolina's Steve Smith, and Marcus said Andre Johnson. Who would you select if you had the choice?
Lomas Brown
(2:25 PM)
I'm taking Andre Johnson. The guy is a beast, physically. He's a beast. Because he's been in Houston, he hasn't gotten the exposure of Reggie Wayne or Steve Smith. He's better, to me, than those guys. He's bigger than those guys. He's more physical than those guys. That's why I'm taking Andre Johnson.
Greg (Michigan)
Lomas,Looking for a big fantasy week. TO or Calvin Johnson? I am ready to flip coin? Your expert opion would be great. Thanks for the memories Long Time Lions fan (almost hard to continue to admit that)
Lomas Brown
(2:27 PM)
I would take Calvin Johnson because of the QBs. You have Matthew Stafford, compared to Ryan Fitzpatrick. The continuity and timing is there with Matthew and Calvin Johnson, moreso than with TO and Fitzpatrick.
John (NO)
Should the Saints pay to keep Reggie Bush or let him go when his contract is up?
Lomas Brown
(2:29 PM)
To me, I think Reggie would be better in another system. They have so many different weapons, they don't really use him or the skill set he has. If Reggie went to a team that has less offensive weapons, I think he could flourish more. But he's surrounded by so many great players in New Orleans, it's hard to spread it around. You'll end up with guys who don't get as many touches as they can.
big m (st. louis, mo)
do u think the ravens can make the playoffs?
Lomas Brown
(2:30 PM)
It's going to be tough, big m. Baltimore has blown some games that they shouldn't have lost. In the end, those games that they lost will come back and haunt them. They're already looking up at Cincinnati, Pittsburgh. There are a lot of teams they're looking up at. It's going to be real tough. This year, I just don't see them making it.
Lomas Brown
(2:32 PM)
I would like to let everyone know that I officially have my own Fat Head. So, if you would like for me to grace your wall, go to FatHead.com.
Buzzmaster
(2:32 PM)
Thanks for chatting!