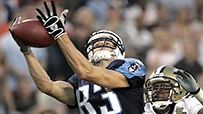 In 2004, Bennett had 1,247 receiving yards and 11 TDs.
Welcome to SportsNation! On Monday, First Take NFL analyst Drew Bennett will stop by to chat about this past weekend's games.
Bennett, who went undrafted in 2001, played eight seasons in the NFL before having his career cut short by injuries. He spent the first six years of his career with the Tennessee Titans and played the last two with the St. Louis Rams. He had signed on with the Baltimore Ravens in July 2009, however a knee injury caused him to retire shortly after signing his contract. For his career, he caught 307 passes for 4,412 yards and 28 TDs.
Bennett appear every Monday on ESPN2's First Take from 10 a.m. to noon ET.
Send your questions now and join Bennett Monday at noon ET!
More Special Guests: Previous chats | SportsNation
Buzzmaster
(11:51 AM)
Drew should be here in minutes to take your questions!
Buzzmaster
(11:56 AM)
Drew is here!
Drew Bennett
(11:59 AM)
Thanks for showing up. Let's do this!
Ray A. (San Francisco, CA)
Drew, call me crazy but wouldn't it be a smart move for the 49ers to use one of their draft picks on DE Carlos Dunlap. I know the DUI is a problem, but I think if anyone can straighten him out Mike Singletary can!
Drew Bennett
(12:00 PM)
I think any help around Patrick Willis would be great. I think the pieces are in place for a decent offense with Gore, Smith, Crabtree. Let's hope he doesn't turn out like Andre Carter.
Marty (Atlanta)
What was happened to the Steelers this season, 6-2 to now 6-6? We saw the same exact thing 3 years ago after they won a Super Bowl they had a miserable season following, can you really them one of the great teams of the decade when they have really been inconsistant season to season?
Drew Bennett
(12:01 PM)
It's very rare that a defending Super Bowl champion has trouble with identity at this point in the season. To have your coach come out and say you're going to unleash hell in December and then lose to the Raiders is not indicative of a team following their coach. Couple that with Hines Ward's shots at Ben Roethlisberger and you have an identity problem.
Victor (Groton)
Should the Saints be scared since what happened this weekend with the Redskins
Drew Bennett
(12:02 PM)
Absolutely not. This league is filled with a lot of great players and I think Washington is definitely way more dangerous than their record indicates. I think it says more about the Saints ability to come back than it does that they should be concerned.
Dave (Boston)
Drew, Indy and New Orleans have both looked vulnerable. Does either one of them lose a game?
Drew Bennett
(12:03 PM)
I think we're looking at the first two undefeated teams in the same season. Each team really only has one test left. Winning tight games at the end like these teams have done show how good they are, not how vulnerable they are.
Tim (VA)
What do you make of the MNF game tonight?
Drew Bennett
(12:04 PM)
You couldn't ask for a better matchup. Two teams that have to win to stay in the playoff hunt, from different conferences. I give the edge to the Pack at home in the cold weather, if they can replace Kampman and Harris on the defensive side of the ball.
Steve (Washington)
Is Ray Rice a legit every down back for the Ravens?
Drew Bennett
(12:05 PM)
Good question. I think he is more productive as a scat back, like they're using him now. You look at Darren Sproles, yeah, he could be considered an every down back, but he's much better when coupled with LT. Could Ray Rice play every down? Yes. But I think to keep him in the 15 carry range makes him a better player.
Rick (Florida)
Who's your MVP?
Drew Bennett
(12:06 PM)
Peyton, if Chris Johnson doesn't break the single season rushing record. If the Titans make the playoffs and Johnson does this, you have to give it to him. Favre might have shot his chance down last night.
Tom (RI)
What's wrong with the Patriots?
Drew Bennett
(12:07 PM)
I think it's just a matter of winning on the road. This team doesn't have the same caliber of savvy veterans that it had in years past. Now that they've lost Harrison, Vrabel and Bruschi, they're struggling in tougher environments. I still have them winning the AFC East.
Will (Texas)
What happened with the Cowboys? I thought they were back?
Drew Bennett
(12:08 PM)
Hey, this team is still winning the division. But, it's December and the Romo curse is upon themm. He actually played well yesterday, which is probably a bad sign since they lost by two scores.
Henry (Detroit)
Drew...how many years before my Lions can get close to .500?
Drew Bennett
(12:09 PM)
I don't think that long. You have a defensive minded head coach in Jim Schwartz, who was very successful in Tennessee. You have a young promising quarterback and some underrated weapons around him, including a guy Calvin Johnson, who I think is in the top 2 receivers in the NFL. 2011, they're .500 or better.
Greg (Philly)
How out of it are the Steelers? They've looked terrible!
Drew Bennett
(12:10 PM)
In the words of Raiders fans, wait til next year.
Evan (LA)
Did you think the Raiders had any shot of beating the Steelers?
Drew Bennett
(12:11 PM)
The Steelers are tough at home, so anyone that tells you they had this pick is lying. However, I've said all season that the Raiders have very good players on paper. And just getting that disaster of a QB off the field at least gives them a chance.
turner (school lol)
is there any chance the browns could be a playoff team next year? go brownies!!!!
Drew Bennett
(12:12 PM)
I love your enthusiasm. Stay true to your roots. But no.
Isaac (Colorado)
How close will the Broncos vs. Colts be in your opinion?
Drew Bennett
(12:13 PM)
It's going to be a great game. If anybody in this league matches up well with the Colts' offense, it's the Broncos. I like that Orton's able to get the ball down the field more to Marshall. They at least have some quick strike capabilities to keep up with the Colts, if need be.
Bill (CINCY)
How do you see the vikings doing against the bengals defense this sunday?
Drew Bennett
(12:14 PM)
A little throw back. Last year, the Jets, 8-3 in Week 13, then Favre's arm breaks down and they finish 9-7 and miss the playoffs. He threw four picks and one TD in the following Week 13. I think the Cincinnati game will let us know if there will be a repeat of last year or if Favre bounces back and loses that tendency to throw picks that we saw this week.
Tom (Chicago)
Jimmy Clausen has announced he's entering the draft. Your thoughts on his pro potential?
Drew Bennett
(12:16 PM)
I haven't watched enough of Jimmy Clausen to make a fair assessment, but what I have seen, he definitely throws a good enough ball and has good enough technical skills. He struggled early in his career and did well this year. Was this a flash in the pan or was this Clausen finally getting comfortable?
Tim (Saginaw, MI)
Who will be the Wild Cards in the AFC now? Pittsburgh is pretty much done.
Drew Bennett
(12:17 PM)
Denver and Jacksonville. Denver is playing good football again after their little four game losing streak. Jacksonville will lean on Maurice Jones-Drew to hang on to their berth in the playoffs.
Casey (VA)
You say Romo curse, I say Jason Garret. Why do the Cowboys refuse to run the ball down the other teams throat?
Drew Bennett
(12:18 PM)
I think there is some validity to this comment. However, moving the ball was not the issue yesterday. I just think the curse is funny because on paper, the Cowboys should have definitely won that game yesterday. It's definitely hanging over their heads. It's all Jessica Simpson's fault.
Sean ( Louisiana)
Drew where is Jon Ritchie? Is he hungover after celebrating the silver and black's dominance with Mr. Davis?
Drew Bennett
(12:18 PM)
He better be in Vegas.
Drew Bennett
(12:18 PM)
Probably the biggest day of his life.
Andrew (Toledo)
Do you think Brady Quinn can be a good NFL QB?
Drew Bennett
(12:19 PM)
I do think Brady Quinn has the skills to be a good QB. But he is so raw that in order to be successful, they have to find a very strict offensive coordinator or QB coach to come in there and get him and everyone else on the same page.
JAMARCUS RUSSELL (OAK)
WHO U CALLIN DISASTER?
Jeff (idaho)
Drew... Shouldn't Justin Forsett be starting at running back ahead of Julias Jones?
Drew Bennett
(12:20 PM)
He's made his case the last few weeks. I'd be more worried about bigger picture issues in Seattle. I don't understand with the names on their offense why they're struggling so much this year.
Tim (Saginaw, MI)
Is this a case of the Steelers D missing A. Smith and Polamalu that much?
Drew Bennett
(12:22 PM)
Troy Polamalu truly is a difference maker, so yes they do miss him this much. When I was in Tennessee, game planning in Pittsburgh was 40% game planning for Troy Polamalu and 60% for everything else. Teams no longer have to slide protection towards him and he might be one of the best in the league at disguising coverages.
John (Stafford, VA)
Do you think J Freeman really is the future of TB at QB? Even after 5 INTs yesterday?
Drew Bennett
(12:23 PM)
Yeah, I like Freeman. Every rookie QB on a team that poor is going to have a 5 INT day. But I have liked how he stands in the pocket and I like the way the ball comes off his hand. Get him some help ASAP.
Greg (Virginia)
With Vick getting two TD's and showing an improved throwing arm.... Will he stay with the Eagles or go somewhere like oakland?
Drew Bennett
(12:24 PM)
The Eagles are not going to pay Vick $6 million next year to run the Wildcat twice a game. He might get a chance to start in the NFL, but it definitely will not be with the Eagles. With his history, I think the Raiders would be a perfect fit.
Bill (CINCY)
can the bengals get all the way to the superbowl with their passing game out of sync?
Drew Bennett
(12:26 PM)
Yeah, I think that Cincy could be a darkhorse in the Super Bowl race this year. More for their combination of running backs and defensive scheming of Zimmer. As long as these receivers stay consistent Carson Palmer will get out of his funk and they will be a balanced team again.
Ryan (San Diego)
Who do you have in the matchup of the week with San Diego at Dallas?
Drew Bennett
(12:27 PM)
Dallas is cursed, bet the house on San Diego. They're running the ball very well right now. Their defensive backfield is very good and Roy Williams, even though he caught two TDs yesterday, still does nothing for me.
Africa (Brooklyn, NY)
Any chance the Giants win out?
Drew Bennett
(12:28 PM)
No. They just gave up 392 passing yards to Tony Romo. They have to play Philly, a dangerous Washington team and the Vikings. They can plan their offseason for January.
Victor (Groton)
In what area do you think that the Pats need to focus on in the upcoming draft?
Drew Bennett
(12:29 PM)
They need a new QB. That guy is terrible....just kidding. I would say RB. They've got Sammy Morris and Faulk who are both getting up in years and Maroney who can't stay healthy. Get Tom Brady a Adrian Peterson type supporting cast.
Drew Bennett
(12:30 PM)
Thanks for the questions. Go Bruins!