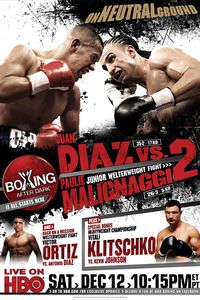 Welcome to SportsNation! On Wednesday boxer Juan Diaz stops by to chat about his upcoming fight on Saturday.
Diaz (35-2, 17 KOs) faces Paulie Malignaggi (26-3, 5 KOs) in a 12-round junior welterweight bout Saturday at 10:15 p.m. ET/PT IC Pavillion in Chicago on HBO's Boxing After Dark.
Diaz goes into Saturday's bout looking for back-to-back wins against Malignaggi. In their first meeting, the man better known as "Baby Bull" and for his aggressive style won by unanimous decision.
Outside the ring, Diaz is studying to get his undergraduate degree at the University of Houston. After graduation he would like to attend law school.
Send your questions now and join Diaz Wednesday at noon ET!
More Special Guests: Previous guests | SportsNation | Chat Index
Juan Diaz
(12:05 PM)
Welcome to all my fans. That your for all your support throughout 2009.
Randy ybarra (wichita,ks)
juan, how much has your training changed from early in your career to now?
Juan Diaz
(12:06 PM)
It's been a progress. I started in the gym for one month before a fight the when I was fighting four round fights. Now I'm in the gym for 2 1/2 months before a fight.
Shawn Holt Jr. (Detroit,MI)
How old we're you when you began boxing? What motivated you to become a boxer?
Juan Diaz
(12:07 PM)
I was eight years old when I started boxing. I was a problem child and my dad was a huge boxing fan. He figured that I can go to the gym and get out my anger while doing something that he liked.
Jim (Chicago)
Juan: Are you holding any public workouts in Chicago? When and where is the weigh in?Have a safe fight!
Juan Diaz
(12:08 PM)
Yes, I am. The public workouts are today at the Jabb Boxing Gym at 410 North Oakley Boulevard. The weigh-in is Friday at the ESPN Zone.
James (Lexington)
BABY BULL!!! Now that you know you're going to have to chase Paulie for 12rds, how have you changed your training preparations for the fight since last time?
Juan Diaz
(12:09 PM)
This time around, I'm not just going to walk in a throw punches. I'm going to pressure him smart.
Isai (OKC)
Just curious... What do Paulie's punches feel like?
Juan Diaz
(12:10 PM)
Paulie's punches don't have any power, they don't hurt only sting.
Michael Carpenter Harris (Charleston WV)
What is your sparring schedule and how many rounds do you spar a day in preparation for this fight?
Juan Diaz
(12:11 PM)
I don't spar right now but before I sparred Monday, Tuesday, Thursday and Saturday from six to 10 rounds a day.
Emmanuel (Puerto Rico)
are you worried this time around you won't have the "home court" advantage?
Juan Diaz
(12:12 PM)
Not at all. When we step in the ring it doesn't matter if we are in Houston or anywhere else in the world. It will be just he and I in the ring. Once that first punch is thrown, all the butterflies disappear and it's time to work.
Raul Jr. (Everett, WA)
Baby Bull! What mistakes do you feel you made in the first fight with Paulie and how do you plan fixing the mistakes?
Juan Diaz
(12:13 PM)
My biggest mistake had to be me pressuring him without any head movement.
Chris (Columbus, OH)
Do you plan on pursuing a law degree during, or after your boxing career?
Juan Diaz
(12:14 PM)
I do plan on pursing a law degree but I'm going to hold off on that for at least a year or two so that I can concentrate on boxing.
Chris (Columbus, OH)
What advice would you have for a young fighter like Victor Ortiz who is coming back after his first defeat?
Juan Diaz
(12:15 PM)
I guess I would tell him, you learn a lot from your first defeat. Just continue to train hard and don't let the loss get to you. Put that fight behind you and concentrate on future fights.
Victor (Downey, Cali)
Hey Juan I'm a big fan... If you get a W against Paulie On Saturday, do you think you would move up to 140 and face Khan or Maidana or maybe even Victor Ortiz?...
Juan Diaz
(12:17 PM)
I plan on moving back down to lightweight. I've been fight these fights at 140 because Paulie moved up. I feel more comfortable at lightweight so I think I'll move back down.
ed sanchez (el paso tx)
amir khan and edwin valero are a couple of names being mentioned as possible fights for you...but what are some names that you are interested in facing?
Juan Diaz
(12:18 PM)
I would like to have a rematch against Juan Manuel Marquez l. I wold like to fight the only man who has stopped me in my career.
Isai (Oklahoma City)
Juan, I too graduated with a Poly Sci degree and am now attending OKC Law school. I am one of the few hispanics there, it would be great to have you there as well, think about it when you are choosing your law school, man.
Juan Diaz
(12:19 PM)
(Laughing) Thank you, I will keep my eyes open for any law schools close to my hometown of Houston. Oklahoma City isn't that far so I will definitely look into it.
richard (oxford, united kingdom)
Juan, would you ever consider coming to the UK and fighting ricky hatton, if he decides to box on??
Juan Diaz
(12:20 PM)
I definitely would make the trip to the UK to fight Ricky Hatton. The UK has great boxing fans and I think it would be a great fight.
fidel (carpentersville IL)
What do you think Pauli is going to do diffrent in this fight from the last fight
Juan Diaz
(12:21 PM)
I believe he is going to move a lot more. I"m sure he went back a looked at the film and he saw that when he stayed a boxed with me, he was receiving the majority of the punches.
Juan Diaz
(12:22 PM)
Thanks to all the fans for submitting questions. Merry Christmas and Happy New Year to all. I hope that all your dreams and wishes come true in 2010.