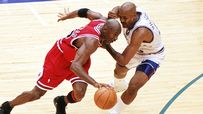 The D-League's Utah Flash are trying to reunite Michael Jordan and Bryon Russell.
Welcome to SportsNation! On Monday, former NBA player Bryon Russell stops by to chat about the NBA season as well as his proposed one-on-one challenge with Michael Jordan set up by the NBA D-League Utah Flash owner Brandt Andersen.
Following Jordan's Hall of Fame speech, Russell challenged Jordan to a game of one-on-one. Anderson stepped in and proposed a Russell-Jordan game Monday night during the Flash's home opener. He will says he will pay $100,000 to the charity of the winner's choice.
In his 12 seasons in the NBA, Russell played for four different teams including the Denver Nuggets, Los Angeles Lakers, Washington Wizards, and was a key member of the Utah Jazz helping them advance to back-to-back NBA Finals in 1997 and 1998. Before retiring in 2006, Byron scored 6,663 points, dished out 1,085 assists and pulled down 2,914 rebounds.
Send your questions now and join Russell Monday at 2 p.m. ET!
More Special Guests: Previous chats | SportsNation
Buzzmaster
(2:00 PM)
Bryon will be here to chat in a few minutes!
Buzzmaster
(2:10 PM)
Bryon's here!
Freddy (Los Angeles)
If games is up to 11, all ones, by how many points would you beat MJ?
Bryon Russell
(2:11 PM)
I'll probably take it easy on him a little bit, but I probably win by 3.
Steve Ballif (Spanish Fork, UT)
B-Russ, if the game goes down, what's gonna prevent any push-off jumpers? Call your own fouls? I'll be there wearing your jersey!
Bryon Russell
(2:11 PM)
We'll have a referee, but not the NBA refs. We'll have some honest referees that don't care about Michael or Bryon.
Chad (Halsey, Or)
Byron, what if MJ shows up and you do beat him, will you challenge Kobe next? Or what if you lose? Has that thought crossed your mind? Good luck and i hope you win! Peace out.
Bryon Russell
(2:12 PM)
I don't plan on losing. I don't plan on challenging Kobe, because he didn't put me in the limelight and I didn't have wars with Kobe like I had with Mike in my career.
J.B. (Dunmore, PA)
Byron,Thank you for taking the time to chat with us. Do you feel that the NBA game is quicker nowday than what it was in the 1990s? Also, is John Stockton the ebst point guard you ever saw play? Thanks for your time.
Bryon Russell
(2:13 PM)
There are a lot better athletes today, yes, but smarter, no. They want to make it a little more uptempo game. It is quicker. No defense, though. THat's for sure.
Jay (Utah)
Byron Russell!!!!!!!!! Just wanted to thank you for your years in Utah, but What was the defining momentin your career that you said to yourself "I made it"?
Bryon Russell
(2:14 PM)
When I got drafted...actually when I first made the roster. They cut a few people because of how I played. When they named the final 12, because Utah only took 12 back in the day, I knew I had made it.
Wally (Washington DC )
Understanding that you have nothing to loose IF this ever went down...what makes you think you can beat arguably the best basketball player of all time ? Even if he is 46 years old ?
Bryon Russell
(2:15 PM)
I know I will whoop him. All he has to do is accept the challenge and we'll see. The refs protected him. In one-on-one, I would have MJ at my mercy. Beating him is like taking candy from a baby. Especially now.
Evan (Syracuse, NY)
What was it like playing with Michael Jordan on the Wizards during his come back? Were there any grudges or were you guys able to operate well together
Bryon Russell
(2:15 PM)
We had a good time together. Had fun, hung out. Played some one-on-ones. He was an unbelievable player and I had a good time playing with an unbelieveable player. Instead of competing against each other, we were playing with each other.
Freddy (Los Angeles)
Have you considered coming back and play for a contender?
Bryon Russell
(2:16 PM)
No, just playing against MJ is all I want to do. I do not want to chase these young kids up and down the court.
Katelyn (Syracuse, NY)
Jordan won't accept the challenge because when he loses he'll have to eat his words.
Bryon Russell
(2:17 PM)
He'll definitely eat his words. He might have lost his mojo, especially when it comes to me. If he had it. To call out somebody that's supposed to be your toughest challenger, you accept the challenge. I think he ran off and hid in a shell somewhere.
Craig (San Antonio)
do you miss utah and wish you could have spent your entire career with them?
Bryon Russell
(2:17 PM)
Yeah, I wish I could have, but you know how things go. They thought they had better talent, but none of them could do what I did out here and that was get pushed off.
Jerico (Philippines)
You're recognised as one of the top defenders of your time, but let's say you're still playing today, who will you have better success with on the defensive end - kobe or lebron?
Bryon Russell
(2:18 PM)
Probably neither one of them. You can't touch them now. I like the contact and right now there's no contact. I'd have a tough time with both of them. LeBron is 6-8, 250, Kobe a little shorter, little lighter, but the heart of a lion.
Damon (Santa Cruz, CA)
Bryon, set the record straight: did MJ push off on you?
Bryon Russell
(2:19 PM)
If you watched it on TV, you should have been set straight the moment you watched it. I don't blame him, I blame the referees.
Steve (Salt Lake City)
What do you think the chances are that Jordan shows up today to play you?
Bryon Russell
(2:20 PM)
I don't know. We'll have to see. The chances could be good or not good. If he does, there will be smoke in the city of Provo.
Tyler (Minneapolis)
Why are you doing this now? Do you have a book coming out or something and need some publicity? This seems to be a bit an odd move, to push for the one on one game so hard.
Bryon Russell
(2:20 PM)
I didn't call me out, he called me out. He's the one that said it in his hall of fame speech. I'm just responding to his question.
Gabriel (LA)
Do you and Jordan have a SIDE BET ? if not you guys should make one to make it more competitive.
Bryon Russell
(2:21 PM)
Oh heck yeah, we'll have a side bet. A million dollar side bet. That would be really in his ballpark.
Jon (Baltimore)
Jordan was a better, defensive player than you, in addition to a better offensive player. How can you win when you know your best asset (defense) is still a level below his?
Bryon Russell
(2:22 PM)
We'll have to see. I don't think he was a better defender than me. If he just takes the challenge, I guarantee I'm a better defender than Mike. Who did he guard? Scottie Pippen guarded all the best players on the team.
Chad (Halsey, Or)
In your opion, is Kobe the closest thing we've seen to MJ? Do you think Lebron will have a good 30yrs and older career when his hops leave him? It seems like it might be harder for Bron to excell later in his career because of the lack of perimeter moves to create jump shots. Your thoughts?
Bryon Russell
(2:23 PM)
Yes, Kobe is the next best thing next to Jordan. And LeBron is going to be a phenomenal player. Even after he turns 30. You only get better with time.
kevin (Boston)
Where are you now? Prepping?
Bryon Russell
(2:24 PM)
I'm set in stone. I'm ready.
Jimmy (AR)
Bryon, who in today's nba do you enjoy watching the most?
Bryon Russell
(2:25 PM)
The only thing I enjoy watching is the playoffs. When it's intense and everybody is playing their best basketball. There is a lot of individual talent I like to watch, because every team has that one or two players that are really good.
MIKE (DENVER)
Do you really want to be on another poster? You could not stop him then and you won't be able to stop him now!!!!!!!!!!!!!
Bryon Russell
(2:26 PM)
I'm already known for one, right? Who's to say Mike won't be on the poster this time? Looking up at the score, shaking his head with his hand on his face.
Bryon Russell
(2:26 PM)
Get ready for a good whooping that MJ's going to get.
Buzzmaster
(2:27 PM)
Thanks for chatting Bryon!