Chat with Travis Pastrana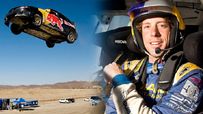 Pastrana will attempt another New Year's Eve trick on ESPN.
Welcome to SportsNation! On Tuesday, we'll have motocross superstar Travis Pastrana chatting about the latest "Red Bull: New Year. No Limits." stunt.
This year, on New Year's Eve in Santa Monica, Calif., Pastrana will jump his rally car over 200 feet onto a floating barge, shattering the world record. The event will be televised live on ESPN/ESPN HD on Thursday, Dec. 31, immediately after the Chick-fil-A Bowl (approx. 11 p.m. ET/8 p.m. PT). Viewing of Pastrana's jump will be free to the thousands of revelers in downtown Long Beach.
Pastrana has won 13 XGames medals in Freestyle MotoX, MotoX Best Trick and Rally Racing.
Send your questions now and join Pastrana Tuesday at 4:30 p.m. ET!
More Special Guests: Previous chats | SportsNation
Buzzmaster
(4:18 PM)
Travis will be here at 4:30 p.m. ET to take your questions!
Buzzmaster
(4:32 PM)
Travis is here!
Dillon Courtis (London canada)
what made u want to jump onto a floating barge?
Travis Pastrana
(4:33 PM)
I guess the answer would be to make it more challenging. Put a little level of old school feel as opposed to computer mathematically calculated jumps.
Cory Schweitzer (Annapolis, Maryland)
What kind of training did/do you have to do for this kind of stunt?
Travis Pastrana
(4:34 PM)
The training for my whole life for motorcross and having my body be ready for impact. I'm sticking with that routine for this car jump and adding a little bit of core strengthening so my back doesn't break.
Monica (Toronto, ON)
Any advice on how to face your fears?
Travis Pastrana
(4:35 PM)
That's really deep. If you're passionate enough about something, you'll find a way to overcome the obstacles presented to you.
Hayden (Logan, Utah)
What is the scaredest youve been b4 a stunt?
Travis Pastrana
(4:36 PM)
Four times in my life, I've done something that I was almost 100% sure wasn't going to work. This results in talking too much crap. Red Bud in 2001, jumping Larocco's Leap, in 1992, when I told Guy Cooper I could jump something in my 180 that someone was only jumping on their 250. And this year at the XGames.
Steve (Denver)
What are you thinking about when you're in mid-flip?
Travis Pastrana
(4:37 PM)
The first time, Oh my God, Oh my God, Oh my God. Now, I wonder if anyone is watching.
Travis Pastrana
(4:37 PM)
I wonder if the girl in the fifth row is watching.
Lucas Derouin (Marquette, Michigan)
Has alot of freinds and family tried to talk you out of this stunt? How fast will you be going to clear this gap?
Travis Pastrana
(4:38 PM)
Yes and faster than I want to be.
Cloe (Paris, France)
What do you think has been your greatest accomplishment as an extreme sports athelete?
Travis Pastrana
(4:39 PM)
Probably winning the 2000 outdoor national championship at 16, my first year pro.
Jae (New Jersey)
Do you enjoy watching any sports on TV? (i.e. football, baseball, NASCAR) If so, who are your faves?
Travis Pastrana
(4:40 PM)
Yes. Fuel is on 24/7 at my house. I hardly ever watch TV. As far as sports, I watch NASCAR, becaues I have a lot of friends who race. I watch football and I watch South Park, if I have time.
Nikki (UK)
Hey TP, how confident for No Limits are you? Are you ready and feeling pretty happy about it? or you just gonna Give-er?!
Travis Pastrana
(4:41 PM)
Both. I'm very confident. I would never do anything that I'm not confident in doing. But there is a lot of things with jumping cars that we haven't experimented with. Wind is a huge factor that could come into effect.
Rene (Arizona)
What goes through your mind right before you attempt a new stunt? I mean, I know I've teared up a couple times watching you fly through the air!! I'm no where near trying "stunts" but even just jumping my dirtbike freaks me out a bit before I do it!!
Travis Pastrana
(4:42 PM)
I'm fortunate enough to have a foam pit. Even then, it's easy to get hurt. There's a lot of thought that goes into a new trick and you use your past failures and successes to have a good idea of what's possible before you do it.
Fred (MS)
Have you ever had a fall like Jake Brown did during the XGames? Where he hit and his shoes went flying off?
Travis Pastrana
(4:43 PM)
He's the only living person on the face of the earth that's had a fall of that magnitude.
Monica (Toronto, ON)
What motivates you to constantly test your limits?
Travis Pastrana
(4:44 PM)
Every morning I wake up with a passion to be able to do what I do love for a living. What I love is pushing my limits to always expand the realm of possibility.
Dillon S (Athens GA)
Hey Travis! Which one is scarier the double backflip backflip 360 or the up comeing jump. (If yor passenger seat is empty id love to join you haha)
Travis Pastrana
(4:44 PM)
All of the above.
jon (africa)
What do you drive for a car?
Travis Pastrana
(4:45 PM)
Subaru WRX. To pull the motorcycles Ford F150.
Lucas Derouin (Marquette, Michigan)
Why do you do these kind of stunts? Is it for your own satisfaction, the fans, or proving people wrong?
Travis Pastrana
(4:46 PM)
I would say if you're not doing this kind of stuff for yourself, it's not worth it. There's no amount of money, perks, fame that's worth the injury. But if I had to repay every last dime, I'd still be doing what I'm doing.
Mariela (Puerto Rico)
With the NC Live tour, will you be able to compete @ XGames16? I'm going next year, will be great to see you there trying the TP7 :)
Travis Pastrana
(4:48 PM)
Yes, I will be doing the Live Tour in May and June in Australia with all of the Nitro crew and some Australian friends.
Travis Pastrana
(4:49 PM)
Cameron Sinclair. It should be fun. I will definitley be at the XGames. And hopefully if I get to TP7, I will be doing that.
Jenna (Vancouver, BC)
How awkward were you while people were calling on loveline? I just listened to it, and you went silent almost every time.
Travis Pastrana
(4:51 PM)
They kept looking at me to talk, but even the stuff I wanted to comment on, I physically couldn't get myself to speak.
Hayden (Logan, Utah)
how do you practice for this barge stunt?
Travis Pastrana
(4:52 PM)
Red Bull started the set up with a big table top that was dirt. We got the angles that worked right to fly the car. Subaru made some modifications so that we could jump the car over and over again, so we could use it at XGames next year. After we had the dimensions, we started moving the ramp back. A few near catastrophes and two Subarus later, I think we have it really close.
Zach Plantz (Altmar,ny)
Travis what is the best way to join the Nitro Circus?
Travis Pastrana
(4:54 PM)
Be careful what you ask for. It has to be epic good or epic bad.
Travis Pastrana
(4:54 PM)
The Nitro Circus is a very tight knit crew and we found that very few people are durable to hang or rational enough not to die.
Travis Pastrana
(4:54 PM)
Good luck.
CorySchweitzer (Annapolis, Maryland)
What is it like to rally race? It looks like a blast!
Travis Pastrana
(4:56 PM)
Rally racing is controlled chaos. I enjoy it more than circuit racing, because it's not about perfection, it's about making the best of every messed up situation over and over again. Your co-driver needs to be spot on and I enjoy the team aspect, because it's something I've never had to work with before. When he messes up, we crash. When I mess up, we crash. The trust is amazing.
Travis Pastrana
(4:57 PM)
Thank you very much for your support. Check it out Red Bull: New Year. No Limits, Dec. 31, Live ESPN, 11 p.m. ET.