Chat with Nancy Lieberman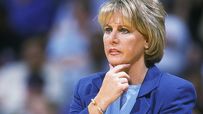 Lieberman is regarded as one of the greatest figures in woman's basketball.
Welcome to SportsNation! On Friday, Basketball Hall of Famer Nancy Lieberman will chat about her new position as head coach of the newly formed Frisco, Texas entry in the NBDL.
She was named to the Basketball Hall of Fame as a player in 1996 and the Women's Basketball Hall of Fame in 1999.
Send your questions now and join Lieberman Friday at 10:30 a.m. CT/11:30 a.m. ET!
More Special Guests: Previous chats | SportsNation
Nancy Lieberman
(11:32 AM)
First, I want to wish everybody happy holidays. I know we're not used to this type of weather in Dallas, so hopefully it will pass soon.
Garland Rowe (Plano)
Who have been your biggest coaching influences?
Nancy Lieberman
(11:33 AM)
Without a doubt, Marianne Stanley, who was my coach in college. She's a Hall of Famer. Pat Summitt and Doug Collins were one of the most inspirational for me.
Stephanie Roth (Duncanville)
If you had to choose just one, what would be your favorite moment from your basketball career?
Nancy Lieberman
(11:34 AM)
It would be at the 1976 Olympics, standing up at the podium, bending over and having them put the silver medal around my neck. Not many athletes get to experience that in their career.
Joe Robertson (Euless)
As the Frisco head coach, how closely will you work with Rick Carlisle and his staff?
Nancy Lieberman
(11:37 AM)
I was in Mavericks practice yesterday. I would like to make this as seamless as I can for the players. I'll be at the Mavericks practices as much or as little as Rick Carlisle will allow me to be. I want to make sure that I am giving the same information to my players if they get brought up to the Mavericks and the same information for the first- or second-round picks if they are brought to us, that we are helping them with the learning curve. I don't have to reinvent the wheel. I just have to make sure that we are teaching them appropriately and preparing these guys if they are brought up to the next level. Sometimes being simple and coordinated is better.
Dana Franklin (Little Elm, Texas)
David Stern said recently that he thought a woman would play in the NBA within a decade. How likely do you think that is?
Nancy Lieberman
(11:42 AM)
David Stern first is a great proponent of women -- women in business and women in sports. We're very fortunate that he has been a part of our lives. Without him, there wouldn't be a WNBA. Whether a woman can play in the NBA in the next decade, I don't know. I don't know if we need to play in the NBA if we have a WNBA. From my experience playing against men in minor leagues, I think the only true position that we could is being a point guard. That woman would have to be able to be big and strong. I was 5-10. I was big, strong, athletic, could pass and shoot and understood the basketball IQ of the game. Maybe Diana Taurasi has that skill set. She's 6-0, she's big, she's strong, she could shoot, she's a great passer. You can hide some of your physical deficiencies playing against guys who are so quick, but that's the only way I see it. The men's game has so many great athletes. That's the separator. It's not the skill set or the mental part. I'm not saying anything is impossible, but it would be improbable without that skill set and that mental toughness.
Chris Fiegler (Latham,NY)
Do you think in the future that you will coach in the NBA? If so which team do you think that you will coach?
Nancy Lieberman
(11:45 AM)
Chris, first I have to stay focused on the job that is in front of me, coaching the Mavs' D-League team. Sometimes you can get so ahead of yourself and you don't concentrate on the now. I'm not blind to the fact that it could be a possibility to one day coach at a higher level, but that's not my motivation for accepting the job. I accepted the job because I want to do the job. I want to help them get better. Our organization and our staff will do that. We'll make each one of these guys better people. We'll give them a vision of what they can be. We'll build their confidence and their self-esteem and we'll make them better basketball players. Certainly the player has accountability in this as well, but I'm excited about the challenge.
Joaquin (Dallas)
Soooooooo, how is pre-game/post-game locker room etiquette handled? Awkward?
Nancy Lieberman
(11:47 AM)
There's nothing different They'll know that at a certain time on the clock I'll come in there. You have to remember that I do TV. I'm in the locker room with guys in towels. This is nothing new to me. In most cases, coaches don't come in the locker room until a certain time is on the clock. They'll have to handle their business before I get in there. It will be nothing different. Thanks for looking out for me, though.
Joaquin (Dallas)
Biggest difference between coaching men's and women's game?
Nancy Lieberman
(11:48 AM)
I'll let you know after I experience it.
JR Slagendorff (Frisco, TX)
Nancy - what is your scouting report on D-League Frisco's first player "Draino"?
Nancy Lieberman
(11:49 AM)
I thought that Draino was a household product. Being a good woman, I keep that on hand at all times. I know you're trying to get your player Draino a spot on our team. He's slightly behind my 15-year-old son T.J. on the depth chart, although with his accent he might be better than Rosetta Stone to help me with languages. Look forward to seeing you at more of our events. Love the moustache. Draino rules, just not for my team.
Nancy Lieberman
(11:50 AM)
I'm looking forward to seeing the Mavs play Miami tonight and being at the arena tomorrow. They look great and are getting healthy. Dirk looks smashing with his headband. See you at the arena.
THIS WEEK'S CHATS (All Times CT)