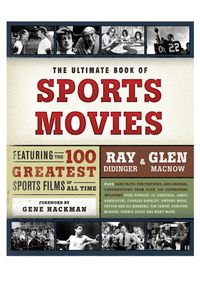 Welcome to SportsNation! On Friday, we're chatting sports movies with Ray Didinger, co-author of the new book "The Ultimate Book of Sports Movies."
Didinger, along with Glen Macnow, tried to answer the question of which movie is better, "Field of Dreams," "Bull Durham," "Hoosiers," "Raging Bull" or "Rocky"? Those last three were their top three, in alphabetical order (they reveal their ranking in their book). The duo watched over 300 movies, grading them and coming up with a top 100.
Didinger won six Emmy Awards as a senior producer for NFL Films, authored nine books and was a sports columnist for the Philadelphia Bulletin and Philadelphia Daily News. He is also a member of the Hall of Fame (writer's honor roll). Didinger and Macnow co-host a sports talk radio show on WIP 610 in Philadelphia.
Send your questions now and join Didinger Friday at noon ET!
More Special Guests: Previous chats | SportsNation
Ray Didinger
(12:02 PM)
Hi, I'm hear ready to talk sports and movies!
Aron (St. Louis)
Bull Durham and Slap Shot should be 1-2 but what are your thoughts of the new movie "The Blind Side"?
Ray Didinger
(12:03 PM)
I haven't had a chance to see it yet. I read the book but haven't had the chance to see the move.
Dan (Philadelphia)
Ray......Time is Yours. Congrats on all of the success with the book. Take yourself outside of the City of Brotherly Love. Is Rocky really the best sports movie of all time? I believe it won Best Picture, correct? Was it the only sports movie to win that award?
Ray Didinger
(12:06 PM)
Several sports movies have won best movie. Chariots of Fire and Million Dollar Baby have both won for best picture. My co-author and I feel that a good sports movie tells the story of somebody making something out of nothing and Rocky has that. People come from all over to run the steps and to take pictures in front of his statue. It's not a Philly thing, we really so feel as if it's the best sports movie.
erik (new jersey)
"Miracle on Ice", nothing better than beating russia at their own game.
Ray Didinger
(12:08 PM)
(laughing) We felt "Miracle on Ice" was a great movie and it's No. 16 on our list. Everybody knows what happened and how that story ended but yet they told that story in a very gripping way. They had you on the edge of your seat the entire time. I thought Kurt Russell was brilliant in that movie.
Ty Smails (Bushwood, FLA)
Who, in your opinion, are the actors who can really pull it off as athletes? Wh, on the other hand, are actors who have pulled down movies by performing so poorly as athletes?
Ray Didinger
(12:13 PM)
Glen and I did two separate chapters dealing with exactly that. We felt the top guy was Kevin Costner. We felt he really looked like a ball player in "Bull Durham". Number two was Bert Reynolds in the original "The Longest Yard", he played football at Florida State and that showed in the film. Number three is Robert De Niro in "Raging Bull." Tony Perkins from "Fear Strikes Out" was on our not so great acting list. He looked like he never stepped foot on a ball field before.
Philip R. (Charleston, WV)
I'd say Field of Dreams should definitely be top 3. What do you guys think of Remember the Titans.
Ray Didinger
(12:16 PM)
We liked "Remember the Titans" a lot and it's No. 19. We've heard from a lot of people that liked "Field of Dreams" and complained about it not being in the top 10. It came in at No. 11 on our list. Shoeless Joe was left handed in real life and his character was right handed in the movie and that was a big NO for us. They should have found somebody that could bat left handed and it might have cracked our top 10.
Garry (Glassboro, N.J.)
Though it wasn't that popular, Sunset Park (1996) was a great basketball movie about a determined female coach(Rhea Pearlman) working with a troubled team of inner city teens. Did you guys watch it? And if so, what were your thoughts?
Ray Didinger
(12:17 PM)
I didn't see that film. Glen and I saw more than 200 films and a couple slipped through the cracks and that was one of them.
Texas Tech fan (Dallas,tx)
The program was awesome
Ray Didinger
(12:20 PM)
We liked "The Program" a lot. It came in No. 64 on our list. We interviewed a lot of people in the sports world to get their opinion on what movies were to closest to the real thing. Most of them had The Program as a top movie. Adrian Peterson and Brian Westbrook both picked "The Program" as their favorite sports movies and one that depicted the real life of football players.
J.B. (Dunmore, PA)
Mr.Didinger: The jury is back: original "Bad News Bears"
Ray Didinger
(12:22 PM)
(Laughing) Do I detect disapproval in this question? We have the Bad News Bears at No. 44. We didn't include any of the sequels because they were inferior to the original version. It really depicts what goes on in little league baseball and how adults can really mess things up. This is a movie that was made 30 years ago but I can still sit down and watch it today.
Dr. J (Philly)
Got to be "Fish That Saved Pittsburgh".
Ray Didinger
(12:24 PM)
(Laughing) The Fish That Saved Pittsburgh is the No. 100 movie in our top 100. It's the favorite movie of Eagles quarterback Donovan McNabb. It was a very entertaining movie. Everything about it was so 70's and so disco. You just have to sit back and enjoy this movie. Who doesn't like spending a night with Dr. J?
Matt (Spokane, WA)
what about BASEketball???
Ray Didinger
(12:25 PM)
(Laughing) Did not make out top 100. Neither Glen or I cared for it at all.
nat (atlanta)
blue chips?
Ray Didinger
(12:28 PM)
Blue Chips comes in at No. 86. In some ways it was predictable but the basic story of a college basketball coach who compromises his principles are very real. It happens in big time college sports all the time. Nick Nolte is really good as Pete Bell. He wants to do well but he's pressured to do whatever it takes to win by boosters and others. Shaquille O'Neal was really good as Neon. I think the performances across the board were good enough that it holds your interest.
Jason (Chicago)
He Got Game. Jesus, Jesus, Jesus.
Ray Didinger
(12:31 PM)
"He Got Game" is definitely in our book as No. 31. Two things about this movie stands out. The acting of Denzel Washington and Ray Allen as his son. Allen never really acted before and Spike Lee trusted that he can pull it off. There were a lot of emotional scenes between Denzel and Ray Allen and Ray held his own. Spike Lee did a great job directing this movie. It was really well shot.
J.B. (Dunmore, PA)
Which real athletes do you feel have done the best jobs of acting?
Ray Didinger
(12:34 PM)
If you except body building as a sport, you would have to say Arnold Schwarzenegger. If you look at mainstream athletes, you would have to say Jim Brown, Carl Weathers, and Chuck Connors are the best athletes turned actors.
Pete (Chicago)
I always loved "Bang the Drum Slowly" aand have always hoped they made some films of other Mark Harris books
Ray Didinger
(12:37 PM)
We agree. "Bang the Drum Slowly" is our No. 28 movie. It's very sad but very good. It was made in 1973 and Robert De Nero played a baseball player that was stricken with a disease and it showed his fight battling through it. It was sort of a tearjerker. It really touches you. I highly recommend it to folks who haven't seen it.
Patrick (Dallas)
people always tell me they dont like friday night lights because of the ending, what did you think?
Ray Didinger
(12:39 PM)
I think it was very good. We have it at No. 23. The movie, like the book is true to the story of Odessa High School. It's a rare project where the movie does the book justice.
Paul
did yall watch little giants and Sandlot?
Ray Didinger
(12:40 PM)
Yes we did. Sandlot made our top 100. Some people think of it as a kids movie and kids love it bit it's a movie that anybody can watch and love it. We had another chapter in out book called "Family Movie Night" of movies that the entire family can sit down and watch.
Ray Didinger
(12:42 PM)
Thanks for taking part in the chat. You had some great questions. If you have the book, I hope you enjoy it. If you don't have it, it makes a great Christmas present.