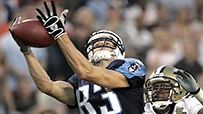 In 2004, Bennett had 1,247 receiving yards and 11 TDs.
Welcome to SportsNation! On Monday, First Take NFL analyst Drew Bennett will stop by to chat about this past weekend's games.
Bennett, who went undrafted in 2001, played eight seasons in the NFL before having his career cut short by injuries. He spent the first six years of his career with the Tennessee Titans and played the last two with the St. Louis Rams. He had signed on with the Baltimore Ravens in July 2009, however a knee injury caused him to retire shortly after signing his contract. For his career, he caught 307 passes for 4,412 yards and 28 TDs.
Bennett appears every Monday on ESPN2's First Take from 10 a.m. to noon ET.
Send your questions now and join Bennett Monday at noon ET!
More Special Guests: Previous chats | SportsNation
Buzzmaster
(11:59 AM)
Drew should be here in a minute!
Drew Bennett
(12:01 PM)
Hello once again.
shane c (evansville,indiana)
So i got the Saints winning it all, do any of you feel the same way?
Drew Bennett
(12:02 PM)
I'm a Colts man myself. The Saints defense has progressively given up more and more yards this season. The Colts have had two definitive wins against two hot teams. Barely squeaking by against the Redskins does not prove to me that you're going to win it all.
Jim (CA)
What legal supplements do most NFL guys take? Not steroids, but GNC stuff. I know the media tries to pretend like they don't take anything and that all that stuff is bad, but isn't it really just good nutrition and everyone does it? Do the teams and trainers give them regiments or do guys just go get stuff for themselves.
Drew Bennett
(12:04 PM)
I like the change up in question. There are so many supplements out there that don't have whats on the label in the bottle that you have to really stay away from anything at GNC that's not cleared by the NFL, such as EAS products. I would say the majority of the guys take a multivitamin, fish oils and an extra source of protein somewhere. Some guys are genetic freaks and eat McDonald's three meals a day.
Jimmy (Seattle)
Drew - any thoughts on the absolute dominance of the rams yesterday, and do you see the titans with a legitimate chance at a wild card, the way they are playing and other teams in the AFC aren't?
Drew Bennett
(12:05 PM)
I don't think there's any doubt that the Titans are one of the hottest teams in the NFL right now. They just dug themselves too big a hole too early. I think Baltimore is going to win out and clinch the other wild card spot with Denver, leaving the Titans out at 9-7.
Victor (Groton)
Should Dallas be concerned about this Sunday's game aagainst the Saints when they have no running game to speak of?
Drew Bennett
(12:07 PM)
Dallas should be concerned about December in general. I think somebody needs to start looking at other parts of this puzzle rather than just the Cowboys Curse in December. Maybe the strength and condition coach. Maybe the coordinators. Something's just not right to lose this many games in December with good players on the roster.
David Combs (CHESAPEAKE ,VA)
A lot of people were ready to write the Vikings off after their bad loss to the Cardinals last week.I think their win over the Bengals showed their team strength to overcome a tough loss.
Drew Bennett
(12:07 PM)
I was not one of them. I thought Arizona deserved the credit last week for playing a great game and I knew the Vikings would bounce back. You're allowed to have a few mishaps through the course of a 16-game season.
chad k (ashland,PA)
hey drew,do you think chris johnson will rush for the 2000 yards he is trying for?
Drew Bennett
(12:08 PM)
I don't think there's any doubt Chris Johnson will break the 2,000 yard mark. I think the real question is will he break the all-time record. I played with Fisher and I know Fisher will feed him the pill, appreciating the significance of the record.
Jason (Atlanta)
Drew, a few weeks ago I posted about how you destroyed my fantasy hopes a few years ago with your monster game against me, which you responded to (kindly). I now ask that you release me from your curse fully so that tonight's game gets me into the playoffs. FWIW, I have Larry Fitz and Vernon Davis (with a 13 point lead) going up against Warner and Patrick Willis. Too close for comfort. Thanks.
Drew Bennett
(12:09 PM)
Freed.
Marc (City of Brotherly Love)
Hey Mr. Bennett. As a former reciever what's your take on DeSean "Action" Jackson"? Future top 5 reciever or is he already there? Thanks.
Drew Bennett
(12:10 PM)
Special, special player. There's very few guys in the NFL that can make everyone else look like they're standing still. Let's not get carried away and say top 5 yet. He needs to do it througout the playoffs and next year to prove that he can still do it when teams start to really double team him and focus on him.
Taylor (Charlotte)
What chances would you give the Jaguars to knock off the Colts? I was confident in their chances before watching them yesterday
Drew Bennett
(12:11 PM)
This is definitely a scare game for the Colts. Any division game you have a lot of experience playing the other team. I still think the Colts hang on because the formula for beating Jacksonville has been apparent the last few weeks, shut down Maurice Jones-Drew and make them beat you through the air.
dave (denver)
The Saints keep having close games....will they eventually lose one?
Drew Bennett
(12:12 PM)
I don't think they'll lose during the season, but facing Minnesota in the playoffs with the way their defense is trending, that could be a real tough hurdle for them.
Todd (Florida)
Drew, you were a WR, how impressive of a feat was it for Brandon Marshall yesterday?
Drew Bennett
(12:13 PM)
Absolutely amazing. Receivers are not built to be tackled 21 times. Brandon Marshall is a player. The fact that he's had 20+ receptions in two seasons is unbelievable. He should definitely be considered one of the top three guys in the NFL.
Kyle (VA)
How were the Colts not able to shut Marshall down?
Drew Bennett
(12:14 PM)
The Colts defensive philosophy has been bend, don't break. They gave Marshall all of those slant routes and quick routes, try to keep him from stretching the field. It works because it puts the team in so many third down situations where the NFL percentage is only 40%. So, yeah, Marshall had a ton of catches. But the Colts sill won the game.
Marc (City of Brotherly Love)
Charles Woodson DPOY? Did you ever have to go up against him?
Drew Bennett
(12:16 PM)
I think you could make a good case for it. All of his interceptions and fumble recoveries. It's strange that he's playing better now than the last three years. I have played against Charles Woodson. In fact I caught a TD against him in the AFC championship game in 2002. He had a bad hamstring, but don't tell anybody.
ross reed (spokane valley, wa)
why was there a no call on the shot to bruce gradkowski, that put him out of the game
Drew Bennett
(12:16 PM)
Because he's Bruce Gradkowski. I think you ask a very valid question and it's unfair that the bigger name you are at QB the more calls you get to protect you.
Cole (Columbus)
Who do you see as this year's Arizona once the playoffs begin?
Drew Bennett
(12:17 PM)
Arizona. The way they played the Vikings looked very similar to their playoff games last year.
dJ (Chicago)
We know the Colts are going to rest their players in coming weeks. Do they not realize this could be the reason for the constant one and done in the playoffs with the rust?
Drew Bennett
(12:19 PM)
I don't think the Colts will rest their players. They're going to have a bye week and that should be rest enough, with the exception of anybody that is truly nursing an injury. I think that keeping guys in the same schedule and same rhythm week in, week out is important. Saying that, Peyton Manning will probably not play the fourth quarter of a game they're winning in Week 17.
Pat (Hamilton, Ontario)
Drew, should I exit the chat and study for my exam tomorrow or continue to talk football and procrastinate?
Drew Bennett
(12:19 PM)
Studying's over rated.
chauncey (teaneck)
What is wrong with the Giants?
Drew Bennett
(12:21 PM)
Their young receivers are not making plays when they need to. You saw Manningham drop a TD last night. Although Nicks had a big game statistically, he dropped two or three huge plays. As long as they have guys making 50% catches on big plays, they won't win. The younger guys need to mature and be more consistent to win games.
Pat (Hamilton, Ontario)
What is more important in your opinion? Having a great head coach or having great coordinators?
Drew Bennett
(12:23 PM)
Good question. I think in order to be a good head coach, you have to have good coordinators. Most head coaches are either offensive or defensive minded guys. They must fill the void of what they don't know with someone that they can trust and has been successful. So probably 50-50 on most head coach or coordinator.
Daniel (Basra, Iraq)
As an American soldier stationed in Iraq I am missing the comforts of football every sunday immensely. If the Packers and Vikings were to meet for a third time in the playoffs could the Vikings get it done again?
Drew Bennett
(12:24 PM)
I think yes. Favre is now looking at a defense without Harris and Kampman. You give someone that savvy three times to look at that defense and he'll be successful. Thanks for your service. Come home safe.
Pat (Hamilton, Ontario)
Alright, but if I get a bad mark is it okay if I blame it on you?
Drew Bennett
(12:25 PM)
Yes.
Jose S. (NYC)
Who's coaching the Bucs next season?
Drew Bennett
(12:26 PM)
I don't think you're going to see a big name guy down there. You have a young unproven QB and a very young core group of players that didn't show a whole lot of potential this year. This will be a project team for a coordinator who takes his first head coaching job, I think.
Jimmy (Conway, AR)
Drew what do you think of the Byrd kid from Buffalo? He's looking awfully impressive for that team.
Drew Bennett
(12:27 PM)
One bright star in a very dark sky. I do think Buffalo has potential if they can stay healthier than they did this year. My boy Fitz is the answer.
Pat (Hamilton, Ontario)
If you're the Rams and you're picking #1, do you go with the potential franchise QB in Locker or Clausen, or do you take the best player on the board in Suh?
Drew Bennett
(12:29 PM)
I think it would be hard to pass up on Suh. If you can protect Bulger, I still think he's a good enough QB to be successful in this league. They gave him $67 million two years ago. I know it's a big if protecting him, but Suh could really change the entire attitude of that defense.
Drew Bennett
(12:29 PM)
Thanks for all your questions. See you next week. Good luck on your tests.