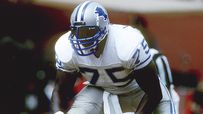 Brown spent 18 years in the NFL.
Welcome to SportsNation! On Thursday, ESPN2 "First Take" NFL analyst Lomas Brown stops by to chat about the NFL season.
Brown spent 18 years in the NFL, playing for the Detroit Lions, Arizona Cardinals, Cleveland Browns, New York Giants and Tampa Bay Buccanneers, with whom he won a Super Bowl championship following the 2002 season. He played collegiately for Florida.
Send your questions now and join Brown Thursday at 2 p.m. ET!
More Special Guests: Previous chats | SportsNation
Buzzmaster
(1:53 PM)
Lomas will be here at the top of the hour to take your questions!
Dave (Boston)
Lomas, I finally feel good for you.....you've actually got a good game to watch on a Thursday night! Who do you have Colts-Jags?
Lomas Brown
(2:03 PM)
Thank you Dave!
Lomas Brown
(2:04 PM)
You're right it should be a pretty good game. I'm sticking with the Colts. They're undefeated and playing pretty well. Even though I know that Jacksonville is a pretty good team and they pretty much have to win out to get to the playoffs. But the Colts are just playing at a different level right now and so is Peyton.
George (SC)
The Saints continue to look beatable. Is there any chance they lose a game?
Lomas Brown
(2:07 PM)
Yeah, there is a chance that they can lose, but since they have been playing so many close games, they are also learning how to win those close games too. At one point, yeah, they're flirting with losing the games, but at another point, it's almost a character building to win those games. That should help them in the playoffs.
Greg (FL)
Devin Hester was a great kick returner, but now he's mediocre at best as a WR. Lovie Smith said he wanted to turn Hester into a WR because he's the kind of weapon that they needed to get the ball more to....it really doesn't look like that's worked out. In three years as a WR, he still has fewer TDs than he did in two years as a returnman. Shouldn't they just put him back as a returner and occasional WR?
Lomas Brown
(2:08 PM)
I agree 100% with you. I wouldn't force something on him. WR doesn't seem to be a natural position for Devin Hester. Why not keep him as a specialist. We've had so many successful guys in this league, Dante Hall, Mel Gray, those guys were strictly specialists. Devin impacted the game so much from a special teams stand point. Why not keep him there?
Evan (DE)
Lomas, when you were playing, did you ever have any teammates that seemed to always have personal issues going on? A guy like Chris Henry? Did you ever feel the need to step in and talk to the guy to prevent something like this from happening?
Lomas Brown
(2:10 PM)
Yeah, we had issues going on, but our issues weren't as publically wide spread as some of the incidents you hear about nowadays. Yes, as a teammate and a leader on the team, I did feel like it was my responsibility to help them in any way that I could. We look at the person and not the athlete.
Ric (Louisville)
In reference to Randy Moss possibly quitting during the game last Sunday....was it your experience for this to be true for some players, and if so, was it handled by leaders in the lockerroom, or was it accepted behaviour on occassion?
Lomas Brown
(2:11 PM)
Oh, no. It wasn't even accepted behavior in practice. You went all out in the game and in practice. It wasn't an acceptable practice for us. It was up to the leaders on the team, if we saw any problems small or big that could keep us from winning, we as leaders tried to take care of the problem.
Marcu5 Fi5her (LA)
Wat r your thought5 on the death of Chris Henry??
Lomas Brown
(2:12 PM)
Sad, man. It's just so sad. The thing that gets me the most is how young the kid is. 26. He seemed to have the rest of his life ahead of him. It's just so sad that a young person's life is taken at such a young age. It lets you know just how fragile and short term life is.
Derrick (Chicago)
What are we to make of this whole Mike Holmgren being sought out by the Browns thing? Can't be good news for Mangini, right?
Lomas Brown
(2:13 PM)
Oh right. It can't be. If you get a new guy like a GM or president, then he's going to want to bring in his own coaches and staff. He's probably going to have to come in there and change the whole culture of the Browns organization. Once you do that, then you're talking about a complete overhaul and that means the coaches.
Mike (Ohio)
Big Fella, do you still keep up with former teammates like Herman Moore, Perriman, etc? How are those guys doing?
Lomas Brown
(2:14 PM)
I just saw Brett Perriman on "The U." ESPN's 30 for 30 special. I talk to Herman Moore every week. Every now and then I'll see the Li'l Fella, Barry Sanders, walking around town. Through the marvelous connection of AT&T, I'm able to keep up with other players.
Clay (Charlotte)
Lomas, what's your first reaction to Vinny leaving and Allen being hired for the Redskins?
Lomas Brown
(2:16 PM)
My first reaction is that coach Gruden will be leaving the Monday Night desk probably soon. Allen and Gruden have been tied to the hip since the Oakland Raiders days and the Tampa Bay days. To me, it seems like it opens up a return to the NFL for coach Jon Gruden, even though he just signed the extension with ESPN.
Melvae (Milwaukee, WI)
Do you think Brain Westbrook can pose a threat if healthy by the playoffs. He will have the best legs on the field.
Lomas Brown
(2:18 PM)
Absolutely. If they get this guy back with LeSean McCoy and DeSean Jackson, Vick, Celek. Donovan, he will have so many weapons around him, he wouldn't have to depend on just one weapon like he did in the past. In the past, he had to depend on Westbrook a lot. Not only to come in for this week, but it allows Brian to finish the season on a good note. The fresh legs and being able to rest.
Frank (DE)
Do you think this Randy Moss stuff is just much to do about nothing?
Lomas Brown
(2:19 PM)
I do. This has been a strange year for New England. They are a team that really doesn't like to deal with the media spotlight a lot. With everything that's been going on this year for them -- the trade, sending guys home early from practice, the 4th and 2, Brady having a baby -- there's a lot going on with the team right now. I think it's just another blip for them. I wouldn't look too much into this thing.
Dave (Flagstaff, AZ)
Lomas, although it's an important game, do you feel the Cards should rest Fitz's knee this weekend? It is Detroit after all.
Lomas Brown
(2:21 PM)
There you go. The keyword you said is Detroit. Yes, they should rest Larry Fitzgerald and make sure he's healthy the rest of the season. It seems like every team Detroit plays, someone gets a career high against them. I don't think Arizona will have much trouble against the Lions, even though it's a road game.
Kristina (Fort Lewis, WA)
Lomas, the Pack is getting hot at the right time. Who do you like in the Steelers-Packers game on Sunday?
Lomas Brown
(2:24 PM)
I actually like the Packers. I think they've corrected a lot of problems from earlier in the year. I still think Rodgers gets hit too much. They seem to be running the ball well. Rodgers is a top 10 QB to me. Their defense has started to step up with Woodson and Hawk. The Pack, they're grooving at the right time.
Dan (Denver)
Will we see a new coach for the Bears next season?
Lomas Brown
(2:26 PM)
I hope not, but if change were to happen I could see the reasoning why. Some of the experiments they've tried, with Lovie as the DC and Ron Turner still as the OC, I understand the reasoning why there would be a coaching change.
Richard (West Virginia)
Hey LOmas do you see the chiefs-browns game being surprising great game or the worst game this week
Lomas Brown
(2:29 PM)
Well, the Browns-Lions game combined for over 70 points. I wouldn't be surprised if these guys put up a lot of points and had an offensive shootout. Both of these teams are ranked low defensively, so I could see a high scoring affair, much like the Browns-Lions game.
Lomas Brown
(2:29 PM)
Thanks for chatting with me. And don't forget to go out and get your Lomas Brown Fathead for the loved ones in your life.