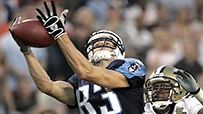 In 2004, Bennett had 1,247 receiving yards and 11 TDs.
Welcome to SportsNation! On Monday, First Take NFL analyst Drew Bennett will stop by to chat about this past weekend's games.
Bennett, who went undrafted in 2001, played eight seasons in the NFL before having his career cut short by injuries. He spent the first six years of his career with the Tennessee Titans and played the last two with the St. Louis Rams. He had signed on with the Baltimore Ravens in July 2009, however a knee injury caused him to retire shortly after signing his contract. For his career, he caught 307 passes for 4,412 yards and 28 TDs.
Bennett appear every Monday on ESPN2's First Take from 10 a.m. to noon ET.
Send your questions now and join Bennett Monday at noon ET!
More Special Guests: Previous chats | SportsNation
Buzzmaster
(11:53 AM)
Drew should be here in a few minutes to take your NFL questions!
Drew Bennett
(12:00 PM)
Welcome. Thanks for the questions.
Johnny (Georgia)
will chris johnson make it to the 2,000 yard mark this season?
Drew Bennett
(12:00 PM)
I definitely think Chris Johnson will break the 2,000 yard mark. But I think the single season mark is a touch out of reach. It really puts in perspective what Dickerson did, because watching Chris Johnson is amazing.
Kyle McEntire (Springfield, Mo)
What do the Bears need to do to put themselves back on the right direction?
Drew Bennett
(12:02 PM)
I've been saying all year that the offensive line and receivers have been letting Jay Cutler down. But they definitely need to look at the decisions that Cutler has been making. Obviously they have too much money invested in him to go a different direction, but maybe start over and try to build him from the ground up again.
dave wallace (sherrill n.y.)
What are the tiebreakers in the a.f.c. who has the biggest advantage
Drew Bennett
(12:03 PM)
Right now, Jacksonville probably has the best tiebreaking record, becuase they're 6-4 in their conference. It looks like there will be several teams that will finish with the same record and that's how it's decided. It should get real interesting this weekend, because I don't think Denver can beat Philadelphia and the Jets have to win at Indy to stay alive.
steve (lakeport,ca)
How big was the Cowboys win over the Saints? Do you think the Cowboys can run the table and win their division?
Drew Bennett
(12:04 PM)
This could be the deciding moment for a substantial playoff run by the Cowboys. This team has lacked identity since the middle of the season and it's nice to see Romo step up on the offensive side of the ball and Ware on the defensive side of the ball.
Clyde (South Padre Island, Tx)
Drew, Cowboys played with a lot of character on Saturday night but they have a kicker who can't even chip one in from 20 yards, how or can they address this problem as they prepare for the redskins?
Drew Bennett
(12:05 PM)
Send him packing. There are a lot of kickers who I've seen over the years who are great but just don't have a team to call home.
Dave (Detroit)
Would you say the Saints are actually in a better position now that they've lost a game and won't have to deal with the undefeated pressure?
Drew Bennett
(12:05 PM)
You never want to lose a game, but this takes a lot of pressure and focus off of the Saints. Teams will no longer be gunning for them as they were before to try and knock off an undefeated opponent.
Steve (Boston)
Drew, was the Saints' loss inevitable? They haven't played well of late and if they went down to the wire against Washington, wasn't a good team like the Cowboys going to get them?
Drew Bennett
(12:06 PM)
They've definitely been playing with fire for the last 3-4 weeks before this loss. The only thing that matters now is how they respond. Is this pressure off their shoulders? Or is this a sign of things to come?
Fred (Chicago)
So....Lovie Smith. He's gotta go, right?
Drew Bennett
(12:08 PM)
Lovie Smith has not thrown 25 interceptions, Jay Cutler has. He lost his star defensive player in the first game and has a very decrepit offensive line. It's definitely the head coach's job to put players in a position to win, but I don't think he's as much to blame for this slide as other head coaches in the same position.
Jamar (Baltimore)
Which is the real Ravens team? they've been so up and down this year, I don't know any more.
Drew Bennett
(12:09 PM)
I've liked this Ravens team all season. They make a field goal against the Vikings and Clayton catches that fourth down against the Patriots and I think they're in the discussion as one of the best teams in the league. The defense is second in points allowed now and they've found their offensive rhythm at the right time.
Greg (Orlando)
So now we have just one undefeated team and the Vikings aren't looking that great. Who is the best team in the league right now?
Drew Bennett
(12:10 PM)
The Colts are still undefeated, so there's no argument on who the best team in the NFL is. But it definitely gets fuzzy after that. The teams with the best records, Vikings and Saints, both lost. There's an argument that San Diego could be one of the hottest teams, but I think that streak will end this Christmas in Tennessee.
Henry (Phoenix)
Any chance the Cards can go on another run like they did at hte end of last year?
Drew Bennett
(12:11 PM)
Don't forget the Cardinals got killed by New England and Minnesota in two of their last three games last year. I think this team is definitely poised and healthy enough to make another great run. Beanie Wells has emerged as a great complement to Kurt Warner and will help take a little pressure off of him.
Doug (St. Louis)
Best of the 7-7 teams in the AFC?
Drew Bennett
(12:12 PM)
I think the Dolphins are the best 7-7 team, but I don't think they have the best chance of making hte playoffs. They lose the tiebreaker to Jacksonville, if more than two teams finish with the same record. They have a tougher schedule than Jacksonville. It's fun to have so many games at the end of the season that matter.
Anthony Powell (Boynton Beach, Florida)
Drew are the Eagles and the Packers the two biggest threats to the Saints come playoff time?
Drew Bennett
(12:14 PM)
I would say yes, now that the Vikings have dropped two of their last three. These two teams have won 10 out of 12 games combined the last six weeks. These teams are very similar, great QBs and excellent weapons on offense.
Keith (LA)
Which team has the better chance of beating the colts - Jets or Bills?
Drew Bennett
(12:14 PM)
Neither. Sanchez or Fitzpatrick?
Kevin (OH)
Holmgren to Cleveland, good move or bad for the browns?
Drew Bennett
(12:16 PM)
It can't be any worse. It's a great idea for him. I would coach Powder Puff in Canada for $50 million. (The rumors of what he's being offered.) I like what he's done in places he's been before and he's a very good disciplinarian.
Ryan Goretski (Hartford, WI)
The packers lost a close game last night to pitsburg, what is the main reason the packers lost. Me personly i blame Mason Crosby and i think the pack needs a new kicker.
Drew Bennett
(12:16 PM)
It's easy to blame the kicker, but Ben Roethlisberger threw for 503 yards last night. Could it be that they're desperately missing Kampman and Harris now?
Eddie (Groove City, MD)
Drew, you guys are sleeping on the Cardinals again... That team is going to be ready again come January
Drew Bennett
(12:17 PM)
I just said the exact same thing.
Dave (San Diego)
Is there anything the Bolts can do to stop Chris Johnson? They didn't get up a ton of rushing yards yesterday, but that guy has all of us fans nervous.
Drew Bennett
(12:18 PM)
Chris Johnson would scare me too. I think that a bend don't break attitude with him is the best gameplan. Let me get his four and five yard carries, keep him from getting the long ones.
Hayden (Logan, Utah)
Is there any chance that the niners pick up tebow in next years draft?
Drew Bennett
(12:19 PM)
Please, no. Alex Smith deserves at least one offseason with the same offensive coordinator. They drafted him first. They have Michael Crabtree. Let them play together for one offseason before you discard this guy's skills.
Bryce (Fargo)
Why did the Vikings not double team Pepper more last night? Seemed like Favre had no time at all.
Drew Bennett
(12:20 PM)
I think they expected Bryant McKinnie to have more success against Peppers. I've been told by different tackles that when Peppers decides he wants to get to the QB, he's virtually unstoppable. I saw last night they tried to chip him a few times and it didn't matter. The guy was on a mission.
Ray (NOLA)
How can a team that won 13 games in the roll get disrepect? I'm just saying it seem like people are casting them off.
Drew Bennett
(12:22 PM)
I think if you look at the way they've won the two previous games before this loss, squeaking by Atlanta and they should have lost to Washington. This team was built on takeaways versus giveaways and they haven't been as successful in the second half of the season in getting those big turnovers and turning them into points.
Chad (Las Vegas)
Drew, really Eagles over the Saints in your NFC power rankings? Did you forget the stomping they put on the Eagles this year? You might have worded that statement as the Eagles might be the most dangerous team come playoff time but you still have to put the Saints 1st.
Drew Bennett
(12:23 PM)
Well put. Maybe the Eagles are the most dangerous, but I haven't been impressed with the Saints three weeks in a row now.
Brian (Richmond, VA)
Hypothetically speaking... If the Colts run the table and go 19-0 this year and Peyton wins his 4th MVP and 2nd SB trophy. Would he go down as the greatest QB of all time?
Drew Bennett
(12:24 PM)
I would put him there. Watching Peyton Manning in person for years made me realize that this guy is the most accurate passer in the game and one of the best game managers of all time. 40,000 yards in a decade and two rings? Those are two stats that are hard to argue against.
Revis (Kentucky)
Who is the best receiver in the league right now?
Drew Bennett
(12:25 PM)
Now that I retired...yeah right. If I had to start a team with one person out wide, it would be Andre Johnson. Zero problems off the field and the most complete player.
Hayden (Logan, Utah)
Drew, whats more annoying, Skip, or the new NFL pansie rules?
Drew Bennett
(12:27 PM)
You know it's a bad rule when even a receiver like myself thinks it is ruining the game. It will get to a point where a guy throws the ball over the middle and a guy lets him go, because he doesn't want the $25,000 fine.
Leah (Canada)
What do you expect out of Eli Manning tonight?
Drew Bennett
(12:28 PM)
I think Eli Manning struggles tonight against Washington. Washington is the best team with a losing record in the NFL. They are coming off a big loss last week and I don't see Eli as his brother, willing his team to win no matter what the situation is.
Jake (TX)
are randy moss's glory days over?
Drew Bennett
(12:29 PM)
For many years, Randy Moss was the best receiver in football. He's not at that level any more, but he's still an elite guy. I was a little surprised at how snippy he was at his postgame press conference, about putting the world on his shoulders. You figure a guy that's been around as long as that wouldn't need to take his shots back at the media.
Drew Bennett
(12:30 PM)
Thanks for the questions. See you next week!