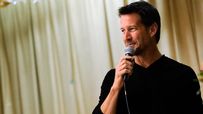 Denton has appeared in over 30 TV shows and movies in his career.
Welcome to SportsNation! On Monday, we're going to help launch ESPNLosAngeles.com with style befitting the City of Angels when actor James Denton stops by to chat.
Denton has played the role of Mike Delfino on "Desperate Housewives" since the show premiered in October 2004. In addition to the TV show, he has appeared in several movies, including "Primary Colors" and "Face/Off."
Denton graduated from the University of Tennessee before getting involved with the community theater in Nashville, while still working for local radio and TV stations. He moved on to North Carolina and eventually Chicago to become a full-time actor. He finally made his way out to California, landing small roles in TV shows and then his big role in "Desperate Housewives."
Send your questions now and join Denton Monday at 12:30 p.m. PT/3:30 p.m. ET!
More ESPNLosAngeles.com: Index | Previous chats | SportsNation