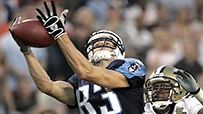 In 2004, Bennett had 1,247 receiving yards and 11 TDs.
Welcome to SportsNation! On Monday, First Take NFL analyst Drew Bennett will stop by to chat about this past weekend's games.
Bennett, who went undrafted in 2001, played eight seasons in the NFL before having his career cut short by injuries. He spent the first six years of his career with the Tennessee Titans and played the last two with the St. Louis Rams. He had signed on with the Baltimore Ravens in July 2009, however a knee injury caused him to retire shortly after signing his contract. For his career, he caught 307 passes for 4,412 yards and 28 TDs.
Bennett appear every Monday on ESPN2's First Take from 10 a.m. to noon ET.
Send your questions now and join Bennett Monday at noon ET!
More Special Guests: Previous chats | SportsNation
Drew Bennett
(11:59 AM)
Happy Holidays! Let's do this!
drew (san fran)
drew, two questions. one going into the final week of a season for a non playoff team does anyone truly care about the game or are they already thinking about going home for the off season? and two is it true that you get alligator arms going across the middle when mark bennett is playing safety?
Drew Bennett
(12:00 PM)
Non playoff teams have already made their plane flights. In Tennessee, our offensive linemen had it broken up by hour how much time remained in the season. And yes, Mark Bennett is a stone cold killer.
von (philly )
should fans stop probowl voting cause celek is having a better season than most tightends and still 8 in voting of tes and weaver is 2 behind tahi
Drew Bennett
(12:01 PM)
The fans vote has to count for something, since they're what makes the NFL so successful. Players make up a third, coaches make up a third, I think it's only fair to give the fans a third, even if it is only a popularity contest in some cases.
Sally (New York)
Caldwell is a joke, the Colts have been down the Dungy losing road too many time in the playoffs playing it safe, now we are stuck with this loser Dungy clone, please fire this clown AA hire and get someone who understands the talent you have in Peyton and let him play... >>>>>>>>>>>>>
Drew Bennett
(12:02 PM)
Any rookie coach that wins 14 games, it's hard to call him a joke. But I do agree that he spit in the face of history and denied his players the chance to accomplish something only one other team has.
Doug (Westwood, CA)
Now that he has 1,000 career catches, is Terrell Owens safely headed to the Hall of Fame in his first year of eligibility?
Drew Bennett
(12:03 PM)
Add 1,000 catches to the 3rd most TDs all-time, I think he's a safe bet.
Katelyn (Syracuse, NY)
Who is the worst team in the NFL? Is it the Rams with the worst record or a team with a few more wins but more talent, thus more disappointing?
Drew Bennett
(12:03 PM)
Quality of play in the last couple of weeks, I'd say the Seattle Seahawks are the worst team in the NFL. Followed closely by the Rams.
Katelyn (Syracuse, NY)
You played in the AFC South. Talk to me about Jim Sorgi. He intrigues me. He's been Peyton's backup forever - could he be a diamond in the rough for some team in need of a starting QB? Like Buffalo, St. Louis, or Carolina.
Drew Bennett
(12:05 PM)
Unfortunately, no one really knows what Jim Sorgi's like, because Peyton is so darn durable. I don't think he's come close to proving enough to have a team give him a nod as the starter for a season. He's only been in one system. And not playing for his entire career has probably dulled his game senses.
Anthony Powell (Boynton Beach, Florida)
Drew bigger threat to the Colts the Chargers or the Patriots or both?
Drew Bennett
(12:06 PM)
Nobody's playing better football than the Chargers right now. However, I think the Colts trashed their season by pulling their starters and losing this game. I say either one of these teams beat the Colts now that the magic has been snapped.
Milton (Illinois)
Drew: Warner reached another milestone yesterday, is he a HOFer?
Drew Bennett
(12:07 PM)
He's won two MVP awards and Super Bowls on top of his ridiculous stats. I say he's a Hall of Famer.
greg (boston)
colts move? Good or bad?
Drew Bennett
(12:07 PM)
Absolutely awful. I would be steaming as a Colts player right now.
tim (denver)
take on the game tonight?
Drew Bennett
(12:09 PM)
I would think the Bears have cashed it in. The Vikings defense matches up well with a team that can't run the football. Jared Allen can pin his ears back and go after Cutler. I think Favre shows that this so-called fued with Childress was just a blip on the radar and plays well.
bill (washington)
cowboys are they really hot right now? Can they go all the way?
Drew Bennett
(12:09 PM)
I love the way the Cowboys are playing. But win one in January for me to be a believer.
Chizzie (Thornton)
Whos your choices for the following awards- Headcoach of the year, MVP, Rookie Of the Year.
Drew Bennett
(12:11 PM)
Head coach of the year, Tom Cable, best right cross. MVP, Chris Johnson, if he breaks the all-time record; Peyton Manning if he doesn't. Rookie of the year, Percy Harvin.
Sir Isaac Lime (Denver)
What is your take on the Bengals? I'm concerned that they won't be able to go to the slate and advance deep in the playoffs without a textbook passing game. Is everybody on that team on the same page - are they all buddies? Oy vey and happy holidays!
Drew Bennett
(12:13 PM)
I don't get this back and forth team either. To play as well as they did two weeks ago against the Chargers and then to pass for 10 yards in the first half against the Kansas City Chiefs. Who knows which team will show up in the playoffs. They desperately need the first round bye. Too bad.
Matt (IN)
CJ is 234 yards away and facing a lousy Seahawks team. If you were Fisher would you give him the rock 50 times if necessary? I would.
Drew Bennett
(12:14 PM)
Absolutely. And it gives the team something to play for.
Clay (Charlotte)
Drew, as a former receiver, what did you think of Steve Smith making the catch and breaking his arm? Toughest WR in football?
Drew Bennett
(12:15 PM)
Even Steve Smith haters have to appreciate how tough this guy is. He broke his arm and got up and celebrated! I've always thought he was a dynamic player, but he definitely made a statement for the toughest NFL player on that play.
SprungOnSports (Long Island)
You played in St. Louis for a little while, what do they need to do there to get back to their winning ways? They have to pick a QB number one in April, don't they?
Drew Bennett
(12:16 PM)
A QB is one thing they need, but only the beginning. They need one big offensive lineman and at least one big time receiver. That's only on the offensive side of the ball...
Glenn (Antelope)
It appears Cleveland is milking Harrison to victories? Is Brady hurt or is he being iced by management?
Drew Bennett
(12:17 PM)
Brady Quinn? He's on IR, he broke his foot.
Buckley (San Francisco)
I'm continually impressed with Philip Rivers - he seems like such a throwback, walking around the field with his half-mesh football jersey. Do you agree that the Chargers should milk him like a common dairy cow deep into the playoffs this year?
Drew Bennett
(12:18 PM)
Let's hope history does not repeat itself. This team has been dominant in December the last three years and laid an egg in January. Phillip Rivers needs to prove he can win a game in January before he gets kudos from me.
Dave (Rochester N.Y)
Drew,As a fan have we been cheated out of watching the Colts be perhaps the best team ever?
Drew Bennett
(12:19 PM)
Agreed.
Kevin Sullivan (Boston, MA)
Which Patriots team is going to show up in the playoffs? The one that lost to the Jets, or the one that beat the Titans 59-0?
Drew Bennett
(12:20 PM)
At some point the Patriots are going to have to play on the road, either San Diego or Indy. Horrible road record. I think their first home game, the Pats team that won 59-0 show up and on the road, they stub their toe.
Clay (Charlotte)
If Peyton would have said, "No I'm staying in," do you think Caldwell would have been able to stop him?
Drew Bennett
(12:22 PM)
No, he wouldn't, but that's just how good of a guy Peyton Manning is. You could see him steaming on the sidelines, but he wouldn't jeopardize appearances or call into question the authority of the coach.
Steve (Blacksburg, VA)
I follow you on twitter and you were very harsh on the Colts last night. I will laugh at you when they win in the playoffs.
Drew Bennett
(12:23 PM)
And I will very much deserve it, but I still think that was a bogus move by Caldwell.
Turbo (Oakland)
Can JaMarcus Russell be a starter in this league? He seems to battle with his weight. He needs to lay off the krispy kremes and frozen burritos.
Drew Bennett
(12:24 PM)
Not a chance. They should give him five more doughnuts and move him to defensive end.
Stanley (Kentucky)
What happened to the G-men? They played like a bunch of uninspired dead corpses.
Drew Bennett
(12:25 PM)
When the Giants have been successful they've leaned on the run game and the ability of their defensive front to get pressure. Pair that with the fact that no true leaders have emerged on that team and you get what you saw yesterday.
Ted (St. Paul)
What do the Vikings need to do to get Adrian Peterson rolling going into the playoffs?
Drew Bennett
(12:26 PM)
Adrian Peterson has been battling injuries a little bit. From what I hear, he's looked as healthy as he has all season this week in practice. I think that and a bye week and he'll be ready to roll in the playoffs.
Ted (Elgin, IL)
Give a Bears fan some hope. What do we have to be optimistic about tonight?
Drew Bennett
(12:27 PM)
Only Bears fans can be optimistic about tonight. May the Force be with you. I understand your plight, I'm a Golden State Warriors fan.
Anthony Powell (Boynton Beach, Florida)
Drew if the Patriots and Chargers meet in the divisional round of the playoffs who would you pick to win the game and why?
Drew Bennett
(12:27 PM)
It would be in San Diego, so I'd take the Chargers. LT has not forgotten about how the Patriots acted the last time they played a playoff game in San Diego.
Jerry Rice (SF)
Can anyone put up numbers like I did or even close?
Drew Bennett
(12:28 PM)
Not a chance. You the man.
Jared (West Union IA)
Happy holidays drew! Come Sunday night which 2 teams are gonna be wild cards in AFC? THANKS
Drew Bennett
(12:29 PM)
I'm taking the two win or in teams, Jets and Baltimore. Jets are playing a Cincinnati team that had 10 yards passing in the first half and can't gain any standing improvement in this game. Baltimore plays Oakland. I like both of these teams.
Drew Bennett
(12:29 PM)
Happy New Year! Thanks for the questions!