Chat about the NFL playoffs!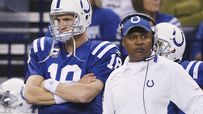 In the playoffs, will the Colts be able to regain their momentum from a nearly perfect season?
Welcome to SportsNation! On Tuesday, now that the NFL playoff matchups are all set, we'll be chatting all day and breaking down all the games. Join our NFL experts and bloggers as they dish all the inside info.
Here is the schedule: (all times are ET)
Noon- Matt Williamson, Scouts Inc.
1pm- Paul Kuharsky, AFC South blogger
1:30pm- Pat Yasinskas, NFC South blogger
2pm- Kevin Seifert, NFC North blogger
2:30pm- Tim Graham, AFC East blogger
3pm- Mike Sando, NFC West blogger
3:30pm- Bill Williamson, AFC West blogger
4pm- James Walker, AFC North blogger

Send your questions now and join the chat Tuesday from 12-5 p.m. ET!
More NFL Playoffs: NFL Index | NFL Nation blog | SportsNation
Matt Williamson
(11:52 AM)
Hey everyone. Matt Williamson here to bring you through the first hour of this marathon playoff chat. Let's kick this off a little early.
Jamie (New Orleans)
With a Bye week giving the Saints time to get as healthy as they've been since the 1st half of the season and boasting Super Dome-field advantage, I see the Saints' chances of winning their divisional game pretty darn good. What's the consencus and do you agree?
Matt Williamson
(11:54 AM)
Well, first off, I see the NFC as being extremely competitive and expect every NFC game to be tight. Plus, we cannot overlook just how poorly the Saints have played of late. I am not talking about Week 17, but more so the entire month previous. One of the projects I just turned in was to write verbiage about the defensive positions in the playoffs. We ranked the Saints secondary in the middle. But-I think when healthy and playing like they were early in the season, it is #1. Can the week off get them back to that level? It is hard to guess-but the secondary is the big thing to me, esp when considering all the fire power in the NFC. I do very much agree that they have a massive home dome advantage though. Brutal place to play.
Packersfan4life (Wisconsin)
Who cares about the cowboys!! They aren't that hot of a team right now. What about the packers? That is who you should be looking at.
Matt Williamson
(11:57 AM)
Dallas is pretty hot bro! Very high on your Pack though. This week will be tough and of course, will go nothing like Week 17. One thing of note for this game is DRC's health. I really don't like Zona's chances if he is banged up. Even if he plays, but doesn't move like he usually does, that could spell trouble, as he is a young CB who really relies on his extreme natural gifts. Obviously the Pack has tremendous weaponry, but I also kinda like Wilson to give Finley a hard time. Taking the Pack though and it wouldn't shock me if they won the whole thing.
Rob H (New Hampshire)
How do you see the Cowboys-Eagles re-match shaping up? A lot of chatter about Philly blitzing more, creating more opportunities for D.Jackson, etc. So, if that's the best way to beat the Cowboys, why didn't they do it in last weekend's game?
Matt Williamson
(12:00 PM)
I am with you. They got beat bad and to me, Philly is too inconsistent. Rely too much on the big play and can't rely on their ground game. Have a tough time putting teams away as well. Plus, I don't love McNabb or this O in the red zone. The D really hasn't played well either. I think they are in big trouble again against Dallas. Protection is a huge problem in that match up and J Jackson was very much missed. Plus, the Cowboys can play it any way you want on O. Run it down your throat. Run on the edges with Felix. Control the middle of the field with Witten. Attack the edge with Austin. Real high on Dallas and GBay right now...plus, they might have the two best Ds in the playoffs as well.
Adam (Dallas)
If you pick one playoff QB for the stretch run who would you pick?
Matt Williamson
(12:01 PM)
I very much understand that P Manning has struggled in big games and in the post season. But he is still my pick. He is simply playing better than any other football player on the planet right now. I don't think he tenses up or has a hard time with the big game environment. Peyton is my guy.
Adam (Dallas)
Correct me if I am wrong but isn't D Jax hurt? Not out but limited is what i heard.
Matt Williamson
(12:02 PM)
I think that is still TBD. Obviously it would be a massive loss-both with Philly's deep ball/big play ability that they rely so much upon and as a returner.
Ryan (Baltimore)
what kind of chance do you give the Ravens to win this week?
Matt Williamson
(12:03 PM)
I am picking the Pats, but I do think it is a great time to get NEng with Welker out. Still, not a believer in Balt here. Secondary is horrendous and they really only have one receiver of consequence. Ray Rice will have to carry the day-which is possible-but I just think that is asking too much in NEng during the playoffs.
Jim Caldwell (Indianapolis)
Matt, just wanted to tell you that even though you're the best chat host out there, we're going to end your segment 15 minutes early to give someone else a chance.
Matt Williamson
(12:05 PM)
That's awesome. Why go for perfection, right? However, the longer I chat, the better chance I have of developing blisters or some other sort of finger ailment...or doing damage to my ears from all this Zeppelin I am blasting right now.
Cody (south carolina)
your prediction for mvp is...
Matt Williamson
(12:05 PM)
It is Peyton. No question. A lot of guys had tremendous seasons, but Peyton will repeat. Gets my vote as well.
Justin (Baton Rouge)
The past week 17 games that involved the Cards-Packers and Dallas-Phili, do you think that it's gonna be a repeat come playoff time, or was one team "holding back" from the other
Matt Williamson
(12:07 PM)
Zona was completely going through the motions. They kept some guys in like Fitz, but overall, they just wanted that game to be over. I don't expect a repeat performance in the desert at all..but am still picking GBay and I do think that smacking Zona around does have some confidence benefits. Same with Dallas-but Philly needed that game. The Eagles were just beaten and I do expect a repeat performance this week in that NFC East matchup.
Steven (Florida)
Do you think the Jets can pull it off agian vs Cincy or did u think Cincy just took a lost to not play the texans who have beat them twice this season?
Matt Williamson
(12:10 PM)
I think the Jets are a bad matchup for Cincy. The biggest reason is because of Revis. He will eliminate 85 and that leaves the Bengals' passing game with nothing-nothing. Plus, those big heavy OLinemen just can't keep up with Rex Ryan's speedy blitzers. If there is a more physical team than Cincy, it is the Jets. For all those reasons, I will pick New York again...but trust me, I don't trust Sanchez. He could lose it for them and the Jets have a one win ceiling in this playoff run.
Kevin (NYC)
Defensive Play of the Year.....Revis or Woodson?
Matt Williamson
(12:11 PM)
Revis. Both were great, but Revis did week after week to the best in the biz puts him over the top for me. Plus, he is a Pitt guy and a Quip...which is huge. Seriously, I just don't think any D player outplayed Revis this year.
megan (ohio)
ahhhh.... zepplin n football, could there be anyyhing better?
Matt Williamson
(12:11 PM)
Got that right Girl
Luke Anderson (Columbus )
What do you think the bengals chances are right now ?
Matt Williamson
(12:12 PM)
Slim. I think they will need to turnover Sanchez often-which is possible. But Cincy's inability to throw the football will always hold them back against such great competition.
Mike (Minn)
What do you see when you look in your crystal ball for minnesota?
Matt Williamson
(12:13 PM)
They could do it. No question. I bet #4 is happy to rest his weary bones for a week as well. They can play with anyone.
TBONZ (Newport Beach)
What are your thoughts on the Chargers chances on making the Super Bowl, and where is Rivers in the MVP talks, I know Peytons the man but Rivers carried the team all year.
Matt Williamson
(12:14 PM)
Rivers would probably get my #2 vote. Tremendous. I like the Chargers' chances, but still favor Indy here. Love SD's passing game-no question. But can they run and stop the run well enough to run the table? I have my doubts.
Darryl (Oakland, CA)
I've seen people say that Peyton Manning is playing better than anyone...I'd like to say "au contre mon frair". Aaron Rodgers is just as good a passer and a much superior runner. I think, because of Rodgers, the team to beat is the Packers. What say ye?
Matt Williamson
(12:16 PM)
I raved about the Pack earlier and am a massive A-Rodg supporter. He does run better than Peyton, but playing QB in the NFL isn't about running. He does throw the ball as well as Peyton, but he doesn't decipher and manipulate coverage at the level that Manning does yet. Doesn't avoid and sense pressure as well either and isn't quite as accurate. Still, both a studs.
Mike (Minn)
Who do you see winning the wild card games
Matt Williamson
(12:16 PM)
Picking the Jets, Pack, Dallas and the Pats. I like Dallas big and others in very close wins. The AFC games should be real grind-it-out types.
Ryan (Hollywood, CA)
PEYTON best football player? Maybe best QB, but not "player". Ray Lewis is a FOOTBALL player. Chris Johnson is a FOOTBALL player. Manning is a stand there and pass QB. Not best "player".
Matt Williamson
(12:18 PM)
Do you seriously believe that? QBs are not football players? You can say that about kickers and punters, but not QBs. This guy has NEVER missed a start. Tough as they come. You are out of your mind.
Mike (Boca Raton)
Why have the bengals struggled to throw the ball this year? Do you think that Carson Palmer might be a little past his prime?
Matt Williamson
(12:19 PM)
I don't blame Palmer or 85..but I blame everyone else. The OL is massive, but MUCH better suited for run blocking than protection. Benson and the TEs are not pass catchers. The other WRs are just a bunch of guys. The Bengals set out to build the biggest baddest team in the rough AFC North-and succeeded. But, in turn, they became too one dimensional. A first round WR or TE might go a long way.
Mau (Boston)
did the pats have any chance whitout welker?
Matt Williamson
(12:20 PM)
I think they are one and done. Have a real tough time betting against Brady and Belichick in NEng this week, but after that, I will take them to lose in round 2.
Dustin (Indianpolis)
Why do people hate Peyton so much?
Matt Williamson
(12:20 PM)
I have no idea, but they sure seem to. Jealousy?
Vince (Indianapolis)
Yeah...Ryan (Hollywood, CA)A guy that has missed one play due to injury in 12 years and it was a broken jaw isn't a football player.....
Matt Williamson
(12:21 PM)
Well said.
Mark (Knoxville)
Texans would have been tough in the playoffs...agree? I think that next season they will not only improve on 9-7, but I think they will be an elite AFC team (especially if they can pick up one more receiver). I'm predicting 12-4 or 13-3
Matt Williamson
(12:22 PM)
I don't think they would have been tough in the playoffs. VERY young football team that has never been there. And they really stink running the football. Next year could be a 12-4 type of year...I will buy that.
Chris (Dallas)
Why are people over looking Romo as being one of the hottest QB's entering the playoffs?
Matt Williamson
(12:23 PM)
Not sure, but he certainly is. The guy is playing great-best football of his career. Say what you want about Romo, but since becoming a starter, he has been crazy-productive.
Michael (North Jersey)
Didnt the cowboys recently lose to the giants and chargers? and when they played the pack they got dominated? yet suddenly after beating the falling saints they are now the hottest team? i would like to know why everyone thinks that. i think its funny.
Matt Williamson
(12:24 PM)
I do think that as a franchise overall, that Dallas is very up and down. But right now they are hot and being hot this time of year is very important. That worries me about Indy and NOrls for example. The talent/players are there for the Cowboys. That D is better than given credit for as well. Oddly, their FG kicker does really worry me though.
Bird (MD)
How can you ever count out Ray Lewis and the Ravens?
Matt Williamson
(12:25 PM)
I love Lewis. All time great. But he doesn't cover WRs deep downfield...in fact, no one on the Ravens does that well right now.
Brett (Wisconsin)
Who made the better decision in week 17 about their starters playing time, the Packers or the Cardinals?
Matt Williamson
(12:27 PM)
I guess we shall see! I do think there is a confidence factor in GBay's favor after that game. But I also think WAY too much is made about the whole resting vs. playing your starters argument. In the end, of the 12 playoff teams, only one made the right choice. Winning in the playoffs is hard-REALLY hard. When people say that X team would have rolled if they had/had not rested their players, I think that is a naive statement...and we all know that we will read and hear plenty of those exact sentiments when the first team is eliminated.
James (Indy)
Matty!!!! Do you see any of the potential divisional opponents being upset trouble for Indy? Ravens, Jets, bengals.
Matt Williamson
(12:29 PM)
Not really. Of that group, I might like Cincy's chances the best. They have two great CBs who should keep up with Indy's WRs and might be able to dominate the TOP with their ground game. But, in the end, Cincy's O just won't be able to outscore Manning and company.
Wes Welker (crutches)
Trust me, rest your players!
Matt Williamson
(12:30 PM)
Of course that is one side of the argument. But if the Colts win a game and then lose, all we will hear about is how they should have played everyone.
Dylan (VA)
Do you think that Campbell will be back with the Redskins in 10' ?
Matt Williamson
(12:31 PM)
I would bring him back and I do think that Shanny could do a lot with him. But, more importantly, Campbell needs a very strong old school Denver running game and offensive line around him. He can't do it all and was asked to do way too much this past season. Blowing that team up with a rookie QB doesn't make a ton of sense to me.
Mark (Minnesota)
Where is Favre on your MVP list? Why is his accomplishments this season overlooked?
Matt Williamson
(12:33 PM)
I honestly don't think that anything Brett Favre does is overlooked. Brett ate a sandwich today. Brett walked his dog. AS for MVP, I would put Manning, Rivers, Brees and Johnson all ahead of him.
steve (dayton oh)
what do the browns do at qb next year?
Matt Williamson
(12:34 PM)
Really not much of a believer here in Quinn, but first, they need to figure out what O system they are going to play. He is such a terrible downfield passer, but maybe in a Holmgren WCO he might be okay. Still-no matter what-you can't enter next year without giving him serious competition.
Eli Manning (Golf Course)
Why did we fail this year?
Matt Williamson
(12:35 PM)
Lack of pride. Shameful. The way you guys ended the season was a total disgrace.
Katelyn (Syracuse, NY)
Not hating, just curious. Why is Manning the outright MVP? He is behind Brees, Favre, and Rivers in a lot of stat categories. Is it all about the comebacks and wins?
Matt Williamson
(12:37 PM)
Personally, I just think he played at a slightly higher level. Not leaps and bounds. I also think he is clearly the most important player in the league to his team. Minny might have been 8-8 with T Jackson at QB. It isn't a slam dunk, but I also don't think that Peyton lost a game this year-the others can't say that.
Dan (TampA)
Why would the Bucs bring back Raheem? The team didn't improve and attendance is down
Matt Williamson
(12:37 PM)
I think the team did improve when Morris went back to the Tampa 2 and Freeman began to develop. Baby steps, but it improved. Another big draft (heavy on D) will go a long way.
Parag (Tampa)
So who you got in a 60yard race: Usain Bolt or Chris Johnson?
Matt Williamson
(12:39 PM)
Honestly, as fast as Johnson is, I bet Bolt would just blow him out of the water. Wouldn't even be close. But, with a ball in their hand and in full pads with huge fast men chasing them with intentions of breaking them in half? I will take Johnson.
Analyzer (Washington, DC)
Did the Giants lay down to prevent Dallas or Philly from getting the 2 seed in the NFC playoffs?
Matt Williamson
(12:39 PM)
Why on Earth would they do that? Nothing for them to gain.
Jackson (Minneapolis)
The AFC is a farce. True or false.
Matt Williamson
(12:39 PM)
True
Joe (New York)
So, Matt. Are you saying Cincy's CBs are better than Revis and Shepard?
Matt Williamson
(12:41 PM)
Revis is clearly the best of the group-best in the league in fact. But, I think Joseph and Hall are Pro Bowl caliber players in their own right. Still below Revis, but very strong. Shepherd is an average starting CB. Actually, maybe a little worse. He is extremely fortunate to have Revis, as the Jets can roll coverage Sheperd's direction and he can be more of a risk taker, which he truly is.
Susan (Minnesota)
You can't admit Favre at his age played out of his mind, why do you hate Favre?
Matt Williamson
(12:44 PM)
Favre at his age played out of his mind. I never said that the guy wasn't a great player or wasn't playing at an extremely high level. In fact, I think I just put him 5th on my MVP voting. If there are 53 players on 32 teams, that is 1696 rostered NFL players. So, I put your boy Brett ahead of 1691 of them.
Matt Williamson
(12:44 PM)
Had to find a calculator for that one...sorry about the delay.
Dave (Binghamton)
What is your take on this recent juvenile trend in these chats to instantly label someone a "hater" if you pick one team or player over another? Pretty annoying.
Matt Williamson
(12:45 PM)
It is ridiculous. Just a scout/analyst here. I have no personal feelings one way or another for most of these players. Just call it like I see it. Ridiculous. "Its not personal Kay. Strictly business."
Derek (Tulsa)
The Eagles played dead in week 17 and had a lot to play for. Do you think we will see the Eagles play better this time around?
Matt Williamson
(12:46 PM)
You would sure hope so, but I also don't think it is a great matchup for them and I really think pass protection is a huge problem. I like the Boys pretty big.
Steven (Irvine)
Jeff Fisher showed that he is not afraid to go for records, and Chris Johnson proved he can be durable. What are your odds he breaks the all time rushing record?
Matt Williamson
(12:49 PM)
3%. Johnson was awesome this year and was durable this year. Let's see if he can carry the load for four or five-or ten, like guys like LT, Sweetness, Jim Brown, etc. Johnson is a great player-not hating here-but he is very reliant on speed, which is fine for the short term. But when he goes from a 4.24 guy to a 4.45 guy after another 750 hits or so, all of sudden, those 200 yard games go away. I see him as a great player who will not have a long lasting career. Few RBs do and few RBs with his size dimensions do.
Dave (Pittsburgh)
Is Ben Roethlisberger a top 5 QB in the NFL?
Matt Williamson
(12:49 PM)
Yes. My QB rankings are: 1. Peyton 2. Brady 3. Brees 4. Ben 5. Rivers
Tom (Bored in Connecticut)
"I have no personal feelings one way or another for MOST of these players." Who are the exceptions?
Matt Williamson
(12:51 PM)
In my time with Pitt, Akron and the Browns I have gotten to know some present NFL players. I wish those guys the best...which I think is natural. But, just because I like Charlie Frye as a person, that doesn't mean that I won't say that he doesn't have an NFL arm. Still tell them like I see it, but it makes me happy to see Andy Lee and Lou Polite having excellent NFL careers for example.
Brandon (San Luis Obispo)
How do you feel about Tomlinson's future in San Diego? Are the playoffs going to decide his fate?
Matt Williamson
(12:51 PM)
His fate should be sealed. Brandon, he is done. Still an excellent goal line RB-as he always has been. But the Chargers need to find a RB.
Paul (Florida)
Great chat Matt. I debate this all the time with friends and I need you to settle this...If you had a vote, is Ronde Barber a HOF cornerback?
Matt Williamson
(12:52 PM)
Nah. Great player. Borderline. Good argument, but overall, was he ever one of the top 5 at his position? Great fit in the Tampa 2, but would have really had a tough time in a heavy man to man scheme.
Jonathan (Pennsylvania)
Where is Romo on your QB list?
Matt Williamson
(12:54 PM)
Top 10 for sure. Would put those five, Favre, Warner and Rodgers over him. Maybe Palmer, but doubtful. I like Romo more than McNabb. Should give you a good idea I think.
Bruce (Baltimore)
Would peyton be that dominant without a dominant offensive line like the colts have? Those top five quarterbacks all have outstanding offensive lines
Matt Williamson
(12:55 PM)
I think the Colts' OL is one of their biggest weakness. Just watch, Indy can't go deep like they did with Marvin. The OTs are liabilities. Extremely well coached group, but not overly talented. I contend that Manning (like Favre and Peterson in Minny) make their OLs look much better than they really are.
JohnP (Fairfax, VA)
Is it a coincidence that 4 of your top 5 QB picks is an AFC Homer? You are so bias, your analysis is pointless.
Matt Williamson
(12:56 PM)
Because I love the AFC so much? Do I work for the AFC or something? Why would I care one bit which conference a QB plays in?
Will G. (Charlotte NC)
Out of the teams that missed the playoffs this year, which of them has the best chance to make it into next year's playoffs with the least amount of changes to personnel?
Matt Williamson
(12:57 PM)
Will sound like a homer here, but I will say Pittsburgh. They lost a lot of games that franchise just doesn't lose. Plus, they get Troy P and A Smith back. Others to consider: ATL, CAR, HOUS, TENN and NYG.
J.B. (Dunmore, PA)
Being that you chatted today, M-Dub, will you be skipping tomorrow's scheduled chat?
Matt Williamson
(12:57 PM)
Heck no Brother. See you there. Noon, as always.
Liam (Pleasanton, California)
Is SF in the playoffs next year? They should have a solid draft. Did you realize their D was actually 3rd in QB sacks this year!
Matt Williamson
(12:59 PM)
Not entirely sold on the QB, but I do like their chances. Two first round picks. Need to add a starting OLineman or two, which is quite possible. Would really like to see one more big time playmaker on D as well. But this team is on the rise.
Matt Williamson
(1:00 PM)
Okay everyone, this was great stuff. But I am just the first leg of the marathon. Paul K is going to take over now. This was fun. Take care.
Thomas (New Orleans, La)
I will laugh at you when Manning and Rivers don't make it to the Super Bowl and Brees does. It just shows how much this voting for MVP is a popularity contest! Ravens vs. Saints in the Superbowl.
Paul Kuharsky
(1:07 PM)
MVP and making the Super Bowl really have nothing to do with each other. It's a result season award. There is also a Super Bowl MVP.
C.P. (Cincinnati)
Do the Bengals really stand a chance of doing anything in the playoffs?
Paul Kuharsky
(1:08 PM)
I'm not real fired up about them. Last six or seven weeks they've not beaten anyone impressive. But, they can get hot and do some damage. Anyone can.
Dustin (Indianapolis)
Good afternoon Paul. Even though the Colts sweep the AFC South this year, Houston, Jacksonville, and Tennesse seem to bring the heat more and more each year. What is your outlook for the divsion next year?
Paul Kuharsky
(1:09 PM)
As long as Manning and Polian are in place, the Colts are going to be tough to beat. Houston was terrible in the division this year. The Texans make a jump, they can make the Colts have to play all their games to win the division, perhaps.
Brandon (Jackson TN)
I seen earlier Matts take on this question now was wondering from an AFC South follower which team has the best chance of ending the Colts season early. Bengals, Jets or Ravens?
Paul Kuharsky
(1:10 PM)
Not ready to answer, but intend to explore this week so stay tuned.
Mark (Kansas City)
Paul, Colts fan here. The playoffs shape up nicely for the Colts. They do not have to face the Pats or Chargers until championship game and get Ravens with suspect pass defense, Jets who will be happy to win a game in playoffs or Bengals with no offensive firepower. What do you think about a return trip to Miami and the Super Bowl for the Colts?
Paul Kuharsky
(1:10 PM)
I rate them as the favorites, certainly.
Steve (Nashville)
Paul, obviously the Titans need help in the draft but I also see possible turnover at our LB position. Do you think the Titans draft a LB at a fairly high draft position this upcoming draft?
Paul Kuharsky
(1:11 PM)
Probably. I expect Bulluck and Thornton to be gone. McRath one starter. The other may better come from free agency, or you've got a lot of inexperience there. Unless you get a Brian Cushing.
Art (TX)
Will you put Dallas in the superbowl already or wait till the second round?
Paul Kuharsky
(1:12 PM)
Gimmie a break. You're wearing a jersey right now, aren't you?
Brett (Wisconsin)
So Paul... How about you answer my question about Clay Matthews not making the Pro Bowl.. Even though he has played less games and his stats are better, Why would Orakpo make the Pro Bowl over him?
Paul Kuharsky
(1:13 PM)
Ask fans, players and coaches, their votes determine it. Hard for a rookie to get in. Tough for a rookie to lose out to a rookie.
Jonathan Simon (Houston)
Paul, what do you think of a well respected football writer choosing Wes Welker & Vincent Jackson at WR over Andre Johnson on his All Pro ballot?
Paul Kuharsky
(1:13 PM)
I don't have a huge beef with it -- all three were excellent and Welker and Jackson are on playoff teams.
Ron (San Francisco)
Paul who is your MVP? I bet someone money that you like Matt are AFC homers
Paul Kuharsky
(1:14 PM)
Peyton Manning is the best player in football right now.
Paul (Chicago)
What do you expect Slaton's role to be next year with the Texans? Dare they expect him to be the #1 guy again, or will he move back into a 3rd down/specialty back type of role?
Paul Kuharsky
(1:15 PM)
I think he's got to be in a divided backfield, maybe with a 60-40 split if he's back to himself. Other guy needs to be bigger and better in short yardage. Finding him is a huge priority.
James (Indy)
PK...Given the choice, would you rather be on Indy's horrendous two-game shellacking streak, of SD's 11-game winning streak? Playoffs are all about matchups, but I believe that since 2005 teams that had byes are only 7-9.
Paul Kuharsky
(1:16 PM)
I'd rather go in hot. But I'd rather have homefield for two rounds, also. Can I have both please?
Justin (Indy)
Can the Colts find their Mojo after 3 weeks of vacation?
Paul Kuharsky
(1:16 PM)
That's the big question. I think they can.
Matt (Washington, DC)
Hey Paul, over the past month or so, I've heard a lot about a 50-100 meter sprint between Usain Bolt and CJ, and I think that it's ridiculous. CJ has elite, elite speed (4.24), but Usain Bolt is not only an Olympic sprinter, he's the fastest Olympic sprinter! But that got me thinking. I was wondering what your list of the top 10 fastest current NFL players is, and not just based on their combine times, but how fast they actually are today, and on the field with pads. Thanks!
Paul Kuharsky
(1:17 PM)
Yeah, Matt. Sorry I am unable to rattle off the ten fastest player in the league off the top of my head in a chat situation. Perhaps I can hit it in the blog or combine with the other blogger on something down the road.
Katelyn (Syracuse, NY)
Odd question considering its about a backup, but what is your take on Jim Sorgi? We've seen very little of him, but Peyton and Polian seem to be confident in his ability since they've never been agressive in getting another backup. Could Sorgi be a diamond in the rough for some team looking for a starting QB?
Paul Kuharsky
(1:18 PM)
I doubt it, and from what we've seen of Painter, the Colts would have to replace Sorgi if they moved him
Allen (New York)
Is this an AFC homer chat or a playoff chat?
Paul Kuharsky
(1:19 PM)
A playoff chat with the AFC South blogger, chief. AFC homer is a funny expression. Yes, I am a homer for both San Diego, New England and all AFC points in between.
Mike (New Jersey)
What are the chances the Jags draft Tebow in the first round?
Paul Kuharsky
(1:20 PM)
I'd be very surprised. Can he rush the passer?
Scott (TX)
Do you think the Bengals layed down in their game b/c they would rather play the Jets than the Texans?
Paul Kuharsky
(1:21 PM)
I don't think anybody who rests does it with playoff opponents in mind.
Tyler (New York)
I keep hearing that the Jets defense isn't that good and that they'll lose Saturday in Cinci. What's your take on their defense and their chances against the Bengals?
Paul Kuharsky
(1:22 PM)
Their defense is good and they can cause major problems with the blitzing they do. I won't rate it some big upset if they win.
Curious AFC Chatter (via mobile)
Are you still on Thursday? Or are we relegated to a half hour for this week?
Paul Kuharsky
(1:22 PM)
Still on. Thanks for asking.
Ben Crosby (Sterling, VA)
How far do you think the Cowboys will go in the playoffs? And do you think they should play more of Kevin Olgetree with his hands and speed in Certain Trip or Quad WR's packages to go down the field?
Paul Kuharsky
(1:23 PM)
They might be the best team in the NFC right now. But that doesn't ensure they win it.
neilrr (Picacho,AZ)
It seems that espn has a bias toward North Eastern Teams,seeing how they are based in Connecticut do you get that sense as well?
Paul Kuharsky
(1:24 PM)
John Clayton is based in Seattle. Chris Mortensen in Seattle. Bloggers all over the country. No, I don't buy it.
Luke (Saint Paul)
On the Usain Bolt vs Chris Johnson, Johnson's combine 40 was slightly faster than Bolts first 40 yards on his world record... Of course 100 yards is a lot further than 40 yards make it or break it.
Paul Kuharsky
(1:25 PM)
Which is why CJ wants to race him over 50. I think he'd lose, but I don't think it's preposterous for them to be on the same track for a minute.
Eric (Indy)
Hey PK, Are the Colts really gonna keep both of their kickers for the playoffs? It would be nice of them to use one of those spots on Gigueres returning ability!
Paul Kuharsky
(1:25 PM)
I don't understand why they would keep both.
Nate (Nevada City)
Do u think that Arian Foster is the future for the Texans...
Paul Kuharsky
(1:26 PM)
Absolutely not. Huge mistake if they let his nice finish convince them he's the answer. They need to attack it in free agency or relatively high in the draft.
Jonathan Simon (Houston)
Team success is a factor when voting for All Pro players? I thought you just voted on the BEST players at that position. You may want to look all three of those players numbers across the board.
Paul Kuharsky
(1:27 PM)
Certainly team success can be a factor is you have two guys even and one is sitting home. And you are allowed not to vote for the best numbers. If it was just numbers, they wouldn't use voters.
IrishGiants (North Carolina)
Who will be the biggest off season impact player signed to a new team?
Pat Yasinskas
(1:28 PM)
I'll go ahead and throw out New Orleans safety Darren Sharper.
Paul Kuharsky
(1:28 PM)
Here is a piece I did on how balloting for year end awards works. Those who claim East Coast bias on eveything will love it. http://espn.go.com/blog/afcsouth/post/_/id/7723/looking-inside-year-end-award-process
Mike S. (Washington, DC)
Paul, do I take this job in Washington, or should I look at the opening in Buffalo? If I take the one here, who fills the Buffalo slot?
JohnP (Fairfax, VA)
Don't worry guys, the AFC homers are about finished... at 1:30 we have a Saints Homer, and at 2:00 we have a Packers/Vikes Homer to even things out... no more Peyton is God wishful thinking.
Paul Kuharsky
(1:29 PM)
Buffalo cannot afford you.
Charles (Goodlettsville)
Hey Chief, I agree on Thorton and Bulluck being gone, but do you see the Titans resigning at least Tulloch to keep some stability at linebacker?
Paul Kuharsky
(1:30 PM)
Yes. Tully will only be restricted if there is no CBA, and there is no CBA in site.
Eric (Chicago)
PK, i see under the blogs home page that the opponents for each team are out there...how did this come about and what were the determining factors for the opponents? Is this a new system or the old one?
Marc (Orange County)
Welcome Pat! Is Cadillac the Comeback Player of the Year? Almost 900 yards splitting carries with a pathetic back but recovered from two horrendous knee injuries.
Pat Yasinskas
(1:30 PM)
Definitely has made a strong case. But I think Brady is pretty much automatic for the actual award.
SonofaSaint (Rio de Janeiro)
Pat, What will the Saints do without C. Grant do they have the depth to handle the loss
Paul Kuharsky
(1:31 PM)
Well division games are automatic. Then there is a preset rotation on what divisions you play and who's home and away. Final two games come against the teams that finished in the same spot you did in the two same conference divisions you aren't playing.
Paul Kuharsky
(1:31 PM)
One more and we will turn to boy genius Mike Sando for NFC West expertise...
Pat Yasinskas
(1:31 PM)
It'll hurt some. McCray is as good or better than Grant as a pass rusher. But McCray's not a great run defender. And this defense already was having problems stopping the run.
calon (tx)
should the new england patriots coach be critized for not benching starters especially with the injury that their best reciever had?
Jake (Jax, Florida)
If tim tebow did what he did in the sugar bowl why don't the jags go after him?
Paul Kuharsky
(1:32 PM)
They were still playing for a seed, weren't they? I'm never gong to hit a team for playing. I like that they played. And it was a freak accident, not a result of an actual play in the game.
Paul Kuharsky
(1:33 PM)
Good to be with you folks. Enjoy Mr. Sando...
Pat Yasinskas
(1:33 PM)
I respect Tebow tremendously. Probably greatest college player ever. But I just don't think he's a true pro quarterback. Just doesn't throw like one. Plus, if Jags took him, there'd be enormous pressure on him to be an instant savior and I don't think he's that.
Thomas (Middle of a Blizzard, Pa)
they also have anthony hargrove in New Orleans who has been having a decent year.
Pat Yasinskas
(1:34 PM)
True, think you'll see a lot of Hargrove on running downs and McCray on passing downs. How bad is snow in PA? I have to fly there tomorrow. Will I get in? I'm talking Scranton area.
Brian (Palm Harbor)
Hey Pat. I heard the Rams might trade the #1 because they don't want to use it on a QB. Any chance the Bucs try to trade for it?
Pat Yasinskas
(1:35 PM)
If I'm the Bucs sitting there with 10 picks and all you have to guarantee getting Suh is giving up a pick or two, I jump up very quickly.
corey (greenville, nc)
yo pat, if next season is an uncapped year why would the panthers not just go ahead and wash their hands of jake delhomme so they don't take a cap hit trying to cut him in 2011 or 2012? certainly they can find a solid back-up just as good and much cheaper?
Pat Yasinskas
(1:36 PM)
That's what I've been saying. They've got to take their hit on Jake and just part ways. Doesn't do them any good to bring him back as a backup.
Tom (Tampa)
Why was Raheem Morris retained? He is a good D coordinator, but in over his head as HC.
Pat Yasinskas
(1:38 PM)
It always was a rebuilding project. Yes, the guy made some huge mistakes. But he learned from them and team improved. You really think Bill Cowher wanted to come in and take over a team like this? Again, it's a rebuilding job. Morris started it. Let's see what he adds in the offseason and how he does next year.
Doug (NOLA)
Pat, what do you see brees' chances to be for MVP? Why is he overlooked with the highest passer rating, second highest YPA (.3 below rivers) and highest PPG? He dominates in all the important categories.
Pat Yasinskas
(1:39 PM)
It's tough to beat out Manning. If Saints had gone undefeated, Brees probably would have done it.
Steve (Pennsylvania )
Do you really think the Eagles are that bad of a team to lose to the Cowboys by 24 and get shut out, or do you think next week they are going to play angry and beat them? Personally, I could see the offensive coordinator be real sneaky and not give up any more tricks once it was about 0-14, and wait for next week.
Pat Yasinskas
(1:39 PM)
Tell you what, I'm picking the Eagles in that game. Just a hunch.
Patrick (Atlanta)
Pat, Your column that Greg Olsen should be retained as BUCS OC is silly. This from the guy who coached in Det. and STL
Pat Yasinskas
(1:40 PM)
Thanks. But that's my opinion.
Mark (Charlotte, NC)
Will Fox come back or is he offended enough to go someplace else? Will Pep return to the fold for a regular salary or force a trade?
Pat Yasinskas
(1:41 PM)
Sounds like Fox is probably staying. I think they'll franchise Pep and then trade him.
Andre (Lakeland, FL)
The Glazers kept Raheem Morris to save money for their soccer club Man U. Agree?
Pat Yasinskas
(1:41 PM)
There's more to it than that.
Neil (Wilmingto,De.)
Yasinskas,hows the head injury,didn't you pick the Eagles to win last week?
Pat Yasinskas
(1:42 PM)
I didn't pick last week.
IrishGiants (North Carolina)
What do you think of Peppers and Fox eventually heading to the Giants?
Pat Yasinskas
(1:42 PM)
If the Giants job came open, Fox would grab it in a second. But I don't think it's happening.
Jake (Wisconsin)
Pat, why do you pick the eagles over the cowboys this time around, when both teams had much to play for the previous game in dallas? Also, McNabb has struggled terribly in both meetings with a banged up offensive line and no run support
Pat Yasinskas
(1:44 PM)
Like I said, just a hunch.
Daniel (Hampton, VA)
Hey Pat, I'm not being a homer but i've been a saints fan for 22 years and this year isn't your same old saints. Why does the media look at how the Saints played the past month when they clearly weren't healthy? When they were healthy they couldn't be stopped! Why are the Saints being overlooked? People wanna point to the Dallas game but we weren't healthy in that game. I Say look at the Patriots game where we were healthy!! Your Thoughts??
Pat Yasinskas
(1:45 PM)
Media's a weird animal and I'm part of it. We tend to follow the trend or what's going on lately. Hey, maybe it's a good thing the Saints are being "overlooked". Playing the underdog role might inspire them.
Marcus (Boston, Ma)
peppers to the pats????
Pat Yasinskas
(1:46 PM)
Let's get through the playoffs first. Plenty of time to talk free agency and trades after that.
Sean (Folsom, PA)
Is it me, or is everyone riding the cowboys a little too much after last weeks win? Yes, I'm an eagles fan, but this seems a little premature to say the cowboys have solved all of their December/Playoff Problems. I'm predicting the cowboys feeling a little too cocky this week and getting ambushed to continue their playoff struggles...what do you think?
Pat Yasinskas
(1:47 PM)
That's pretty similar reasoning as to why I'm going with my hunch.
Matt (NYC)
I feel like the Jets are getting ripped too hard for how they got into the playoffs. Personally I think they are a very dangerous team with the best running attack and defense in the league. How far do you think they can realistically go?
Pat Yasinskas
(1:47 PM)
Anything's possible. All you have to do is look at Arizona last year and the Giants a couple years ago.
Sean (Folsom, PA)
This Hunch you speak of makes it seem like you know something we don't?
Pat Yasinskas
(1:48 PM)
No, nothing like that. Just pretty much what you said.
Rich ((Merrick,NY))
Do you think Wade Phillips's coaching could cost Dallas a game in the playoffs?
Pat Yasinskas
(1:49 PM)
There's that, too.
Scott (Raleigh, NC)
If you watched the Peppers this season, you would see that he mailed it in for most of the season, he only played hard at the end of the season for a new contract, I think signing him to a big contract (that is not incentive based) is a huge mistake.
Pat Yasinskas
(1:49 PM)
I don't think you'll see the Panthers re-sign him. They just want to get some draft picks and be done with him.
Lloyd (Baton Rouge, LA)
Pat, I don't see why momentum is that important for teams with Byes going into the playoffs. Pundits say regular season byes interrupt momentum in the so why wouldn't a bye interrupt momentum in the post season? I don't think not having momentum going into the playoffs will hurt the Saints.
Pat Yasinskas
(1:50 PM)
You might be right.
Slate (Houston, TX)
So with the only thing in the Panthers future being the draft, do you think that they will pick up a QB. Granted Matt Moore was good but I just don't see him giving Smith and Muhammed the production they need.
Pat Yasinskas
(1:52 PM)
Problem is they don't have a first-round pick. At least not right now. Would like to see them get someone to at least challenge Moore. Also think you'll see a WR brought in to replace Muhammad -- probably in free agency.
paul (colorado)
hey pat, has gregg williams chances for a head coaching job elsewhere really gone down the tubes? and how much of the saints poor defensive performance at the end of the season should we attribute to scheme? or is it okay to blame injuries... and what are the chances g. williams would WANT to leave?
Pat Yasinskas
(1:53 PM)
Interesting question. I think we can pretty much rule out a head coaching job for him. I think his scheme is pretty good and the slide was mostly due to injuries, but some things need to improve going forward.
Chris (Syracuse)
Pat is the new giants stadium gonna be better then the cowboys new stadium?
Pat Yasinskas
(1:54 PM)
Don't know. Haven't seen it yet. But it's going to be tough to top Cowboys Stadium. That place is unreal.
Josh (North Carilina)
You really are a dallas hater, i think over confidence has nothing to do with it. this team has had alot of change, and the D is finally the one to step up and be the premier feature of this team. I think now better then ever they are poised to have a playoff run. The eagles dont know what to do when you pressure mcnabb and take away the deep ball
Pat Yasinskas
(1:56 PM)
Don't take it so personally. I'm not a Dallas hater. I'm a journalist, so I don't care who wins any game. I was asked for a pick and I gave you an honest one. I could be entirely wrong. Do picks matter at all???
Lloyd (Baton Rouge, LA)
Charles Grant went on IR last year too for the Saints. With him going on IR this year, can we begin to say he's injury prone and do you see him with the Saints next year?
Pat Yasinskas
(1:57 PM)
Yes, and you can also begin saying he's 31 and nearing the end.
Jim (Ocean Springs)
Peyton was MVP last year even though Brees set all kinds of records, because Saints were average. This year, both have teams with #1 seeds. How can Peyton be getting 70% of vote as reported. Seems Brees gets jobbed again and I'm a Peyton fan! Your thoughts?
Pat Yasinskas
(1:58 PM)
Like I said, it's almost impossible to beat Manning in any kind of vote. Saints would have had to go undefeated for Brees to win.
Joey (Minneapolis)
When people talk about all this "hater" business and label you (and other writers) "haters", are they being serious? My thought was that it was a bit of a joke, sort of a knowing overreaction, ... or are people/we just that blindly in love with our team?
Pat Yasinskas
(2:00 PM)
Not sure what people think when they do that. But you should be aware that the media (most of us anyway) aren't allowed to be fans and have no vested interest in who wins or loses.
Ian Rodriguez (Corpus christi, Tx)
Pat, the road to the bowl goes through NO and the Saints are CLEARLY being overlooked. Why are so many analyst hating on the Saints and waiting for them to crumble. At full health who is stopping Brees, Colston, Bush, Thomas, Bell, Meachem, Henderson, Sharper, Greer, Porter.....C'mon Man!!!!!
Pat Yasinskas
(2:00 PM)
Oh yeah, blame it on the media.
Jeremy (Dallas)
how can u honestly say ur not a fan of a team? lol
Pat Yasinskas
(2:01 PM)
I'm a Penn State fans on Saturdays because I don't cover college football. That's all I'm allowed.
Libby (Wyoming)
"It's almost impossible to beat Manning in anything" is a ridiculous response.
Pat Yasinskas
(2:02 PM)
In any kind of a vote. I'm just saying he's got the name and the perception and that's tough to overcome.
Lloyd (Baton Rouge, LA)
Pat, I'm still waiting for that "Biggest good and bad surprises" for each NFC South team you said you'd write. I think it was at least a month ago when I asked you a question like that and you said you'd write an article on it. Is there a rough draft in the works?
Pat Yasinskas
(2:04 PM)
Lloyd, there is lots of wrap-up stuff in the works in the coming days and weeks. I'll also see if I can get you a job as one of our assignment editors!!! All right, my time is up. I'm going to hand it off to Kevin Seifert. Thanks to all.
Kevin Seifert
(2:05 PM)
Hi everyone. Let's get right to it. Just before I logged on here, the Bears announced some coaching changes we speculated on this morning. The big one was that Ron Turner, the offensive coordinator, has been fired along with five other members of the offensive staff.
Will (Chicago)
kevin, if the packers were to beat the cardinals in the wild card round, how do you think they will match up against teams like the vikings, who have beaten them twice, or the saints?
Kevin Seifert
(2:06 PM)
I'm sure they'd love another chance at the Vikings. That would happen if they beat Arizona and Philly beats Dallas. I think a lot of us would like to see how they would match up now after winning seven of their final eight games.
Josh (Minneapolis)
KS, I put Aaron Rodgers right behind Drew Brees and Peyton as a top 3 talent this year. Only player in NFL history to throw back-to-back 4,000 yard seasons in his first 2 years as a starter and is just ridiculous on 3rd down where it counts. What are your thoughts??
Kevin Seifert
(2:08 PM)
He had a great season, especially considering it was only his second year as a starter. He is everything the Packers could have possibly imagined. That said, I think you could make an argument that Favre had an even better season. But that wouldn't stir anyone up....
David (Asheville, North Carolina)
If Green Bay and Minnesota face each other in the playoffs, does the media universe implode?
Kevin Seifert
(2:08 PM)
On the NFC North blog, we would call it "excellent for business."
Rich (Merrick,NY)
Who do you like in a potential divisional matchup between the Cowboys and Vikings?
Kevin Seifert
(2:09 PM)
We're getting ahead of ourselves, but I would say Minnesota because it would be playing at home.
Zach (Shakopee)
Kevin, what happens when Favre finally retires, which will be right around the time AP starts to decline, can we send the Vikings back to 3rd place in the division where they belong?
Kevin Seifert
(2:10 PM)
They will if they don't figure out a long-term answer at quarterback. Favre has bought them some time on that.
Brian (New Jersey)
Kevin, Vikings & Packers, Round 2 of the playoffs....who has more pressure on them, Brett Favre or Aaron Rodgers?
Kevin Seifert
(2:11 PM)
I would say Favre. This is why Minnesota brought him here, to win playoff games.
IrishGiants (North Carolina)
How long after the Vikings lose will Bret announce his retirement?
Kevin Seifert
(2:11 PM)
Doesn't matter. We can't believe that he's retired until next season starts without him. ... And even then...
Mike (San Deigo)
Kevin, I'm hearing that Cutler is going to have some input on the new OC. Is this right? He's a big baby, and he's going to end up costing the Bears in a lot of different ways.
Kevin Seifert
(2:12 PM)
They would be smart to find someone that can work well with him, but I don't know that he should get a vote or anything like that. No player should be able to choose his coach, let alone one that threw 26 interceptions last season.
phil (wi )
Rodgers hasn't started a playoff game. The rest of the league has a QB that has, I don't see it being an issue, what do you think?
Kevin Seifert
(2:13 PM)
That wouldn't concern me. Rodgers is very poised and smart. If he could maintain his composure during training camp of 2008, he'll have no problem in the playoffs.
Ed (De Pere)
Kevin, why doesn't anyone point out that the Packers starters have trounced the Cards starters in the last two contests? Bottom line: the Packers' "vanilla" is better than the Cardinals' "vanilla".
Kevin Seifert
(2:14 PM)
I've mentioned that a few times, Ed. But it has to come with a caveat. Preseason is preseason. It doesn't count. And for the Cardinals, Week 17 didn't count, either. I do think it's better than the alternative, but it doesn't necessarily mean the Packers will win in a blowout Sunday.
Evan (Cincinnati)
Kevin, there must be a statistic for the outcome of when the same 2 teams play each other in consecutive games how many times the same team will win both games, how big of a factor is this for the 3 occurrances of this scenario this weekend?
Kevin Seifert
(2:16 PM)
Yes. In the history of the NFL, teams have met 13 times on the final week of the regular season and then in the first week of the playoffs. The team that won the first game was 5-8 in the second game.
Kevin Seifert
(2:16 PM)
That's according to ESPN's Stats & Information.
Mike Shanahan (DC)
What would the Bears want for Cutler?
Kevin Seifert
(2:17 PM)
Oh, how about two first round picks and a third? :)
JJ (Los Angeles )
Do you think any of the wildcard teams can win it all?
Kevin Seifert
(2:17 PM)
The Packers are the hottest team in the NFL. They were 7-1 in the second half of the season. The one loss was on the final play of the game at Pittsburgh.
Derek (St. Louis, MO)
Kevin, Don't the Cardinals only win when they want to? Why don't other people realize this?
Kevin Seifert
(2:18 PM)
So they're like Randy Moss? They play when they want to play?
Justin ((Wisconsin))
Who should I being rooting for as a Packer fan on Saturday: Dallas or Philly?
Kevin Seifert
(2:18 PM)
You know you want that Vikings rematch. Assuming that's the case, root for Philly.
Patric (Oklahoma)
Where does Jermichael Finley rank on your "Watch out for these surprises" in the playoffs list?
Kevin Seifert
(2:19 PM)
High. I'm sure he will be a surprise to people nationally. I think most people around the country assume the Packers offense is Aaron Rodgers, Greg Jennings and Donald Driver. They'll be surprised to find out what we NFC Northers have known for a while: Finley has become one of Rodgers' favorite targets.
mitch (fargo)
Is Bryant Mckinnie completly overrated or was i imagining it when it looked like he got beat on every other play in the last 5 games the vikings played?
Kevin Seifert
(2:20 PM)
He started the year very well but definitely had some subpar games on national television. Lots of guys have gotten beat up by Julius Peppers, but it's not supposed to happen if you're a Pro Bowl left tackle.
Joe (Seattle )
With Woodson's shoulder injury how effective do you think he is going to be especially with the wr corp the cardinals line up with
Kevin Seifert
(2:21 PM)
It won't help, but Woodson has been dealing with a version of this injury for much of the second half of the season. He can protect it.
NorsemanPower (Valhalla)
Don't you think the fall off from a Vikes/Pack rematch would be epic? That game is bigger than all of sports.
Kevin Seifert
(2:21 PM)
It'll be better than Cats.
Adam (Alaska)
About time I made it to the chat. ESPN's site was down. Must have crashed from all the NFC North fans tuning in for the chat.
Kevin Seifert
(2:22 PM)
We are a feisty group.
Jonah (Montreal)
As a Packers' fan, my only concerns this week are Jarrett Bush, Mason Crosby and to some extent Mike McCarthy (itchy trigger on the challenge flag at times, and a few other questionable moments). I still think we can and should win but can you calm any of those concerns?
Kevin Seifert
(2:23 PM)
Can't calm your nerves on Jarrett Bush. I would be concerned about him, too. Crosby seems to have balanced himself out since the Pittsburgh game. McCarthy? He definitely likes to throw the challenge flag, but if that's the weakest point of his coaching resume, I can live with that.
Sean (Mukwonago, Wi)
I hate whoever picks the questions for this. I hate you.
Kevin Seifert
(2:23 PM)
It's me, so thanks.
Jacob (Omaha)
The Vikings tinkered their use of Antoine Winfield to be on the field for only nickel and short yardage situations due to his foot injury. Do you see them using a similar ploy during the playoffs? Benny Sapp holds his own and is very underrated in coverage...
Kevin Seifert
(2:25 PM)
Yeah, I think they're trying to protect him because of the foot injury. It wouldn't be ideal for him to be chasing any receivers downfield if they can avoid it.
Josh (La Crosse)
Vikings taking the week off. Smart or Dumb?
Kevin Seifert
(2:26 PM)
I think it's fine. They have some guys that need rest... and there's no reason to practice hard until you know who you're playing.
ME (Work)
You are so one sided when it comes to TRYING to be unbiased in the NFC north it's a shame... Stop being mad because Brett is having such a great year:) BTW - I can't wait to see the Vikings DESTROY the Packers again! Is your buddy Aaron still having Jared Allen nightmares? lol HE SHOULD BE!!!
Kevin Seifert
(2:28 PM)
Amazing. I was under the impression I was a Vikings homer, not enemy. I've got to look in the mirror and do some soul-searching.
Thomas Wolter (Goiânia, Goiás, Brazil)
Vikings 7th round Rookie Jamarca Sanford pretty much outplayed 2008 2nd round Tyrell Johnson each and everytime he went on the field. Is there any chance Childress could start him in the playoffs with Johnson healthy ?
Kevin Seifert
(2:29 PM)
It doesn't look like it, but I agree he's been a livelier body out there.
Kevin Seifert
(2:29 PM)
Ok, one or two more and I'll pass the baton to AFC East guru Tim Graham.
Cody (Oklahoma)
do you think woodson gets DPOY?
Kevin Seifert
(2:30 PM)
If I had to guess, yes.
Kevin Seifert
(2:30 PM)
He absolutely deserves it.
Brandon (Milwaukee)
Rodgers was pulled from the game about 25 yards shy of the record for the packers single season passing mark..... what are your thoughts?
Kevin Seifert
(2:30 PM)
He'll have another chance to break it, I'm sure.
Kevin Seifert
(2:30 PM)
OK everyone, enjoy your time with Tim.
Tim Graham
(2:32 PM)
I have the shakes a little bit because I'm expected to actually talk about football.
nyjkazadi (JETS )
so tim how surprise were you when the jets made the playoffs... you know since you last told me the jets wont make the playoffs untill 20011
Tim Graham
(2:32 PM)
20011? That's the 210th century. I knew they'd make it before then.
Katelyn (Syracuse, NY)
I am a Bills fan who hasn't been able to be relevent in a playoff chat in 10 years. Cut me a break? Who do you think winds up coaching the Bills? And how should they look to fill their QB need? Is Clausen or Bradford the answer?
Tim Graham
(2:33 PM)
How did you get this link?
nyjkazadi (JETS )
dont be scared to answer the question
Tim Graham
(2:34 PM)
I've written about 4,000 words about it in the past week. And you've commented at the bottom of every post. So I know you already know what I think.
Thomas (Atlanta)
with Wes welker out how far do you think the pats will get into the playoffs
Tim Graham
(2:36 PM)
I think if they can get past the Ravens this week with Julian Edelman, they will have a shot. The Ravens like to mix up their blitz packages, and slot receiver is critical to beating a good blitzing team. When Welker went to the line, he saw the defense exactly as Brady did. Edelman is going to be a good one, but he's a rookie. Not sure he's totally trustworthy yet.
Matt (NY)
It seems to me the Bengals are the perfect opponent for the Jets. Revis can match up with Ochocinco and the rest of the defense can shut down Benson. If Sanchez doesn't turn the ball over we could see a repeat of Sunday night.
Tim Graham
(2:37 PM)
I agree. The longer Brian Schottenheimer can keep Sanchez from throwing downfield, the better the Jets' chances will be.
Bailey (Indianapolis)
howd u like the boise state fake punt pass last night?
Tim Graham
(2:38 PM)
I love watching Boise State play. Win or lose, you're going to be entertained. I guess I should amend that ... win or win.
Sean (Boston)
Hi Tim. I was curious as to who you think will have had the better career - Brady or Peyton - once they have retired. I think it is realistic to think that they both keep playing at a high level for 4-5 years, and they win one SB each with a Manning MVP thrown in there. Obviously, me being a patriots fan, I believe that Brady is better for a number of reasons that are too numerous for me to list here. But, simply, I think that 3 SBs and 1 MVP (or 4 and 1 in my hypothetical) is better than 1 SB and 3 MVPs (or 2 and 4 in my hypothetical). Curious not only about which of the two you think is better, but also about how you weigh the importance of MVPs and SB wins. Thanks!
Tim Graham
(2:39 PM)
That is one monster question. But a quick glance it looks like the age-old Brady-Manning debate. I think Manning will have the better individual body of work when he retires and probably will go down as the greatest quarterback of all-time. But I don't think he will catch Brady in the championships department.
Tim (Long Island)
Boise State could beat the Bengals
Bill (CO)
Boise State????? Brady and Peyton retiring????? This is for the NFL playoffs!!!!!! I hate you Tim
Tim Graham
(2:40 PM)
I'm chatting at 2:30 p.m. on a Tuesday. I hate me, too.
Marc (Long Valley )
Tim is taking layups before he warms up.
Tim Graham
(2:40 PM)
This is about as good as it gets, folks.
Majeed (SD)
With the 12th pick in the NFL draft, the Miami Dolphins select...??(hopefully a ILB or DT)
Tim Graham
(2:42 PM)
I'm sure the Dolphins don't even know, so I'm not going to venture a guess. But the biggest areas of need are inside linebacker and receiver.
Nate (Nevada City)
Whats does Buffalo do in the fraft?
Tim Graham
(2:42 PM)
Fail?
Jeremy (Raleigh, NC)
Tim, it's only 30 minutes. Suck it up and give us at least a little bit of feedback, seriously.
Tim Graham
(2:42 PM)
I mean this with all sincerity: Thanks for stopping by.
Marc (Long Valley )
Well, at least one of my comments made it. Welker seemed to be the difference the last time the Pats and Jets played, who would you favor in a rematch?
Tim Graham
(2:43 PM)
The first time the Jets and Patriots played, Brady still was getting comfortable with his rebuilt knee. But in a rematch, without Welker, I think the Jets' defense gives the Patriots fits.
Xander (Philly)
Not saying they didnt deserve to get into the playoffs, but are Jets fans delusional enough to think they have a shot at the Superbowl?
Tim Graham
(2:45 PM)
Anybody has a chance now. Last year's Super Bowl featured an 9-7 team and the champion two years ago was a wild card. I think the Jets do have a shot. Not a great one, but I don't think it's ridiculous. They have the NFL's best defense.
Anthony ((AL))
Do you think the Colts lost their edge by giving up those last two games of the regular season. Personally, I would have liked it if they tried for the undefeated season. Too many times in the past they've rested their starters when they have a bye week to start the playoffs. As a result, they have a hard time getting their rhythm back. I just didn't like the move. What do you think?
Tim Graham
(2:46 PM)
The way they're entering the playoffs should be troubling to Colts fans. They've lost two in a row and have an extra week to think about it. By the time the Colts play again, they will not have won a game in four weeks.
Bill Polian (My Secret Lair)
Strike that last question from the chat, Tim.
Jimmy (New York)
what is your bold prediction for the jets and bengals this saturday?
Tim Graham
(2:49 PM)
I think the Jets win. The Bengals tried for the first half of that game and went into the locker room down by 27 points. But David Harris' absence would be mammoth if he can't play.
Larry (Washington, DC)
Is the guy who asked about the impact of Welker on a Jets-Pats rematch dillusional? Does he really think both the Pats will upset SD and the Jets would knock of Indy? I know anything can happen, but to even fathom both those things happening is insane right?
Tim Graham
(2:49 PM)
Highly unlikely, but you have to admit a rubber match between Bill Belichick and Rex Ryan would be savory.
The Dizzle (Sacramento)
What do you think about the Patriots having a better record last year with Matt Cassell than the Brady led team this year? Is it the system?
Tim Graham
(2:51 PM)
It's the schedule.
Ryan (Kokomo, IN)
Can the Patriots run the ball well enough and stop it enough to get into a time of possession game with the Ravens. I think that will be the factor in the game b/c you know the Ravens will serve up a big helping of Rice and McGahee.
Tim Graham
(2:52 PM)
I don't see why not. All of the Patriots' backs are healthy. The Patriots were incredibly balanced the first time they played the Ravens. Everybody was involved and nobody had more than seven carries or 25 yards.
Dan (Long island)
I'm gonna keep asking this until you give us some more info....the most pressing question for the JEts is whether or not David Harris will play this week. He seems old school enough to me that he can play through pain, but what have you heard as far as his status goes?
Tim Graham
(2:53 PM)
Keep asking for another 24 hours because the Jets are re-evaluating and won't have an update until tomorrow. then ask for another 72 hours because he's probably going to be a game-time decision.
Rex Ryan (New York)
This chat is obviously out of the playoffs.
Tim Graham
(2:55 PM)
Mathematically eliminated.
Mason (Louisville)
Tougher Division...NFC or AFC East???
Tim Graham
(2:56 PM)
NFC East, but the AFC East doesn't get the credit it deserves. In the final ESPN power rankings, the AFC East was slotted sixth among all divisions.
Ron Burgundy (San Diago)
You've got spunk, Tim. Classy answers from you sir.
Taylor (Beverly, MA)
How did Randy Moss manage to lead the league in TD receptions and miss the probowl list?
Tim Graham
(2:57 PM)
Because Welker was a lock, and that impacted Moss' votes. Plus, Moss had an erratic year and scored a good chunk of his touchdowns after the player and coach ballots had been cast.
Tim Graham
(2:58 PM)
A couple more and then you get what you've always wanted: another chatter.
Mark Sanchez (NY)
I hope we shut them out again I heard hotdogs taste better come playoff time
Tim Graham
(2:59 PM)
Cincinnati chili, my friend.
Bill Belichick (New England)
Tim Graham I hate you. You are nothing but a big meanie and you know nothing about football. Anytime you want to go against me in football trivia I will dominate you.
Tim Graham
(3:00 PM)
These are the types of things I have to sort through to find something worth posting.
Tim Graham
(3:01 PM)
OK. I give up. Enjoy a true professional, NFC West blogger Mike Sando.
Ben (Phx)
Cards were 9-7 last year...not 8-8. Get it right!
Mike Sando
(3:02 PM)
Not to worry, Ben. Your NFC West savior is here.
Cpl Peak (US Marine)
Better chances of going to the big game, Arizona ... or ... Green Bay?
Mike Sando
(3:03 PM)
I'll be covering my bases on this one. Here is the deal: I picked Green Bay to represent the NFC in our preseason predictions package. A week ago, I would have taken the Cardinals to win this game. I'm less sure now after the injuries. I'll stay with Arizona, knowing I can't lose either way.
B.Carey (NOLA)
Mike, Do you think the Saints need to switch up their game plan to somthing more like: starting of running the ball, play actions and screens ... since defenses are playing the deep ball?
Mike Sando
(3:05 PM)
Running the ball is indeed the best way to open up the passing game. The question is really whether there are any conditions that could cause a defense to focus on the Saints' run game. Everyone knows Drew Brees is the key variable there. Opponents would probably love to have the Saints try to beat them on the ground.
James (Indy)
Mike, did the Packers show too much on Sunday, or did the Cards merely 'lay down' and keep the goods on ice?
Mike Sando
(3:07 PM)
Nah, I don't think the Packers showed too much. They played their starters longer in a lot of cases and approached the game with a will to win it. That was the difference, I thought. Mike McCarthy is a smart coach and I'm sure he'll have some things up his sleeve Sunday. Arizona had already studied Green Bay in detail heading into that game. We should guard against the lazy postgame analysis that will try to suggest the outcome hinged on how the coaches approached Week 17. I think the Cardinals' injuries were what mattered from that game.
Scott (Louisiana)
It seems, on the NFC side anyways, that the team who makes the leat mistakes (turnovers included) will make it to the Superbowl. Can it be as simple as that?
Mike Sando
(3:09 PM)
To a degree. You still have to score points to beat these teams. Look at the quarterbacks in the NFC: Warner, Favre, Brees, Romo, Rodgers, McNabb. All these guys can put up points even without the opponents making mistakes. Turnovers are always a big deal and that will not change. But it won't be good enough to just protect the ball against theses quarterbacks. You have to score.
Dustin (Las Vegas)
Finally no more Patriot questions!!!
Mike Sando
(3:10 PM)
Were there any Patriots-related questions about Deion Branch possibly rejoining the team next season? With Wes Welker out until who knows when, and with Branch's days in Seattle possibly numbered, that could be something to watch (along with Branch joining Josh McDaniels in Denver).
JOJO (Bay Area)
What do you think about the Niners and Alex Smith? Do they hold on and wait for Nick Montana or try to get a QB or Offensive Lineman this upcoming draft?
Mike Sando
(3:12 PM)
They should not force the QB issue. They can go into next season with Smith as the starter. They can draft someone to develop. I don't think they should draft a QB early automatically. They need to see who is available and weigh value against need. Seems to me they need to address the offensive line in the first couple rounds unless someone from another position with Michael Crabtree-type talent falls to them unexpectedly.
Susan (Minnesota)
Sando, who is your MVP, it should be Favre.
Mike Sando
(3:13 PM)
My final MVP Watch comes out Wednesday. Peyton Manning will probably remain at the top.
Nate (Nevada City)
Please tell me the Rams will draft Suh or Berry and not a QB.
Mike Sando
(3:13 PM)
That would be my best guess right now.
Dain (Sedona, AZ)
Who steps in for Calais Campbell if he can't go with his fractured thumb this weekend?
Mike Sando
(3:16 PM)
Alan Branch has played defensive end some for the Cardinals and he could give them another big body up front. Campbell is more of a pass-rusher, though. He had 7.0 sacks this season. Arizona would miss Campbell if he could not play. Kent Somers had a story about that earlier in the season.
Eric (Chicago)
Peyton Manning stays at the top because why? Because he only played hard in 14 games? Because he played a half against the Jets and then the Colts lost? Because they lost to Buffalo when he started? How is that possible when Johnson became the 6th, only the 6th person in NFL history to rush for 2,000 yards, or for Favre and/or Rodgers to throw for half the INTs Peyton did...doesn't make sense does it? Didn't think so!
Mike Sando
(3:19 PM)
I put Chris Johnson in the conversation because he had a terrific year. How valuable could he have been? His team started 0-6 and missed the playoffs. How many running backs are leading their teams to glory right now? It's a passing league. Carolina had two 1,000-yard rushers and what did it get the Panthers? Steven Jackson led the NFC in rushing for the 1-15 Rams. Frank Gore had his fourth consecutive 1,000-yard season and fourth consecutive season without the playoffs. Peyton Manning is multiple times more valuable than any running back in the league.
The Dizzle (Sacramento)
Manning or Brees or Brady or Rivers? Please explain
Mike Sando
(3:20 PM)
Tom Brady made more critical mistakes this season than he usually would. I will probably go with Peyton Manning, Drew Brees, Philip Rivers, Brett Favre and then maybe Chris Johnson.
Bailey (Indianapolis)
What is the keys for a win for the cardinals after getting absolutely dominated this Sunday against the Packers?
Mike Sando
(3:22 PM)
Putting their best players on the field instead of along the sideline. Adrian Wilson, Darnell Dockett, Karlos Dansby, Antrel Rolle, etc. The Cardinals' starting defense hardly played. Having Kurt Warner attempt more than six passes also could be key.
Justin (DC)
Why wouldn't the Rams look for a QB at somepoint? They don't have a capable one!
Mike Sando
(3:24 PM)
The Rams need to look for a quarterback right now. Good ones are scarce, however, so they should not draft one just to say they took one. They could take a quarterback on draft day and score high marks on 75 percent of day-after-draft report cards. People could say they addressed a primary need and found a franchise cornerstone to build around. It won't do them any good if they pick the wrong guy. They need to take a quarterback if they think one of the quarterbacks will be that guy. They should not roll the dice. Billy Devaney, the Rams' GM, was with the Chargers when the team drafted Ryan Leaf. He knows better than to just take a guy.
James (Providence)
I was wondering which quarterback you would pick to run your team for the next 7 years. I chose 7 because by then Brady-Manning-Brees-McNabb-Favre-Warner-Palmer-Romo will be gone. I'm leaning towards Philip Rivers or Aaron Rodgers, but I'm not sure. Thanks!
Mike Sando
(3:26 PM)
Aaron Rodgers. He is younger and has fewer hard miles. Rivers has been through the ACL surgery and taken more punishment. Rodgers is still ascending. Like Rivers, Rodgers has an edge to his personality. I think he's a great young prospect who is already performing at a Pro Bowl level.
Chris (Delaware)
I see you're picking the Pats to win. Why? I see Baltimore being more physical and no Wes Welker that has to hurt.
Mike Sando
(3:27 PM)
I haven't picked the Pats to win. They could have their hands full in the first round.
Adam (Phoenix)
Matt Leinart is NOT the future for Arizona, what do the Cardinals do with him? Trade him, cut him?
Mike Sando
(3:27 PM)
Keep him around until they can find someone better.
Nate (Nevada City)
Eagles or Cowboys?
Mike Sando
(3:28 PM)
The Cowboys' approach has impressed me all season. They have been even-keeled. It's tough to beat a team three times in one season but it's a lot easier with two of those victories in the bank.
Eric (Chicago)
Sando, regarding the Rams, they have Bulger who is serviceable for any QB project they decide to bring in...1st pick Suh, 2nd pick McCoy if he is there...that'd be the best 1-2 picks for them.
Mike Sando
(3:29 PM)
Marc Bulger's salary is $8.5 million next season. There is a negative 104 percent chance the Rams pay that to him.
Mike Sando
(3:30 PM)
I'll hand off to Bill Williamson of AFC West fame now.
james (Oaktown)
Al Davis fires Cable? Who next?
Bill Williamson
(3:33 PM)
If it happens, I say Denny Green, Jim Fassel, Jim Haslett, Mike Leach, Brian Billick, Marc Trestman, Kevin Gilbride and Mike Martz could all garner looks.
Bill Williamson
(3:33 PM)
If it happens, I say Denny Green, Jim Fassel, Jim Haslett, Mike Leach, Brian Billick, Marc Trestman, Kevin Gilbride and Mike Martz could all garner looks.
Aaron (Alaska)
Bill, do you think the Chargers can knock off the Colts in the playoffs again this year?
Bill Williamson
(3:34 PM)
Yes, without a doubt. The Chargers are not afraid of the Colts after they beat them in the playoffs the past two seasons. Plus, the Chargers are playing better than any team in the NFL.
Mike (St. Louis)
Who is your MVP?
Bill Williamson
(3:34 PM)
Probably Manning.
T$ (San Diego)
I have been trying to get an answer for this all day. What are the chances the Chargers actually win the super bowl? Who do you have your money on to get to the super bowl?
Bill Williamson
(3:35 PM)
I think the Chargers cna win it all, yes.
The Dizzle (Sacramento)
How big is the loss of Jamal Williams to the Chargers in the Playoffs? It might be their Achilles heel. Run Defense
Bill Williamson
(3:36 PM)
It's big, but San Dieog has played 15 games without him. The run defense is not as strong without Williams than it would be with him, but it can survive.
ch (okc)
When was the last time a West coast team won the superbowl (AFC or NFC)?
Bill Williamson
(3:37 PM)
The last time an AFC Wst team won the Super Bowl was the 1998 season -- Denver.
Mikes (North Carolina)
Hey Bill. If the Patriots meet the Chargers in round 2, what will be the biggest obstacle for either team to get past the other.
Bill Williamson
(3:38 PM)
For SD: Slay Brady and Belichick, which is never easy in the postseason.FOR NE: Contain Rivers, which is never easy.
Martin (Los Angeles)
If you had to be 1,000,000$ on the Bengals or Jets to win this weekend who would you bet?
Bill Williamson
(3:39 PM)
Just for fun, I'd say Cincy.
Justin (Dallas, TX)
Bill, I'm worried that the Chargers don't match up well against Indy this year as they have in the past. The pass rush just hasn't been there. Thoughts?
Bill Williamson
(3:41 PM)
San Diego's defense would be the key .... But Indy's defense would have trouble with Rivers as well. I think it would be the game of the playoffs.
David (GA)
why is manning getting the shoe-in as mvp? Phillip Rivers and Brett Favre and Drew Brees should all be considered more so than him if you ask me. your thoughts.
Bill Williamson
(3:42 PM)
I don't think Manning will be a shoo-in, but I think his ovrall season will give him he nod. But don't discount Rivers' chances. He has a shot.
David (Orem, UT)
What are the Cowboys chances of a Super Bowl appearance and victory?
Bill Williamson
(3:45 PM)
Nobody in the NFC is playing as well as the Cowboys are. I think it is going to be a very fun playoffs in the NFC.
Kevin (Chicago)
Bill, y do so many people think that the cards are going to lose to the pack? i understand the packers are hot lately, but we all saw how well the cards perfromed in the playoffs last year, and last game Warner barely played. and without woodson the pack will have an even more dificult time covering Fitzgerald so with that, and home field advantage, i pick the cards to win. your thoughts?
Bill Williamson
(3:46 PM)
You make good points, Kevin. The Cardinals will be very confident heading into the playoffs based on last year's success.
Brian Meyers (Minn)
Why do minnesota fans think they are such die hard brett favre fans now that he is on the team when befor they hated him. Whats going to happen next year when he fails, or Maybe retires after this season
Bill Williamson
(3:47 PM)
I think they'll just enjoy the memory of a pretty special season.
Glenn (San Diego)
Welcome Bill, and thanks for great blogging this year. Will the Charges have all of thier guys at 100% at the start of the second round?
Bill Williamson
(3:48 PM)
Thanks for the words, Glenn. Yes, the Chargers should be enar full strength next week.
Greg (NYC)
A boy named SUH....is getting to be "HOT" commidity!...Spag's loves D-linemen but wouldn't the "best" move be to "trade" this pick and get 3-4 picks?
Bill Williamson
(3:49 PM)
Suh is a Ram. Done deal. Spags' program is officially underway.
Nate (Nevada City)
Do you think the Colts are really SCARED of the Chargers? I highly doubt they're SCARED
Bill Williamson
(3:52 PM)
Nervous at the very least.
Justin (Dallas, TX)
Bill, it makes me nervous how everyone is picking SD again this year as a Super Bowl winner. Reminds me too much of 2006! But this team seems different, kinda like its been there before. They have a quiet confidence that is encouraging. What do you think?
Bill Williamson
(3:53 PM)
I think it i sa very focused team that learned from 2006.
TC (Sweden)
With Shanahan in Washington, do you see alot of the old Denver coaches/players joining him there?
Bill Williamson
(3:54 PM)
I do, yes. Shanny is very loyal. He'll bring a lot of people with him.
Mike (IA)
You mentioned Leach going to Oakland... With the way Leach went out, do you think he and Davis will get along well enough to get Oakland back in the playoff picture if Leach were to coach there?
Bill Williamson
(3:55 PM)
I don't think Al would be nerovus about working with a renagade. Afterall, Al is the ultimate renegade.
Larry (Seattle)
Who do you like to represent the NFC in the SB?
Bill Williamson
(3:56 PM)
I still like Philly even after their big loss at Dallas.
Ryan (Indianapolis)
What do you see as the Super Bowl in Miami?
Bill Williamson
(3:57 PM)
SD-Philly.
Antonio (Carlsbad,CA)
What would be the best match up for the Chargers in your mind in the divisional round?
Bill Williamson
(3:58 PM)
Bengals.
Matt (Minnesota)
How about Favre and the Vikings in the SB?
Bill Williamson
(3:59 PM)
Not sure it is going to happen, but I'd love it. It would be a fun, fun story.
Michael K (Tujunga)
Hey Bill with Shanny looking like hes going to Washington do you see him trying to trade to get some of his players back like Hillis or Scheffler?
Bill Williamson
(3:59 PM)
Yes and add Marshall to the list.
Nate (Nevada City)
Rivers or Brees? Thats a good one!
Bill Williamson
(4:00 PM)
What a great Super Bowl that would be, huh?
Bill Williamson
(4:00 PM)
Great half hour, folks .. Passing off to AFC North blogger James Walker
James Walker
(4:01 PM)
Thanks Bill. Last but not least, let's talk some AFC North football. There are two teams playing in the wild-card round this weekend.
Howard (Maryland)
James,I think the Ravens have a good chance to beat the Pats for a number of reasons, but are they a one and done team this year?
James Walker
(4:03 PM)
I really like this matchup for the Ravens. The previous two games were really close, including this year. I'm still waiting until the end of the week to make my pick, but it's going to be a close game.
Stephen (Atlanta)
James, any update on the injuries to Ocho Cinco and David Harris?
James Walker
(4:05 PM)
I was in the Bengals' locker room today and was among the media talking to Chad Ochocinco. His knee is fine and he will play. I don't have an update for Harris.
James Walker
(4:05 PM)
Ochocinco did practice today, by the way.
Madison (Dallas)
As great of a season as Cinci had, do they really have a chance at doing any damage in the playoffs?
James Walker
(4:07 PM)
It's all about matchups this time of year, Madison. There are certain teams I think the Bengals could beat/upset in the playoffs and others I don't think they would have a chance against. The Jets were a good draw for Cincinnati. Both teams are similar and its a matter of which team is toughest Saturday.
Bailey (Indianapolis)
what a performance from willis mcgahee... harbough has always said he can tell how much he will play by the first couple times he runs the ball... if he jumps to the outside and runs out of bounds or gets physical and runs ppl over and we deffinately saw the physical side of him yesterday... your thoughts on how effective you think he will be in the playoffs??
James Walker
(4:10 PM)
The Ravens coach really use McGahee. Ray Rice is the focal point of the offense, but McGahee brings a toughness that is well-suited for the playoffs. He doesn't need 167 yards every week, but if he can get 40 or so tough yards Sunday that would be huge.
Mason (Los Angeles)
James, What are Chad O.C. stats going to be for this game? Or will revis shut him out...Again
James Walker
(4:12 PM)
I don't expect a big game from Ochocinco. Darrelle Revis could be the top cover corner in the game, and I don't think the Bengals will come out throwing much on Saturday.
James (Cincy)
James---which conference is deeper when it comes to these playoffs? It has been the AFC for a while now. Thnx.
James Walker
(4:16 PM)
The NFC field looks stronger this year. Looking at the conference wild-card teams can be a good indication.
JJ (NC)
Do you think the Bengals laid down / played vanilla this past Sunday, or was it domination by the Jets?
James Walker
(4:19 PM)
The Bengals definitely played vanilla. The team said as much today. The Jets definitely pushed the Bengals around in the plays that were called. That much was evident.
The Akron Hammer (Cleveland)
Will my Browns be in contention next year with the right draft picks?
James Walker
(4:21 PM)
I can't predict either way until they make the picks, Hammer. The Browns have blown plenty of draft picks before. So there are no promises in numbers with 11 picks. But Cleveland has a chance to improve its roster.
Mark (ATL)
Hey James ... are the cincy d-linemen all healthy? if not, jets will roll
James Walker
(4:22 PM)
Domata Peko and Robert Geathers both plan to play Saturday.
Bailey (Indianapolis)
on nfl live just now... they put the cowboys as the team to beat now in the nfc... your thoughts sir...
James Walker
(4:25 PM)
I'm surprised everyone jumped on the Cowboys' bandwagon, especially this time of year. I'm not one of them. I need to see them win at least one or two playoff games to match the hype.
Bobby V (Columbus)
Who will be the biggest factor when he comes back in slowing down the Jets OL? Geathers or Peko? Both were sorely missed on Sunday night.
James Walker
(4:27 PM)
Domata Peko in the middle will be huge. He doesn't get a ton of tackles, but he occupies space and doesn't get pushed around. That should help others around him make plays Saturday.
Art (TX)
How do the Steelers bounce back from missing the playoffs this year?
James Walker
(4:29 PM)
I don't think the Steelers are that far away, Art. They were a couple plays short in a lot of games that could have gone either way and were still a 9-7 team. If they make a couple improvements I think they will have a bounce-back year.
Jake (Mason, OH)
James, do you think the Bengals can beat the Chargers if they end up playing them again?
James Walker
(4:31 PM)
The Chargers are a much better matchup for Cincinnati than the Colts. But I think we're looking too far ahead. The Jets are going to be a handful for Cincinnati this weekend.
Mike (New Orleans)
When I look for a potential sleeper team, I look for a team whose losses were to good teams in close games ... this year's Ravens seem to fit that bill. With a few bounces going their way, can Baltimore end up in the Super Bowl?
James Walker
(4:33 PM)
The Ravens certainly have sleeper potential. They are a talented team that's been inconsistent, and you never know when Baltimore will suddenly put it all together. Maybe it will be on Sunday. That wouldn't surprise me.
Marc (Florida)
How much of a psycologic advantage do the Jets have against the Bengals? (could you also pick against them like you did earlier in the year-for luck)
James Walker
(4:37 PM)
I think the Jets have an edge going into the game. But it won't mean much after kickoff. If the Bengals jump out to a 7-0 lead, no one in the game is going to think about the 37-0 loss. As far as picks, I'm still waiting until the end of the week. I thought about ending picks after a successful regular season, but I'm not sure. Maybe I'll keep picking games until the AFC North teams are out.
JK (Las Vegas)
James, Do you know the status on Palmer's thumb/hand? He has been wearing a glove for a while.
James Walker
(4:39 PM)
It's the same as it's been for a while. His left thumb will probably need corrective surgery after the season. He didn't miss any games because it's on his non-throwing hand.
Lou (Cincy)
What about Tank? Is he going to play Saturday?
James Walker
(4:41 PM)
Tank Johnson did not practice today. He's probably going to be in the "questionable" range heading into the game.
Nick (Cinci)
Is Domato Peko the Bengals' Troy Polamalu? It sure seems that way, considering we let 3 teams run for over 100 yards on us in his absence.
James Walker
(4:42 PM)
I wouldn't go that far. But Peko is a good player and his return will help the defense.
Q (Missouri)
Will Hasselback be in Cleveland next year as he is buddies with Holgrem?
James Walker
(4:45 PM)
I expect Mike Holmgren to bring in his own quarterback to compete or start next year. But I don't think it will be Matt. He's looked pretty bad this year.
avi (cincinatti)
can the bengals beat the jets????
James Walker
(4:49 PM)
Of course. I think all four wild-card games could go either way. It's that close. Will the Bengals beat the Jets? I'm still thinking that one through.
Anthony Powell (Boynton Beach, Florida)
James I don't buy the ravens I can't be impressed by a team that barely beats a terrible Oakland Raiders team on the road that had nothing to play for and the ravens every thing to play for?
James Walker
(4:51 PM)
Baltimore hasn't look good on the road this year. But this team has a lot of good players, and I keep waiting for them to explode against a good team.
bobby (ohio)
Hey James. I was wondering what you think about the Tom Heckert rumors for the Browns. If this is serious and Heckert gets the job does it spell the end for Mangini?
James Walker
(4:53 PM)
Mike Holmgren said today that Heckert will be one person interviewing for the GM job this week. The Eric Mangini decision will be up to Holmgren.
Jdan (NY)
What do you think are the definitive keys to victory for both the Jets and Bengals? And which would be a better match-up IF the Jets are voctorious (The Chargers or Colts)??
James Walker
(4:57 PM)
Stopping the run will be huge, because I think both teams are reluctant to pass the football right now. The cold weather also could be a factor. For the Jets, maybe the Chargers are a better matchup. It's hard to say. Both the Chargers and Colts will be tough for them to beat.
James Walker
(5:00 PM)
Everyone, thanks again for chatting with ESPN.com's NFL team throughout the day. Enjoy the playoffs.