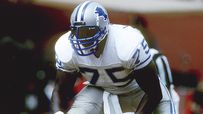 Brown spent 18 years in the NFL.
Welcome to SportsNation! On Thursday, ESPN2 "First Take" NFL analyst Lomas Brown stops by to chat about the NFL season.
Brown spent 18 years in the NFL, playing for the Detroit Lions, Arizona Cardinals, Cleveland Browns, New York Giants and Tampa Bay Buccanneers, with whom he won a Super Bowl championship following the 2002 season. He played collegiately for Florida.
Send your questions now and join Brown Thursday at 1:30 p.m. ET!
More Special Guests: Previous chats | SportsNation
Buzzmaster
(1:29 PM)
We're getting Lomas right now!
Jessica (Los Angeles)
Who do you have in the Eagles - Cowboys matchup? If the Eagles win Saturday, how far do you see them going?
Lomas Brown
(1:37 PM)
Actually, Jessica, the Eagles are my Super Bowl team this year. That's who I picked to win it. I think it will be a different game than the last one. I think Philly has too many weapons to get shut out and will play a lot better than last week.
Brock (Canton)
What are the Browns thinking by not giving Josh Cribbs a bigger contract? Do you think they can work things out by the deadline set by Cribb's agent?
Lomas Brown
(1:38 PM)
I agree with you. That's puzzling to me. Really Josh Cribbs is the only guy Cleveland has this year. He does it on offense and special teams. The only thing that I can think is what happened to Devin Hester in Chicago. Once, he got his big contract, he wasn't the same. BUT, Josh has been more involved in the offense from the start.
J.B. (Dunmore, PA)
Mr. Brown: I think the team that throws the ball less in the Jets/Bengals game gets the win. Fair assessment?
Lomas Brown
(1:40 PM)
That is a very fair assessment. The Jets are the No. 1 rushing team in the NFL. We know that's their strong point. Also, they're trying to break in a rookie QB. Him throwing the ball wouldn't be a good idea. With Carson Palmer, he needs to get his confidence back more than anything else. So, for both teams, running the ball will be key to who wins that game.
RJ (Boston)
Lomas!!!!No one has ever coached two different teams to Super Bowl wins. Evidence of yet another bupkus 5 year run at Redskin Park, or do you trust Snyder may have an inkling, this time?
Lomas Brown
(1:41 PM)
I think this was a great move for the Redskins. They need to get an established coach that has won. The coaches they've had in the past hadn't won Super Bowls, except for bringing Joe Gibbs back. You're looking at a coach that has won and works well with QBs. And Bruce Allen seems to have the pulse of the players in the NFL. I thought it was a good move.
blake v (tampa)
Do you think the Bucs should put head coach Raheem Morris to defensive cordinator and hire a new head coach.
Lomas Brown
(1:43 PM)
I just think it would be so difficult to fire a head coach and make him a coordinator. I've never seen it done on the same team. It's too hard. I just don't see that happening. I think a lot of times when teams do that, they like to break ties and go in a totally different direction.
Ulysses Gross (Louisiana)
Do you think the eagles going to win Saturday in Dallas
Lomas Brown
(1:45 PM)
I think the Eagles need to establish the run. Good playoff teams throughout the history of this game have been able to run the ball. A) Because most of your games will be bad weather games and it's hard to throw the ball. B) If you can run the ball, you can control the clock. To me, they must be able to run the ball and take the pressure off of Donovan. They do that and I think they win. They're my Super Bowl pick.
Bob (Chicago)
what did you think of the Bears firing?
Lomas Brown
(1:46 PM)
You could tell they were due. I'm not surprised by the firings. I was just shocked that Lovie was able to hold on to his job. They do need to go in a different direction on offense. There was no excitement to their offense. The thing that I found surprising was that Lovie and the defensive side of the ball were able to keep their jobs.
Milton (Illinois)
If the Cards beat the Pack sunday can they beat Minn again & how do they matchup with the Saints?
Lomas Brown
(1:49 PM)
I think they can. We've seen what Arizona did last year when they got on a roll late in the season. Arizona matches up with any team in the league. I think their biggest problem is defensively, not giving up the big plays. If they can prevent that, they match up with any team from the NFC and AFC. Though losing Anquan Boldin will hur them.
Marc (City of Brotherly Love)
We still remember your quotes from the playoffs Mr. Brown. Now what will it take for your Lions to amke it back to the playoffs?
Lomas Brown
(1:50 PM)
First of all, plenty of prayers. I think the biggest thing is patience. There are a lot of young guys on the team. This will be coach Schwartz's second year, so he's still trying to get some of his players into the fold. He's on the right direction with this team, but it will just take some patience. But a couple of Hail Mary's won't hurt either.
Blake (Abilene, TX)
Lomas, Jamaal Charles had an amazing game last week with KC. Might the NFL's view be changing on track athaletes J. Charles were told that their speed would not have the same impact as it did in colloege and could they handle the work load? etc.
Lomas Brown
(1:51 PM)
Oh yeah, absolutely. I agree with you. I think he had a great year. The guy is explosive and the thing that I like about him is that he seems to read his blocks very well. For a RB that's very important because it helps the OL. With teams running zone blocking schemes. You can take a great athlete or great track athlete you can teach him some things. So, I don't think that will be a barrier any more.
J. Coleman (Bean Town)
If Julian Edelman does his best Welker impersonation, do you think the Pats have a chance at going far into the playoffs?
Lomas Brown
(1:52 PM)
I really think they have a chance even if Edelman doesn't do his best Wes Welker. People keep forgetting that they have Kevin Faulk, Watson and of course Randy Moss. They have other weapons on offense. Wes is a very very important piece to that puzzle, but as Tom Brady said, they just have to play with the guys they have now.
Brandon (Live in Austin visiting Denver)
You have a great voice Lomas. Have you ever thought of doing voice over work?
Lomas Brown
(1:53 PM)
Brandon, if you know somebody that I can contact about that...I was just telling one of my best friends that I thought I could do some of the voice over work for commercials and whatnot. You read my mind!
Brian (Lansing)
Hey Lomas, in my opinon "bulletin board" statements are over rated, whats your opinon. I beleive you should give your all no matter what another player says
Lomas Brown
(1:55 PM)
Bulletin board material helps you during that week of preparation, but I don't think it does anything for you on game day. You should already be motivated to go on game day. But I do think bulletin board material does help you get motivated during the week.
jeremy (bristol)
how long do you think donovan mcnabb will play for the eagles after this season
Lomas Brown
(1:56 PM)
To be honest with you Jeremy, I don't know why he would play for any other team than Philadelphia. He's head and shoulders above Kevin Kolb and Mike Vick. He's been the face of the franchise for 10-11 years now. He and Andy Reid have had a great report, even though they've had their differences.
deezy (texas)
filly has weapons agreed... but what makes you think that the eagle defense will stop the cowboys?
Lomas Brown
(1:58 PM)
Great question. I just think because the Eagles' DC was under a master coordinator in Jim Johnson. I think that Philadelphia, especially after the way they lost last week, will devise a scheme that will help the Eagles defense to slow down the Cowboys' Miles Austin and the three-headed running attack.
Lomas Brown
(1:59 PM)
Happy to chat with you again. And if you have a room that needs redecorating in your house go to FatHead.com and get a Big Fella Fat Head!