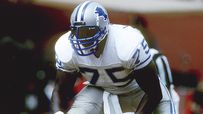 Brown spent 18 years in the NFL.
Welcome to SportsNation! On Thursday, ESPN2 "First Take" NFL analyst Lomas Brown stops by to chat about the NFL season.
Brown spent 18 years in the NFL, playing for the Detroit Lions, Arizona Cardinals, Cleveland Browns, New York Giants and Tampa Bay Buccanneers, with whom he won a Super Bowl championship following the 2002 season. He played collegiately for Florida.
Send your questions now and join Brown Thursday at 1 p.m. ET!
More Special Guests: Previous chats | SportsNation
Buzzmaster
(1:15 PM)
We've got Lomas!
Dave (Trenton)
Do the Cardinals have any chance against the Saints?
Lomas Brown
(1:17 PM)
Oh absolutely! The Cardinals' offense is great. They've been playing great. Now, with Warner hinting that he might retire at the end of the season, they might use that as a rallying point. They got hot last year and I don't see any reason why these guys won't play well in New Orleans.
James (New York)
How far can the Cowboys advance, or are they an one and done team ?
Lomas Brown
(1:18 PM)
Tony Romo has gotten that gorilla off his back. They said he couldn't win in December. They said he couldn't win the playoffs. He's done both of those now. Their defense is outstanding. I think they're a legit threat to possibly get down to Miami.
SprungOnSports (Long Island)
As a former o-lineman, who do you think will win the line of scrimmage battle between Minnesota and Dallas?
Lomas Brown
(1:19 PM)
Oh man, great question. Right now, I have to give the advantage to Dallas. I think defensively, Dallas is a much more athletic defensive line than Minnesota's offensive line. Dallas' defensive line is so big and massive that I see the advantage going their way. I like the way both their offensive and defensive lines are built.
Tony (Michigan)
For the Packers, I don't know that Aaron Kampman has a future at OLB with them nor do I think he likes that position. Does GB draft someone to replace him first or do they need OL help first?
Lomas Brown
(1:21 PM)
I think they need to get their line help first. Kampman is considered a OLB because they went to the 3-4 defense. If he were in a 4-3 defense, he would be more of a defensive end. But I think one of their downfalls this year was protecting Aaron Rodgers. He can not get sacked or hit the way he did this year. They need to get their offensive line help.
Greg (Portland)
As a SEC guy, what do you make of this Lane Kiffin stuff?
Lomas Brown
(1:23 PM)
I don't like it. I don't like it at all. I know we have free enterprise. People should be able to go and make as much money as they can and take advantage of the opportunity. My question is, what about the kids? Just like the commercial says, most of these student-athletes will go on to do something else besides sports. Only a few kids will get into the pros.
Frank (Denver)
Who do you like Jets-Chargers?
Lomas Brown
(1:25 PM)
The Chargers do have a powerful offense. But I like some of the matchups the Jets can create - like Revis on Jackson; David Harris on Gates. With them having the No. 1 defense, I wouldn't be worried about LT and Sproles. The key again will be Mark Sanchez. Can he come out and have another game where he was almost perfect? Will he be able to make the big throw?
carmelo910 (fayetteville nc)
Buy or Sell.Vick Goes to Buffalo to team up with Terrel Owens.
Lomas Brown
(1:26 PM)
I could buy that. Why not? Buffalo has good fans. You see what TO did for that community in Buffalo. He put them on the map. You get a Mike Vick up there, who's proven he can play QB with some intangibles. That makes sense. Actually, I kind of like that.
Ric (louisville)
Why do you think some 1st round QB's are busts?..... is it football intelligence...i.e... reading defenses, quick progression, or are the scouts doing a bad job...thanks for your time
Lomas Brown
(1:27 PM)
I think it's a combination. Some of it has to do with football IQ. You have to learn to read defenses in the NFL. They disguise defenses so well, so that makes the learning curve harder. Some of these QBs come out of systems where they are in it for 3-4 years. Then you get to a new team and there's a new system and another learning curve. And sometimes it's about being lucky and getting to a team with some talent around you.
J.B. (Dunmore, PA)
Mr. Brown: What do you think gives Minnesota the better chance to win Sunday: Lots of carries by AP or lots of passing from Brett Favre?
Lomas Brown
(1:29 PM)
I would say lots of carries by Adrian Peterson. He's been a focal point. To me, he's still your most valuable weapon. They need to give the Cowboys a heavy, heavy dose of All Day Adrian Peterson. That's what they need to do.
Laura (NJ)
Lomas, Who do u think would be a good Def.Coor. for the Gaints? They need some serious help. Are you Looking for a new job.
Lomas Brown
(1:30 PM)
That's a great question there. I know Jim Mora Jr. is out of a job. That's his background, defense. He might be a pretty good fit. He's a young, energetic guy. They have a young defense. I know he could be a good fit there.
John (Pitt)
Do you think the Steelers can bounce back next year?
Lomas Brown
(1:31 PM)
I do. I do. As much as anything, I think the injury bug hit hard. Any time you get the injuries, you're going to have a set back. They've dealt with a lot of things they haven't had to deal with in the past. It just seemed like it wasn't a very comfortable year in Pittsburgh. I expect them to be back in the hunt.
Chris (Pearl River, NY)
I know the season isn't over but. For next year with the emergence of Shonn greene what is leon washington's role going to be with the jets if he is back?
Lomas Brown
(1:33 PM)
They need to keep Leon. I like Leon. That's the thing about football, it's almost out of sight, out of mind. Leon is a very very good player. He's a threat on special team and in the run and passing games. He just gives you another threat to have. You can line him up as a WR, in the H-back. You should do your best to bring him back. He's good. I like Leon.
Greg (NYC)
I think the Individual the match up of the week Healthy Dwight Freeny vs Rookie LT Michael Oher? agree?The Raven's can "run at him" because he's undersized but if its 3rd and long what do you think Oher's odds are of protecting Flaaco's "blind side"?
Lomas Brown
(1:34 PM)
I think Michael Oher has played very well this year. He's exceeded expectations. I think he's very capable of holding his own against Freeny. Oher's a big guy. Michael doesn't have to worry about getting bullrushed, so he can take some of his weapons out of his repertoire. I think Michael will be all right, even though Freeny's a great player.
Bill (NYC)
What's the key in the Indy game?
Lomas Brown
(1:36 PM)
Besides running game, Indy's key is it will be up to their defense to limit the Baltimore offense to three and outs. They can not allow Ray Rice and those guys run on them. They want to pound that ball and control that ball and run the clock and keep Peyton Manning on the sideline. Baltimore is going to try and shorten the game.
Eric (Long Island)
Lomas... I remember early in his career you worked with D'Brickashaw Ferguson. It's taken a few years but it seems he is now the elite LT the Jets thought they drafted a few years back. How would you rate his progress and what do you think he has improved on most?
Lomas Brown
(1:38 PM)
First of all, thank you. I did work with the big fella. I'm proud of him. I just talked to him the other day. He's come a long way over the last two years. Everything the offensive lineman does is learned. You have to learn different things about the OL. It can take a couple of years for a OL to get it and he can be great for many years. He's on his way. He has a few things to learn, but for being in his fourth year, he did a great job. They were the No. 1 rushing team for a reason, because of guys like him and the other OLs. But yeah, he's starting to be in the talk about the best OL in the league.
Mike (Kansas)
What is your take with Vikings vs Cowboys, I know its a great match up, but Dallas is coming fro a hot streak. How come no one gives them credit even after everyone doubted them to beat the eagles three times they proved that and still everyone thinks that Favre is having his time, which I do beielve he is having a great season, what do you believe will be important for Dallas in this game?
Lomas Brown
(1:40 PM)
I think for Dallas, it will be important for them to go out with the mindset of doing what they've been doing for this last month. Don't change what you've been doing. That's what they need to concentrate on. The balance of running versus passing the ball. The defense. And if a Roy Williams can step up and help Miles Austin, they'll be a team that no one wants to face.
Dan (Boston)
Who are you picking this weekend?
Lomas Brown
(1:42 PM)
I'm going to go with Dallas. I really think they keep moving on. I like Indianapolis over the Ravens. I actually like Arizona over New Orleans. Arizona's been playing hard and have been in the race for over a month. It's hard to turn it on and off. With San Diego and the Jets...wow. I know I should take San Diego, but I just think the Jets with the No. 1 defense. I'm going to have to go with the Jets on that one.
Lomas Brown
(1:43 PM)
I appreciate everyone coming to the chat. Don't forget, I still have those FatHeads out there. You can have the Big Fella on your wall!