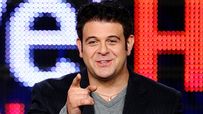 Richman began hosting "Man v. Food" in 2008.
Welcome to SportsNation! On Jan. 27, we're going to welcome in someone who should fit right into our chat, when "Man v. Food" host Adam Richman stops by.
Richman and the show's next episode airs Feb. 3 at 9 p.m. ET on Travel Channel and is a special, live, two-hour show. The TV event will have Richman in Miami, showing the sites surrounding the Super Bowl, in addition to taking on the 48-ounce Steack Challenge at Shula's Steak House.
In Man v. Food, Richman, a Brooklyn native, travels the country in search of the best places to do some serious indulging. After hunting down the can't-miss flavors that make up each region's unique culinary history, he takes on the city's toughest food challenge.
Send your questions now and join Richman January 27 at 1 p.m. ET!
More Special Guests: Previous chats | SportsNation