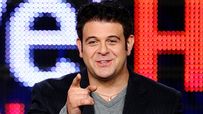 Richman began hosting "Man v. Food" in 2008.
Welcome to SportsNation! On Jan. 27, we're going to welcome in someone who should fit right into our chat, when "Man v. Food" host Adam Richman stops by.
Richman and the show's next episode airs Feb. 3 at 9 p.m. ET on Travel Channel and is a special, live, two-hour show. The TV event will have Richman in Miami, showing the sites surrounding the Super Bowl, in addition to taking on the 48-ounce Steack Challenge at Shula's Steak House.
In Man v. Food, Richman, a Brooklyn native, travels the country in search of the best places to do some serious indulging. After hunting down the can't-miss flavors that make up each region's unique culinary history, he takes on the city's toughest food challenge.
Send your questions now and join Richman January 27 at 1 p.m. ET!
More Special Guests: Previous chats | SportsNation
Buzzmaster
(12:59 PM)
Adam will be here shortly, everyone!
Adam Richman
(1:02 PM)
Welcome! I'm like a kid in a candy store walking around ESPN. I'm the envy of all my sport fan friends and family right now. Yes, America, ESPN is just as cool in person as you think it is.
Gus (New City,NY)
Hey Adam, Love the show. 48 ounce Steak Challenge? What kind of challenge is that? You probably eat more for breakfast. Should I even watch? Good luck
Adam Richman
(1:02 PM)
It's a 48-ounce challenge in 20 minutes. With red meat, the challenges are both chewing and swallowing that much. And no, I don't eat that much for breakfast, Gus!
Greg (Southlake, TX)
Which has been your favorite and hardest challenge and who ya got in the Super Bowl?
Adam Richman
(1:04 PM)
Favorite challenge, I'd have to go with the Kodiak Arrest challenge in Alaska, just because of how delicious it was and the variety of different things. In quantity of challenges, variety of flavor spurs you forward. For Super Bowl picks, I have a friend playing in the game and don't want to predict for fear it will offend or jinx him.
Jason (Ottawa, KS)
Love the show, I aspire to tackle all the same food challenges!You seem to love all sorts of food, but, what is the one type of food that you detest?
Adam Richman
(1:05 PM)
There's this Japanese fermented bean paste called natto, which is awful. Not a big fan of anything with little chunks of ham, like the burrito in Denver. Those are always really hard challenges. Probably best not to expect the monkey brain challenge on Man vs. Food too.
Grant (Mesa, AZ)
What is your diet like on a day when you're facing a challenge that will require you to eat a lot?
Adam Richman
(1:05 PM)
Air cakes and wind pies. Generally, just water, and not even much of that.
Mike (DC)
What kind of challenge do you like more...spicy or quantity?
Adam Richman
(1:06 PM)
This is a hard question, because how do you compare quantity of pancakes to quantity of burgers, or spice of burgers to spice of wings. They're all unique. I prefer quantity challenges when I can vary the flavor, and spice challenge when the peppers are real and not extracts.
Julian (Manchester, NH)
A few times I've seen you ask for EXTRA food during a challenge to help change the taste. Where did you get that idea, and does it really work?
Adam Richman
(1:07 PM)
It came to me spur of the moment in San Francisco during the Sundae challenge. I just knew that that much cold, sweet, and creamy would be too much, so I found its opposite in french fries. Once that worked, I decided to try it again. When you can't stand the taste anymore, that's when the end is near.
Hayden (Logan, Ut)
Adam, how important is it for the crowd to cheer you on? seems like you draw POWER from it
Adam Richman
(1:08 PM)
Absolutely I do. A lot of the challenges, especially the spicy ones, are so painful that your common sense is saying "Stop". But you don't want to let them down, and you realize you've created this kind of crusade of Man vs. Food, and you're the personification of everyone else in that room. You owe it to the city because you're their representative in battle. It's my single favorite element of the challenges.
Ben (Milwaukee, Wisconsin)
How do you recover after an eating challenge?
Adam Richman
(1:09 PM)
I always do a cleanse after all my challenges. The spicy ones, you really prepare for those ahead of time...it's too late to do anything about it once it's in your body. The quantity challenges, I do different cleanses depending on the food composition.
J.B. (Dunmore, PA)
If you had to be eaten, which animal/species would you choose to render the service?
Adam Richman
(1:10 PM)
Godzilla.
Adam Richman
(1:10 PM)
Something that would do it in a quick manner. Maybe something I could fight back a little bit against, like a bear or a really hungry chihuahua. Something where I had a chance of eating it too.
Brian (Fairfax, VA)
What inspired you to take up this show? And how did u know that you would be amazing at it?
Adam Richman
(1:12 PM)
Well thank you for the compliment, first and foremost. Honestly, as someone with a love and a history of travel, a love of food, and a history of working in the food industry, and a love of entertaining, and training in those fields, it was a perfect fit. I know food around the country and I love eating, and the fact that I do those things while traveling is amazing.
Wes (D.C.)
Of the challenges so far where "in the battle of man versus food, food won", how many do you think you could beat if you had another chance?
Adam Richman
(1:13 PM)
I would love another crack at the steak challenge in Baltimore, because that came down to time rather than capacity. I'd love another crack at the Big Pie in the Sky challenge in Atlanta, but with my partner from Hartford. I might like another crack at the St. Louis milkshake one, because I was so close, but them I remember how I felt about it, and I'm OK with keeping that in the loss column.
Ben (Columbus, OH)
When are you gonna go outside the United States and conquer food abroad?
Adam Richman
(1:13 PM)
I'm hoping to do it as soon as possible. There's been talk about it, but we haven't created a definite plan yet. It's a very likely possibility.
Jeremy (Philadelphia)
On a lazy football Sunday, what do you gorge on?
Adam Richman
(1:14 PM)
During the season, I don't gorge on anything! I can't afford to in any meal that I do. But generally I like the same things any guy does: wings and beer. Bar food. These days I keep it kind of lame and order in sushi or vegetarian Chinese.
Adam Richman
(1:15 PM)
Thank you everybody for logging in to chat, and for all your question. I hope to see you all on February 3 for the live challenge in Miami. Pray for me! Please.