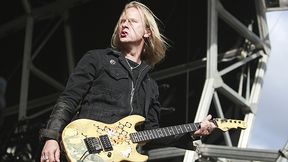 Welcome to SportsNation! On Wednesday, fantasy football stud and Alice in Chains co-founder, Jerry Cantrell, will stop by to take your questions about his recent participation in the The Life's "Alice in Chains & Friends Fantasy Football Charity League," which featured some of rock music's biggest stars, his music career and just about anything else you may want to ask!
Cantrell might have been raised on country music, but it was the likes of Jimi Hendrix and Black Sabbath that helped shape his musical future that led to co-founding, writing, playing and singing with one of the seminal rock bands of the 1990s. After selling millions of albums, Alice in Chains went on hiatus for several years in the late '90s, during which time Cantrell released a pair of critically acclaimed solo albums, but reformed in 2005. This past year, they released "Black Gives Way To Blue" and hit the road to perform to sold-out crowds across the United States.
When he is not on stage or in the recording studio, Cantrell is often found glued to his Slingbox-enabled laptop, watching football and overseeing a top-notch fantasy team, thanks to his years of football knowledge that he acquired from watching countless games. He failed to make the championship of the Alice in Chains Fantasy Charity League, losing a late season matchup to Scott Ian of Anthrax, something we are sure will sting Jerry for the entire offseason.
Send your questions now and join Jerry Cantrell for a live chat on Wednesday at 5 p.m. ET!
Links: Alice in Chains official site | Cantrell's designated charity - Autism Speaks