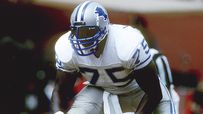 Brown spent 18 years in the NFL.
Welcome to SportsNation! On Thursday, ESPN2 "First Take" NFL analyst Lomas Brown stops by to chat about the NFL season.
Brown spent 18 years in the NFL, playing for the Detroit Lions, Arizona Cardinals, Cleveland Browns, New York Giants and Tampa Bay Buccanneers, with whom he won a Super Bowl championship following the 2002 season. He played collegiately for Florida.
Send your questions now and join Brown Thursday at 2 p.m. ET!
More Special Guests: Previous chats | SportsNation
Buzzmaster
(1:47 PM)
Lomas Brown will be here at the top of the hour to take your questions!
Buzzmaster
(2:06 PM)
Lomas is here!
mk (albuquerque)
the vikings are cursed, right? i'm a viking fan who grew up in minnesota, and i'm a cub fan to boot. so i know a thing or two about this.
Lomas Brown
(2:07 PM)
Well, this is 2010. It's a new year and it's a new hope. They went to four Super Bowls in the 70s and haven't been to one recently. I just have so much confidence in Brett Favre and any time you have the defense they have, I have confidence in them. MK, don't get discouraged.
Biggy (Washington, NC)
Why won't anyone take the Bears' Coordinator positions?
Lomas Brown
(2:09 PM)
That's a great question, Biggy. I just don't know if people truly believe that Lovie will make it through next year. There was a lot of debate of whether he was coming back or not. When there's a coach on the bubble like that, it makes guys hesitant to jump on board. But I don't see the openings lasting any longer.
Lukas (Kalispell, MT)
Is adrian peterson still the best RB in the league?
Lomas Brown
(2:10 PM)
To me, he's still the most explosive and hardest running backs in the league. That's the one thing about the NFL. Teams make adjustments. What you've seen this year with his productivity being lowered, teams have tried to stop the run first in that offense.
Brett (Atlanta)
With both tems pretty evenly matched, I think the difference in the NO-Minn came probably comes down to home-field advantage. Talk about how much more difficult it is for O-Lineman in a loud environment like the Superdome.
Lomas Brown
(2:13 PM)
Great question. For linemen, pass protection is a lot harder on the road then run blocking simply because with pass blocking you have different audibles that can be made. Different signals that can not only be made by your QB, but your center as well. The noise makes it difficult to communicate. When you run the ball, you don't have as many adjustments to make. In an opposing stadium, it's much harder to pass.
Joe (Philadelphia)
Who do you like in the AFC Championship game and why?
Lomas Brown
(2:15 PM)
I like the Colts. They were my AFC Super Bowl participant. But I do really like what the Jets are doing. Any time you have the No. 1 defense and No. 1 rushing game in the league, you give yourself a good chance to win. But in a close game, if Peyton Manning's involved, I have to take him. I'm going to pick the Colts.
Jason (Wyoming)
If the Vikings pull the victory out on Sunday against the Saints will it be because of their running game in AP or will it be because of Brett and the passing attack?
Lomas Brown
(2:18 PM)
If everything holds true, I think it will probably be because of the passing attack. It seems like every team that faces them come in with the mindset of stopping Adrian Peterson. They'll bring an extra guy up in the box or have more DL on the field. By them loading up on the running game, it definitely helps the passing game.
jose (san juan, tx)
do you tink brett farve will lead the vikings to the superbolw
Lomas Brown
(2:20 PM)
I think he can. I think he's prime and ready to lead this team. He knows this is one of his best opportunities to get to the Super Bowl and win it. That's why they signed him. They didn't sign him to get to the NFC championship game, they signed him to win the Super Bowl.
jason (nebraska)
why doesnt anyone gives jets a chance they have the same thing in common as last years steelers and thats is they have the best defense
Lomas Brown
(2:22 PM)
I guess because they're the new boys on the block. I guess a lot of people feel that they backed into the playoffs because Indy pulled their guys. But they've shown they belong in the playoffs. They beat the division winning Bengals and Chargers. They've proven they belong. One of the big factors is that everyone's waiting for the rookie QB to fall on his face and he hasn't.
Souvik (India)
How much is Percy gonna be afctor . No big plays of late from him too!!
Lomas Brown
(2:23 PM)
I think they need to make him a big factor. Like other defenses, they will come in to stop AP. Minnesota will still have to run the ball. With Harvin, you can do reverses, you can do screens. And let's not forget that when he was at Florida, he was their best running back. He needs at least 20-25 plays to have an impact.
Eric (Virginia)
Hey Lomas, the Patriots looked horrible against the Ravens, and me being a Patriot fan, was in pain when they lost, what was it? 34-14? Think they will try to trade for a number 1...something? They could have a back up number 1 receiver for when Welker gets injured. Maybe they try to trade up in the draft, and get a good rookie...granted there is a rookie in the top ten or top fifteen at the WR spot
Lomas Brown
(2:25 PM)
I am not completely sold that they need to get a backup receiver. I think Edelman stepped in a did pretty good. I think New England needs to concentrate on their RBs, trying to get a game breaking one. And they need to improve on both of their lines, OL and DL. Through free agency or the draft, they need to improve upfront.
JP (New Orleans)
Lomas, Do you think by the way Reggie Bush played against Arizona the Vikings will have to prepare a little more for Bush and the Saints Offense? Thanks
Lomas Brown
(2:26 PM)
Let's remember JP, you're going up against a very very good defense in the Vikings. They're extremely better than Arizona's defense. I think Reggie's going to find it a lot tougher. But the Saints have to be encouraged by the game Reggie had last week. He ran the ball authoratatively. He gave us flashes of the USC days.
Mike (Ohio)
Were you aware that Vincent Jackson is the Chargers best kicker?
Lomas Brown
(2:27 PM)
That's pretty clevor. I bet he wished he didn't do that.
fritz (Atlanta, Ga)
Lomas, I think the key factor in the Jets vs Indy game is the offensive line of the Jets vs Indy's pass rush and can Kerry Rhodes cover Dallas Clark? Do you agree?
Lomas Brown
(2:30 PM)
I agree with that. More of an advantage is the Jets' DL going up against Indy's OL. I know they only gave up 10 or so sacks a year. But they play better as a group. As far as the individual matchups, I think the Jets can take advantage of that.
tom slaten (milton wisconsin)
How do the saints plan on stopping the offense with more weapons than the U.S Army?
Lomas Brown
(2:31 PM)
What the Saints will have to do is shorten the game. What I mean is they will have to establish the run and control the clock and keep Brett Favre on the sideline. The Minnesota offense is almost as explosive as the Saints offense. They can match them point for point. The best defense for New Orleans is to keep Brett Favre on the sidelines.
Lomas Brown
(2:32 PM)
Make sure you tune into ESPN First Take tomorrow at 10 a.m. ET. The segment is Where in the World is Lomas Brown? Please tune into that.