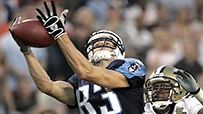 In 2004, Bennett had 1,247 receiving yards and 11 TDs.
Welcome to SportsNation! On Monday, First Take NFL analyst Drew Bennett will stop by to chat about this past weekend's games.
Bennett, who went undrafted in 2001, played eight seasons in the NFL before having his career cut short by injuries. He spent the first six years of his career with the Tennessee Titans and played the last two with the St. Louis Rams. He had signed on with the Baltimore Ravens in July 2009, however a knee injury caused him to retire shortly after signing his contract. For his career, he caught 307 passes for 4,412 yards and 28 TDs.
Bennett appear every Monday on ESPN2's First Take from 10 a.m. to noon ET.
Send your questions now and join Bennett Monday at noon ET!
More Special Guests: Previous chats | SportsNation
Buzzmaster
(11:49 AM)
Drew will be here at the top of the hour to take your questions!
Buzzmaster
(12:02 PM)
Hang on folks, Drew is going to be a couple of minutes late.
Robert Barrett (Ventura, Ca.)
Favre is amazing - plays hurt last night & is one short jog from field goal range and the game winner, but decides to chuck the ball into a sea of black
Drew Bennett
(12:08 PM)
He has a bad history with throwing picks in NFC Championship games. I think his legacy is bigger than this throw. Thank God he has the one championship, so that's not the asterisk on his resume.
Matt M. (Pottstown PA)
Morning Drew....Hey with the emergence of Mr. Garcon and Mr. Collie, when Anthony Gonzolez comes back from IR will he play a role in the offense or will the colts next year go with the young emerging, and may I add clutch playing WR ?
Drew Bennett
(12:09 PM)
I think it would be real hard to replace Garcon and Collie, especially if they win the Super Bowl. I think Peyton Manning has those guys on exactly the same page with him and with each other. There's no reason to meddle with that.
Mike (Ohio)
So Drew...the Ravens were gonna beat the Colts. The Jets were gonna beat the Colts. Care to comment?
Drew Bennett
(12:10 PM)
I knew this would come. I deserve it. If the Colts win the Super Bowl, I still won't remember it in seven years. I remember who won the 1972 Super Bowl. And they haven't won the Super Bowl yet!
Steve (NYC)
Drew, everyone's talking about how good of a game the Vikes-Saints was because it went into OT...but I look at the turnovers and penalties and think it was actually a sloppy game that wasn't all that great. What did you think?
Drew Bennett
(12:11 PM)
I had someone else tell me the same thing this morning. 12 men in the huddle deciding the fate of the game is sloppy. But compared to the other playoff games so far this year, an overtime for the NFC Championship game is a nice treat.
tom slaten (milton, wisconsin)
Peterson is a BUM! here is a guy playing in the NFL that doesn't know how to carry a football runs with it hanging out like a beach ball for everyone to just slap out of his hands . What is the deal with this guy? I hope Coach childress makes him carry a football all off season to teach him a lesson. If you ask me OVERATED
Eric (Indianapolis)
Drew when you were with the titans i remember watching you burn us (colts) for a long td at the dome.You were welker before there was a welker!my question is does playing outside for dome teams actually slow them down?
Drew Bennett
(12:13 PM)
I don't think so. Peyton has won a Super Bowl in Miami before and the weather should be fine. The field should be in pristine condition, so I don't think some of the late season conditions like cold weather and bad fields will play a part.
Kin (Hong Kong)
What would AZ do if Warner decides to retire? Should they trade for a QB? Or should they try to look for one in the draft even though they won't have a high first round pick? Thanks!
Drew Bennett
(12:14 PM)
You have to give Leinart at least a shot. I know he's looked horrible when he's been in there, but to make him a starter from the beginning of training camp is different. And he has to have learned something from Warner.
Greg (Dallas)
Without all of the turnovers, do you think the Vikings are able to win that game? I think the Saints still win.
Drew Bennett
(12:15 PM)
I think if these teams played 10 times, they would split 5 games each. I do think the turnovers led to the Vikings loss, but that's football and the Saints defense has thrived on takeaways all season long. I think the Vikings win if they don't turn the ball over at all.
Phil (Boston)
The Colts won without Bob Sanders on Sunday, right? Does that help their confidence on defense, that they can play well without him?
Drew Bennett
(12:16 PM)
Any time you have a guy like Peyton Manning on the other side of the ball, the defense can play very loose. They really developed a bend don't break defense with undersized, faster guys. Well done Bill Polian.
Darryl (Chicago)
Drew, the Colts beat Baltimore and the Jets to get to the Super Bowl. Those aren't exactly light 'em up offenses. How do you think they will do against an offensive juggernaut like New Orleans?
Drew Bennett
(12:17 PM)
I agree with the same thing. They've faced two subpar QBs. Drew Brees adds an element they haven't faced in the playoffs yet. You look at when they played the Patriots during the regular season, the Patriots had their way with the Colts defense. Should be a good game.
Joey (DC)
You ever get your finger broken by a quarterback's fastball?
Drew Bennett
(12:17 PM)
No, but I've had the webbing ripped between my fingers.
Peter (Milwaukee)
If Brett Favre does decide to come back another season do you believe the Vikings can be a Super Bowl Contender again?
Drew Bennett
(12:19 PM)
I think so many things have to fall in line to be a Super Bowl contender. Injuries, scheduling. I look at all of the things that went the Vikings way this year and don't believe that they can be that lucky again.
eric (indy)
Morning drew,was at your 3 td in the first quarter game against us (colts) in 2004..2 quick questions.is manning top 3 all qb and could Billy Volek have been an every week starting qb in the NFL.everytime the colts see him he plays amazing.thanks
Drew Bennett
(12:20 PM)
I think Peyton Manning is the best QB to ever play. I hope he has a healthy career, because he will end up topping all of the passing statistics. I think it's a shame that Billy Volek never got a chance to be a starting QB. Definitely a guy that got caught in tough situations and could have flourished in the NFL.
Chris (Indy)
Drew...you are a Colts hater, and its ok...so whats your prediction to the SB and why
Drew Bennett
(12:21 PM)
A new Colts hater. I'm just so disappointed they didn't go for the perfect season. I'm actually a huge Peyton fan, but can't change the way I feel. Go Saints.
Mike (Dallas)
Do you think Roy Williams can ever be the TO in dallas and help support Austin and Witten in the recieving corps? or will they just trade him and try to get someone out of it?
Drew Bennett
(12:22 PM)
Roy Williams is extremely overrated. If they can get even a third round pick for him, they should trade him. TO was a threat. Roy Williams is a liability.
Brad (Nashville)
Where do you see the Titans heading in the Draft? Do you believe VY can carry this squad where it needs to go?
Drew Bennett
(12:23 PM)
Buff up that defensive line. I think that Vince can now lead this team on offense and if they can get back to being one of the top defenses, they can be a contender again.
Joe (St. Louis)
I tried to tell youlast week that we Rams fans don't miss you either in St. Louis! You were the worst FA signing of all time! Thanks for stealing Rams $. Good luck.
Drew Bennett
(12:24 PM)
That's all right. St. Louis stole my love of football. You guys obviously did a lot better this year without me. 1-15, right?
Roger (Cincinnati)
Did the Vikings blow a real once in a lifetime opportunity because even if Favre returns it won't be as easy next season to dominate like they did espically with Green Bay being improved next season.
Drew Bennett
(12:25 PM)
I said earlier, but so many things have to fall in line to make the Super Bowl. I don't think everything will line up again for Favre and the Vikings next season.
PJ (Milwaukee)
What are the chances that Michael Vick gets traded to the Vikings?
Drew Bennett
(12:26 PM)
I would stay away from Michael Vick. The Vikings have finally developed Percy Harvin, Shancoe, and Rice. They need someone there that can continue the development of these guys and I don't think Vick is a big enough passing threat.
David (Texas)
Are the Colts similiar to the Vikings on Defense? With the way the Vikings slowed that Saints offense it could be a long day for the Saints.
Drew Bennett
(12:27 PM)
There's definitely a blue print for the Colts to look at. The Saints only had 74 yards combined in the third and fourth quarters. They're going to need to do a lot more than that to compete with Peyton.
Mike (Ohio)
What's your take on the Pro Bowl? I've never been a fan of the game anyway, but now it's ridiculous with all of these guys dropping out and the Indy/NO guys ineligible. Next thing ya know, it's gonna be JaMarcus Russell starting opposite Josh Freeman.
Drew Bennett
(12:28 PM)
I don't think I've ever watched a Pro Bowl. I know players thought of it as a reward when it was in Hawaii. Miami's not all that bad?
Marc (Charlotte)
Why is Brett Favre the only person who can get away with massively screwing up and writing off to his "being a gunslinger"?
Drew Bennett
(12:28 PM)
Good point. But I guess leading in all passing categories gives you that legacy.
Ray (NOLA)
Drew, Why people saying that Minny lost the game? Come on the Saints played a good game to.
Drew Bennett
(12:29 PM)
To win an NFC championship you have to play great. Causing turnovers means you're playing well. I'm with you.
matty (enola, pa)
Drew, if Shon Greene stayed in that game I think the result is different, we was destroying the colts and T Jones looked a step slow, your thought?
Drew Bennett
(12:30 PM)
Maybe. I think that Rex Ryan ran out of stuff to throw at Peyton Manning early. And once he figures out a defense, it's only a matter of time that he puts up the points that he did.
PJ (Milwaukee)
I believe that Brett Favre has an obsession with going out on top, meaning a Super Bowl win. I don't believe that he has a bone to pick with the Packers any longer, especially after beating them twice this year. I believe he will return to play with the Vikings again next year. Any thoughts?
Drew Bennett
(12:31 PM)
Either way, I don't think we'll know until Week 3 of the preseason.
Drew Bennett
(12:31 PM)
Thanks for all your questions. See you next week.