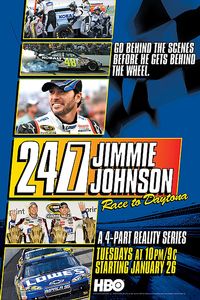 Welcome to SportsNation! On Tuesday, we'll look to the 2010 NASCAR season when Greg Ives, the head engineer for Jimmie Johnson's No. 48 team, stops by to chat.
Ives was a part of the team that helped Johnson, driver of the No. 48 Lowe's Chevy, win an unprecedented fourth straight Cup last season.
Johnson will be featured on HBO's critically acclaimed "24/7" series with the four-episode, all-access "24/7 Jimmie Johnson: Race to Daytona." The show will chronicle Johnson and his team as they prepare for the Daytona 500 that runs Feb. 14. HBO's show airs Tuesdays at 10 p.m. ET/PT and gives viewers an inside look as the team prepares for the biggest race on the NASCAR schedule.
Send your questions now and join Ives Tuesday at 12:30 p.m. ET!
More Special Guests: Previous chats | SportsNation
Buzzmaster
(12:26 PM)
Greg Ives, Jimmie Johnson's head engineer for his No. 48 car, will be here in a few minutes to chat!
Buzzmaster
(12:29 PM)
Greg's here!
Jake (Philly)
Greg, how do you like being behind the scenes and not having to deal with all of the appearances and pulling on your schedule that Jimmie deals with?
Greg Ives
(12:30 PM)
It's definitely a lot easier being behind the scenes. Not a lot of fans know me or when I walk down pit road. I don't have to go to sponsor stuff. He also gets some perks from what he gets to do and I get a little bit of privacy as well.
Ann (Indianapolis)
Which classes from college do you find yourself using most in your everyday work?
Greg Ives
(12:32 PM)
I would have to say just my real world experience. I raced my whole life. My family had a mechanic shop. I use more of my real life experience application than what I did in college. You have to have that mindset of getting that car to go fast. How Jimmie reacts to changes in the car. I can't pinpoint one part of my college, but going and knowing the level of committment college takes and applying that to your real life.
John Malimeen (Myrtle Beach )
How would you best describe your relationship with Chad Knaus? How do you interact together?
Greg Ives
(12:33 PM)
Chad and I have a great relationship. When I first started in 2006, we were kind of green to each other and each other's moods. But we had background in racing. Working in that atmosphere and working our way up. Our backgrounds led us to jump start a relationship quicker than most. Right now, I feel we have one of the best relationships in our shop. We can communicate without really thinking. We know each other's move before we do it. I know what to expect out of him and he knows what to expect from me.
Henry (NYC)
How much will we see you on the HBO 24/7 show?
Greg Ives
(12:34 PM)
I would like to say not a whole lot. I'm a good behind the scenes kind of guy. There will be clips and other things, but the primary of this is to focus on Jimmie and Chad and their success in the sport. To show everyone from the outside looking in that Jimmie is the AP Athlete of the Year.
Dave (Denver)
Greg, how much time did you get off after last season?
Greg Ives
(12:36 PM)
I was able to enjoy some time. I spent about a week and a half in upper Michigan where I grew up. Other than that, I tried to be at the shop as much as possible. There was probably more work that I completed at home with the home projects I had. It was kind of an excuse to be in the shop and not complete that project at home. Every year Homestead comes and you kind of what it to be done so you know who wins the championship, but a week later, you want to be back in the shop again.
Rudy Grbavcich (Ironwood, MI)
What effecct will the rear spoiler have on the balance of the car?
Greg Ives
(12:37 PM)
Currently, we have some preliminary data of just putting it on in the wind tunnel. The balance isn't going to change a whole lot. There will be a little bit more down force. But overall, it's not within the realm of how we already adjust the car. It's not going to be a huge change. We're looking forward to the challenge.
Roller (Kentucky)
Congrats on last year, but what do you focus on the for continued success and I have to say that I think Mark Martin will be even more dangerous this year?!
Greg Ives
(12:38 PM)
More or less we try to focus on the future. We don't relish on the past or people telling us that we made history. We try to just focus that this is just our first go around at it and our first championship. In all honesty, we're looking at winning Daytona again. We did it before, but we want to get one for Chad. We act like it's our first chance to get to the Chase and win the championship.
Rick (Philadelphia)
Greg - Congrats once again. You guys are amazing. With all the sharing that goes on at HMS the 48 team clearly is the leader in performance. Is it JJ's driving style, the adjustments that are made during the race, or is there a fundamental difference in the way you set up the car?
Greg Ives
(12:39 PM)
I would say some of it is Jimmie's driving style. Also in how we attack the car. We never settle on a 10th place car or a 5th place car. If you see how Mark Martin came on this year and was able to contribute to the team. We were able to find just as much speed from the No. 5 car as they were from us. It's just in the sharing of information.
Ryan (Reynoldsburg,Ohio)
2 questions1. How will the spolier affect the actulal racing and how the car drives 2. Which driver is going to be Jimmy's biggest challange for the championship
Greg Ives
(12:40 PM)
The spoiler is definitely going to change the down force on the car and potentially on the drag. But right now we don't have anything other than the wind tunnel test. We'll have to see how it does in a 43-car pack. We have some future testing coming up and try to learn more about that.
Rick (Philadelphia)
With the increase of the size in the restricter plate there should be more horsepower and more throttle response. Won't this help the 48 team because of JJ's driving style?
Greg Ives
(12:42 PM)
I believe so. A lot of how Jimmie drives the car is with the throttle. You can mask the faults of the car with how he drives. Anything that gives the driver more control of the car and brings handling back to these restrictor tracks will help Jimmie and the 48 team.
Jim Roc (NJ)
You guys really seem to work great as a team. How would you describe the #48 team overall?
Greg Ives
(12:43 PM)
Very close tight knit group of guys. We enjoy spending time with each other, whether it's at the track or someone's house. Super Bowl, surprise birthday party. Off the track is the foundation of how we are at the track. There's no other place we'd rather be than at the track and winning races. We're like a bunch of brothers.
Tim (NC)
How do you setup the chassis so Jimmie is happy each week. Do you sum up all the yaw moments to be zero using your computer simulation ?
Greg Ives
(12:44 PM)
We have a lot of history from the tracks we've been at and going to. We have simulation programs. We form opinion on our last race. If he won the last race and was happy with the car, we have a simulation of that race and try to go back to it. We hopefully can go back to that similar set up.
Greg Ives
(12:44 PM)
I appreciate everybody e-mailing in their questions. Hopefully we can do this again sometime. We'll see you in Victory Lane!