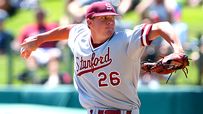 Drew Storen pitched two years for Stanford before the Nationals picked him No. 10 in 2009.
Welcome to SportsNation! On Thursday, Washington Nationals minor league prospect Drew Storen stops by to chat about the upcoming baseball season. Also on Thursday, ESPN.com ranks the top 100 prospects in MLB.
The Nationals selected Storen with the 10th overall pick in 2009, after choosing Stephen Strasburg with the No. 1 pick. After signing, Storen made quick work of his time in Single A, advancing to Double AA in about six weeks. He saved nine games in AA, not allowing an earned run, while striking out 12 in 12 innings.
Storen attended Stanford, after not signing with the New York Yankees when they drafted him in the 34th round of the 2007 draft. In two years with Stanford, Storen went 12-4 with 15 saves and 116 saves in 99 innings.
Send your questions now and join Storen Thursday at 1:30 p.m. ET!
More Special Guests: Previous chats | SportsNation