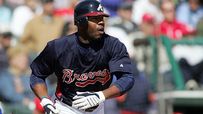 Heyward tops ESPN.com's MLB prospect list.
Welcome to SportsNation! On Thursday, the Atlanta Braves' Jason Heyward stops by to chat about the upcoming MLB season. Heyward is the No. 1 minor league prospect in ESPN.com's rankings.
The Braves selected Heyward, then a 17-year-old first baseman out of Henry County High School in Georgia, with the 14th overall pick in the 2007 draft. In three seasons, he's played every level of the minor leagues, from rookie to Triple-A.
In 2009, he earned the Baseball America and USA Today minor league player of the year awards. He hit .323 with 17 home runs and 10 steals in 99 games. According to ESPN.com's Keith Law, "Heyward's ascent to the top of these rankings was swift and unimpeded, and his path to the majors appears to be much the same, as he'll have a good chance to win the everyday right-field job this spring."
Send your questions now and join Heyward on Thursday at 4:30 p.m. ET!
More Special Guests: Previous chats | SportsNation
Buzzmaster
(4:28 PM)
We've got Jason!
Cory (Marion, IA)
What is your favorite Baseball movie?
Jason Heyward
(4:29 PM)
My favorite baseball movie is Sandlot.
Ryan (Phoenix)
What is the biggest differences you've seen in the pitching between different levels in the minor leagues? What changes as you ascend from A to AAA?
Jason Heyward
(4:30 PM)
I would have to say it's more consistent. The guys can hit their spots more. They changes speed more. As I've gone up, the pitches are around the plate more.
Apollo (Midsouth USA)
Who are some players you've looked up to the most?
Jason Heyward
(4:31 PM)
When I started playing baseball at 5, I would say Ken Griffey Jr., Derek Jeter is the one I looked up to the most. He's the captain of the Yankees. A great guy to watch and follow. He's probably the one I looked up to the most.
john grubb (atlanta)
do you feel you're ready for the bigs?
Jason Heyward
(4:32 PM)
Yeah. I definitely feel I'm ready. I feel like I'm ready to learn and make adjustments. That's what you do in on a daily basis and I feel like I am ready to do that. I want to help the team in any way I can.
Bronn (Atlanta, GA)
Jason, you missed some time at various points last season due to injury. Did you have lingering problems or were you just being cautious?
Jason Heyward
(4:33 PM)
I'm a guy that's going to play hard at all times I'm on the field. Nothing lingering. Just new injuries coming about. What we had to do is take the time and make sure I was back healthy before I got back on the field. But I wanted to get back on the field as soon as possible.
Jeremy (Bristol, Virginia)
What is your 40 time? The Falcons could use another receiver.
Jason Heyward
(4:34 PM)
I got no clue what my 40 time is. I haven't run a time since I was 15 and that was a 60. I think it was a 6.7. That's a lot of contact those guys take out on the field.
Ryan (Athens)
If you would have opted for college instead of signing with the Braves, what colleges would you have been interested in out of high school?
Jason Heyward
(4:34 PM)
As far as recruiting out of high school. Georgia Tech, Clemson. I took a visit to UCLA. I actually signed a letter of intent to go to UCLA.
Alex Garber (Mequon,WI)
What makes you different from another former Braves prospect Jeff Francoeur who did not live up to expectations in Atlanta?
Jason Heyward
(4:36 PM)
What makes us different. I'm left handed. We came out of different parts of Georgia. Jeff's a great guy. He's a great friend of mine. I don't think Jeff went through the AAA level. He went up before I did, from AA and got to the majors faster than I did. They took their time with me and went through all the levels.
Ron (dayton)
Do you see yourself getting bigger, or are you content with your weight?
Jason Heyward
(4:37 PM)
Right now, I'm at 245. I'm 20 years old. I'm happy at my playing weight. I'm comfortable. I look to be anywhere from 230-245. I have some growing left to do, so I don't know what my weight will be.
Dusty (Chattanooga)
Would you be terribly disappointed if you had to start the season in AAA instead the majors?
Jason Heyward
(4:38 PM)
No. I wouldn't be terribly disappointed at all. That just means that's where the organization wants me. If I start in the AAA, then there's something to work towards. I'd rather start there and go up then the majors and go down.
Jacob (Fayetteville,AR)
What do you think the chances are of the Braves making the playoffs this season?
Jason Heyward
(4:38 PM)
I like the chances. I think last year we came pretty close. It's a new year. We made some moves with the pitching staff and we have a great staff coming back. We made some moves in the outfield. I think the chances are good.
chris (tn)
what statistical goals do you have for yourself this season
Jason Heyward
(4:39 PM)
The biggest one for me is be healthy all year. Be out there the whole year and not miss any time as far as injuries. That's my statistic for this year, games played.
Jennifer Lee (Fremont, CA)
Do you feel pressure from being named the #1 minor league prospect?
Jason Heyward
(4:40 PM)
No. No pressure at all. I'm playing the game of baseball. The same way I've played it. No one can put more pressure on me than me. It's something nice that I can say to the people that helped me and supported me along the way and say, hey look at what you did. But no, no pressure there.
Shane (Knoxville)
Jason, do you feel somewhat "lucky" for starting your career in a more "cleaner" era?
Jason Heyward
(4:42 PM)
I don't really feel lucky about it. As far as anything goes, I can't control what happens. It's a good thing for the game and the players that we can be looked at as playing the game "clean." I'm all for that, playing the game equal. But I'm just happy for the players and our images as professionals that we're doing something the right way.
Alex (Memphis)
Other than baseball, what are some of your interests?
Jason Heyward
(4:42 PM)
I like to listen to a lot of music. I'm a music person. I like to do a lot of writing. I like going to the movies. Going to the mall, hanging out. I don't need a lot, just the right people and just chill. We kick it.
Chris Hoopes (Philadelphia)
Do you tend to stay away from scouting reports about you, or do you embrace them?
Jason Heyward
(4:44 PM)
As far as the scouting reports go, I pay attention to the ones about the teams we're playing and our opponents and those reports. As far as the media reports and that, there will be a lot said about you. I don't focus much on that. It's great for the fans and for them, but I just try to get ready for the next game/series.
Jeff (Scottsdale)
Jason, are there any pitchers you are looking forward to facing in the big leagues?
Jason Heyward
(4:44 PM)
To be honest, I'm looking forward to facing all of them. It will be fun to face any of the guys in the NL, like Santana, Halladay just moved over. Tim Lincecum. There are plenty of guys. There are a lot of good pitchers in the major leagues.
Joseph (TN)
What is the hardest pitch for you too handle?
Jason Heyward
(4:45 PM)
The hardest pitch is, what I don't know is coming...just kidding. But a well located pitch. I will say that.
Zac (Tampa)
Are you nervous at all to be playing for a coach with the prestige of bobby cox?
Jason Heyward
(4:46 PM)
No. Not nervous. I feel honored to be able to do so, playing in an organization with Bobby Cox. The whole Braves organization has been great. My first experience with Bobby Cox was 2009. I look forward to playing for him sometime soon.
Michael (Atlanta)
Has Bobby come up with a nickname for you when your at bat?
Jason Heyward
(4:47 PM)
I really don't know. Bobby has some of the coolest nicknames in the game. I'm sure you can hear them during the games. Jase, maybe. Jay. That's what my friends call me.
Spencer (Northborough)
As a player, which statistics do you feel are important to follow?
Jason Heyward
(4:48 PM)
The W-L column is the biggest to me. Running off the field, the wins and losses are big to follow. And getting a guy over on the bases. Opportunities to move a guy over, sac fly, not striking out. Just helping the team along. If you can do that, the rest will come.
Wills (State College, Pa)
As a Georgia boy, how much of a fan have you been of the Braves growing up?
Jason Heyward
(4:49 PM)
I've been a baseball fan as long as I can remember. I've been a Braves fan forever. I can remember days when I would go in the backyard and I could go through their entire lineup doing their batting stances. I've been a Braves fan for a while.
Jason Heyward
(4:51 PM)
I appreciate the questions and the support. Hopefully, we'll do something positive this year. Take it easy and we'll see you on the field.