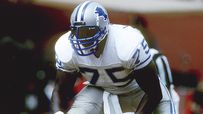 Brown spent 18 years in the NFL.
Welcome to SportsNation! On Thursday, ESPN2 "First Take" NFL analyst Lomas Brown stops by to chat about the NFL season.
Brown spent 18 years in the NFL, playing for the Detroit Lions, Arizona Cardinals, Cleveland Browns, New York Giants and Tampa Bay Buccanneers, with whom he won a Super Bowl championship following the 2002 season. He played collegiately for Florida.
Send your questions now and join Brown Thursday at 2 p.m. ET!
More Special Guests: Previous chats | SportsNation
Buzzmaster
(2:05 PM)
We've got Lomas!
Clay D (NY)
Who is the best offensive lineman playing in the Super Bowl this year?
Lomas Brown
(2:08 PM)
The best o-lineman in the Super Bowl this year...wow. I think the Saints have a Pro Bowl guard Jahari Evans. He's a young fella that's been improving each and every year he's been in the league. Right now, he has to be one of the top OLs in the league.
paul (pa)
which sb qb would you like to block for more?
Lomas Brown
(2:09 PM)
To be honest with you, I'd take Peyton Manning. The reason why is the type of offense that he runs. It's a rhythm offense, which means that either on the third step the ball is normally out of his hands. Any lineman would love to block for a QB that gets the ball out of his hands that fast.
Fred (Dallas)
We're only one week in, but what do you think is a story we're not talking about for the Super Bowl that we should be?
Lomas Brown
(2:11 PM)
The only thing I can really think of is looking at the owner Tom Benson and his desire to move the team after Katrina. But I know the people of New Orleans were thankful that Mr. Benson kept the team in New Orleans. That could be one subject that we could talk about because of his patience and could have moved the team.
Clay D (NY)
As an offensive lineman, would you rather face an all-out speed rusher at defensive end or a well-balanced guy?
Lomas Brown
(2:13 PM)
Speed rusher, hands down. You know where he wants to go, which is basically to the outside. When you face a more balanced pass rusher, he can beat you outside as well as inside. He gives you more things to think about at OL. I would rather face the speed rusher.
Derrick (Atlanta)
Are you, like me, glad that Brett Favre didn't make hte Super Bowl? I don't think I could have handled two weeks of Brett Favre AND Super Bowl hype.
Lomas Brown
(2:14 PM)
The only reason I kind of wanted to see him in there is because I am a gentleman over the age of 40 and I wanted to see him represent the older guys. But yeah, we had the whole preseason of if he's going to come back and then the season of Brett Favre is back and now we're about to probably get another is he coming back.
Eli (Atlanta)
How do you see the bears faring next season? Can Cutler improve?
Lomas Brown
(2:16 PM)
Yes I do think he can improve. A lot of his interceptions and mistakes he had this year was he forced the ball. He was trying to prove a point and he was forcing too many passes. Next year, with a lot less pressure on him to come in and be the Messiah, he can relax a bit and you should see a much better QB in 2010.
Billy (Iowa)
Can the Bears even get an offensive coordinator?
Lomas Brown
(2:17 PM)
Well, I don't see that being a problem. Jay Cutler is a tremendous talent with a big upside. But with every other position in the NFL, you have to be coached. Jay needs a capable offensive minded coach to teach him the QB position.
Frank (Dallas)
As you kept going to pro bowl's... What was your mentality towards the game itself?
Lomas Brown
(2:21 PM)
As a lineman, we have a different mentality than the skill position guys. As a lineman, you have to play hard and get your job done or else nothing is going to work in that game. For us, from the first snap to the last, you play hard. The first thing on your mind now, is not to get hurt. The game isn't played the way it should be, which is hard from the first quarter to the fourth quarter.
Stefan (Georgia)
will you be going down to miami?
Lomas Brown
(2:22 PM)
As of right now, I don't think I will be making that journey to the Sunshine State. I think I will just chill and have a nice Super Bowl party in Michigan and watch it from home.
linc (Chicago)
Which NFL city is the best?
Lomas Brown
(2:26 PM)
Great question. I'm going to have to go with two. Green Bay, because of the tradition and the smallness of the city of Green Bay. My other one would have to be Tampa Bay. It's a college atmosphere down there in Tampa. It's totally different than the other pro cities. Those are the two I consider the best football towns.
Clay D (NY)
With your past ties to Florida aside, do you think Tim Tebow can be an every-down quarterback in the NFL?
Lomas Brown
(2:27 PM)
It's going to be tough, I'm not going to lie. He has a lot of mechanical things that he has to clean up. I think any time when a player comes out with that many accolades like a Tim Tebow, it's a lot of pressure put on those young men to perform early in their career. And a lot of them aren't ready to do that. A team will have to be patient with Tim Tebow and possibly change their offense around him too.
Greg (Denver)
Which team has the better offensive line?
Lomas Brown
(2:28 PM)
I'm going to say New Orleans has a more talented offensive line. I think the Indianapolis Colts OL work better as a unit. Again, any time you have a QB like Peyton Manning that gets the ball out of his hands as fast as he does, it will help any OL.
Chad (Las Vegas)
Who wins the SB? I am a Saints fan so naturally I say them, but I truely believe the game is about matchups and the Saints matchup very well with Indy.
Lomas Brown
(2:29 PM)
It is about matchups, you're absolutely right. I just love Peyton Manning, because of the been-there-done-that attitude. Here's a guy that's been to and won the Super Bowl. This guy has seen every conceivable blitz you can bring. I think the Colts are a team that's destined to win this game.
jarrod (tower city pa)
lomas...How could you leave out Pittsburgh? steelers fans are nuts and everybody loves the team.
Lomas Brown
(2:30 PM)
That is true. You really stumped with that one. That's a very, very good point. I will have to include Pittsburgh.
Lomas Brown
(2:31 PM)
Make sure you check out the Big Fella next week. It will be my last chat of the year.