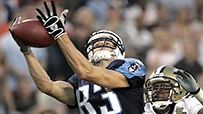 In 2004, Bennett had 1,247 receiving yards and 11 TDs.
Welcome to SportsNation! On Monday, First Take NFL analyst Drew Bennett will stop by to chat about this past weekend's games.
Bennett, who went undrafted in 2001, played eight seasons in the NFL before having his career cut short by injuries. He spent the first six years of his career with the Tennessee Titans and played the last two with the St. Louis Rams. He had signed on with the Baltimore Ravens in July 2009, however a knee injury caused him to retire shortly after signing his contract. For his career, he caught 307 passes for 4,412 yards and 28 TDs.
Bennett appear every Monday on ESPN2's First Take from 10 a.m. to noon ET.
Send your questions now and join Bennett Monday at noon ET!
More Special Guests: Previous chats | SportsNation
Buzzmaster
(11:51 AM)
Drew will be here at the top of the hour to take your questions!
Drew Bennett
(12:00 PM)
Welcome back! Our last session. Thanks for your questions this season.
Kin (Hong Kong)
Hi Drew!! The last few games of the season, AZ has proved that they could do well without Boldin. Now it seems like Boldin actually needs the team more than the team needs him. Is my accessment correct? Do you think Boldin will stay with AZ? Thanks.
Drew Bennett
(12:02 PM)
I think he's realizing it too. That's why he's not complaining about his contract like he has the last two years. His injuries definitely keep him from being a top tier trade potential. Maybe he realizes he could go somewhere and get stuck with a QB that's not half the QB that Warner was.
Clay D (NY)
Which player in the Super Bowl will have the best receiving day?
Drew Bennett
(12:03 PM)
I think the Saints are going to approach this like a lot of other defenses and leave it up to Garcon to make some plays. He's done so in the playoffs so far. I've been impressed with him for being a rookie and I think he'll do the same in the Super Bowl. Who knows with the Saints. They spread it around so much. It could be anybody.
Clay D (NY)
Shouldn't the Saints just make Reggie Bush a permanent receiver?
Drew Bennett
(12:04 PM)
I think Reggie Bush is too dynamic to just put him in one spot. He's great on the short posts out of the backfield and the swing routes. He creates good matchups when he motions out and he's matched up with a linebacker.
Ray A. (San Diego, CA)
How did you enjoy the pro bowl this year Drew? Honestly I liked having football on a week that usually didn't have any football. I am willing to sacrifice a little talent (Manning, Brees, etc.) in order to have a game the week before Super Bowl.
Drew Bennett
(12:05 PM)
I agree. I like that it felt like a football game more than it does when it's in Hawaii. You had good crowd noise and you're still getting top tiered players. It definitely makes the season flow better than having the two weeks off before the Super Bowl.
Josh (Maryland)
Could the skins land Julius Peppers? He wants to play in a 3-4 defense and Haslett says he wants to switch to a 3-4. We know Dan Snyder will also pay him whatever it takes if he wants him. What do you think?
Drew Bennett
(12:06 PM)
This team would be a monster with Julius Peppers. If the CBA doesn't get negotiated that could be a great spot for him. Haynesworth, Carter and Peppers is a monster front.
dakota (indiana)
What do you think about miami, in the play offs next year?
Drew Bennett
(12:07 PM)
I think Chad Henne is one of the good young talents at QB that gets overlooked. If Tedy Ginn could mature a little bit, he seems a little alligator-arm esque, and the defense can get just a little bit better, I think they can definitely make the playoffs next year.
Kyle (San Fran)
If the game is close and it comes down to a kicker winning the game, which one would you rather have?
Drew Bennett
(12:09 PM)
Hartley's proven that you can lean on him when the game's on the line. All of the other kickers in the playoffs have really struggled. I know Stover's had a long career, but he hasn't been put in a pressure situation like Hartley has recently.
Dave (Denver)
Biggest weapon in the Super Bowl?
Drew Bennett
(12:09 PM)
Peyton Manning. Followed closely by Drew Brees. But no question, Peyton Manning.
Paul (Denver)
Do the Bears "have" to hire Martz in order to be a threat next year? Also, what will his scheme bring to Hester, Knox, and Aromashadu?
Drew Bennett
(12:10 PM)
Martz's offense wasn't the fix for San Francisco. They still struggled, even though he went out there and implemented the same system the Rams had. Maybe it will carry over for the fact that Knox and Hester are similar to the small quicker guys they had in St. Louis with Hakeem and Bruce. I don't know how Cutler would play in that kind of system.
Chad (Las Vegas)
Drew, I think the loss of Feeney will be bigger than anyone is saying. Saints have a Pro-Bowl right side of the line and can handle Mathis. Their weakness is the left side and Bushrod. If he can play straight up vs that DE and not have to get help from Shockey/other TE's that is a HUGE advantage for the Saints; both passing and running.
Drew Bennett
(12:12 PM)
I think the loss of Freeney is huge. The backs no longer have to chip on the way out of the backfield which gets them into the progression faster. Reggie Bush can play on more downs, because he doesn't have to pass protect. And they can use different protections where a tight end blocks that end, where they would never have thought about that with Freeney in the game.
Hayden (Logan, Utah)
you a fan of t3bow? Think hes a bust in a college players body?
Drew Bennett
(12:13 PM)
That might be a good way to put it. People were very against Vince Young. He was said that he was a winner and not a good passer. He's done a much better job this year. I think if people don't expect Tebow to be great his first year or two, then he should have a successful career, because the guy is a winner.
Kevin Christensen (Houston Tx)
Matt Schaub was great last night winning the pro bowl mvp, do you see a league mvp award in his future.
Drew Bennett
(12:14 PM)
Unfortunately not when he's playing in the same division as Peyton Manning. He can make a name for himself, though, they play both the Colts and the Titans, who has his other competition for the MVP in Chris Johnson.
Dave (Tallahassee, FL)
Do you think Shockey will be effective? Saints picked up TE Thomas when he got injured. Do the Saints stay with Thomas?
Drew Bennett
(12:15 PM)
When Shockey was ailing a little bit, they used both TEs a little bit. I think that's what makes the Saints great. They have so many different players at so many different positions at so many different times that defenses have to stay pretty vanilla.
Eric (Chicago)
I want Ray Finkle kicking for the Colts...LACES OUT PEYTON!
Drew Bennett
(12:15 PM)
Finkle is Einhorn.
RJ (Boston)
Hey Drew,No one will ever touch this topic with me... but maybe you as a former player might. I say, the bell toll for #1 RB's is the 2,000th carry. While most simply say it's age (27 -29 yoa, specifically).I argue... look what Riggins did in his 30's, after having taken a hiatus from the poundingSummation... I expect a pretty fantastic latter part of Ricky Williams' career. Would you agree with any of this?
Drew Bennett
(12:17 PM)
You might be on to something, having witnessed how physical it is for running backs. How they can make it to 2,000 is beyond me.
Hayden (Logan, Utah)
Shouldnt the niners pick up a QB?
Drew Bennett
(12:18 PM)
I'm so back and forth on this. I still feel like they should give Alex Smith a chance to be the starting QB for an entire season with the same offensive coordinator. But some of his throws last season and some of this games, I don't know if I can fully buy into this idea.
Eric (Chicago)
Drew, we should also note that Leinart's favorite target is Boldin...if Boldin has a good year (assuming no lockout), does Boldin's value skyrocket and the Cardinals franchise him?
Drew Bennett
(12:19 PM)
I don't think you can franchise Boldin when you're paying Fitzgerald as much as you are and Breaston is playing as well as he is. If he can stay healthy, maybe they extend his contract.
Ari (Manhattan)
Peyton lit up the Jets' secondary, can the Saints really stop him?
Drew Bennett
(12:19 PM)
Stop? No way. They might be able to slow him down enough, especially in the red zone, so that Drew Brees and the offense can compete.
Chad (Las Vegas)
Saints win 34-27.
Drew Bennett
(12:20 PM)
I'm on the Saints train too.
Derek (Albany, NY)
Can the Cowboys find a place to unload Roy Williams while finding a feasible replacement for him to go along with Miles Austin?
Drew Bennett
(12:21 PM)
They need to. Roy Williams is becoming a liability and I think if this team can add one more explosive receiver, maybe in the draft this year, that Austin, Crayton and whoever it is can be a great receiving corp.
Derek (Albany, NY)
Chad Ochocinco, future kicker for the Cowboys!
Joe (Minneapolis)
Hi Drew. You were sometimes referred to as a guy with higher game speed than his 40 time suggested. After watching Desean last night I am just left speechless and wondering how a guy can look so fast on the field. Do the pads really impact player speed that much or do some guys just hit a gear in game that they cannot hit in combine type situations?
Drew Bennett
(12:23 PM)
There's no question that guys game speed is different than 40 times. A perfect example is Boldin, he ran a 4.7 at the combine. He plays much faster than that. DeSean Jackson is definitely one of those guys that whatever he ran doesn't do justice to his on the field speed. It works the other way too. I played with a lot of guys that ran 4.3s that didn't seem that fast in the games.
Ari (Manhattan)
Should the Jets look to replace Thomas Jones to split the carries with Greene?
Drew Bennett
(12:23 PM)
Leon Washington is coming back as well. You can never have too many work horses in a stable. I say they try to keep all of them.
D.HARVEY (HOUSTON)
HEY DREW-WHAT DO YOU THINK THE TEXANS NEED
Drew Bennett
(12:25 PM)
They need to get Daniels back healthy. He was amazing before he got hurt. I think they need a big, physical safety. I would be excited about the Texans future with Williams and Cushing on defense and Schaub, Johnson and Daniels on offense.
Frank (Dallas)
Do you think that the NFL should allow the players to do TD celebrations? I am a fan of celebrating if it does not taunt the other team.
Drew Bennett
(12:25 PM)
Absolutely. There's no where else you can really show your identity during a game. I think the celebrations are what fans come to watch.
Blake (Abilene, TX)
Drew, I here how important chemistry is between a QB and his WR's in the NFL. That beeing said, would you see a situation where the team that drafts Colt McCoy might also go after Jordan Shipley?
Drew Bennett
(12:26 PM)
Chemistry is very important, but it can be built over the course of an offseason. A guy like Colt McCoy is going to put in so many hours that he'll develop a chemisty with whoever plays with him.
Derek (Albany, NY)
Think Leinhart has a better future as Cardinals QB or ESPN Football Analyst?
Drew Bennett
(12:27 PM)
Ha. Only time will tell. He really hasn't shown much on the field, but I haven't judged anybody when they're filling in as a backup. I want to see what he does with the team on his shoulders and what he took from Warner.
robert (san antonio tx)
colts win 34-24
Matt (Spokane, WA)
Andre Johnson or Larry Fitzgerald-- who's the best?
Drew Bennett
(12:28 PM)
I would take Andre Johnson this season. I would have taken Fitzgerald last season. Obviously, I think these are the two of the best receivers in the league.
Derek (Albany, NY)
What do you think about in the Pro Bowl, since its all for fun anyways, they mandate penalty yards if you don't celebrate after a touchdown? That'd get everyone motivated to get in the endzone, and probably spike ratings a little bit.
Drew Bennett
(12:29 PM)
I like it. Or a higher fine for a bad dance. I'd be in trouble.
shanard (slc,ut)
DREW, where do u see peppers, if he ended up in dallas where he wants to play in a 3-4 could they even be the best line in football what do u think.
Drew Bennett
(12:30 PM)
Ware and Peppers? Quarterbacks beware. I would be excited to see those two as bookends.
Drew Bennett
(12:30 PM)
Thanks for all the questions. Have a great offseason.