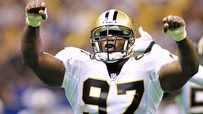 Glover was a fifth round pick by the Raiders in the 1996 draft.
Welcome to SportsNation! On Monday, we'll be talking Super Bowl XLIV with former NFL player La'Roi Glover.
Glover played 13 seasons in the NFL, spending five seasons with the New Orleans Saints. He also spent time with Dallas, St. Louis and Oakland. He was a six-time Pro Bowler and led the NFL in sacks in 2000 with 17, finishing his career with 83.5.
Glover retired from the NFL in June 2009, but continues to stay active through the work of his charity, The La'Roi Glover Foundation. Based in San Diego, the foundation helps provide scholarships for high school and college students, works with the San Diego community to provide for individuals and families in need and supports nonprofit organizations that assist deserving children.
Send your questions now and join Glover Monday at 2:30 p.m. ET!
More Special Guests: Previous chats | SportsNation
Buzzmaster
(2:14 PM)
Retired NFL player La'Roi Glover will be here at 2:30 p.m. ET to take your questions! Send them in now!
Buzzmaster
(2:28 PM)
La'Roi is here!
Kyle (Tampa)
how critical is it for the Colts to have Freeney play?
La'Roi Glover
(2:30 PM)
Very critical. If he can play. If he can play and be effective. If he's just trying to play and be detrimental, he shouldn't. The Colts are one of those teams that when a guy gets injured, they have the ability to plug a guy in and not miss a beat. I expect this to be the same. As great as Dwight Freeney is, there's no way to replace his ability on the field. But, I still think if the game is played the right way, his absence will not effect the Colts that much.
Fred (Mass)
Which team has the better offense in the Super Bowl?
La'Roi Glover
(2:31 PM)
Both offenses are great. But I think they do things differently. Starting with the Saints, they rely more on a quick, multiple formation passing game, with a complement of a balanced running attack. The Colts, on the other hand, I would say probably rae 80-90% pass. They don't rely on their running game as much. For that reason, I have to go with the balanced offensive attack of the Saints.
Dale (Washington)
Having played as a Saint, do you still know some guys on the team? What did you think of their run this year?
La'Roi Glover
(2:33 PM)
I do have a relationship with a few of the fellas on the team. They have a very good lockerroom and have a very good core of leaders there. Their run was great. It was fantastic. The three games they lost at the end of the season was a wakeup call for them. They got away from their formula for success and they lost the three games and then got back to their formula.
Paul (PA)
Do you think the colts should not have Freeney play, because more than likely he will be less than 100% and if they got a healthy player in there they might get better production?
La'Roi Glover
(2:34 PM)
It depends on the severity, if he can make it through a week of practice. If he can, he can play. I would only rush him on third down where he'll be the most valuable.
Dave (Boston)
How's the work with your foundation?
La'Roi Glover
(2:34 PM)
It's going well. We've been doing a lot of great things in San Diego. We just had another crop of scholarship winners. Last year's football camp was the largest ever that I've been a part of since I started doing the camp 10 years ago.
Isaac (Colorado)
What was one of your most memorable moments when playing in the NFL?
La'Roi Glover
(2:35 PM)
I would have to say the 17-sack season in 2000 was probably the most season as a whole. We went to the playoffs that year and won a playoff game which was a first for the Saints in the history of the franchise, believe it or not. Our defense was just awesome.
Dave (Washington)
Which Super Bowl team has the better defensive line?
La'Roi Glover
(2:36 PM)
I would say the Colts, with Freeney. Without Freeney, I would have to say the Saints. If Freeney plays, Colts. If I had to play one defensive lineman that was the best, I would pick Dwight Freeney.
Shawn (PA)
Other than Drew Brees, which Saints player do you think has to have a huge game for them to beat Indy?
La'Roi Glover
(2:37 PM)
I'll give you two. First guy is Will Smith. He has to constantly be in Peyton Manning's face for 60 minutes. Then secondly, I would put a guy who I consider my X-factor - Reggie Bush. If he can continue his phenomenal play in the playoffs, he can give them a spark, returning kicks, receiving and as a running back.
Chad (Las Vegas)
I know the Saints organization is much different now than your time with them, but still do you feel a special conection to this team, and especially fan base, since we loved you so much? Geaux Saints!
La'Roi Glover
(2:38 PM)
Absolutely! When I was a member of the Saints, regardless of when we won or lost, good teams or bad teams, the Superdome was always sold out and in my opinion, was the loudest stadium in the league. Who Dat!!
Mike (Ohio)
Did you have a 'Welcome to the NFL, kid' moment?
La'Roi Glover
(2:39 PM)
My rookie year, when I was a member of the Oakland Raiders, my only playing time came against the Minnesota Vikings. I played a grand total of three plays and I finished the game with 3 tackles and one QB pressure (talk about production).
Greg (Dallas)
What's the biggest key to this game?
La'Roi Glover
(2:40 PM)
Offensively, don't turn the ball over, for either offense. Defensively, get your hands on the ball. Historically, Super Bowls have been determined by turnovers. Typically, whoever wins the turnover margin, wins the game.
Chad (Las Vegas)
Can you just sack Skip Bayless for all of us? If you get a chance read the transcripts of the 1st Take chats in the morning. Skip isn't very well liked. And you deserved better than a 5 for your 1st time on 1st take. I'd give you an 8.
La'Roi Glover
(2:41 PM)
I did want to sack him for the 5 comment. I'm better than a 5 and he knows it. HAHA.
mike (madison)
Is important at all that the Colts try to get some yards on the ground? I think so the running game could open some things up that the saints are not ready for.
La'Roi Glover
(2:42 PM)
I think that the Colts will definitely need to run the ball some, especially in nickel formations - one back, one TE, three wides. In passing formations, running the ball.
Matt (Spokane, WA)
So are you picking your team to win it all??
La'Roi Glover
(2:42 PM)
The Saints. The New Orleans Saints.
carlos (san antonio)
do you wish you could have played your entire career as a cowboy? i definatley believe you would have been on the ring of honor.
La'Roi Glover
(2:43 PM)
Yeah, that was always the thought when I was a younger player, what would have happened if I had played my entire career with one team, whether the Saints or Cowboys.
Hayden (Logan, Utah)
How crazy is it going to get in NO when the saints win?
La'Roi Glover
(2:43 PM)
Very crazy!!
La'Roi Glover
(2:45 PM)
Thank you for all your support over the years. Follow me on Twitter at @LaRoiGlover. I answer more questions there.