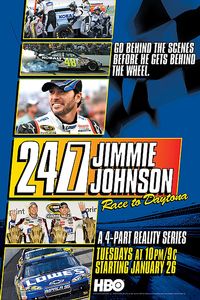 Welcome to SportsNation! On Tuesday, we'll look to the 2010 NASCAR season when Earl Barban, the head spotter for Jimmie Johnson's No. 48 team, stops by to chat.
Barban was a part of the team that helped Johnson, driver of the No. 48 Lowe's Chevy, win an unprecedented fourth straight Cup last season.
Johnson will be featured on HBO's critically acclaimed "24/7" series with the four-episode, all-access "24/7 Jimmie Johnson: Race to Daytona." The show will chronicle Johnson and his team as they prepare for the Daytona 500 that runs Feb. 14. HBO's show airs Tuesdays at 10 p.m. ET/PT and gives viewers an inside look as the team prepares for the biggest race on the NASCAR schedule.
Send your questions now and join Barban Tuesday at 12:30 p.m. ET!
More Special Guests: Previous chats | SportsNation
Buzzmaster
(12:15 PM)
Jimmie Johnson's spotter Earl Barban will be here shortly to take your questions!
Buzzmaster
(12:34 PM)
We've got Earl!
Mike (CT)
With #5 in a row on the line, do you feel any additional pressure?
Earl Barban
(12:35 PM)
I don't think there's added pressure. We don't put any more pressure on ourselves. We're not looking at No. 5, we're looking at every week. It's a long season. You just hit every day as it comes and do your best.
Speed Racer (Staten Island, NY)
What's it like having the HBO camera's following you guys while you train?
Earl Barban
(12:36 PM)
It's pretty neat. It really is. They couldn't have picked a better time, with the amount of success the 48 has had. It's the most relaxed time getting ready for the Daytona 500 that I've had since I got into racing. There's not a lot of rule changes or the new car. It seems to be going smooth. It's exciting. My mom got to see me on TV. That's cool.
Hook (Southern Maryland)
During an accident, have you ever accidently led Jimmie the wrong way causing him to wreck?
Earl Barban
(12:37 PM)
No, I don't think so. I can only tell him what I can see. I have the bird's eye view coming into it. I have learned over the years to not tell him what direction to go. I tell him where the cars are at and then he makes his decision where to go. When you go to Daytona or Talledega, on the restarts, you just tell him good luck.
Rick (Pa)
Hope your review was not impacted too much by your 24/7 comments. Is there any particular driver with a driving style similiar to JJ's that you look at to to get ideas to help JJ navigate through traffic when he is coming from the back?
Earl Barban
(12:38 PM)
There really are only two drivers to look at - Jeff Gordon and Mark Martin. If they're doing something that I see that I try to tell him that. Those are the two that have the same setups and cars.
Tyler (Arkansas)
Yo Barban the Barbarian, I go to talladega every year. Listening to the scanners, its a constent chatter. How much stress does that put on you knowing that if you miss something it could lead to a big mess.
Earl Barban
(12:39 PM)
I try to stay really calm. There's not really a lot other than giving him the information that I can do as a spotter. I don't turn the wheel for him. You just have to do your job and hopefully it works out in the end.
Mike (CT)
Congratulations on making history!!!The 48 team has been great for the sport.As a spotter, how often do you visit the Optometrist?
Earl Barban
(12:40 PM)
I do my annual checkup once a year to make sure I can see. If I start to have some problems, I'll just get some better binoculars.
Hook (Southern Maryland)
Who do you think will be Jimmie's toughest competition this year?
Earl Barban
(12:41 PM)
Outside of us, because we are our biggest critic. I think you'll see the same two guys - Mark Martin and Jeff Gordon. They have the same two guys, they have the same information. I would say it would have to be someone in our stable.
C.Z (New Mexico)
Earl how much do you love the brownies the mojo crew brings you?
Earl Barban
(12:43 PM)
Well, I'll tell you how much I love them. The first December after Homestead and the banquet, I weighed 303 pounds, I had to go on this diet and I lost 35 pounds, just so I could have some of those brownies. By the time the season gets started, I'll be down to 250 and have 50 pounds to work with.
Earl Barban
(12:43 PM)
Keep bringing the chocolate chip rainsin ones. Those are the best ones.
Pam J (pj4jj) (North Carolina)
Hey Earl! Pam from the Mojo Crew here. Loved your deadpan comment about end of year review on 24/7. Too funny. You ready for another season? I know we talked about your diving in October. Did you get to go do some diving during the "off" season? I'm tentatively planning to be at the March Atlanta race at camp so if you get there early come on over again. Will bring you some brownies again. Good luck to you guys!
Earl Barban
(12:44 PM)
I did not. This is like the first year I did not do that. I thought it was more important to spend some time in St. Louis. I spent my whole vacation right there. But I've got big plans here in the future.
Ami (NM)
Earl when are you going to sing for us on the scanner....I hear you threaten it to Jimmie occassionally when are you going to follow thru?
Earl Barban
(12:45 PM)
I guess whenever it gets bad enough that's what's needed for entertainment. But I have some tunes, if it ever comes out, I'm ready.
Earl Barban
(12:45 PM)
I hope our performance is not that bad that he needs me to sing for him out there.
ben (nc)
do arguments, fights, pushing, etc anything like that ever happen between the spotters? the cameras aren't on you guys like they are on the drivers and pit crews
Earl Barban
(12:46 PM)
I personally have not fallen to that level. I wouldn't probably and I doubt anyone would come over to do that to me. I have had the experience of watching that happen, yes. Without going into detail about who they were, but yeah, they get emotional up there. And rightly so, that's their driver and their car, their time. There's a lot of passion up there. But you just have to remember that the guy standing up there on the radio is not the one driving the car.
Bill S (High Point, NC)
What's it like for a spotter during an extend red flag?
Earl Barban
(12:47 PM)
Plenty of time to eat those Mojo Brownies, baby.
Earl Barban
(12:47 PM)
We're standing 99% of the time above the sweets. I've seen how some of those sponsors feed those guys - chicken legs, fajitas, I'm going to find the best one and eat some.
Elaine (Austin)
Are there any drivers out there that you try to steer Jimmie clear of?
Earl Barban
(12:48 PM)
Heck yeah, after Texas, I'm keeping him away from the 77 and the 00.
Hook (Southern Maryland)
What other things do the spotters do besides telling their driver where the other cars are?
Earl Barban
(12:50 PM)
Eat. Outside of that...we listen to NASCAR on another radio, so that we can be in tune with if they're looking for something that could cause a caution. We look for debris on the track. In the pit window, if I see something out there, I have to relay that to the crew chief. Just trying to absorb everything that NASCAR's saying, look ahead and really make sure we're not running into anything.
Earl Barban
(12:51 PM)
Just always looking, scanning. Pick something up. We're up there for safety. You really can't see that well in the car. Hopefully we can be a competitive advantage at times.
Earl Barban
(12:52 PM)
Keep rooting for us. The oatmeal and raisin cookies are great. I hope we can bring a smile to your faces. Keep checking out ESPN.com.