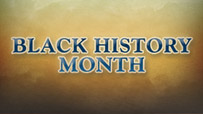 Welcome to SportsNation! On Wednesday, Philadelphia Tribune columnist Donald Hunt, who covers Historically Black Colleges and Universities (HBCU) athletics, stops by to chat about Black History Month.
Hunt recently wrote about Tina Sloan Green, the first black women's lacrosse coach in history. She began her coaching career as a basketball and cheerleading coach at Lincoln University, a historically black college in the outskirts of Philadelphia.
Send your questions now and join Hunt Wednesday at 1:30 p.m. ET!
More Special Guests: Previous chats | SportsNation
Donald Hunt
(1:28 PM)
It's Black History Month and it's time to recognize the African Americans that have helped shape our country over the years.
Sarah (Newark, NJ)
What do you think about African American athletes and how they're not as vocal as athletes in the past?
Donald Hunt
(1:29 PM)
It depends on the athlete. Some are more vocal than others. It all depends on the issue that they are facing at that time.
Michael (Chicago, IL)
Do you feel there is a difference in the way black and white athletes are covered in the media?
Donald Hunt
(1:31 PM)
There have been situations with articles and reports that haven't been fair. I think with diversity in the media you will see less and less situations like that.
Brandon (Philly)
Do you think we will see more inner city school with a a lacrosse program?
Donald Hunt
(1:33 PM)
I think eventually you will. I know lacrosse is a sport that many top athletes have played over the years. Athletes like Jim Brown at Syracuse. I do think we will see more high school programs offering lacrosse. They're a lot of great coaches out here that can teach these young players about the sport and Tina Sloan Green is one of them.
Cynthia (PA)
What HBCU has the best all around athletic program?
Donald Hunt
(1:34 PM)
I'm going to say Jackson State. They have one of the better teams in black college football and their basketball program has been good over the years as well. Matter of fact, they are ranked No. 1 in the SWAC right now.
Ryan (maryland)
Just want to say that I love the HBCU Notebook! They should have you write regularly for ESPN not just on the weekends...
Donald Hunt
(1:36 PM)
Ryan I really appreciate that. I really look forward to doing more with ESPN.com. It's giving our readers a way to learn more about HBCU sports. A lot of guys that I write about have gone on to the NFL also.
Troy (Miami)
Have you ever been to Battle of the Bands?
Donald Hunt
(1:38 PM)
I've been to a couple in the Philadelphia area. I've seen some of the real outstanding bands that black colleges have to offer. It's amazing to see them go up and down the field with style and grace while playing popular music. Form Musiq Soulchild and Beyonce to Cool and the Gang and old school Michal Jackson.
Desmond (NYC)
Have players like Mike Vick, Tiger Woods and Barry Bonds ruined the untainted Black legacy in sports?
Donald Hunt
(1:41 PM)
I would say no they haven't ruined the untainted black legacy in sports. Each one is tying to get their lives together and make things better for themselves as well as their families. They know they made mistakes and are trying to rectify their careers. As journalist, I feel we need to write more about the positive things and less about the negative stuff.
Ashley (NM)
How important has Tina Sloan Green been to women's lacrosse history?
Donald Hunt
(1:43 PM)
Tina has been very important. She really paved that way. She built up a Temple program and turned them into winners. She' not only a pioneer in lacrosse but in women's sports in general.
John (Alabama)
I heard there is going to be a black college football Hall of Fame. Why do you think we need something like that today?
Donald Hunt
(1:44 PM)
First of all John, we do have a Black College Football Hall of Fame opening in Atlanta. The inaugural enshrinement ceremony will be on February 20 at the Four Seasons Hotel in Atlanta, GA. The inductees include Buck Buchanan, Willie Galimore, Deacon Jones, Willie Lanier, Walter Payton, Jerry Rice, Ben Stevenson, Tank Younger, Eddie Robinson, James Gaither and Bill Nunn. This Hall of Fame is to showcase the talents of black college football players, coaches and contributors that haven't gotten their just due and deserve to be celebrated.
Adam R (Charlotte, NC)
With national signing day going on...are there any big name recruits going to HBCUs? What about kids at HBCUs going to the NFL?
Donald Hunt
(1:49 PM)
I don't know of any big time recruits going to HBCU's but four years from now you will hear about guys who attended black colleges entering the NFL. HBCU's don't usually get the All-American players have and they develop them into great players. Right now, we have two players Antoine Bethea (Morgan State) and Robert Mathis (Alabama A
Roxanne (Detroit)
Hey Donald, which athlete from an HBCU do you think has made the biggest impact on the world of sports and why?
Donald Hunt
(1:52 PM)
I'll go with Jerry Rice who is going into the Black College Football Hall of Fame this this month. Jerry played college ball at Mississippi Valley State, a school that wasn't really heard of and he ended up being a first round pick in the NFL. Jerry Rice is one of the greatest wide receivers ever to tough the field. Whenever they put together a All-Everything team you have to have to mention Jerry's name.
Tim K (DC)
Let's talk about the MLB. The number of black players in the sport are on the decline. Is it just lack of interest?
Donald Hunt
(1:54 PM)
To a certain degree. If you go into the inner city, you see a lot of kids playing basketball. With the RBI program and other programs out there, I think you will see more African Americans in baseball. The number of African Americans in baseball may be low (although the numbers are on the rise) but there are main guys that are African American like Ryan Howard, Jimmie Rolland, Tori Hunter, and Derek Jeter just to name a few.
Mike (Ohio)
How about a few words on Eddie Robinson? I think his contributions to college kids were huge, and I don't just mean because of his wins either.
Donald Hunt
(1:55 PM)
Absolutely! He is a legend on and off the field. It wasn't about the wins with him. It was about preparing kids for the real world. He's not only an outstanding coach but a great person as well.
Donald Hunt
(1:57 PM)
I've really enjoyed chatting with all the folks from around the county. Continue to read me on ESPN.com as I look forward to covering more HBCU sports and sports in general.