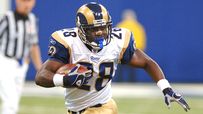 Faulk was NFL MVP in 2000.
Welcome to SportsNation! On Thursday, we'll be talking Super Bowl XLIV when former NFL MVP, and 13-year veteran, Marshall Faulk stops by.
Faulk, who spent 8 years with the Rams and 5 with the Colts, in 1999, became just one of two players in NFL history to have more than 1,000 yards both rushing and receiving in the same season. He earned the MVP in 2000, after when he set a then-record with 26 rushing TDs. He played in two Super Bowls with the Rams, winning in 1999 and losing in 2001.
With Super Bowl seasons come highlights and video footage. Fans of the winner of Super Bowl XLIV can get the exclusive Super Bowl Champions DVD that will feature highlights from the season, including the playoffs and Super Bowl, in addition to behind-the-scenes footage. The DVD hits stores March 9.
Send your questions now and join Faulk Thursday at 4 p.m. ET!
More Special Guests: Previous chats | SportsNation