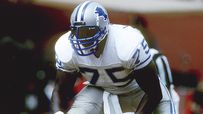 Brown spent 18 years in the NFL.
Welcome to SportsNation! On Thursday, ESPN2 "First Take" NFL analyst Lomas Brown stops by to chat about the NFL season.
Brown spent 18 years in the NFL, playing for the Detroit Lions, Arizona Cardinals, Cleveland Browns, New York Giants and Tampa Bay Buccanneers, with whom he won a Super Bowl championship following the 2002 season. He played collegiately for Florida.
Send your questions now and join Brown Thursday at 1 p.m. ET!
More Special Guests: Previous chats | SportsNation
Buzzmaster
(12:50 PM)
Lomas will be here shortly to take your questions on Super Bowl XLIV!
Buzzmaster
(1:05 PM)
Hang on folks. Lomas is running a few minutes late.
Buzzmaster
(1:23 PM)
Lomas is here!
Biggy (Washington, NC)
Well, the Bears found someone! What do you think Mike Martz's impact will be in the NFC North?
Lomas Brown
(1:24 PM)
It could be a very good impact. But the only thing that scares me with Mike Martz is that a lot of his offenses really aren't balanced. They seem to be a lot more pass oriented than pass-run oriented. Unless you have Peyton Manning under center, it's hard to be a one dimensional offense.
Chris (Massachusetts)
Lomas... other then Manning, Freeney, Brees and Sharper who do you think will make the biggest impact in the game?
Lomas Brown
(1:26 PM)
I think Dallas Clark. He's such a security blanket for Manning, I know he's going to look for him an awful lot. With Clark's ability, he always seems to get himself open. He'll be one of the players to have the biggest impact on the game.
Jordan (MN)
In your opinion, assuming Brett comes back(iffy at best), who is the early favorite to rep the NFC in next year's Super Bowl?
Lomas Brown
(1:27 PM)
I think it's probably going to come down to New Orleans again. I like Minnesota and Dallas. Dallas has a good team and should be there. And Philadelphia. Those four.
Matt (NO)
"IF" the Vikings had won the NFC Championship, who would be favored to win the Super Bowl?
Lomas Brown
(1:28 PM)
Great question. I still like the Colts. Just off the merits of Peyton Manning probably would have still been the favorite team with the Colts. They're just a consistent, consistent team.
Lee (Cleveland, Ohio)
With it looking like the NFL and the Players Association not coming to an agreemnet anytime soon, I do have a question about players contracts. If they strike after 2010 and there is no football in 2011, do players contracts continue to run. So basically I am saying if a player has 4 years left after 2010 and they skip 2011 come back in 2012, does that player only have 2 years remaining on their current contract?
Lomas Brown
(1:30 PM)
I don't think it does. From what I'm understanding, and this has been the rule with the NFL, if you don't play, you don't get played. It would be hard for me to believe that in 2011, that the teams would honor these guys' contracts. I say that becuase in 2011, the owners stop paying into the miscellaneous pools that they pay into for the retired players funds and those things.
Eli (Atlanta)
Hi Mr Brown,Bears fan here. Can we expect improvement from jay cutler and the bears this next year?
Lomas Brown
(1:32 PM)
I think so. I definitely think they'll be a more exciting offense. Mike Martz knows how to utilize the talents that he has. The one thing I know about his offense is that they spread the ball around. It's a positive for the Bears to get him and I think you'll see a vast improvement on offense from the Bears.
Chris Fiegler (Latham,NY)
Who do you think will win Super Bowl XLIV?
Lomas Brown
(1:33 PM)
I'm going with Indianapolis. If it's a close game, my money's on Peyton Manning. The Indianapolis defense is truly, truly underrated. And I think they'll prove it against New Orleans.
Greg (dallas)
an underrated storyline we're not hearing about?
Lomas Brown
(1:35 PM)
I think the most underrated storyline right now is the Indianapolis defensive backs matched up against the Saints WRs. We know how explosive the New Orleans offense is, but can the Indy DBs slow up or stop these receivers. We know Drew Brees will spread the ball around.
Jeff (RI)
the offenses are a wash. I think people need to talk more about the defenses. Which is betteR?
Lomas Brown
(1:36 PM)
I think the Saints have a better defense. They cause more turnovers and they take advantage of those turnovers by scoring on defense. But I also think the Indianapolis defense is playing better as a unit. NO might have better individual talent on defense, but Indy matches up.
Matt (Hayward)
What do you think the Cardinals will do now that Warner is gone? Trade for a qb to compete with Leinart or go get one in the draft?
Lomas Brown
(1:39 PM)
I think they'll give Matt Leinart every opportunity to take that job. But I also think they'll be looking for a quality veteran player more so than a younger player or rookie to back him up. I think he still has a long way to go as far as being a top quality NFL QB. I do think he's had the benefit of working under a guy like Warner for a few years which should help his learning curve.
Chad (Las Vegas)
Indy's D hasn't faced an O ANYWHERE near what NO is. Jets and Ravens have mediocre, at best, O's and when they get behind cannot pass the ball. Indy is in for a WORLD of hurt come Sunday.
Lomas Brown
(1:43 PM)
I agree with you. If they don't get pressure on Drew Brees, I don't care what secondary you have back there, and make him get the ball out of his hands faster than he wants to, I don't care what secondary you have to guard the receivers. The same philosophy that NO is taking with Manning is the philosophy that Indy needs to take with Brees.
Clay (Charlotte)
In offseason news, what do you think the chances Pep plays in Charlotte again next year? Do you tag him, then trade him for picks?
Lomas Brown
(1:44 PM)
I don't see it. $20 million? I don't see it. That's too high for one person, especially one not a QB. I don't see that working under the salary cap. Unless that happens, I don't see him playing for the Panthers again.
RJ (Boston)
Big Lo,True or False Ricky Williams is going to have an amazing latter half of his career... (a'la John Riggins), 32 year old in a 28 year old RB's body.
Lomas Brown
(1:47 PM)
I agree. That is true. I also think with Ronnie Brown coming back next year off of his knee injury that will help Ricky too. He won't be the main focus and worry about taking the punishment all by himself. It should make Ricky more effective and take the pressure. He could rebirth his career.
Jeremy (Dallas)
Do you believe that the TWO BEST teams are playing on Sunday?
Lomas Brown
(1:50 PM)
Good question. I would have to say yes. If I look at the season that New Orleans and Indianapolis put together and the circumstances and the guys leading their teams. Both coaches have done a stellar job. Yeah, I can look at this and say the two best teams are in the Super Bowl this year.
Richard (Slidell, La)
Hello, I see all the Media is on Freeny's injury. How is the Colts Secondary looking? I heard there was injuries there as well. For fun do you think the Lions will get at lease 6 wins next year?
Lomas Brown
(1:51 PM)
We'll start off with the good part...you're right about the injuries to the secondary. They've been dealing with that the whole year. They have been missing key guys in the secondary for a great part of this year. They still have done a great job and get themselves into the Super Bowl. They've done an awesome job on defense, especially with the injuries.
Lomas Brown
(1:52 PM)
And, no, I don't think the Lions will get to 6 wins next year. They haven't shown me anything that makes me think they will go from 2 to 6 wins.
Dan (New Jersey)
Your wikipedia page says you were a member of Phi Beta Sigma Fraternity. Any truth?
Lomas Brown
(1:53 PM)
Yeah, I am. G.O.M.A.B. If you're a frat, you'll know.
Mark (Minnesota)
how bout this scenario.........vikes dont think brett is gonna come back so they end up trading their second round pick for donovan mcnabb, but then favre decides to come back........could you say nightmare.......media would love that........i mean really...who would you start.......
Lomas Brown
(1:55 PM)
If I traded for McNabb, he's starting. For me to make that trade, the door's basically closed for Brett to come back. But I don't see Philly letting Donovan go. Kevin Kolb hasn't proven himself capable to be an NFL QB. So, I don't see that scenario playing out, but if it did, I would think that would be the end of Favre's career.
Tony (Keizer Oregon)
hey Lomas, use to love to watch you play, long time Lions fan here,(sorry for my luck) which way are the lions looking for their draft this year, not another receiver first round i hope
Lomas Brown
(1:58 PM)
I don't think they'll go that route. I don't think Suh will be there. I keep hearing D-line, D-line, D-line. So, Gerald McCoy or Terrence Cody. An interior defensive lineman. BUT if they hadn't traded away Shaun Rogers, we wouldn't be having this discussion right now.
Lomas Brown
(1:59 PM)
This is my last chat for a while. I'll miss all you Cyberheads. Remember, Valentine's Day is coming soon. Nothing says love like having Big Lomas on your wall with a Fat Head.