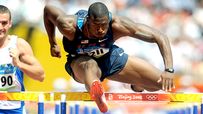 Oliver also played WR for the Howard Bison football team.
Welcome to SportsNation! USA Track and Field Olympian David Oliver stops by to chat as part of ESPN.com's tribute to Black History Month.
Oliver competes in the 110 meter hurdles during the outdoor track and field season and the 60 meter hurdles during the indoor season. At the 2008 Beijing Olympic Games, David took home the bronze medal in the 110 hurdles with a time of 13.18 seconds.
As a four-time MEAC Outdoor Champion (2001-04) in the 110m hurdles, Oliver became Howard University's first ever two-time NCAA 1-A All-America selection and their first All-America selection since 1989 (Calvin Branch).
Send your questions now and join Oliver Monday at 12:30 p.m. ET!
More Special Guests: Previous chats | SportsNation
Buzzmaster
(12:02 PM)
David Oliver will be here at 12:30 p.m. ET to take your questions! Send them in now!
Buzzmaster
(12:23 PM)
David is here!
Jay (new york)
When and how did you become a hurdler?
David Oliver
(12:25 PM)
I became a hurdler by chance in high school. We ran a shuttle hurdle relay and I did well. My coach came up to me and said I had a new event to compete in. I was just running track to be with my friends. I took it serious and got pretty good at it and I am who I am right now.
Will (Denver)
did you feel pressure from your family to get into track? Having an Olympian as a mother must have been motivating.
David Oliver
(12:26 PM)
No, I never felt pressure from my mother. I didn't know anything about her competing in track and field until later. I found a box of her stuff and asked her about it. She said she was pretty good at track and I forgot about it. I was into football and basketball. But when I told her I was going into track, she was pretty happy about it.
Tim (Houston)
I heard you designed your track shoe with Nike. How much fun was that? Did you like the end result?
David Oliver
(12:27 PM)
It wasn't a track spike, it was a training shoe for after the Olympics. I liked the end result. It's always nice to get a few things recognized. I liked the process. It's something that the athletes do regularly in the sport. I still wear them. It's cool.
Wilson (NYC)
Where do you keep your medal? Do you ever wear it?
David Oliver
(12:28 PM)
I never wear my medal around. It's sitting in my dresser in the box. It's got some dust on the box. It's never going to be too too far away from me. It was good winning it and getting to reflect on where I've been and how far I've come. It's not posted up anywhere, just on my dresser collecting dust.
Vick (Mass)
do you feel that track is a young person's sport? How do like your chances in 2012?
David Oliver
(12:30 PM)
In the sprint's the 100, 200, it's probably a young person's event. With the hurdles, it takes a while to master it. If I stay healthy, then I think 2012 is a prospect. One guy on our team is 30 now and in 2012, I will be the same age.
Kyle (WA)
Being from Colorado, Washington, D.C. is far away. How did you decide that Howard was the place for you?
David Oliver
(12:30 PM)
Howard was the place for me, because I wanted to attend a black college, first and foremost. I did some research my sophomore year in high school and decided that Howard was the one for me. I needed the small class sizes. THat was probably the best choice I've made in my life.
David Oliver
(12:31 PM)
Being far the family, that was worse. I only went home in Christmas time and that was it. You learn about yourself if you don't go home. You learn to fend for yourself. Getting used to life as an adult.
Alicia (New Jersey)
I was a year behind you at Howard and I am so proud that you are doing big things
mathilde (douai, france)
how do you choose the meets you compete in?
David Oliver
(12:33 PM)
I sit down with my agent and my coach and see how training has been going. We pick and choose based on the phases of training we're in. For the indoor season, we picked a few. For the outdoor season, we'll see if I need to take a week or two off and see how the training is going. When I go to competitions, people are watching you. If you do bad, they'll talk about you, when you're expected to win. It's no longer acceptable to go to a meet and get 6th.
Carnegie Tirado (Howard University)
Whas poppin Dave,like you I also play football and run track here at Howard and I have the same hurdle coach as you did when you were here (Grigsby) what was your favorite thing about her. On and off the track.
David Oliver
(12:34 PM)
My favorite thing was that she was young at the time, but she was very knowledgable. She knew exactly what I needed to do to improve on things. She gave me the building blocks to make sure I wasn't doing too many things bad. Her knowledge of the event and how to be good. She was into learning the event and trying to get better. That's what I was doing too. Now she can probably help you a lot more because of what she went through helping us learn.
Kenny D. (Eugene, Oregon)
What kind of off season cross training do you do, if any?
David Oliver
(12:35 PM)
I don't do any cross training. In the offseason, the most training I do is getting out of bed and walking to the kitchen. We only get a few weeks off. You're going for so long. When I'm taking time off, I'm turning my six pack into a keg. I'm not doing anything.
victor (monroe,la)
who was your favorite athletes of all time? and i like your speed.
David Oliver
(12:36 PM)
Oooh, man. That's a good question. I'd probably say a Muhammed Ali. He was trancedent of the sport. He was an entertainer and a social activist. A guy like him for not just his in the ring qualities. I really like hearing his stories. I watch him all of the time.
Karl (Chicago)
How did going to a black college help you?
David Oliver
(12:38 PM)
It helped for one, because we weren't working with top notch facilities as far as my athletic career. When I moved down here to Florida and had the facilities I have now, I really appreciate it. I know it's not a birth rite to have what I have now. That definitely helped me. And just the focus that you have to have in order to make it on this level. I learned how to do a lot of losing at first. Whenever you learn how to lose, you appreciate the winning. It taught me how to appreciate everything in life and not take it for granted.
Jason (Denver Co)
How tall are you and is your height an advantage or disadvantage in your event
David Oliver
(12:39 PM)
I'm 6-3 and I weigh 208. The height is a gift and a curse. The gift is that I don't have to spend very much time on hurdling, but the curse is that I can not go full speed in between and I can't get too close. I have to really contain my speed as opposed to smaller guys that can flat out sprint the entire way. I take being tall over being short any day of the week.
Brad (Gadsden,Alabama)
David, What is your favorite winter olympics event?
David Oliver
(12:40 PM)
It's the speed skating on the long track. I like Shani Davis. I'm a fan of his. It was good to see him win the gold. That's one of my favorite events. Along with the ice hockey. USA beat Canada last night. That was exciting.
Jay (new york)
If you werent a hurdler, what other sprinting and/or field event would you do?
David Oliver
(12:41 PM)
If it wasn't for the hurdles, I wouldn't be in the sport. I'm not fast enough in the 100 or 200. No one would ever pay me to watch me run the 100. If I wasn't in hurdles, I'd probably have a regular job. What I wish I could try? The decathlon. But I don't know about the pole vault.
Carnegie Tirado (Howard University)
Do you miss anything about Howard? If so what?
David Oliver
(12:42 PM)
It would probably just be the environment. Getting to hang out with my friends all the time. We don't get a chance to hang out a lot these days. That was the best aspect of college. They are friends that I had for life. I talk to them still, but we don't get to spend time together like we used to.
David Oliver
(12:43 PM)
Check me out at the U.S. Indoor championships this weekend. It's on ESPN2 at 7 p.m. on Sunday. Thanks for supporting me.