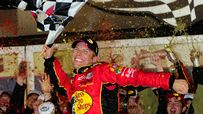 McMurray won his first race with his new team at Earnhardt Ganassi Racing.
Welcome to SportsNation! On Tuesday, 2010 Daytona 500 winner Jamie McMurray stops by to chat with SportsNation about NASCAR's season-opening race.
McMurray won Sunday's race despite 2 hours and 25 minutes of red flag time while NASCAR repaired a pothole on the track. He also had to outlast the rest of the field through two attempts at green-white-checker finishes.
The 2010 Daytona 500 was the first for McMurray in the No. 1 car of Earnhardt Ganassi Racing. The win was his fourth career victory.
Send your questions now and join McMurray Tuesday at 3 p.m. ET!
More Special Guests: Previous chats | SportsNation
Buzzmaster
(2:53 PM)
Jamie will be here at the top of the hour to take your questions!
Buzzmaster
(3:03 PM)
Jamie is here!
Tammy (NYC)
has it sunk in yet, when people call you the Daytona 500 winner?
Jamie McMurray
(3:04 PM)
It just seems to get more real every time we do another interview or when we do something. It's getting more and more real.
CORY (Albany.Oregon)
CONGRATS JAMIE,WHAT WAS THE HARDEST PART OF THE DELAY? AND ON THE LAST LAP WERE YOU WORRIED ABOUT BEING IN THE FRONT?
Jamie McMurray
(3:05 PM)
The delay went by really fast for me. I didn't think that it took as long as it actually did. It went by pretty quick. I was worried about being out in front. It was for two laps. I was more content on being defensive than on getting out to the front.
Mike (Nijmegen, Netherlands)
Do you plan or "have to" fish more now Bass Pro Shops is your new sponsor?
Jamie McMurray
(3:06 PM)
I grew up fishing. I am passionate about going fishing. I enjoy it. It's something I do with my father. I haven't been able to do it as much now that I moved to North Carolina. But with the opportunity with Bass Pro Shops, I've been fishing a lot more. I just filmed an episode down in Florida. I look forward to more opportunities like that.
Gene (Cincinnati,Ohio)
Congrats, are you going to have that orange paint scheme all year? I like it, stands out.
Jamie McMurray
(3:06 PM)
Bass Pro Shops is on the car for 20 races, I believe. It's the same paint scheme for all 20. It's my favorite scheme that I've ever driven.
Brad (Gadsden,Alabama)
Jamie, Do you have any pre-race rituals?
Jamie McMurray
(3:07 PM)
No, not really. I try to eat plenty of food before the race so I don't get hungry.
mike (madison)
Great job Jamie, How do you feel about season now ? You think this can be your year ?
Jamie McMurray
(3:08 PM)
I was actually a little bit nervous before the race. I told my wife I don't usually feel nervous unless I have a shot to win.
Lane (Kukuihaele, HI)
Congratulations Jaime!!! After having a little time to think about your great win, will you re-evaluate your goals for the season? It must me more motivating now that you've won the Daytona 500.
Jamie McMurray
(3:08 PM)
My goal coming into the season that I set personally were to win two races and make the Chase. The most important thing now is to make sure you get into the Chase.
Matt (Sterling Heights, MI)
Congrats on the 500 Jamie. Great accomplishment! Being new to the team, what kind of perks come from having a sponsor in Bass Pro Shops? Are you a pretty big hunter and fisher?
Jamie McMurray
(3:09 PM)
All of kinds of gear. Moreso than that, the opportunities to go fishing in places that not everyone gets to go and the people that I will get to meet in the fishing and hunting industry. I'm looking forward to go turkey hunting, which I've never done before.
Mike (Atlanta)
It's a shame that the pothole issue is taking away some of the spotlight from your huge win, congratulations. Do you think Daytona would be better suited making patches similar to the one made in turn 3 at Pocono a few years back?
Jamie McMurray
(3:10 PM)
I really don't know the differences in what they did there. I know they addressed the issues with the track, but I've been so busy, I haven't had time to read it.
Aj (Chicago, IL)
What was going through your head when you saw JR in the rear view coming in that fast?
Jamie McMurray
(3:11 PM)
I thought I was going to be able to beat him at the finish line. I was a little bit nervous because I didn't know how big of a run he would have.
Mike (Nijmegen, Netherlands)
If you are honest for one minute: Are you tired of reporters, like Letterman last night, talking about the pothole instead of your GREAT ACCOMPLISHMENT: winning the Daytona 500?
Jamie McMurray
(3:11 PM)
Not at all. Certainly, that changed the way the race was run, because we had a couple of red flags. I understand that people will want to talk about that. It doesn't bother me at all.
Ryan (Wyomissing, PA)
Who was your favorite driver growing up?
Jamie McMurray
(3:12 PM)
I really liked Jeff Gordon. He was one of the first guys to come along at a young age. I really liked watching Jeff.
Kevin (Boston)
did you like new green-white finishes?
Jamie McMurray
(3:13 PM)
I wasn't at first, but as it turned out, it benefitted me to winning the 500.
Awayne (INDY)
Any chance you try and put pot holes in all the tracks?
Jamie McMurray
(3:13 PM)
No. Most definitely not.
Justin Payne (Kansas City, Missouri)
Congrats Jamie from near your hometown in KC. Just wanted to let you know that you definitely gained a fan in me on Sunday. Do you feel like you have a chance to contend for the cup this year?
Jamie McMurray
(3:14 PM)
There are still a lot of unknowns. I think their equipment is better than what it was when I was here before. Coming off the win at the 500, you just think great things from that.
Xavier (Roanoke, Va)
Congrats Jamie, So how much of a toll does the daytona 500 take on you.
Jamie McMurray
(3:15 PM)
It's the first race of the year and there is so much media around the race and so much build up going into it, it's draining. It's exciting to be a part of it. You just grow to get used to it.
John (Illinois)
Hey Jamie-Congratulations on a well deserved win! What is the dumbest question you have fielded from a reporter?
Jamie McMurray
(3:15 PM)
They've all been actually pretty good. You do so many TV shows or call-ins and it's a lot of the same questions. It becomes hard to answer them over and over again and be sincere and genuine.
Lane (Kukuihaele, HI)
Do you think you need to be a more conservative driver or more of a risk taker in order to compete for the Chase?
Jamie McMurray
(3:16 PM)
I guess it depends on what situations you are put in. Where you are in points and what's going on and what the guys around you are doing. You have to see what environment you're put in.
Dale (ATL)
how impressive is it as a driver on what Jimmie's done?
Jamie McMurray
(3:17 PM)
It's very impressive. It's never been done before. It's absolutely incredible.
Awayne (INDY)
Are you looking forward to the end of the rear wing and the return of the rear spoiler?
Jamie McMurray
(3:17 PM)
Yeah, I like the way the cars look with the rear spoiler. I really like that look.
Mark (Lexington, KY)
What's JPM been like as a teammate so far?
Jamie McMurray
(3:18 PM)
JPM has been a great teammate so far. He's been everything that I could have asked for in a teammate. He's a great guy and a team player. I'm lucky to have him.
Luke (Chicago)
How much of a free for all is it with the green-white finishes?
Jamie McMurray
(3:19 PM)
It's wild for the fans. For the plate tracks, it is wild. That's what all the drivers are talking about when they first announced they were going to do that.
Tony ((CA))
Your Daytona win is so well deserved and I'm glad you got it! If you weren't racing in NASCAR right now, what would you be doing instead?
Jamie McMurray
(3:19 PM)
I would be working in a machine shop. I really enjoy that and that's what I went to school for.
big ben (nc)
have you had your mcdonalds yet?
Jamie McMurray
(3:20 PM)
I did not have to have McDonald's that night, but I did have breakfast there the next morning. So I got McDonald's either way.
Lori (kansas)
How difficult is it going to be for you to come off of the week you are having and get refocused and ready to race again this weekend?
Jamie McMurray
(3:21 PM)
There's a lot going on this week, but it's all fun stuff to do and I get to do it with my wife, which is important to me. It's a chance of a lifetime to win the race. Right now, I'm taking this all in.
jerie (arizona)
Congratulations on the win. How is your wife doing with all the media blitz?
Jamie McMurray
(3:21 PM)
She is handling it like a champ.
Matt (Sterling Heights, MI)
Did the new Green-White-Checkered rules change the way you ran the first lap of each of them, knowing you can't win immediately with a caution?
Jamie McMurray
(3:21 PM)
Definitely. It also changed once you take the white knowing that the race is over.
Leo (CT)
Other than the plate tracks, where you're so good, what's your favorite track?
Jamie McMurray
(3:22 PM)
Martinsville.
Tim (NV)
Congrats Jamie.... How do you feel putting the Earnhardt name back in Victory Lane at Daytona?
Jamie McMurray
(3:22 PM)
It was just an honor to get to be the guy that does that.
Jamie McMurray
(3:23 PM)
Thank you for all the comments. I don't have time to reply to all the Tweets you send, but I read all the comments and I really appreciate it.