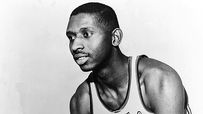 In 2003, Lloyd was inducted to the Basketball HOF as a contributor.
Welcome to SportsNation! On Thursday, former forward and Basketball Hall of Famer Earl Lloyd stops by to chat as part of ESPN.com's tribute to Black History Month.
Nicknamed "The Big Cat," Lloyd was one of three African-Americans to enter the NBA at the same time. During the 1950-51 season, Earl along with Chuck Cooper, Nathaniel Clifton and Hank DeZonie all made their NBA debut but because of the order in which the teams' played their season opener, Lloyd was the first to actually play in a game.
In 1955, Lloyd averaged 10.2 points and 7.7 rebounds which helped lead the Syracuse Nationals to a 4-3 win over the Fort Wayne Pistons for the NBA title. Lloyd along with teammate Jim Tucker became the first African-Americans to play on an NBA championship team. In nine seasons in the league, Lloyd played in over 560 games averaging 8.4 points and 6.4 rebounds.
Send your questions now and join Lloyd Thursday at 1 p.m. ET!
More Special Guests: Previous chats | SportsNation