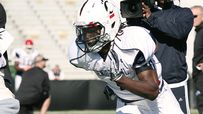 According to Mel Kiper, Gilyard is the 4th best WR prospect in the 2010 draft.
Welcome to SportsNation! On Monday, we're going to talk NFL draft when wide receiver prospect, and former Cincinnati Bearcat, Mardy Gilyard stops by to chat.
In 2009, Gilyard turned in his second straight 80+ catch, 1,100+ yard season for Cincinnati. He also caught 11 TD passes for the second year in a row.
According to Mel Kiper, Gilyard is the fourth overall wide receiver in the draft. And Scouts Inc. ranks his run after the catch ability as exceptional and, his profile says that he has "excellent wiggle and can make multiple defenders miss when he gets into space. Though he may lack breakaway speed he is explosive and still fast enough to turn an underneath catch into a long gain. Makes up for lack of power with balance and is tougher to tackle than his size suggests."
Send your questions now and join Gilyard Monday at 1:30 p.m. ET!
More Special Guests: Previous chats | SportsNation
Buzzmaster
(1:22 PM)
Mardy will be here to take your questions shortly!
Buzzmaster
(1:38 PM)
Mardy's here!
Ben (Dallas, Tx)
What did you do to prepare for the Combine?
Mardy Gilyard
(1:39 PM)
I got myself a personal trainer. We broke down all the drills that would be going on at the combine.
Mardy Gilyard
(1:39 PM)
We just took it from the beginning. With the 40, we worked on our 10s and then the 20s.
Ray. A (San Francisco, CA)
Mardy if you could line-up alongside any other WR in the NFL who would it be? As a 49ers fan, I am hoping you say Mike Crabtree
Mardy Gilyard
(1:39 PM)
Chad Johnson.
Tom (Buffalo)
what was the most nervewracking part of the combine?
Mardy Gilyard
(1:40 PM)
Days 1, 2 and 3. Just because they suck up your whole day. In Day 1, we woke up at 5 a.m. Day 2 was another 5 a.m. day. They have you take medical exams all day. The interviewed. What everyone sees on TV is the easy portion of hte day.
Jeremy (Baltimore)
Hey Mardy, in heinsite what do you think of your head coach leaving before the bowl game to coach at Norte Dame?
Mardy Gilyard
(1:42 PM)
My feelings are still the same. I think my message kind of got shifted. I wasn't upset that he left, I was upset in how he left. At the same time I understand why he left. He's a husband and a father. I want to do those things in my life too. He's an excellent father and husband. I understand why he left. He could take care of his family better, with a better paying job. If someone was paying me 20 bucks to catch footballs and then someone else said they'd pay me 100 bucks, why not take the 100? I love Boss Man. He gave me my scholarship back.
Tim (St. Louis)
How are you enjoying ESPN?
Mardy Gilyard
(1:43 PM)
I'm enjoying my homegirl Audrah Cates. Shoutout to her. I'm like a kid in a candy store. Shoutout to her. She's taking good care of me. She deserves a raise. Boss Man, give a her a raise. Again, Boss Man, give her a raise. The nice little girl that has a cube, give her an office with a window.
SprungOnSports (Long Island)
Mardy, what sets you apart from other receivers in this draft?
Mardy Gilyard
(1:45 PM)
I feel like I'm way more versatile than the other receivers. These guys are good. I'm not taking things away from those guys. They're good - Shipley, LaFell, Thomas. But the one thing that I do better than they do, I bring the return game into the aspect. I played all three parts of the receiving game. That makes me more dangerous, plus, I compiled almost 5,000 yards. I was near CJ Spiller in yards and there wasn't a receiver close.
Matty Nice (PA)
Mardy, big fan here, that Pittsburgh game this year showed how dangerous you are to the county!!!!! Do you think your multi- abilities(recieving, kick returning and after the catch moves) will show the NFL scouts you are going to make a big impact this year?
Mardy Gilyard
(1:46 PM)
Almost definitely. THe one thing that the scouts like about me is that I bring everything to the table. I'm a dangerous kick returner. When I have the ball in my hands...I don't know, my mom and dad have good genes. I worked hard to get where I'm at and I took pride to get the opportunities that I had and made the most of them.
Frank (Dallas)
How much time do you devote to training in the course of a day in the life of Mardy Gilyard?
Mardy Gilyard
(1:47 PM)
Well, I'm chillin right now as far as training, but before that combine, six days a week, every day. I put in a 9-5 kind of job. Momma need a new house. Grandma needs new shoes. You feel me?
Mardy Gilyard
(1:47 PM)
I have to have it for them. The people that put it on their backs for me.
Kevin (Washington)
I heard that you and Chris Henry were friends. How have you dealt with his passing this past season?
Mardy Gilyard
(1:49 PM)
It was hard. It was real hard losing him. I just had to go day by day with it. I don't think anybody took it as hard as Chad. He took it harder than all of us. We were hurt. It was like a piece of me was gone. WE knew each other early on in my career. He was like a big brother. We were talking about driving to the Sugar Bowl together a few days before he passed. When I found out he died, I bawled. My memories of him..wherever I do get drafted, I want to wear 15. He taught me to always stay positive.
Jake (Cincinnati)
How are you feeling about the NFL draft? What are the chances that you will stay here in Cincinnati to play for the Bengals
Mardy Gilyard
(1:50 PM)
I am feeling good. I'm feeling real good. I've been working hard. Putting everything I have into it. Chad is saying, if you do it, you do it. You do it the best you can. The one thing I have is that I just want to be drafted. IT doesn't matter what round. I want to show those teams that no matter what you spend on me, it's all a lot of money to me, I'm going to work for it, grind for it. I've only been playing WR since '07. I work hard and just want to compete.
Justin (Cincinnati)
What teams did you get to sit down and talk to while you were at the combine?
Mardy Gilyard
(1:51 PM)
I think the question would be who I didn't talk to. I talked to a lot of teams. The Bengals talked to me. Everyone wants me to stay back home, I would like to, but I don't have any choice over that. I just control what I do. I sat down with the Bengals and talked with them. The Bengals coaches were down on the field with us. The question should be who I didn't meet with. There were only about 4-5 teams that I didn't meet with.
Taylor (Minnesota)
Hey Mardy!! What do you think is the biggest factor into you becoming one of the best in college football?
Mardy Gilyard
(1:52 PM)
Hard work. Always feeling like you're not the best, even if you do have success. You have to feel like you're not the best, because if you have success and you don't feel like that, you're going to think you've arrived. You see that all the time with first round picks being busts. I don't want to be a bust. I want to have a long successful career like Manning or Jerry Rice. I really want to take care of my business.
Justin (California)
How do you feel about wearing teal and orange next season soaking up that Miami sun?
Mardy Gilyard
(1:53 PM)
No comment....just kidding. It would be fun to play at home. But whoever picks me, I would be glad to pay for them.
Steve (Minneapolis)
I am drafting you in Madden. How should I use you best. Slot Outside, Kick return, Running back? Can you through the ball?
Mardy Gilyard
(1:54 PM)
I can throw it pretty good. I was a RB in high school and I was a wildcat RB in Cincy. You can put me wherever. In the words of Marshawn Lynch, I'm going to be Beast Mode. Place me anywhere. Let me kick if you want me to.
Mardy Gilyard
(1:55 PM)
All the fans in Cincy, I'll be back in a couple of days. You'll see me in the local grocery store. Thank you for following me. I'm a small time city guy and living in the dream. I'm from Bunnell, Fla., got kicked out of school and now where I'm at. It's a blessing. Thank you.