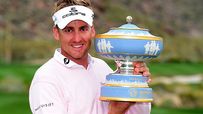 Poulter won his first PGA Tour title at the Accenture Match Play Championship in February.
Welcome to SportsNation! On Monday, the fifth-ranked golfer in the world, Ian Poulter, stops by to take your questions on the 2010 golf season. He will be playing in the WGC-CA Championship at Doral later in the week.
Poulter, an England native, recently won his first PGA Tour event, when he captured the WGC-Accenture Match Play Championship in February. He defeated Paul Casey in the final match and Sergio Garcia in the semifinals for his 11th career title. He owns nine wins on the European Tour since turning pro in 2000 (and one more win on the Japan Golf Tour), while also earning a Ryder Cup win in 2004, playing for the European team.
Follow Poulter on Twitter: @Ianjamespoulter.
Send your questions now and join Poulter Monday at 2 p.m. ET!
More Special Guests: Previous chats | SportsNation
Buzzmaster
(1:57 PM)
Ian will be here shortly to take your questions!
Buzzmaster
(2:09 PM)
Hang on folks. I'm told Ian's on his way.
Buzzmaster
(2:22 PM)
Sorry folks. It appears Ian's gotten tied up. We're still trying to track him down.
Buzzmaster
(2:32 PM)
We've got Ian!
phil (canada)
ian, do you feel like a weight has been lifted off your shoulders after getting your first win on our side of the pond?
Ian Poulter
(2:33 PM)
Absolutely. It's been 5 years playing PGA Tour and I guess it's a long time waiting, but a WGC is well worth the wait.
Ross (IA)
IAN, what do you think is the strongest portion of your game?
Ian Poulter
(2:33 PM)
I would say my short game, putting and mental strength.
Jon (Des Moines, IA)
Hi Ian, this is obviously and exciting week for you heading into the start of play Thursday at Doral. Coming off the W, how do you feel about Doral and the way it sets up for your game? It seems to me the golf course fits your game well, especially since it takes solid ball striking with the irons and good putting. Also, wondered if you could tell us what's in the bag. Thanks.
Ian Poulter
(2:34 PM)
Very much looking forward to Doral. I'm just getting prepared and when I get down there I'll be in tournament mode. I've liked the course in the past and look forward to another WGC.
Matt (Kansas)
After winning on the PGA Tour, obviously winning a major would be your next goal for this season. What would mean more winning at Augusta or at St. Andrews, the home of golf, in the Open Championship?
Ian Poulter
(2:35 PM)
For me, St. Andrews. Obviously I'm not going to be picky, if I win at Augusta, I'll be happy, but if I have to pick one, I say St. Andrews.
Jim C. (DC)
Hey Ian, congrats on your first win in the US. You had taken some heat in recent years for your comments on what will happen when you reach your full potential (the Tiger comparison comments). In light of this win, your Top 5 World Golf Ranking, and recent successes at "big events" (2nd at The Players in 2009 and 2nd at The Open in 2008) do you feel that you are beginning to reach that potential? Best of luck in the future.
Ian Poulter
(2:36 PM)
Abssolutely. I've always believed I could win on the PGA Tour and play at the highest standard. I think that backs up what I've said in the past.
Trey (Alabama)
Explain the emotions you felt with your first PGA Tour victory at the match play.
Ian Poulter
(2:37 PM)
Very very excited. Very happy. A lot of relief after 5 years of hard work on the PGA Tour. It's been nice to get back home and enjoy it with the family.
LT Luke Swain (Lemoore, CA)
Your short game was impressive to say the least during the five days of Match play. I know you worked on your 100 yds and in game over the offseason. What drill was most beneficial to improve your pitching game.
Ian Poulter
(2:38 PM)
I think really focusing in on my numbers. Working on 50, 75 and 100 yard shots. That's key to scoring, certainly on the par 5s. Just working consistently on your numbers.
Neal (Akron, OH)
We have heard a lot about fitness as it pertains to golf, is exercise a critical part of your preparation? And, has it caught on among most tour players or just a few? Thanks so much.
Ian Poulter
(2:38 PM)
Very much so. All of the guys are doing more gym work than they have in the past. It helps with strength and stamina. If you're going to be playing all those holes in match play, you need to be physically strong and mentally.
Chris Fiegler (Latham,NY)
What is the hardest Golf Course that you played on in the PGA Tour?
Ian Poulter
(2:39 PM)
I would say Augusta National. TPC Sawgrass. Hilton Head's pretty tough. All U.S. Open venues.
David Gricius (Atlanta, GA)
I have always loved your style on the golf course. What is the story behind the creation of your own clothing line and how do you decide what colors and patterns you are going to pick for each season?
Ian Poulter
(2:40 PM)
I have a team of designers back in the UK that know me. Their job in creating a style, design and colors that work for every single season.
Ryan Logan (Ohio)
Do you prepare differently for major championships compared to regular tournaments?
Ian Poulter
(2:41 PM)
Yeah. Obviously, the first major of the year at Augusta is coming up. I'll work on certain shots for that tournament. I have two weeks off to prepare. We do the same for each major venue.
Michael Brink (Minneapolis, MN)
Of the four 2010 major championships venues, which one suits your game best for a win and why? Best of luck the rest of the year.
Ian Poulter
(2:41 PM)
I would say St. Andrews and Augusta.
ben (sioux falls)
ian, why does it seem like the european golfers have a much better sense of fashion over american golfers?
Ian Poulter
(2:42 PM)
I guess there's more funky cities in Europe, London, Paris, Milan, etc. that have a lot of different styles and fashions coming out all of the time.
Robbie (Long Island)
Hey Ian! Saw you at Bethpage last summer! Just wanted to know if you were as big an Arsenal football fan as I have read in some places! Best of luck this season!
Ian Poulter
(2:43 PM)
Yes! Absolutely I am! I will be watching the game tomorrow afternoon.
Peter (Minneapolis)
It appears your game has gone to the next level. What have you been working on in order to get there?
Ian Poulter
(2:43 PM)
I've been working on my fitness. I've been working on my short game. Just all around. Trying to iron out the areas that still need some work.
Carlos (New York)
Ian - Great win in WGC Match Play. When you're in a stroke play tournament, do you block out the other players' scores and just play the course? Or do you keep an eye on what the other guys are doing and make decisions based on your position in the field? Thanks.
Ian Poulter
(2:44 PM)
Stroke play is 72 holes. I try to ease my way into the tournament. I'm a leaderboard watcher. I like to know what's going on. But hopefully my game is where I can just rise up the board and do what you can.
Stephan (Daytona)
What is the highest score you have posted on a hole and in a round while on tour?
Ian Poulter
(2:45 PM)
I actually can't remember. I am sure I've had a few doubles and triples in my time. But I honestly can't remember if I've had any more than 7 or 8. I'm sure I have, but I can't remember where or when or what.
Tim Brooks (London)
How much time do you spend practising the short game? % wise.
Ian Poulter
(2:46 PM)
I spend, I reckon 50-50 on my short game as opposed to the rest of my game.
Ian Poulter
(2:46 PM)
Thanks for all the great questions. I really appreciate all the support I've had for the win a few weeks ago. Hopefully we can keep the same form and keep going the same direction.