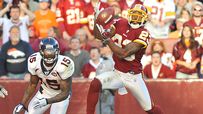 Hall is a two-time Pro Bowler.
Welcome to SportsNation! On Monday, we'll be chatting with Washington Redskins cornerback DeAngelo Hall.
In six seasons in the NFL, Hall has played in 72 games, starting 67 for three different teams (Falcons, Raiders and Redskins). In 2009, Hall led Washington in interceptions with four and was sixth is tackles with 58.
Want to know what DeAngelo has been up to? Follow him on Twitter @DHall23.
Send your questions now and join Hall Monday at 12:30 p.m. ET!
More Special Guests: Previous chats | SportsNation
Buzzmaster
(12:20 PM)
DeAngelo should be here in about 10 minutes!
Buzzmaster
(12:31 PM)
DeAngelo is here!
Willis (Great Falls, VA)
What are your thoughts on switching to a 3-4 defense? Have you spoke to Coach Haslett about this?
DeAngelo Hall
(12:32 PM)
I think it will be a good thing. In the past we've ran a 4-3 and it's been stagnant, kind of just line up and play. I think the 3-4 is going to give us a chance to disguise it a little more. Cause some chaos and much needed confusion. On the back end, it will be much the same.
Cait (Blacksburg, VA)
what do you think about Virginia Tech's upcoming season? any predictions? and any input on our boys training for the Draft?
DeAngelo Hall
(12:33 PM)
National championship run. We've got Tyrod in his senior year. If you're going to win it, you have to win it with a veteran QB. I think those guys are primed to go. With his big arm, our defense will always come to play.
RJ (Boston)
D,Has there already been much of a culture change that you players are feeling since Allen and Shanahan have begun revamping the system?
DeAngelo Hall
(12:34 PM)
I think it is a little more accountability. We haven't sat down with Coach yet. I think it's a change that's much needed. Any time you have guys used to a certain culture, it's good to shake that up. It wasn't working, we weren't winning. Coach is the right guy for that.
Jack ((Vic))
Is a 40 time really important?
DeAngelo Hall
(12:35 PM)
A 40 time is not super important. It's nice to be able to make a mistake and have the speed to recover. That's really the only ingredient. A guy who runs a 4.5 and not take a false step will get there the same time as a guy running a 4.3 making a mistake. A slow guy making a mistake? Uhhh, pretty much done.
Brad (Gadsden,Alabama)
DeAngelo, Do you have any pre-game rituals?
DeAngelo Hall
(12:37 PM)
Not one ritual. My ritual is to keep it as different as possible. I don't ever want it to be a situation where I do something I don't normally do and it throws me off. I always like to be different. Come out at a different time, warm up a different way. Wear a different outfit to warm up in.
KEvin (NYC)
How do you like Twitter?
DeAngelo Hall
(12:37 PM)
I love Twitter. It gives me a chance to get press releases out without going through a PR company. You get to voice my opinion.
Steiny (NYC)
What are your thoughts on the Jets getting Antonio Cromartie to team up Revis. Best corner tandem in the NFL?
DeAngelo Hall
(12:40 PM)
It's a pretty good one. Any secondary with Revis in it is a good one. I like the Cromartie deal. He's a guy that can get the ball in his hands. Any time you add a guy like that in the secondary, they will be a force to be reckoned with. I like the move.
Tyler (Arkansas)
Ok so were gonna make the playoffs this season right? What are your expectations for the upcoming season?
DeAngelo Hall
(12:41 PM)
To compete. Be competitive. Try to win the division. I think we can definitely make it to the playoffs. If everyone buys into what Coach is preaching, we have the talent to do it.
Justin (Maryland)
Do you feel like Jason Campbell is the guy to lead you back to the playoffs?
DeAngelo Hall
(12:42 PM)
I think we all think that Jason can take us to the playoffs. Do we need to get him a little bit of help? Yeah. Defensively we haven't gotten him turnovers. We were one of the worst teams in the league getting him the ball. I think I had 4 picks last year and as a team we had 6. That's the way you're successful on defense, getting the ball back.
Hayden (Logan, Utah)
who is the most annoying WR in the league? TO? Ocho?
DeAngelo Hall
(12:43 PM)
To guard, I think the more annoying ones in the league are the smaller ones. THe ones that will dance a lot at the line of scrimmage out of their break versus the bigger guys. You can beat those guys out of their break. I can beat Brandon Marshall out of his break more so than DJack, Steve Smith those kinds of receivers.
Eric (Greenville, NC)
Have seen where you have been working out with Darrell Green during the off-season. How has working with him improved your game physically and mentally? And have you guys foot raced yet?
DeAngelo Hall
(12:44 PM)
I haven't started my workouts with him yet. I hope to work on some drills and some things that he did while he was playing. You can always brush up and get better. I'm going to enjoy, more than working out with him, picking his brain. How he approached certain situations in football. Learn and build on it. Add it to my arsenal.
Andrew (Ithaca, NY)
Virginia Tech is always very good but has been just outside the elite category... what's missing?
DeAngelo Hall
(12:46 PM)
Probably elite recruits. I don't think we get the top 100 recruits in the country, like Florida, USC, Texas. We have great coaches that take players that normally might not get scholarship offers from other schools and turn them into good players. We have the guys now that I thikn we can make a run for it.
Hayden (Logan, Utah)
what do you do during the offseason for fun?
DeAngelo Hall
(12:46 PM)
Get tattoos and Madden. Bowling when I don't feel like getting a tattoo.
Chris (Cincinnati, OH)
What's your opinion on an un-capped year?
DeAngelo Hall
(12:47 PM)
It really doesn't effect me directly in that I already have a contract in place. It's kind of sad for the guys that have put the time in and have to wait another year for the simple fact that the CBA didn't get done. It's part of football. It's part of the process. It will work itself out.
Andy (Maryland)
If you were GM, what would you do with the 4th pick in the draft?
DeAngelo Hall
(12:48 PM)
I haven't sat down and really assessed the roster to see the steps we need to take. But if I'm the GM, off the top of my head, I'm going to get an OL, the best guy out there.
DeAngelo Hall
(12:48 PM)
Thanks for the questions. There were some great questions. I hope I gave you some good answers. ESPN rocks!