Chat: The Baseball Project's Steve Wynn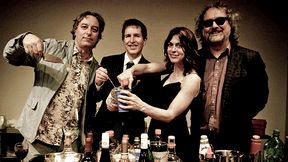 Vivian Johnson Wynn (second from left) also wrote the closing song for the move "Fever Pitch."
Welcome to SportsNation! On Tuesday, veteran musician and member of The Baseball Project, Steve Wynn, will stop by to chat about his band's upcoming season-long project in which they will release a new baseball-themed song each month that will be found exclusively in ESPN.com's Life section.
Wynn, along with Peter Buck (R.E.M.), Scott McCaughey (Young Fresh Fellows, The Minus 5, R.E.M.) and Linda Pitmon (Miracle 3, Golden Smog) formed The Baseball Project in 2007 after a chance meeting at the pre-Hall of Fame induction party for R.E.M. The group's baseball discussion lasted long into the night and the days following and eventually culminated in "Frozen Ropes & Dying Quails," a collection of 13 songs about such baseball legends as Satchel Paige, Ted Williams and Willie Mays.
Riding the success of "Frozen Ropes" and to fulfill a desire to chronicle the 2010 season in musical form, the band recently announced they will be releasing a new song each month during the season. The first installment is titled "All Future And No Past" and focuses on the eternal hope each team has during Spring Training. April will feature a song about the Chicago Cubs.
Wynn will be here on Tuesday at 2 p.m. ET but start sending your questions now!
Click here to listen to and download "All Future And No Past."
More Special Guests: Previous chats | SportsNation
Steve Wynn
(1:53 PM)
Hey everyone, fire away! I'm excited about Broadside Ballads. Ready to take on all comers. I've prepped myself by reading the sports section for the past two hours and I'm ready to go.
Grant Totten (Napa CA)
Gratitude (for Curt Flood) is such a great song. Any chance The Baseball Project has a song about Frank Robinson in its future?
Steve Wynn
(1:54 PM)
Thanks, Grant. It's funny about "Gratitude", because when we were getting ready to write, Scott and I both had the idea to write about Curt Flood, but I won. Frank Robinson would be a great subject ... I grew up near him and always tried to find his house while hiking, but I never could. Maybe I could write about that. It's on the back burner.
Tim Mclain (Brooklyn)
What is it about baseball do you tihnk that makes it easier to write songs about than other sports?
Steve Wynn
(1:55 PM)
It's a great game about individuals. It's a game that allows for oddballs and characters and eccentrics to stand out. One thing I love about baseball is that your performance is up to you. You can be a great player on a lousy team and still shine. There's a lot of room for good stories and folktales.
Daniel (Wichita, KS)
Any chance of a live Baseball Project concert this year or is it too hard to get all you guys in the same place at the same time?
Steve Wynn
(1:56 PM)
I've never played Wichita in my life, so that's an ambition right there. We had a great time touring for six weeks last year. I don't know that we'll be out this year as we're working on Broadside Ballads, but we'll hit the road when the next record comes out.
Kathryn (Des Moines)
What was the last thing you uploaded to your Ipod?
Steve Wynn
(1:57 PM)
"Waiting for the End of the World" by Elvis Costello. I'll be singing it at a St. Patrick's Day concert in New York, so it's my homework assignment.
Jason (Tacoma)
Which baseball storyline from this season are you most interested in?
Steve Wynn
(1:58 PM)
That's what's really exciting about this project -- I have no idea yet! We're all huge fans of the game and we'll be watching the games for good stories. We pore over every number of the box score and we'll be looking for how those numbers will fit into a rhyming scheme.
Mike (Athens GA)
Will the great Mike Mills, of The Mike Mills Experience featuring Mike Mills, be making any more appearances with The Baseball Project?
Steve Wynn
(2:00 PM)
Mike is our utilityman, always on the bench and ready to go. He hit it out of the park in Spain for us last summer. He can play all nine positions and is a full-on honorary member of the band. He'll be involved in the next record for sure and will be on stage with us. Although if this is Mike, I take it all back. I don't want him to get a swelled head. He's a member of our Oscar Gamble's Afro Fantasy League, and he won ten bucks from me last year, so there's no love lost there.
John (Virginia)
What is your favorite baseball memory as a fan?
Steve Wynn
(2:01 PM)
There are so many -- going back to watching the Dodgers as a kid, and seeing Mike Marshall saving five games on a six-game homestand was amazing. Seeing the Yankees win Game 5 against the A's in the ALDS in 2001 was amazing. It came right after 9/11, so it was quite an emotional moment.
Matt H. (Chicago)
What's your take on upscale food at ballparks? Are you a ballpark-food traditionalist?
Steve Wynn
(2:02 PM)
Absolutely not. I like good food! As much as I have nostalgia for the Dodger Dogs in my youth, if it tastes good, I'm there. The Yankees' experiment with sushi scared me a bit.
Timo (San Diego)
Did you hear the Prince song that he wrote for the Vikings? What did you think of it?
Steve Wynn
(2:03 PM)
Oh man, that was terrible. I'm a big Prince fan, but I don't think we have competition in terms of blending sports and music in Minneapolis. Now if he could get a good Mauer/Morneau song together, that's another story.
Beth (Tennessee)
Any chance you might participate in Peter Gammons' Hot Stove/Cool Music fest next January? We'll be glad to apply pressure!
Steve Wynn
(2:04 PM)
Please do! I've been in contact with people who put that together and I'd love to jam with Peter.
Dan (Pacific Nortwest)
Steve , your favorite baseball manager rant Lee Elia or Tommy Lasorda ?
Steve Wynn
(2:05 PM)
Those are two favorites, but Lee Elia's is the all-time greatest. The rant that got him fired was incredible. We found a way to trigger the rant with foot pedals and play a solo over it.
Beth (Tennessee)
I love the first cd - I've practically worn it out - and I can't wait for volume 2. When I saw you perform on tour last fall, you did a song called "Buckner's Bolero" - is it going to be on the new cd?
Steve Wynn
(2:07 PM)
Definitely. Great song that Scott wrote, as you would guess, about Game 6 of the 86 World series. Both Scott and I read the book "The Bad Guys Won" about the Mets winning the world series, and it's a great book. They were about the rudest team ever and the book didn't pull any punches.
Dan (Utica)
Man on 3rd, 2 outs in the 9th, tie game.....Who do you want up?
Steve Wynn
(2:08 PM)
I'm gonna go with Jeter. I've been watching him hit in the clutch for 15 years now and he always comes through.
Matt H. (Chicago)
Steve, if you had to write a baseball song today about someone you've not previously written about, who would it be?
Steve Wynn
(2:10 PM)
I've been so bad about writing about modern players. I always go for the flakes and the freaks and I'm not sure who that would be right now. I'll have to think about that one.
Jeremy R. (Atlanta)
Are you able to get out to many games in person? WHich is your favorite stadium to watch a game?
Steve Wynn
(2:12 PM)
Living in New York, not that far from Yankee Stadium , I try to go as often as I can get a bank loan to see games there. The wonderful thing about this record is that we got invited to a lot of games in a lot of stadiums. I managed to get out to Cincinnati, and we saw a bunch of the last games at the Metrodome. I'm excited to see the new stadiums all the time. I love the New Yankee Stadium. It's a great place. Childhood nostalgia is talking here, but I have a soft spot for Dodger Stadium -- one of the best, and now, one of the oldest. Beautiful place to see a stadium.
Steve Wynn
(2:13 PM)
I just realized it -- I'd write a song about Tim Lincecum. He's freaky.
Eliot (Brooklyn)
Does it surprise you that you have actually found a way to combine two seemly disparate career choices that you've had over the years: music and sports writing?
Steve Wynn
(2:14 PM)
It is! I wouldn't have predicted that, but it was fantastic. I was a sportswriter in my earlier years, mostly high school and college sports in L.A., and it was great fun. The things we're writing about in Broadside Ballads are things we'd be talking about anyways.
Biggy (Washington, NC)
VERY excited about more new music! Will we be able to purchase a CD version of these songs in the future?
Steve Wynn
(2:15 PM)
They're all free, so as of right now, you don't have to purchase anything. You can get them at the beginning of each month on ESPN, but we'll probably do a CD compilation at the end of the series sometime next year.
Chuck (St. Paul)
Could you make a song about a ligament in Joe Nathan's elbow be interesting?
Steve Wynn
(2:16 PM)
I heard about that just today, that he might miss the season. There aren't enough ligament songs out there. Volume 3 will be the Ligament Record -- all the bad injuries. Legends of Ligaments.
dg (Arizona)
If you could choose the announcers for the post season, who'd they be?
Steve Wynn
(2:16 PM)
That's easy -- Vin Scully. There are many good uses for the internet, and good reasons for it, but the best use is that I can hear Vin Scully in New York. It's incredible.
Bill (Oregon)
Favorite baseball book and favorite baseball movie?
Steve Wynn
(2:18 PM)
Ball Four for favorite baseball book. It had a big influence on me. Baseball movie, I love Bull Durham. It's really funny and gets to the hear about all of the things I love about baseball. But there are so many good ones.
Wendy (Amarillo)
Do you know of any current ballplayers out there that have decent music taste? In other words, any that you know of that have heard the Baseball Project?
Steve Wynn
(2:19 PM)
I was really happy that Jack McDowell, who has played in bands and is a good rocker himself, not only liked our record but approved of our song about him. But as for current ones, I don't know that many have the musical taste these days for us. We got to know Craig Breslow of the A's and we've done some stuff with him, so he can scout out the cool ballplayers.
Grant Totten (Napa CA)
Steve, how was your 50th birthday show recently @ Lakeside Lounge? Any TBP songs or just the Miracle 3? Since I saw both last year (the Miracle 3 in LA & TBP in San Francisco) when might your next performing trip to the west coast be?
Steve Wynn
(2:21 PM)
Thanks Grant, it was a really fun night. We didn't do any BP songs...lots of Miracle 3 and Dream Syndicate. We are going to do shows in Portland and Seattle in May, but nothing in California yet. Soon, though.
Lee (central Mass)
Steve, What position did you play? Ever go out for the pros or semi-pros?
Steve Wynn
(2:22 PM)
I played left out. I was a terrible baseball player. I could go out in the park and fungo a little bit, but man, not that I couldn't hit the curveball or fastball...I couldn't hit anything. Out of the four Baseball Project members, I'm the worst. That's why I was a sportswriter.
Steve (Underhill, Vermont)
Who do you think will win the world series this year?
Steve Wynn
(2:24 PM)
The Yankees, of course. We're spoiled. They've won five times since I moved to New York fifteen years ago. I'm excited about Javier Vasquez...I think he's gonna be the ace of the staff.
Andre (Seattle)
Is Waffle House the greatest place to eat when your on the road or what..? Tell us about it.Miss you buddy!A
Steve Wynn
(2:27 PM)
We ate there a lot on the last tour, and I ended up trying everything on the menu. It hit the spot, but my doctor might say otherwise. I gained a few pounds after being on the Waffle House Baseball Project diet.
Miles (DC)
What do you think about the World Series going into November? Would you be in favor of a shorter regular season?
Steve Wynn
(2:28 PM)
Absolutely not. It's strange seeing it in November. I grew up when there was no real playoff series. This has been the longest offseason ever. The more baseball, the better. It can go to January for all I care.
Steve Wynn
(2:29 PM)
I'm really looking forward to this project and the baseball season in general. It'll be great seeing what's out there and writing songs about it. Thanks, everyone!