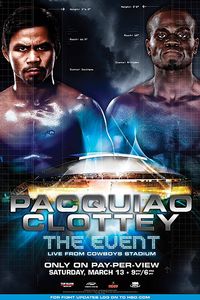 Welcome to SportsNation! On Monday, boxing trainer Freddie Roach will stop by to chat about the Manny Pacquiao-Joshua Clottey March 13 fight.
Roach currently trains Pacquiao, the No. 1 pound-for-pound fighter who has won seven world titles in seven different weight classes. Pacquiao faces Clottey Saturday, March 13 at 9 p.m. ET/6 p.m. ET on HBO PPV live from Arlington, Texas in the first ever fight at the new Cowboy Stadium. The fight will be for Pacquiao's WBO welterweight title. Pacquiao enters at 50-3-2 and Clottey at 35-3.
Roach, a Massachusetts native, won the trainer of the year award in 2003, 2006 and 2008. As a professional boxer, Roach went 39-15 before retiring in 1986.
Send your questions now and join Roach Monday at noon ET!
More Special Guests: Previous chats | SportsNation
Buzzmaster
(11:52 AM)
Freddie should be here at the top of the hour to take your questions!
Sven (Dallas, TX)
Do you see any disadvantages of holding a fight in such a large venue with so many people in attendance?
Freddie Roach
(12:01 PM)
There's no stage big enough for Manny Pacquiao. He loves it. He thrives off of that.
Tim (Pittsburgh,PA)
Freddy, will you have manny concentrate on going to Clotteys body the most?
Freddie Roach
(12:01 PM)
100% yes.
John (Boston)
In what is the most improved since the Pacquiao camp?
Freddie Roach
(12:02 PM)
Distance. We're not going to let him into his range. WE're keeping him at our distance.
Ben (Brookline, MA)
How dominant does Manny have to be for you to consider this fight a success? Is it enough to just get the W or is the knockout a must?
Freddie Roach
(12:02 PM)
Dominate with a knockout. Mayweather can't hide from that.
Junior (Dallas Tx)
Do you think Pac-Man will ever fight Mayweather?
Freddie Roach
(12:02 PM)
Yes I do. Neither fighter has anywhere else to go.
PJ (Philippines)
I've been reading some articles about a problem in Manny's leg, will this be a factor in the fight? will it affect Manny come fight night?
Freddie Roach
(12:03 PM)
Shin splints are very very common. It will not be a factor. They're already under control.
Martin Madrid (Manila, Philippines)
You said once that James Toney was the most gifted fighter you have ever worked with and that his major flaw was his poor work ethic. If James Toney had the same work ethic as Pacquiao, do you think he would have definitely been the greatest boxer of all time? What do think about his move to join the UFC? Do you think he would do well in a cage fighting kickboxers and grapplers?
Freddie Roach
(12:03 PM)
Without a doubt he would have been the greatest fighter of all time.
Andrew (Charleston, WV)
What's your prediction for the fight?
Freddie Roach
(12:04 PM)
First four rounds, tough. After four, Manny overwhelms him with activity and he will quit.
Matt (Lubbock, TX)
Freddie, what dangers could Clottey possibly pose to Manny on Saturday night?
Freddie Roach
(12:04 PM)
His size. He's a big guy, but size doesn't win fights, skill does. I'm not worried about the fight.
Ebo (Beaumont Tx)
How do you change your training format when training Pacquiao from other fighters with different styles and weight classes that you have trained
Freddie Roach
(12:05 PM)
We condition the same for every fight. What changes is the strategy of the opponent and the sparring partners are more like the opponent.
matt (austin)
What is one characteristic you as a trainer maintain with all of your fighters?
Freddie Roach
(12:05 PM)
Work ethic.
Jose (Morgantown, WV)
Freddie, I'm an amateur boxer right now and I'm training for a regional tournament coming up in 2 weeks. As a trainer, what do you think is the best conditioning method for increasing my stamina?
Freddie Roach
(12:06 PM)
For amateurs, because you fight short fights, wind sprints are the most important things, because you fight in bursts and you need the body conducive to that.
Raymund Chua (Kauai)
Honest assessment of how many years does Pacquiao have left of actively winning fights.
Freddie Roach
(12:07 PM)
His work ethic is really, really great and is still great. I say he could fight another three years if he wants to.
KEvin (NYC)
ever hear Manny sing?
Freddie Roach
(12:07 PM)
Yes, I hear him sing in the gym every day.
Henry (Northampton, MA)
Hey Freddie, how many fighters total are you currently training?
Freddie Roach
(12:07 PM)
14 pros.
Nate (Poconos, PA)
Freddie, First and foremost, best of luck to you and Manny on Saturday night! My question though is, what do you see is the single most important attribute for a fighter to have inorder to be successful?
Freddie Roach
(12:08 PM)
Inside the ring, to be able to see what's happening while it's going on. Vision is so important and people don't understand that.
Jordan (Newfoundland, Canada)
Hey Freddie, you seem to have the ability to "teach" punching power, some guys you've taken on have become one-punch knockout guys under you (Manny, Khan etc) how do you teach these guys to get such great leverage?
Freddie Roach
(12:09 PM)
You just have to really set up more than the power punch. You have the combinations and learn how to sit down on the power shot.
John (Phoenix)
Mr Roach, how many buys does this fight do? If it doesnt get to 1.2, does that mean this was a huge mistake for Manny?
Freddie Roach
(12:09 PM)
I think it will do at least 1.5 is my prediction. But I didn't think they'd sell 45,000 seats either, but they have already.
Brian (Richmond, Ky.)
If you could see Manny climb in the ring with any fighter, who would it be?
Freddie Roach
(12:10 PM)
Roberto Duran in his prime.
Tim (Pittsburgh,PA)
Freddy, what have you and manny been focusing on the most in this training camp for Clottey?
Freddie Roach
(12:10 PM)
He's dangerous with his uppercuts. Staying off the ropes.
Frank (Coram, NY)
What do you think Boxing has to do to get it's mainstream popularity back?
Freddie Roach
(12:11 PM)
I think the promoters need to put on better undercards. You have a title fight but the undercards are weak. They need to entertain people. The UFC is outdoing us right now because they are entertaining people with music during the fight and other things. They need to do a better job of that so everyone takes something home that night.
Freddie Roach
(12:12 PM)
Thanks for the support. We'll see you all in Texas on the big stage.
Buzzmaster
(12:13 PM)
Thanks for chatting Freddie!