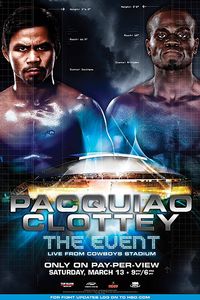 Welcome to SportsNation! On Friday, we'll go inside the boxing ring when legendary boxing writer Bert Sugar stops by to chat about Saturday's Manny Pacquiao-Joshua Clottey bout.
Pacquiao (50-3-2, 38 KOs) and Clottey (35-3, 20 KOs) square off at the Cowboys Stadium in Arlington, Texas at 9 p.m. ET/6 p.m. PT live on HBO Pay-Per-View.
Sugar has written over 80 books and from 1979-83 he served as editor-in-chief of The Ring. Sugar also, according to his bio on HBO.com, founded Fight Game magazine in 1998. Sugar has also appeared in a few movies, including recently in "Rocky Balboa," the final chapter of Sylvester Stallone's Rocky boxing movies.
Send your questions now and join Sugar Friday at 2 p.m. ET!
More Bert Sugar: Chats | Search | Boxing index | SportsNation
Buzzmaster
(1:58 PM)
Bert Sugar will be by in a few minutes to chat boxing! He's in Dallas for the Pacquiao-Clottey fight this weekend.
elmer (old bridge, new jersey)
you think this would be the last fight for Pacquiao? and if it is how would that impact the boxing business?
Bert Sugar
(2:05 PM)
I think there's a real possibility it might be the last fight for him. Not for what happens in the fight, though that might play a part, but because he stands for election to the Filipino Congress in a few weeks (I hope their Congress works better than ours). If he wins, which is a good probability, he might have a lot more to do than worry about boxing. That said, here's a man who constantly surprises us by doing more than two things at once. For instance, he has already scheduled a karaoke concert after the fight. But he seems to be able to do it all. There's a possibility, but not a probability, that this could be his last fight if he wins.
phil (orange county, ca)
Where would you put manny pacquiao in your list of the greatest boxers of all time if he defeats clottey and then defeats floyd mayweather jr, top 30, in the teens, in the top 10?
Bert Sugar
(2:07 PM)
My problem with rating anyone, anyone, during their career is that I don't know where their peak is. I don't know if they're approaching it or on their downside. I sometimes prefer only trying to assess a fighters' greatness after his career is through. That said, he's already established himself as an all time great. I have him in the top 25-40 and he can only go up. I don't know where he will reside until the final tally and I can assess his total career, wins against Clottey and Mayweather notwithstanding.
Mark (Brooksville, Fla.)
Bert,Is the current situation surrounding the heavyweight division the worst it's ever been? And do you think anyone active right now can beat either Klitchsko?
Bert Sugar
(2:09 PM)
What heavyweight division? It's on the cusp of being called off on a lack of interest. Boxing, particular the heavyweight division, is cyclical. We haven't had as good of a heavyweight division in the 1970s and not as bad as it is now. Part of it is Lennox Lewis showed us that 250 pounders can win. An American kid who is 250+ pounds is not going to stand around waiting to get punched, he's going to play football. I say the best two American heavyweights are Ray Lewis and Brian Urlacher.
Jeremy (Dallas)
Hey Bert I will be at the big fight Sat. too. Any chance of an upset?
Bert Sugar
(2:13 PM)
There is a chance of an upset. I don't give it high scores. What no one understands is that Clottey is one of the five best welterweights in the world, if not the third best. Everyone just knows the names of the top two - Mayweather and Clottey. Here's a fighter who looks like he was born at 147, he's so big. He will outweight Pacquiao 10-15 pounds by fight time. He's also a fighter who has a defense that's very hard to crack, almost like trying to open an oyster with a butter knife. Add to that that he's from Ghana, which has given us such fighters as Azumah Nelson, Ike Quartey, each of whom is so tough that if he was struck by lightning, you take the lightning to the hospital for observation. He poses a problem for Pacquiao. That problem could translate into an upset, but will probably translate itself into a damn good fight going to a decision.
Brian (Richmond, Ky.)
Pacquiao's trainer said the other day his dream fight for Manny would be Roberto Duran in his prime. Who would win that fight, and would that be your choice for a "what if" bout?
Bert Sugar
(2:14 PM)
The winner of that fight, fought at lightweight, would be Duran. The question I would have is where Freddie Roach thinks this match would take place, what weight. Pacquiao tends to take tall buildings in a single bounce. But Duran is so great that he would take Pacquiao and wouldn't care how he would beat him, he would beat him.
michael (tampa)
How under rated do you think Clottey is compared to Cotto? Cotto seemed more hyped.
Bert Sugar
(2:16 PM)
Michael, you have a great point. You know - and here I'm a member of the media that makes this happen - how important media hype and buildup is. Cotto has a large following in America, therefore a large media following in America. Clottey is different and has none of the above. You are perfectly correct in pointing out that Cotto basically has gotten better press than Clottey. (He also got a better decision by the judges than Clottey, winning a split decision over Clottey, after which I tried to talk to the judges and tripped over their seeing eye dogs.)
rocdolla (north babylon n,y)
whats up sugarman? what is your take on the whole pacquaio-floyd meltdown? and who do u blame for this fight not happening?
Bert Sugar
(2:20 PM)
I think the blame lies entirely in Floyd's corner. Manny has never had anything to do with steroids, not only as he says, but as the tests show as administered by the best boxing commission in the U.S., the one in Nevada. Floyd considers himself the greatest fighter ever, having never lost. He says he's better than Sugar Ray Robinson, because Robinson lost a fight or two. He has tried everything and anything to get the better hand, call it oneupsmanship, in a fight. He has dictated terms. He has pushed envelopes. He has demanded things of his opponents, even going so far as to get medical records of his opponent before a fight. In the buildup to the fight with Pacquiao, he pushed everything he could to get the better of weight, ring size and use of gloves. He also tried to get something that has never been done before - random blood testing. Calling for Olympic random drug testing. What he has done is listen to his father, Floyd Mayweather Sr. Floyd Sr. is positive that because Manny started at 106 pounds and is fighting at 147 (of course he forgets his son did the same thing).
Matt H (Phx, AZ)
Hello Mr. Sugar! I was wondering how you'd see a Mayweather Jr. - Ray Leonard fight playing out?? I told my friend that SRL had more power, toughness, and willingness to fight, and that would be the difference. SRL KO 11. What do you think?
Bert Sugar
(2:22 PM)
Stylistically, a very good fight. Sugar Ray Leonard (not to be confused with Sugar Ray Robinson) has a style that would give Floyd problems. Of course, Floyd has a style that would give Ray problems. Think of the Ray-Wilfred Benitez fight and you could see what a Leonard-Mayweather fight looks like, one offensive and one defensive meeting in their primes.
Marc (Charlotte)
What will you be singing at Manny's Karaoke Party? I see you as a Sinatra guy myself.
Bert Sugar
(2:23 PM)
Marc, it's something I wouldn't miss if I could. Fortunately, I could.
Jeremy (Dallas)
If Manny wins and Mayweather lose, how much interest would their be in an Manny-Mayweather fight? Dont think mayweather would put up such a "fight" to get THE fight done then!!
Bert Sugar
(2:25 PM)
Good question, but it depends on how one loses. Many a time a fighter is defined by his losses as much as his wins. I give you Tommy Hearns, whose two fights - one against Leonard and one against Hagler - are more remembered for his wins. It depends on how these two participants lose, not if they lose.
gonzo (phlly)
Bert, dont you feel the media is overlooking mosley a little. Most people just talk about whether or not mayweather will fight paq.
Bert Sugar
(2:27 PM)
Sugar Shane Mosley is a high obstacle for Mayweather to mount. Shane thinks he can beat him, easily. I don't know what the rust factor is for Mayweather. By that, I mean, a defensive fighter tends to lose it faster than an offensive fighter. Their every move, which was calculated to make their opponents miss by a little, doesn't miss at all. Of course that doesn't hold true for offensive fighters. Mosley is not a smaller JMM. Everyone tells me that Mosley at 38 is an old man. Two things, he didn't look like an old man against Margarito. And Mayweather is no spring chicken himself at 33. So, yes, this is great potential for an upset more so than Clottey against Pacquiao.
Mark (Brooksville, Fla.)
Bert,If you could make three dream matches with any of the recent superstars in Boxing versus the old fighters of yester-year what would be your picks?
Bert Sugar
(2:29 PM)
If I really had to make a couple of fights which would be great fights or barn burners, I would want something like a Marciano-Frazier heavyweight fight, which could be held in a phone booth. Or a Willy Pepp-Pernell Whitaker fight. Or any one of a hundred other fights. For the first time, I could say conceivably that today's fighter could hold up well against the old timers.
Bert Sugar
(2:30 PM)
Thank you, I'm appreciative of the time. Remember, there are three important elements in the fight, Pacquiao, Clottey and Cowboys Stadium. It is where big fights belong, a big venue with 45,000 fans watching.