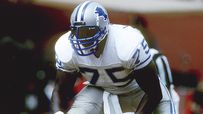 Brown spent 18 years in the NFL.
Welcome to SportsNation! On Monday, ESPN2 "First Take" NFL analyst Lomas Brown stops by to chat about the NFL offseason.
Brown spent 18 years in the NFL, playing for the Detroit Lions, Arizona Cardinals, Cleveland Browns, New York Giants and Tampa Bay Buccanneers, with whom he won a Super Bowl championship following the 2002 season. He played collegiately for Florida.
Send your questions now and join Brown Monday at 3 p.m. ET!
More Special Guests: Previous chats | SportsNation
Lomas Brown
(3:10 PM)
Happy to be back!
Avi (Boston)
Did the Dolphins overpay Karlos Dansby to be their inside linebacker?
Lomas Brown
(3:11 PM)
He did get a nice contract, but I think for what he could bring to that team, he's a versatile LB that fits into the mold of a Joey Porter, a guy that you can rush or drop off into coverage. I think they paid what's market value. I think they'll get the value out of him.
Drake (Nashville, TN)
What are you thoughs on Kyle Vanden Bosch getting signed by the lions for 4 years worth 25 million dollars? I believe for a player who is 31 that is too much money, with age comes injury.
Lomas Brown
(3:12 PM)
Yeah, I agree, but I think coach Schwartz is looking at more than what Kyle will give out on the field. He's looking for what he can bring out in the lockerroom with leadership. The Lions are a young team and they do need leaders on the team. His money will be seen more so in the lockerroom than out on the field.
Tim (Oak Grove, MO)
Do you think the Chiefs get Okung or Berry if both make it to that pick?
Lomas Brown
(3:13 PM)
It seems that the Chiefs blueprint for offensive linemen are athletic type linemen. I can see them getting Russell Okung over Eric Berry simply because Russell is a much more athletic, longer offensive lineman that really has been in a passing system at Oklahoma State.
Charlie (NY)
Who do you think the Rams take with the first overall pick?
Lomas Brown
(3:15 PM)
That's a great question. I just believe that if you feel you have a franchise QB sitting right there for you and you're in need of a QB, you have to take Sam Bradford. I know there are a lot of question marks about his shoulder, but if you pass on this guy and he turns out to be the type of QB that we think he can be, you're going to look bad. Any time you have a chance to take a franchise QB, you have to take him.
Evan (florida )
do you think the tampa bay bucs can trade for brandon marshall because we need a reciver we lost antiono bryant
Lomas Brown
(3:21 PM)
Really, that was a strange move of why they let him go. He seemed to come in and learn the system. He played well. I'm confused that they let him go. Any team that can get Marshall would upgrade their offense tremendously. He's the prize out there at WR. But, you have to give up a high draft pick and sign him to a contract.
Ryan (Germantown, MD)
Are the Giants done with the safety position or might they look for a little more depth?
Lomas Brown
(3:22 PM)
We know they have a lot of injuries. That's been one of the biggest things that's hurt the Giants over the last year or so, the injuries. I think Antrel Rolle is a great addition to that secondary. I think a lot of the problems in the secondary, stem from the lack of pass rush. If the pass rush increases, I think they'll have a lot more success in the secondary.
Luke (MASS)
do you think the Patriots are on the fall? after all they do have 4 draft picks in the first 2 rounds.
Lomas Brown
(3:23 PM)
It depends on what they do with those draft picks, but yeah, I could see them falling. Any time a team loses guys like Bruschi, Seymour, Harrison, it's hard to replace those guys. Yeah, I can see New England on the decline, but they could make a nice splash with four draft picks and become younger.
Clay (Charlotte)
Surprised by the non-moves by the Skins? Think it's a change in philosophy?
Lomas Brown
(3:25 PM)
Now the Redskins have a whole different philosophy with the changing of the front office. Bruce Allen is there now. Mike Shannahan is the head coach. You have guys who have had success and know how to build teams. They don't just go out and blindly spend money. They have a method to the madness.
Josh (NYC)
The Jets traded for Antonio Cromartie, he hasn't been playing all that well last 2 seasons is this a good or bad trade for the Jets?
Lomas Brown
(3:25 PM)
This is a great trade for the Jets. You already have a coach that's defensive minded. You have a great corner on the other side in Revis. I can only see this as a great move for the Jets. That secondary has to be heads and shoulders over any other secondary in the AFC, with the addition of Cromartie.
Cody (NC)
Was it smart for the Panthers to cut Jake Delhomme?
Lomas Brown
(3:26 PM)
I think it was time to part ways. I really do. It seems like it was getting worse for Jake there. He came in as such an overachiever. Got this team to the championship games and hte Super Bowl. It just hasn't been working out for him the last few years.
Frank (Dallas)
After all the talk that Jerry had about "shaking things up" with the cowboys at the combine, do you think they will get into the free agent market soon?
Lomas Brown
(3:27 PM)
I don't think he's going to dabble into it real tough. You forget that Jerry has that big monthly note he has to pay on that stadium. Dallas peaked at the right time last year. They made the run. They won a playoff game. The team's in the right direction and has the personnel. I don't think they need to make any big changes right now.
Dave (Columbus)
Do you think Cleveland should dump Quinn and start over at QB? With Quinn being a semi-local kid, there's always going to be a QB controversy among fans while he's there.
Lomas Brown
(3:29 PM)
I think they should dump the QB that they can get the most value for. Look to go in a different direction. I haven't seen anything out of Quinn or Anderson, even though they're young, to make me think they are going to be franchise QBs.
Mike (Minn)
Ok, assuming Brett comes back, SUPER BOWL: HERE COMES THE VIKES!
Lomas Brown
(3:30 PM)
I like that.
Ken (N.J.)
Lomas,I'm a long time Lions fan, I was wondering do you think the Lions should go after Thomas Jones or draft a rookie to help the running game?
Lomas Brown
(3:31 PM)
They have good money tied up into Kevin Smith who was drafted just two years ago. I still think Kevin is a pretty good back. I would like to see them draft someone in the draft, a change of direction, scat back guy. It's too early to give up on the guy.
rich (nevada )
how bad will the cba if there isn't going to effect the nfl in the long run
Lomas Brown
(3:32 PM)
I don't think it will effect it as bad as a lot of people think, because a lot of the good teams are restricted as far as the free agents they can bring in and pay them. I don't see the rich getting richer. I don't think, as far as parity, it won't do too much to effect that in the years to come.
Lomas Brown
(3:33 PM)
My words of wisdom today are: Look both ways before you cross the street.
Buzzmaster
(3:40 PM)
Thanks for chatting Lomas!