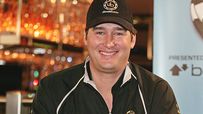 Hellmuth won the WSOP Main Event in 1989, winning over $750,000.
Welcome to SportsNation! On Monday, one of the best poker players ever, Phil Hellmuth, stops by to chat with the 'Nation.
Hellmuth has won over $10 million in live tournament winnings during his career. He has won 11 World Series of Poker bracelets, including the Main Event in 1989, when at 24, he became the then-youngest player to ever win. Hellmuth earned the nickname "The Poker Brat" for his colorful and competitive personality.
Fans can keep up with Hellmuth via his blog, Twitter page: @phil_hellmuth and website: PhilHellmuth.com.
Send your questions now and join Hellmuth Monday at 3 p.m. ET!
More Special Guests: Previous chats | SportsNation
Buzzmaster
(3:30 PM)
Hey everyone. We ran into some tech problems at the start of the Phil's chat. But don't worry, we're good to go now. Heeeeere we are.
Day (Brooklyn NY)
Hey Phil,Besides yourself, who would you consider the best poker player ever?
Phil Hellmuth
(3:34 PM)
Well, Doyle Brunson. I would say Phil Ivey is on the path. There's the great Johnny Chan. The great Chip Reese.
Marco (North Dakota)
Phil, I'm a big believer in the power of patience in poker, but how do you cope with losing streaks when you feel like you're playing to the best of your ability?
Phil Hellmuth
(3:34 PM)
Patience is enormously important, but patience along with making a few moves here and there. You have to be able to pick up some chips. If you're going to just play with patience, you're going to be at the mercy of the cards. If you can occasionally raise someone weak, that gives you an extra 20-30 minutes of chips.
John Fusco (Orlando, Florida)
How do you prepare for the world series?
Phil Hellmuth
(3:35 PM)
Well, some years, I don't prepare at all. This year, in January, I started playing a lot of poker, because I wanted to get there in all the games. I've been playing every game, especially in tournament format and just kind of practicing. Also, I have this PEMM thing - P - patience, E - Exercise, M - Moment, M - Meditation. I think that will help me a lot in the Series this year.
Jason (Northern MI)
Do you feel playing trash hands is a viable cash game strategy?
Phil Hellmuth
(3:35 PM)
Yes. Yes it is, but you can't play too much trash. Sometimes in a cash game, I'll come in raising 4, 5 off suit. Just when they always think I have it, I'll play that hand. If you hit it, you can really win a lot of money.
Phil Hellmuth
(3:37 PM)
I have a long day here at ESPN. I shot Inside Deal. I shot a commercial for SportsNation. I have already done five shows. I just finished SportsCenter.com, First Take and I have the regular SportsCenter I'm doing after this chat. They tell me that will be on at 6 p.m. ET. I think there are 7-8 things scheduled for today. I got up at 5:45 a.m. in Manhattan.
blake (new york)
how come you are rarely seen playing high stakes mixed games in bobbys room? are the cash game players truly better all around poker players then the tournement players?
Phil Hellmuth
(3:37 PM)
I haven't been a professional cash game player for a few years. The last 3-4 appearances I've made in Bobby's room, I've lost. I've probably lost four times in a row, $100,000 a play. But I did win big. I won around $300,000 the time before those four losses. At some point, in the future, maybe 2011, I will start playing in the big mix games. When I'm living in Vegas, or at least spending half my time in Vegas. The mix game players, the ones that are making money in those games every day, are great poker players. I have all the respect for them.
Hayden (Logan, Utah)
for a young, strapping poker player, what advice do you have for me?
Phil Hellmuth
(3:38 PM)
I would say for the younger poker players, the younger ones, in general, don't have as much money. It's harder to build a bank roll from scratch. The No. 1 piece of advice I give is to manage that bank roll perfectly. That means don't lose too much money in one day, don't lose too much money in one week and don't lose too much money in one month.
Jeff (Atlanta)
Phil,What's the coolest gift/toy/reward you ever bought yourself with your winnings?
Phil Hellmuth
(3:38 PM)
I bought a midnight blue Porsch with a whale tail when I was winning big one time in L.A. That car was fast, fast, fast! It had a racing clutch...
Kevin (Washington)
What does it feel like to lose $100,000? If I lose a 20 or heck, even if I don't get the right change back at the store, I feel like it's the worst day ever.
Phil Hellmuth
(3:39 PM)
I like your passion. On Friday, I stuffed $800,000 into a pot at a World Poker Tour final table, with Q-Q. And my opponent had A-J. The river (the last card) was an ace for $1.6 million. I was stunned. I was in shock. I managed to shake everybody's hand, but then I collapsed on the floor on my elbows and knees for a full minute, because I was so hurt and depressed -- because I wanted to win SO badly!!!
Eric (Chicago)
So Phil, is the Rounders movie quote true, "if you can't spot the sucker at the table within the first 10 minutes, you are the sucker."
Phil Hellmuth
(3:40 PM)
No. But it is true that if you can't spot the sucker in 60 minutes, it's you. 10 minutes isn't enough time.
phil (fall river, ma)
Phil, Who gave you the name "the poker brat"?
Phil Hellmuth
(3:41 PM)
Andy Glazer and I came up with the nickname together. It just seemed to fit like a glove.
HONEY (I'M ALL IN)
Phil, what would you say are the biggest differences in no limt hold em now versus when you won the main event?
Phil Hellmuth
(3:41 PM)
When I won the Main Event, there wasn't as much mathematical modeling of No Limit Hold 'Em. In fact, there wasn't any of that. In the modern era, some situations in Texas No Limit Hold 'Em have been solved mathematically.
Kyle (Buffalo)
What do you think of Wisconsin in the tournament? How does your bracket look?
Phil Hellmuth
(3:46 PM)
My bracket is posted at ESPN.com. I think Wisconsin will make the Sweet 16, but then they're going to face Kentucky. And Kentucky's going to be awfully tough to beat. I have Kentucky winning it all.
Ross (stamford)
nobody is disputing your accomplishments but does the camera add to your personality
Phil Hellmuth
(3:47 PM)
My friend Mike "The Mouth" Matusow, does play it up around the cameras. Most times, I don't play it up. But sometimes, I can't help but have fun with the cameras.
Hayden (Logan, Utah)
how do you learn another persons 'tell' ?
Phil Hellmuth
(3:48 PM)
Well, there is Joe Navarro's book, "Read 'Em and Reap." That will help you spot tells. But I think people have to learn to trust their instincts.
89suited (Upstate NY)
Phil - any chance you'll play in the minefield that will be the opening (Memorial Day weekend) $1,000 event? Or are you playing the $50K that starts the first Friday and will only suffer thru the $1K if you bust early in the 50K?
Phil Hellmuth
(3:49 PM)
I'm playing the $50K and I plan on having a long, long run. In fact, nevermind....
Christian (Halifax)
To summarize your most recent blog thoughts - what are the main reasons you believe you lost money this year?
Phil Hellmuth
(3:49 PM)
Well, I would say that I didn't work hard enough in poker. I didn't try to improve my game. I didn't practice enough and I just wasn't dedicated enough.
J.C. (LA)
How many poker players have their own private jets?
Phil Hellmuth
(3:49 PM)
I would say 5 or 6 guys own jets or have a jet service with NetJets. There would be more, but some guys don't like to spend all that money.
Tim (St. Louis)
What have you learned?
Phil Hellmuth
(3:50 PM)
A lot.
Kyle (TN)
Is there anything you would like to go back and tell yourself back when you first started playing poker?
Phil Hellmuth
(3:51 PM)
Sometimes when you look back, you think I wish I would have played this hand differently or that hand differently. But then you have to understand that you can't go back and to focus on the present. Whether or not you're applying the lessons you've learned from mistakes you've made in the past.
Anthony Altemari (Rochester)
Hey Phil, i was just wondering how you read some people so well?Is it really the way there acting or just the way they played the hand?
Phil Hellmuth
(3:51 PM)
Both. But more the way they're acting. For me, I just look at them and I ask myself if anything sticks out. But I'm happy if 3 or 4 or 5 times an hour I know if someone is weak or I know if they're super strong.
Curt (Pittsburgh)
Do you have a specific meal you will eat before a big tournament or cash game?
Phil Hellmuth
(3:52 PM)
I used to have a routine where I would eat a meal during the World Series of Poker. I would play, they would call it a day and I would go work out. I would always order poached salmon with mushrooms and I would dip the salmon into a side of ranch dressing.
Phil Hellmuth
(3:52 PM)
2010 is the year for me to show a lot more class at the poker table. I think that in 2010 the fans won't see as many "poker brat" antics and bad behavior. Also, I've started dressing nicely.
Buzzmaster
(3:52 PM)
Thanks for chatting Phil!