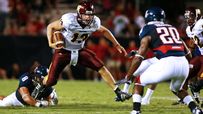 Mel Kiper ranks LeFevour as the fourth QB prospect in the draft.
Welcome to SportsNation! On Friday, NFL quarterback prospect Dan LeFevour will stop by to chat about his preparations for the draft as well as his time at Central Michigan.
LeFevour finished his career at Central Michigan as one of the most distinguished quarterbacks in school, conference and Division I history. He ended his time in college as the only QB in NCAA history with over 12,000 passing yards and 2,500 rushing yards, while also sitting second all-time in total offensive yards. He also holds the D-IA record for total touchdowns with 150.
According to Mel Kiper, LeFevour is the fourth overall quarterback prospect in the draft. And Scouts Inc. says he has above average mobility and arm strength, while his profile says that he is "a fiery competitor that possesses the grit and determination that teams covet at the quarterback position."
Send your questions now and join LeFevour Friday at 12:30 p.m. ET!
More Special Guests: Previous chats | SportsNation
Buzzmaster
(12:15 PM)
Dan LeFevour will be here shortly to take your questions!
Ryan Williams (Geneseo, Illinois)
How did it feel to break the record for most touchdowns in college?
Dan LeFevour
(12:30 PM)
That happened in the MAC championship this year. In the heat of the moment, I was focused on other things, but when I was able to step back and see it on ESPN. It was cool.
Matt (Sterling Heights, MI)
Hey Dan, when you look at the record books, your name is all over it. What do you feel will be your legacy within the Central program?
Dan LeFevour
(12:31 PM)
I think being a part of three championships in four years puts not only myself but my class on a pretty significant list at Central. Being able to accomplish that was pretty amazing. I'm sure we'll be remembered.
Joey Bockheim (Grand Rapids, Michigan)
Hey Dan,Its your pal and former favorite target Joe Bockheim (great time to put a highlight of me catching a ball from Dan on TV). Seeing as that your going to the NFL, would you mind sending me my tupac shirt? I understand you haven't signed a contract yet so ill pick up the postage. Joe
Dan LeFevour
(12:32 PM)
Absolutely not. There's no price that you can put on a collector's item on that.
Greg (Detroit)
Do you think that all the unnecessary hype surrounding ?Tebow 2.0? has allowed you more privacy to concentrate on your transition from the spread to drop-style offense?
Dan LeFevour
(12:33 PM)
Every situation is different. He's one of the greatest college football players of all time. Whether that helps me, I don't know if it had anything to do with the adjustments I am making. It's not something that's within my control.
Gage M (Mt. Pleasant)
What did you like most about playing at CMU?
Dan LeFevour
(12:35 PM)
I liked the guys that I got the opportunity to play with. That's what drew me to Central. That was by far the best thing about going there. Making some great friends and guys that I will stay in touch with the rest of my life.
Dennis (Denver)
I know you will be happy going to whoever drafts you, but is there a particular type of system, e.g. West Coast, power running, etc. that you feel most comfortable in?
Dan LeFevour
(12:35 PM)
Not really. Not having any experience in any of the pro style offenses, I'm willing to do anything and give it the best I have.
Jim (Dayton OH)
Are there any QBs that you especially look up to?
Dan LeFevour
(12:36 PM)
Not really. I grew up idolizing Walter Payton. The older I get, the more I watch the game, I really appreciate what Brett Favre has done. The work ethic. Other guys I like to watch is Tony Romo, he's mobile. There aren't a lot of guys that have stuck out.
Tony (Cleveland)
Were you highly sought after in high school or have any other scholarship offers from BCS schools?
Dan LeFevour
(12:37 PM)
I wasn't highly sought after. I had four offers, CMU, Eastern Michigan, Ball State, Eastern Illinois. I threw the ball 5-10 times a game in high school. I did my best from there and tried to do my best to get an offer.
Kurt (Michigan)
What are you takes on the new coaching staff at CMU? How will the transition be as the team loses a lot of key players (including yourself) from last year's team?
Dan LeFevour
(12:38 PM)
It's really hard for me to tell not being in the building. From what I see, I really like the new coach. He's surrounded himself with great teachers. They've set themself up for the future with the staff in place.
Hayden (Logan, Utah)
Who have you met recentely and were like ' uhh, wow, I cant believe I'm talking to this person' ?
Dan LeFevour
(12:39 PM)
Terrance Cody. I got to work out with him. LaGarrette Blount too. He's someone that I keep in touch with a little bit through text messages. And Zeke Bratkowski. He's a great guy, great person to learn from.
Joe (DC)
Hey Dan - I am a huge fan and would love to see you in a Skins uniform. How would you feel about playing for one of the best offensive minds in football in Coach Shanahan? Thanks and good luck
Dan LeFevour
(12:40 PM)
I think that would be a great opportunity for me to play like a guy like that. That organization has a lot of history. I really enjoyed talking to them at the Senior Bowl and combine. I'm just as anxious as you to see how they're going to do.
Ryan Williams (Geneseo, Illinois)
Where do you feel you will end up in the draft?
Dan LeFevour
(12:41 PM)
It's so hard to say at this point. Teams don't want to tell the whole world who they'll be drafting. Other teams might feel interested. At this point, I know as much as anyone else does.
Steven (Las Vegas)
If you didn't make it as an NFL QB, what would you be doing instead?
Dan LeFevour
(12:42 PM)
At this point, I have invested so much in this opportunity that I haven't really thought about it. I have a degree from CMU, but right now, I'm giving this my best shot.
Chad (Las Vegas)
If you had your pick would you rather get behind a solid starter for a year or two or be a starter from day 1?
Dan LeFevour
(12:43 PM)
I think there are advantages from both. Starting right away, you learn as you go. Behind a veteran, you can learn from them and get some knowledge before stepping on the field. Both have their advantages.
Luke (Springfield, MO)
Cleveland is looking for a quarterback in the draft. How would you feel about playing in front of the dawg pound?
Dan LeFevour
(12:44 PM)
That would be a great place to play. I haven't talked a whole lot with Cleveland, but that's another team that has a great history. A great city in the midwest.
Matt (Pennsylvania)
Why do you think some of the greatest college stars aren't successful in the NFL, yet people who were "nobody's" in college go on to have lustrous NFL careers.
Dan LeFevour
(12:44 PM)
I think if everyone knew the answer to that, there wouldn't be draft busts on draft day. You don't know what's going to happen from high school to college or college to the pros. It's anyone's best guess.
Chad (Las Vegas)
I have a bet wtih a friend of mine that in 5 years you will be a better NFL QB than Jimmy Clausen. A very nice, expensive, bottle of wine is at stake here. I know I will win though.
Dan LeFevour
(12:45 PM)
Give me half.
Saul (Newark)
You had as many interceptions in your junior and senior years combined as you did in your sophomore year. What do you think was the biggest contributor to your improvement?
Dan LeFevour
(12:46 PM)
Just experience. Getting used to the speed of the game. As you get better and older, hopefully you're getting better. I feel that's what I did in my time at CMU.
Joe Garrison (Mount Pleasant, MI (CMU))
Wherever you do end up (unless it is Chicago or here in Michigan), it will be a new location for you, how do you plan on adjusting to the area (off the field) with family and friends elsewhere? Best of luck always!
Dan LeFevour
(12:47 PM)
That's a great question. That's something I've talked about with those people. But you can't give a definitive answer because you don't know where you're going to be.
Dan LeFevour
(12:47 PM)
I appreciate you guys following me through my career. Thanks for keeping up with me at this point. I look forward to talking with you and meeting you in the near future.