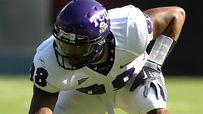 Scouts Inc. ranks Hughes as the 33rd best prospect in the draft.
Welcome to SportsNation! On Thursday, we're going to talk NFL draft when outside linebacking prospect, and former TCU player, Jerry Hughes stops by to chat.
Hughes recorded 26 sacks in his last two seasons in college, earning spots on the All-America team both years. He began his career at TCU by being just one of four true freshmen to play for the team in 2006.
According to Mel Kiper, Hughes is the No. 2 ranked outside linebacker in the draft. And Scouts Inc. likes his speed and pass rushing ability and, his profile says that he has an "exceptionally high motor and relentless in pursuit. Diagnostic skills are above average. Disciplined. Stays at home against misdirection and closes down cutback lanes."
Send your questions now and join Hughes Thursday at 3 p.m. ET!
More Special Guests: Previous chats | SportsNation
Buzzmaster
(2:53 PM)
Jerry is here!
Chris (Columbus)
Is it true you were only a 2 star rb recruit out of high school?? If so I guess the move to d sure did pay off!!!!!! Good Luck!!!!!
Jerry Hughes
(2:54 PM)
It is true. I was a running back in high school. I made the switch my freshman year to DE. It did pay off. I got to work out with the coaches there and helped me with the transition. They helped me be successful and it paid off in the long run.
Will (Cincinnati,OH)
If Nebraska beat Texas in the Big 12 Championship game, do you think you could have hung with Alabama in the BCS Championship Game?
Jerry Hughes
(2:54 PM)
I think we would have faired well. We would have matched up with them well and put on a show for the nation.
Jeff (Temple, Texas)
What is it about Gary Patterson that allows him always to find prospects such as you that play one postion in high school and turn them into such successful college players at another position
Jerry Hughes
(2:55 PM)
One thing that coach does is he pushes everyone. He's going to get you in practice and he'll push you. He'll get you in the weight room and he'll push you. He wants you to reach his standards and expectations. When you have a coach like that pushing you to be the best, that's all you can ask for.
Wish I was (Jerry Hughes)
What was your one moment in your time at TCU and you looked up at the stands and thought.... this is absolutly crazy
Jerry Hughes
(2:56 PM)
Probably the Utah game. That was really neat. I got to look up into the stands and see all the people in purple. That was the time I was able to say this is crazy, this is TCU football.
Jacob (Fort Worth)
What are you going to miss most about TCU? How has TCU and thier coaches helped you prepare for the draft?
Jerry Hughes
(2:57 PM)
I will miss the environment the most. We've been together for four years now with the guys. The comraderie we had. Hanging out and being college kids. It's a real all around great city. Being here in that environment.
Bryan (Fort Worth)
I bought your autograph off of Ebay for $10. Do you think I got a good deal? I sure do. How much will your autograph be worth after your rookie year?
Jerry Hughes
(2:57 PM)
Yeah. Absolutely. I'm always hitting the autographs. Next time you might not have to pay for it. I might hook you up for free.
Chris (Baltimore)
What's going on Jerry?? Since we already know you look great in Purple, I'd love to see you in Purple and Black!!!! What would you think about playing along side Ray Lewis in Baltimore??? God Bless!!!!
Jerry Hughes
(2:58 PM)
That would be a great experience to be playing in one of the best defenses in the NFL and one of the best players. It would be a dream come true to learn from him and grow from him.
Patrick (Denver, CO)
Jerry, huge fan of yours and the frogs. Going back to the Fiesta Bowl, even though you had that amazing strip where you kept the running back from being down and ripped the ball out, the broncos seemed to have your number that day. Was it do to an injury or just an improved offense line?
Jerry Hughes
(2:59 PM)
I just think it was a missed opportunity for us. We came up there to play well but we didn't play to the level we're capable of. That night, we just weren't able to get it there. It was a real missed opportunity for us. But I think this year they will be in the same situation, going to another BCS bowl.
steve
how are the draft preparations going?
Jerry Hughes
(3:00 PM)
They're going well. I'm doing the things I've been doing for the last four years. Doing different different drills that will allow me to be successful on the field.
Bryan (Fort Worth)
What are you looking forward to most about the NFL?
Jerry Hughes
(3:00 PM)
Probably just going out there and making the first contact. The first NFL contact will be something that I'm looking forward to. I don't know why, but just getting that first hit in.
Lilly (LA)
people say you'll play OLB in the NFL are you cool with that move?
Jerry Hughes
(3:01 PM)
Absolutely. I feel like I am athletic enough to make that move. My dream is just to get to the NFL.
Lance (chicago)
Jerry,I am being told I am going from OT to DE starting this spring. Any advice you can give me on such a position change?
Jerry Hughes
(3:02 PM)
Look at it in a positive light. You're going to be making that transition, so you need to go ahead and get comfortable with it and work hard at it. Do whatever drills your coach has you do. Do it at 100%. Get in the weight room and stay focused.
Nard (Sugarland)
Jerry - who's the best offensive linemen you ever went up against in college?
Jerry Hughes
(3:04 PM)
The best offensive lineman that I went up against was a guy that I practiced against. Marcus Cannon.
Richard Jordan (NY)
Jerrrry!was there any point in your career in either high school or college that you were thinking about giving up?
Jerry Hughes
(3:05 PM)
No. Not at all. Football is a huge game. There's never been a point in my life where I thought about quitting. I am very passionate about the game and I never thought about giving it up.
Bobby (New York, N.Y.)
Jerry - which NFL player do you think your game resembles?
Jerry Hughes
(3:05 PM)
I would have to say Dwight Freeny. He uses his feet and quickness. That's someone that I make my game after. We're also the same height.
Brandon (Las Vegas)
Jerry, on a lot of mock draft bords thet have you going very late in the first or very early in the second. However, they have Weatherspoon going late in the first ahead of you...I feel you are a much more versatile player and much more physical. Any idea why this is??
Jerry Hughes
(3:06 PM)
I don't really look at the mock drafts. It's just somebody giving their opinion of where I might go. It doesn't impact me at all. I still have to go out there and work hard.
Henry
Draft day plans?
Jerry Hughes
(3:06 PM)
No, not yet. I'm not too sure if I'll be in New York or in Austin. I don't have any plans like that just yet.
Jim (DC)
Jerry, from an OLB's perspective what is the biggest difference between playing in a 3-4 or a 4-3? Do you have a strong preference for which system you would like to contribute to at the next level?
Jerry Hughes
(3:08 PM)
To be honest, I don't know. If I get drafted into a 3-4 system, that would be my first time in that kind of system. I've played 4-3 DE my four years at TCU. It would be all new to me.
alan (INDY)
Please find a way to get the Colys to trade up and get you here.You play DE with Freeny showing you a few tricks.You would b All Pro for 10 years.
Jerry Hughes
(3:08 PM)
It would be great playing with him. To be with somebody that I model my game after. I would enjoy every minute of it.
Jerry Hughes
(3:09 PM)
Thanks for your time and questions and for all your support. I appreciate it.