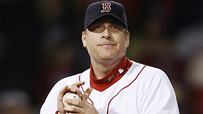 Curt Schilling won World Series titles in 2001, 2004 and 2007.
Welcome to SportsNation! On Friday, former Major League pitcher Curt Schilling stops by to chat about his new book and his baseball career.
Curt and his wife Shonda's book, "The Best Kind of Different," chronicles how they have dealt with their son Grant being diagnosed with Asperger's Syndrome.
While Grant had his struggles at home, Curt was traveling playing baseball. He won three World Series rings, two with the Boston Red Sox. He finished his career with a 216-146 record and a 3.46 ERA. He is probably best remembered for his "Bloody Sock" win in Game 6 of 2004's ALCS.
Send your questions now and join the Schillings Friday at 4:30 p.m. ET!
More Special Guests: Previous chats | SportsNation
Buzzmaster
(4:13 PM)
Curt and Shonda Schilling will be here at 4:30 p.m. ET to take your questions!
Buzzmaster
(4:31 PM)
The Schillings should be here in a few minutes. Keep sending in those questions!
Buzzmaster
(4:41 PM)
Just got word that they're running a little late. Hang in there.
James Trout (Washington DC)
As a lifelong Red Sox who is ETERNALLY grateful for your services in Boston winning the 2004 and 2007 and a college student with Asperger's Syndrome (I was diagnosed at 15) I want to express my gratitude to you for being open about this issue. My question for you is have you and your wife spoken with Grant's siblings about Asperger's and how it affects your family both positively and negatively? Having the support of siblings I think would benefit him as he'll have siblings he can look up to and talk to for social advance as he matures.
Curt Schilling
(4:48 PM)
First off, congrats. Where you're at is very awesome.
Curt Schilling
(4:49 PM)
We've talked to the kids. They were very intrigal in the process. Because they're going to be a very intrigal part of going forward with Grant. Not just wanting them informed, but involved means preparing them for a little different life than what they might have.
Asperger's Parent (PA)
Would you PLEASE talk about how you should not punish Asperger kids for issues relating to their disabilities. My Aspergers son has an elementary teacher who believes that the best way to change my sons behaviors is by punishing him. She says he "needs to be aware that there are consequences for any wrong decisions that he makes"Thanks!!!
Curt Schilling
(4:50 PM)
That's the absolute opposite way to treach children. I highly recommend sitting down with more than just the teacher to make sure that he's in an environment to succeed in. That's a situation that could lead him to failing.
Shonda Schilling
(4:51 PM)
We have a chart with Grant of the consequences of his actions/.
Paul (Boston)
Curt, being on the road, how did you deal with all of the reports from home that Shonda was giving you during this tough time with your son?
Curt Schilling
(4:52 PM)
We talk about it in the book. I did what I thought every father did, which was you need to punish him more, be more strict. All of hte things that I assumed was absent without my friends. Once the diagnosis came through and the ensuing period of time when I Stopped playing, I got exposed to him in much bigger time blocks. Those were all methods to shut him down, close him down and to see how fair it was for me to push that agenda on Shonda, not knowing what he was dealing with.
Willy (Boston)
You obviously went through a lot in the discovery that your son has Asperger's, especially with him acting out prior to diagnosis. Have you become more sympathetic to other families or situations where what's on the outside might not be what's actually going on?
Shonda Schilling
(4:53 PM)
That's actually one of the messages of the book, you never know what's going on in someone's family. We offer smiles instead of dirty looks.
Curt Schilling
(4:54 PM)
Instead of looking at the child at the grocery store throwing a temper tantrum, why not reach out and say keep plugging away? No one would ever think to reach out in that situation.
Wilson Harris (New York)
In case you were wondering - we still can't stand you in NY.
Curt Schilling
(4:54 PM)
You're welcome.
Kyle (VA)
What's the one thing about Asperger's that you would want people to learn?
Shonda Schilling
(4:55 PM)
They are good kids. Good people. They deserve to be treated with the respect of anyone else.
Curt Schilling
(4:55 PM)
Kids with Asperger's have just as much potential than any other kid you've ever met. They just have to take different paths than "normal."
Daniel (D.C.)
what's the biggest misconception about Asperger's and autism?
Curt Schilling
(4:56 PM)
I think the biggest misconception is that Asperger's it's the same thing. My perception is that people assume that they're very similar. But what we've been exposed to is that autism is that you need lifelong care and intervention.
Shonda Schilling
(4:56 PM)
If you meet one child with Asperger's you've only met one child. They're all different.
Joe LaBella (Lansing, Illinois)
I saw you and your wife on a cuple of TV shows yesterday & today. As a parent of a child with asperger's I just wanted to let you know my daughter Jillian never let her disabilty stop her. She graduated college (GPA 3.5) last year and is working as a tecaher aid. Keep up the great work and getting the word out.
Curt Schilling
(4:57 PM)
Thank you and congrats. Hearing those stories is worth every ounce of time and energy being put into this.
Jo (Cincinnati)
How did family matters influence Curt's decision to re-sign for the 2008 season?
Curt Schilling
(4:58 PM)
We sat down and talked about it before I went and did it. I felt like with enough rest I could pitch an entire season in 2008, which is how I wanted to go out. It turned out to be the exact opposite, unfortunately.
Brian (North Carolina)
Curt, what was your reaction when people questioned your bloody sock in 2004? How do you deal with those same people who to this day still don't believe it?
Curt Schilling
(4:59 PM)
My initial reaction was to just show them the ring. I haven't thought for one second about those people or that question since. My teammates know.
Marty (Holliston, MA)
Congrats on the book. As someone who has helped people with Asperger's for a dozen years, I'm looking forward to reading this and paralleling it to my practice. I was curious if you did any other research other than what you have gone through the past few years.
Shonda Schilling
(5:00 PM)
No. The book is about our journey. We hope that the people who read it understand that it's a love story. I wouldn't proclaim to know more than I know.
Anya Herron (Arizona)
Curt, I sure miss watching you play, how do you like retirement?
Curt Schilling
(5:01 PM)
I'm twice as busy now as when I ever played. I run a software development company. 38Studios.com. I'm just busy. Swamped.
Luis Vilanova (Costa Rica)
Congratulations for your great career, I'm very grateful for everything you did for us the Red Sox Nation, I'm not familiar with Asperger's Syndrome if you have a chance to explain about! Best wishes for you and your family!
Curt Schilling
(5:02 PM)
I would say it is a syndrome that is literally unrecognizable by physical characteristics, but immediately recognizable by social interaction. Anyone that's an extreme case of introvert, extrovert. For us, it was thinking about the kids we went to high school with and called weird.
Shonda Schilling
(5:02 PM)
That's what the kids call Grant, that's weird. He's socially awkward.
Curt Schilling
(5:03 PM)
Thank you. Thanks for the questions. Thanks for the interest. If there are any fans in Red Sox Nation out there who want to repay Curt Schilling for what he did, they will buy this book and one for a friend as well.