Chat with Bernard Hopkins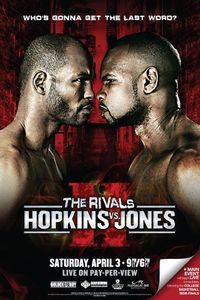 Welcome to SportsNation! On Monday, we will go inside the ring when legendary boxer Bernard Hopkins stops by to chat about his re-match with Roy Jones Jr, which was 16 years in the making.
Hopkins (50-5-1) has won his last two fights and is 5-3 since turning 40. Jones and Hopkins last met in May 1993, with Jones via 12-round decision. The fight can be seen live on Pay-Per-View at 9 p.m. ET/6 p.m. PT from the Mandalay Bay Resort and Casino in Las Vegas.
Hopkins dominated the middleweight class for 12 years, not losing 26 straight fights, going 24-0-2 during that time. He made a record 20 straight title defenses.
Send your questions now and join Hopkins Monday at 2 p.m. ET!
More Special Guests: Previous chats | SportsNation
Buzzmaster
(1:56 PM)
Bernard Hopkins will be here in a few minutes to take your questions!
Buzzmaster
(2:03 PM)
We've got Bernard!
Richard Leanos (Pasco WA)
K.O or decision??
Bernard Hopkins
(2:04 PM)
Knockout.
Robert Woodard (Miami, Fl)
Bernard, historically, you two are both counter-punchers. Will you attack Roy more when he's against the ropes?
Bernard Hopkins
(2:04 PM)
Yup. That's where I believe he's vulnerable.
daniel (Australia)
What has been the biggest change in boxing over last 2o years? training? techniques? Are fighters generally using more slicker styles than in the past? Has the standard dropped or improved?
Bernard Hopkins
(2:04 PM)
The biggest change in my career has been fighting as often as I can. I would like to fight a little bit more.
tony (philly)
B-Hop its an honor my question what will you do differently in this fight that you didnt do in the first fight?
Bernard Hopkins
(2:05 PM)
Knock him out. Be aggressive.
Tim (Pittsburgh,PA)
Bernard, has this fight been on your mind for your whole career since losing to Jones 17 years ago?
Bernard Hopkins
(2:06 PM)
It's been a part of my agenda for before I leave the game. But it's been more that as long as he stayed in the game and I stayed in the game, we'd fight before we left. It's been on my mind for the last 10-15 years.
Christian Cruz (Manila, Philippines)
I know this has been asked before, but I will still ask it nonetheless: who do you think will win this May 1, Mayweather, Jr or Mosley. And why?
Bernard Hopkins
(2:06 PM)
It's going to be a really good, interesting fight. I think Mosley will pull it off based on his ability and his knowledge and the knowledge he'll be getting from my trainer.
Eric (Frederick MD)
What do you think of Jones saying you dodged him until he became slow, and that you wouldn't have been able to beat him until then?
Bernard Hopkins
(2:07 PM)
If Jones said that, it's awkward, because we haven't fought the second time until Saturday. I think he'll always try to find a way to make an excuse as to why I'm fighting him now. I'm fighting him now because it's a fight and I can do something about getting him all these years later. We only have a few more days until I can settle my unfinished business I have for him.
Luis (Pacheco)
So in what round are you predicting to knock out Roy Jones?
Bernard Hopkins
(2:08 PM)
6 or 7th.
matthew (new york)
b hop i respect your discipline in the boxing game can you describe what you normally eat when training for a fight?
Bernard Hopkins
(2:08 PM)
I normally eat a lot of organic stuff. I eat good in my regular life. I'm always working out in the fitness gym or boxing gym. It became a lifestyle to stay fit.
Troy (Boston, Mass)
B-Hop how much does this fight mean to you on a personal level?
Bernard Hopkins
(2:09 PM)
Very personal. Very personal.
Lou (Buffalo, NY)
Bernard, do you feel any added pressure knowing that most people expect you to win quite easily against Roy?
Bernard Hopkins
(2:09 PM)
No. Because the same people expected me to lose easily to Pavlik and Tarver. So, until that happens, I am not at rest. I'm as tense as for any other fight. I'm not going to let Roy re-amp his career on my back.
Tim (Pittsburgh,PA)
Bernard, do you still plan on fighting for a while after this fight with Roy?
Bernard Hopkins
(2:11 PM)
Yes. I am hoping to get the victory in grand fashion. I can't leave out that on the same night, I will be paying attention to Luis and Haye. I would like to be the third middleweight to become heavyweight champion. But first I need to take care of business this Saturday.
Gabriel (Puerto Rico)
Bernard,what kind of adjustments have you made in your training for this fight?.i hope you beat him up on saturday champ good luck.
Bernard Hopkins
(2:12 PM)
My adjustment has only been in my sparring partners. I brought in young partners early to fight like the young Roy Jones Jr, the Roy Jones with the foot speed and hand speed. We're focusing on fighting the Roy Jones Jr. that people knew when he was undefeated. I'll have my A game on.
Chris (Texas)
Hey B-Hop! Do you feel Roy will still have some of the speed he had when you first met, and will he prove a tough challenge for you?
Bernard Hopkins
(2:13 PM)
Yes, I think he has it. I don't think he's really been challenged with a guy who has faster speed. I'm looking to use a lot of speed and power punches. I've been working on speed myself. I have the accuracy and I think that will be key to this fight. I think he'll try to use speed and power shots that will help him. I'm not going to try and throw a lot of punches, but I will be out of character in throwing more punches per round.
J.Frank (Dallas, TX)
Do you have firm plans to take a heavyweight fight later this year? If so, are there specific fighters you'd be willing to face or not face?
Bernard Hopkins
(2:14 PM)
Later this year or fall or early winter for a fight. I need that time to build up.
Matt (Raleigh, NC)
Will defeating Roy on Saturday be your final stamp on what has been a remarkable career?
Bernard Hopkins
(2:14 PM)
It will be a final stamp based on the history based on myself and Roy Jones, but not the final stamp on what I'm hoping to finish my legacy with.
Mike (Philly)
What do you say to people who accuse you of ducking Chad Dawson?
Bernard Hopkins
(2:15 PM)
I would say tell his people and TV networks to get enough money together. I'll carry the whole pay per view, because he can't. You'll have my interest and my ear. But right now, I'm going to do what I have to do for my career. Money talks, basically, bull walks.
Reynaldo (South Carolina (Iraq))
Will you still take the Defensive, counter attack that you have mastered, or will you take another approach to fighting Roy Jones?
Bernard Hopkins
(2:17 PM)
To come out swinging and not having a strategy, I'm not coming out swinging. I will systematically break him down. He's not going to just come out and give me an opportunity, I have to take it. He's a proud champion and he has reason to be, that's why I think he'll fight until the end. He feels like he was wronged in his last fights and he will come out. People have to understand that he's not a guy who doesn't have pride or an ego. He will try to win. I just have to change his mind.
Brock (Illinois)
BHop, would you retire if you won a heavyweight belt or would you stick around longer?
Bernard Hopkins
(2:18 PM)
No, because I can't put on enough weight to stretch myself to take on Klitchsko. This is the only realistic heavyweight fight I believe to have a chance at win. Middleweight going to heavyweight is a challenge for anybody.
Bernard Hopkins
(2:19 PM)
I hope people watch two legends square off April 3. It will be a fight you never forget. Just remember, Sugar Ray Leonard and Tommy Hearns. The first three rounds will be very very important. Roy Jones will be tested. Whether he wants to continue the fight or will he show the heart he's shown for many years? I've got something to prove.