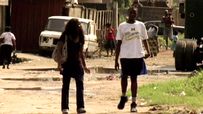 Akiode helps empower girls in Nigeria.
Welcome to SportsNation! On Friday, we will celebrate the work of Mobi Akiode, a Nigerian-American woman who works to empower girls back in Nigeria. The "Her Story" special airs Sunday at 2:30 p.m. ET on ESPN and is narrated by ABC's Robin Roberts. You can also read about her story here.
Back in September, Akiode quit her accounting job at ESPN and returned to Nigeria to set up a basketball camp to help young girls in the country. A former basketball player at Fordham and a member of the 2004 Nigerian Olympic basketball team, Akiode dedicates herself to empowering girls in Africa, lifting them out of poverty through sports. The girls in her camps travel from all over the country to learn not only basketball skills, but life skills.
Send your questions now and join Akiode Friday at noon ET!
More Special Guests: OTL Index | Previous chats | SportsNation