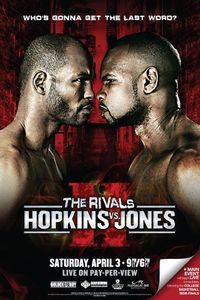 Welcome to SportsNation! On Friday, we'll go inside the boxing ring when legendary boxing writer Bert Sugar stops by to chat about Saturday's Bernard Hopkins-Roy Jones Jr. fight.
Jones (54-6) and Hopkins (50-5-1) return to the ring to face each other as 40-year-olds. They last met in May 1993, with Jones winning via 12-round decision. The fight can be seen live on Pay-Per-View at 9 p.m. ET/6 p.m. PT from the Mandalay Bay Resort and Casino in Las Vegas.
Sugar has written over 80 books and from 1979-83 he served as editor-in-chief of The Ring. Sugar also, according to his bio on HBO.com, founded Fight Game magazine in 1998. Sugar has also appeared in a few movies, including recently in "Rocky Balboa," the final chapter of Sylvester Stallone's Rocky boxing movies.
Send your questions now and join Sugar Friday at 1 p.m. ET!
More Bert Sugar: Chats | Search | Boxing index | SportsNation
Buzzmaster
(1:00 PM)
Bert Sugar is here!
Bert Sugar
(1:01 PM)
I just want to welcome you to ESPN.com and I look forward to answering any and all of your questions that I can at this early hour here in Vegas. You have to love this place, Vegas, it's the only place you can walk into your room as the wakeup call is ringing.
Coach (Indiana)
In your estimation, should this be the last time, regardless outcome, that Roy Jones Jr. fights? What about Bernard Hopkins? He (Bernard) seems to have handled the impact of aging a little better than Roy.
Bert Sugar
(1:04 PM)
I think Bernard Hopkins thinks old age is 10 years older than he is. And every year it's the same. He's in that group of fighters that has aged well, like wine. Foreman, Bob Fitzsimmons. Who knows, this might be the last big fight for both of them. Yes, I believe that both of them, particularly Roy, are coming close to the end. It will depend on how he does Saturday night. However, I must tell you that I'm looking forward to the fight, because you have so few chances to see all time greats. In my book "Boxing's Greatest Fighters" they both are amongst the 100 greatest fighters of all time. Like those baseball fans that went to see Willie Mays play at the end of his career, knowing it wasn't the same player from back in 1954, they could still tell their grandkids that they saw the great Willie Mays play. I think the same thing about this fight.
Cathal (Ireland)
Bert, if Hopkins was to move up to heavyweight and beat David Haye, would he go down as a greater boxer than Roy Jones Jr in your view?
Bert Sugar
(1:06 PM)
I would think so. Right now, I have Roy at 88 and Bernard at 91. Their legacies are set in each case, all they are doing is adding to their laurels. Assuredly, if Bernard is to move up and capture a piece of the heavyweight title, it would elevate him in his stature and my ranking.
Danesh (London, England)
Joe Calzaghe's hand speed seemed to cause Bernard problems and Roy still has very quick hands so do you feel that Roy Jones can defeat Bernard Hopkins?
Bert Sugar
(1:07 PM)
Roy's hand speed has always been one of his assets and I think he could give Bernard trouble. But his other great asset was his defense. He seems to have lost that one element of his arsenal. He must keep his hands going and not put them up in front of his face just to win. One thing was that Calzaghe's punches were pitter-pat and Jones punches are hard punches, WHEN he punches. He seems to throw fewer punches as time goes on, unlike Calzaghe.
Michael Cook (Memphis,Tn)
Hey Burt, love your work! My question is a two-parter. where do you feel Roy Jones Jr. Ranks all-time as a fighter? Question 2 is obviously roy jones has damaged his legacy with his recent losses but do you think if he would have retired after he beat John Ruiz he would have went down as the best fighter of all time Pound 4 Pound?
Bert Sugar
(1:10 PM)
Roy Jones Jr will never be better than Sugar Ray Robinson, or many of the other fighters that I have above him like Ali, Duran, etc., etc. with the etc. running on for 6 pages, no matter when he retired, no matter what he's done. During his peak years, he beat and retired most of the civil servants of the city of New York, a fireman, policeman, mortarmen and other fighters who weren't a household name in their own households. He didn't meet one criterion: You must meet and beat other greats. The thing about his legacy is he has not added to it or subtracted from it in his post Ruiz career. Bernard has added to his. We'll see what happens on Saturday night. Both established themselves on their peak years and that's what I judge on.
Zayn (Chicago)
Do you think BHop has any reasonable chance to beat a David Haye for the heavyweight title? Roy Jones was still somewhat close to his prime years when he was able to do it but Hopkins is 45!
Bert Sugar
(1:11 PM)
Bernard Hopkins is one of the craftiest fighters I've seen. I think he could beat David Haye. Look what he did to another puncher in Kelly Pavlik. All you have to know about him is that he'll do anything to win and I don't think Haye has ever seen the likes of him.
Bert Sugar
(1:11 PM)
Hopkins conceivably can cap his career with the unbelievable achievement of fighting Haye. But Haye is looking to fight one of the Klitchskos, so it might not happen.
Chris Fiegler (Latham,NY)
What does the WBA or the WBC do if a boxer tests positive for either Steroids,PED,or HGH?
Bert Sugar
(1:15 PM)
First of all, the alphabet soups, as I call them, should test themselves for steroids. These groups have grown too big for their own good and it must be steroids that's causing it. But steroids don't have a place in boxing, because they add weight. The object is, in most cases, to come in at a weight that steroids won't let you do. All of this aggravation about Pacquiao is pure B.S. If a man has been judged clean by the best commission in Nevada, it's a slur to say he's anything but clean. I believe that Floyd Mayweather did himself out of a fight by coming up with this claim. I'm reminded of a very old line we used as a kid: Who died and made him king? Why has he held himself up to be the governing body of boxing? No, steroids are a potential problem, but I think they're being overblown in boxing. I can only think of about 6 people that have used them.
Roshard (Seattle)
Hey Bert, I always respected your views and opinions on Boxing in General. Thank you for the chat. My question is who do you believe is going to win the Mosley vs Mayweather fight?
Bert Sugar
(1:18 PM)
I think that Mosley could, could, be a problem for Mayweather. As much as because of Mayweather as because of Mosley. I want to see what the rust factor for Mayweather is. The rust factor I refer to is that Mayweather will have had one fight in two years since he "retired." For a defensive fighter, and yes, Floyd Mayweather is one of the great defensive fighters of all time, any dimunition of his defensive skills could be devastating. Look at Wilford Benitez, a great defensive fighter of the 70s and 80s. As a youth, he was untouchable. Even Leonard had trouble reaching him. But as he continued to box, he lost a nanosecond and the punches that he once avoided now struck home. My question is, will the inactivity by Mayweather slow down his defensive reflexes to the degree that he's suceptible of getting hit by the quick hands of Mosley. I'll let you know after the fight on whether the rust factor played any part in his efforts against Mosley and potentially against Pacquiao.
Jim (DC)
Mr. Sugar, enough with these has beens...do you like the future for Edwin Rodriguez as much as I do?
Bert Sugar
(1:19 PM)
I think he has an excellent future, but then again, I have seen too many fighters who are on the road to ultimate greatness come up short. Before I proclaim him a first round entrant into the hall of fame, I will hold off my opinion until I see some more.
Cayden W (Lake Charles, LA)
What do you think is next for Roy Jones if he does win this fight?
Bert Sugar
(1:21 PM)
If Roy Jones wins this fight, and he's a 5-1 underdog, he can choose from a whole list of opponents. He is back in the ratings of the light heavyweight division, where the field isn't as crowded as it is in other divisions with many of the former lights campaigning as heavyweights. It's conceivable that if he wins, if, he could be in the mix for a shot at one of the 7,200 titles. But all of this is dependant on the smallest big word in English - if.
Bill (Chicago)
How far has Roy come back? It wasn't too long ago he was fighting in Omaha or something, right?
Bert Sugar
(1:23 PM)
I don't know if this is a transition, Bill, it's just Roy stepping back in the spotlight, as he has so many times before. Many a fighter, and I give you Foreman in his second time, who fought in the Omahas or the East Bumblebees. It's not a surprise that he's stepping into Las Vegas. I guess it's just something that happens in between 17 years in the ring. Do you realize there's been 4 presidents and two wars since these two fought? What else is there to do in Omaha.
Lazer (Brooklyn, NY)
Hey Mr. Suger, You know I'm excited for the Yuri Foreman - Miguel Cotto fight. Where do you think this will rank in the all time great fights involving a Jewish Fighter?
Bert Sugar
(1:25 PM)
Well, remember that Benny Leonard not only fought outdoors several times, both at Yankee Stadium and Ebbets Field, but also at the then new MSG. Barney Ross also fought outside. I don't know where it rates, because I haven't seen the fight yet, but I like the match-making and the ethnicity that brings back the old days of boxing.
Zayn (Chicago)
How would you compare Roy Jones Jr's athleticism at middleweight to other all time greats in that weight class?
Bert Sugar
(1:27 PM)
Roy Jones Jr was one of the fastest middleweights of all time, not as fast as Robinson or Leonard, but fast. Most of the all time greats at middleweight were sluggers. But Jones' speed and defensive abilities marked him as unique in middleweights' division history. He should be considered on his skills as a middleweight. It was back at his peak that the great writer Schulberg called him a "genius fighter." It was his speed, both hand and foot, and defensive abilities that made him a genius fighter.
Bert Sugar
(1:29 PM)
Thank you boxing fans for these questions. They were excellent questions. I hope I gave equally good answers. I apologize for signaling out Omaha, you have great beef there. Thanx again. I look forward to our next chat prior to the Mayweather-Mosley fight. Yours in boxing, Bert.