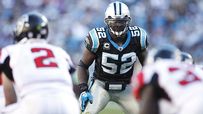 Beason has made the last two Pro Bowls.
Welcome to SportsNation! On Friday, Carolina Panthers linebacker Jon Beason stops by to chat less than a week away from the NFL draft.
Beason, the 25th pick in the 2007 draft by the Panthers, just finished his third year in the NFL. He has made an immediate impact for Carolina, already accumulating well over 400 tackles in his career. He is a two-time Pro Bowler and finished second in the 2007 rookie of the year voting.
Fans who want to keep track of Beason can check out his webpage: JonBeason.com or his Twitter page: @jonbeason.
Send your questions now and join Beason Friday at 1 p.m. ET!
More Special Guests: Previous chats | SportsNation
Buzzmaster
(1:01 PM)
Jon Beason is here!
Joseph (Gainesville, FL)
If you could play a position other than linebacker, what would it be and why?
Jon Beason
(1:02 PM)
Probably first, safety. I was a safety in high school and coming into Miami. I could be good at it. I would probably drop about 10 pounds. I think also RB. I believe in my talent to be a RB.
Clint (Charlotte)
Hey Jon, First, you're the man, second, How do you think Carolina's defense will respond without Julius Peppers? Have another great season.
Jon Beason
(1:03 PM)
Obviously, it's a guy that's hard to replace. I'm confident in the young guys, Johnson and Brown. I think together they can make us consistent at that position. But clearly everyone needs to up their play. We finished 8th overall on defense last year. We're still a good defensive team.
Stephen (Charlotte)
All i've heard all off-season is about the saints and the falcons, remind everyone else why they shouldn't forget about the Panthers in the NFC South.
Jon Beason
(1:04 PM)
Since you pay attention to the media, don't you remember what they said about the Falcons last year, when they got Gonzalez? They said they were going to be the team to win the South and represent the NFC in the Super Bowl. None of that happened. It all happens on the field.
Jacob (Nebraska)
What is your all time favorite meal? And what is a daily breakfast for you?
Jon Beason
(1:06 PM)
My daily breakfast consists of Koshi cereal measured out into two cups, skim milk, bannana. That's usually my pre workout meal. But then again, I do eat 9 meals a day. My favorite meal, I can't say that I have a favorite, because as a kid, I was a greedy fat boy. I would eay anything that was available to me. I will tell you this, that you don't know, I'm not a huge sweet person. When I go out for dinner, I don't get dessert or have a craving for it.
Jason (Jacksonville, FL)
How is the offseason treating you Beason?
Jon Beason
(1:07 PM)
Well, it's my very first offseason without surgery, so instead of getting back, I'm getting better. Look for me to get into my best shape and have a great season. If there was a game today, I'd be ready to play.
Jimmy (Seattle)
what do you think of Matt Moore- is he ready to lead you guys? and are you gonna be healthy this year?
Jon Beason
(1:09 PM)
Yeah, you should know a lot about Matt Moore, he's from out there by you. When me and Matt came in together, I have a lot of respect for him, because he was undrafted and made it. He stepped up against the monsters of the NFL and proved why this last season that he should be the QB for the Panthers. I have so much respect for him. So much potential there.
Scott (Scotland)
Hey Jon, you're my favourite Panther! Who was your idol when you were younger and what team did you support?
Jon Beason
(1:11 PM)
First off, you better be following me on Twitter, way over there in Scotland. Second, my idol or hero or the person that I looked up to was Jerry Rice. Now, it's ironic that here I am a LB and he was a WR and my favorite player growing up. But as a kid, I played offense and had the best hands on the team. But the reason I admired him was that No. 1, he was the greatest to play his position, No. 2, he had a great work ethic and No. 3, he was a great role model for kids. As a young guy at 10, I liked that about him. That's why I've become that type of person moreso than that type of player. I admire the true things that are of quality in an athlete not just that he's flashy or good or whatever.
Bam (ATL)
Do you think this division has the best middle linebackers in the NFL? I think so since they have Jon Beason(you),Jonathan Vilma, Curtis Lofton, and Barrett Ruud, all Pro-Bowl caliber players.
Jon Beason
(1:15 PM)
I never made that comparison, but I would have to agree 100%, that top to bottom there's no comparison. We are all consistent players and Lofton proved last year that he belongs in that MLB class. And even when I was in college I was a fan of Ruud and Vilma. Great question.
Ryan Kalil (Charlotte, NC)
Jon, it's your boy Kalil. Just so you know its me, remember when we spray painted our paintball masks in your garage? My question is this, is me dominating you everyday in practice the reason why you are the best linebacker in the league?
Jon Beason
(1:17 PM)
LMFAO. How is Nat doing? Kalil, honestly, brother, you're a beast. I really do enjoy dominating you physically, athletically, spiritually every day in practice. Sunday is truly a vacation for you compared to what I do to you in practice. You're a movie, you're hilarious. I love you. I will see you on the 25th. Ready to workout if you ever want to get any better, Mr. Will Ferrell lover.
Jared (Charlotte)
Jon, Thanks for chatting with us.. your the man! I was wondering if you play any xbox.. and if you do what games do you play??
Jon Beason
(1:19 PM)
I play one game and one game only. It's the only game that counts, the only game that matters. It's world class. It's FIFA. Whenver you're ready, up to the challenge, just know that I bring the same intensity to the football field tha tI bring to my game room. I do not take any prisoners. I don't care if you're young, old, I will embarrass you. I will play until the 90th minute is over. And it's fun.
Garrett (Richmond, VA)
What is the biggest need for Carolina this year in the draft?
Jon Beason
(1:20 PM)
Defensive tackles, so they can help me....just kidding. But we do need help on the DL. I'd like us to get a veteran QB to backup Matt. And we need a WR to stretch the field so they can't double every play. If we can do that, we can be competitive every day.
Terince (Walterboro SC)
what is the best workout to do build the chest and abs
Jon Beason
(1:23 PM)
The thing that I think is most important in being an athlete is being consistent. The one thing that's not negotiable is your effort and your condition. Those are the only two things that you have complete control over. So, my best workout, being in great condition is key. Instead of making a great play once a game, you're doing it often and I think that adds up. If you want to get your chest big, this is what I want you to do. Go into the weight room and just think chest. We're not going to do any tris, bis, just chest. I want you to hit every chest machine in there for 15 reps. When you get around 300-400 reps, you're good. And then don't visit that muscle group for another 7 days. If you do that for every body part, legs, shoulders, bis, back, I promise you will get the definition you desire.
Jon Beason
(1:24 PM)
I really do appreciate you guys. You make it possible for me to be here Playing a game you love and having people love you back is what it's all about.