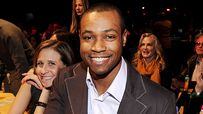 Mustafa played college football at Arizona State.
Welcome to SportsNation! On Friday, the Old Spice Guy on a Horse, aka Isaiah Mustafa will stop by to chat.
Mustafa played football collegiately at Arizona State, with former NFL player Jake Plummer, before kicking around the NFL and NFL Europe and owning a restaurant in California with his mother and then embarking on an acting career.
Prior to the Old Spice commercial, Mustafa had a few small acting parts, but now he will appear in Tyler Perry's latest movie in a role Mustafa accepted on The Oprah Winfrey Show. His Old Spice commercial has over 8.5 million views on YouTube.
Send your questions now and join Mustafa Friday at 1 p.m. ET!
More Special Guests: Previous chats | SportsNation
Buzzmaster
(12:41 PM)
Isaiah Mustafa, aka the Old Spice Guy on a Horse, will be here at the top of the hour to take your questions!
Steve (Washington)
Has any celebrity or anyone come up to you and said they've liked your commercial? Anyone that surprised you?
Isaiah Mustafa
(1:08 PM)
Breckin Meyer. He was one of the kids in Clueless. He does Robot Chicken. Ghosts of Girl Friends past as well. I was at a screen test for a pilot and he said to me, "Dude, I love your stuff."
Brandon (Milwaukee)
You have a sports background, so I'm guessing you like sports. Have you used your new found fame to get anything related to sports? Throw out a first pitch? Good seats for a game? Anything?
Isaiah Mustafa
(1:09 PM)
Great idea, Brandon, I'm on it. I'm starting with the Yankees and working on that. Then a half court basketball shot with the Lakers. Hopefully, ESPN will let me do something with the ESPYS...HOPEFULLY ESPN will let me do something with the ESPYS.
Stevie Amar (805 - Oxnard - Santa Clara high school)
Played on the California State Championship basketball team that went 28-0 with Isaiah aka "X-Factor" - was also in Isaiah's wedding - showing love to X and asking him to bring me something back from NY...Ha... Take care - Santa Clara HS '92'
Isaiah Mustafa
(1:10 PM)
Steve, stop panhandling for freebies. I already bought you that car darnit. Now leave me alone. The check is in the mail.
Randy (New Orleans)
Other than the Tyler Perry movie gig, what's been the best thing to come from your new found fame?
Isaiah Mustafa
(1:11 PM)
My upcoming candidacy for the 2011 presidential election.
Isaiah Mustafa
(1:11 PM)
....And I hope to get re-elected in 2013.
Will (Seattle)
What do you plan on doing with your acting career now? Obviously, the Perry movie, but then what?
Isaiah Mustafa
(1:11 PM)
Gift bags. It's all about the gift bags. And network television.
Greg (LA)
Was this your first commercial for a national company? Had you done much commercial work before?
Isaiah Mustafa
(1:12 PM)
No. I've worked for Office Depot, Long John Silver, McDonald's, Chrysler. But this is the first men's grooming product I've endorsed. Although, I've been using Old Spice since I was high school.
Kevin (Chicago)
how long have you been acting? had you been getting frustrated with not landing that one big role yet?
Isaiah Mustafa
(1:13 PM)
In all seriousness, I started in 2002 and it was never about the destination, it was always about the journey. I don't get frustrated, I just smell good.
Marc (Charlotte)
Is it true that if you use Old Spice Body Wash you'll smell like jet fighters and punching?
Isaiah Mustafa
(1:13 PM)
Yes. It is true, but you'll also smell like championships and freedom.
Henry (Wisconsin)
Are you annoyed that now know you as "The Old Spice Guy on a Horse"?
Isaiah Mustafa
(1:14 PM)
Are you annoyed that you're known as Henry (Wisconsin). No, I'm not. I love my horse.
Hayden (Logan, Utah)
man your career has exploded after these commercials! Did you expect this? Hows the ride been?
Isaiah Mustafa
(1:14 PM)
It was precise tactical planning that hatched this brain child known as The Man Your Man Could Smell Like. I'm just fortunate that they decided to include me.
Jeff (Atlanta)
Any favorite Pat Tillman stories?
Isaiah Mustafa
(1:16 PM)
Yeah, actually I do. There used to be a place at ASU called The Dash. It was a local bar that we'd all go to. And the first time I met Pat, he was in the middle of the dance floor dancing to either Green Day "When I Come Around" and he had super long hair. His head was down and he was dancing in a circle by himself just bobbing his head. I asked Plummer, who's that. He said, that's Tillman, man. He's in a world of his own, but he can ball like a ....
Matt Lownes (Amagansett, Mew York)
You played college football and your a big guy...now why didn't football work for you?
Isaiah Mustafa
(1:16 PM)
Because I wasn't good enough. And my top speed was only a high 4.4.
Hayden (Logan, Utah)
whats the best gift bag you've gotten?
Isaiah Mustafa
(1:17 PM)
So far, I got a vacation to Antigua for being on the Monique show.
Dave (Georgia)
Did you just have to audition the one time to get the Old Spice part?
Isaiah Mustafa
(1:18 PM)
No. Good question, Dave....I had to audition twice.
Isaiah Mustafa
(1:18 PM)
And it was at the second audition that I called Plummer.
Pete (CA)
While not quite the same, did the Lion King make it better or worse to have the name Mustafa?
Isaiah Mustafa
(1:19 PM)
PEEEEEEEEETTTTTTTTTEEEEEEEEE! .... I love you.
Garrett (Richmond, VA)
I saw a video on the creation of your famous commercial and was amazed that most of it was not animated (change of scene from bathroom to cruise deck, for example). Which part of the commercial took the most takes to get right?
Isaiah Mustafa
(1:20 PM)
There were two things - the shirt falling on my head and also picking up the oyster and having it open in my hand at the right time. Those were the two hardest things.
Joe (My Couch)
Put your shirt on and quit telling girls about diamonds.
Isaiah Mustafa
(1:22 PM)
It's people like you Joe, who have all the right answers. Now stop being like that and come aboard the winning team for the score. I love you too.
RJ (Boston)
Welcome to instant celebrity, eh?!Are you still in contact with Jake the Snake? Loved that guy in Denver and wish he would have been given a longer rope.
Isaiah Mustafa
(1:22 PM)
RJ, it's good to know that celebrities like us still maintain friendships with their college buddies. Yes, I talk to him at least a couple of times per week.
Evan (Ohio)
How about a new commercial with you, Terry Crews and Bruce Campbell. That would be hilarious!
Isaiah Mustafa
(1:23 PM)
Yes. It would be the Holy Triumvirate of Old Spice. Together the three of us would rule as one. Arm pit domination.
J.B. (Dunmore, PA)
You seem to have a great sense of humor. Are there any TV comedies that you find to be particularly amusing (oh, sorry I was late to the chat)?
Isaiah Mustafa
(1:24 PM)
SNL. SNL. I want to audition for SNL. Oh yeah, and SNL.
Isaiah Mustafa
(1:25 PM)
Gather round everyone. Now what I say next may be a shock to all of you but....oops, I forgot. Have a good day. Bless you all. May you all smell like jet fighters and punching.
Isaiah Mustafa
(1:25 PM)
I'm on a horse.